World Hor­ti Cen­ter opens its doors
Klasmann-Deilmann joins in the ceremonials
The inau­gu­ra­ti­on of the World Hor­ti Cen­ter in Naald­wi­jk, the Nether­lands, was atten­ded by Máxi­ma, the country's Queen, and its Minis­ter for Agri­cul­tu­re, Natu­re and Food Qua­li­ty, Caro­la Schou­ten. Klasmann-Deilmann was also repre­sen­ted and took part in the mul­ti­di­sci­pli­na­ry programme.
Some 500 invi­ted guests, inclu­ding the Mana­ging Direc­tor of our Dut­ch sub­si­dia­ry Klasmann-Deilmann Bene­lux, Ted Vol­leb­regt, ent­e­red the World Hor­ti Cen­ter ear­ly in the morning to be pre­sent for the inau­gu­ra­ti­on cere­mo­ny. Minis­ter Schou­ten high­ligh­ted the impor­t­ance of the country's hor­ti­cul­tu­re sec­tor on the glo­bal sta­ge: "The expec­ta­ti­ons are high but I'm sure that we can meet them with all the part­ners from the worlds of indus­try, tea­ching and rese­arch that are col­la­bo­ra­ting in this building."
Fol­lowing the cere­mo­ni­als, Queen Máxi­ma tou­red the World Hor­ti Cen­ter, inclu­ding its rese­arch and deve­lo­p­ment green­house and mecha­tro­nics lab. Peet van Adri­chem was the Queen's gui­de: he is the foun­der and prime mover behind the World Hor­ti Cen­ter and owner of 'Dem­ok­we­kerij', a demons­tra­ti­on green­house set up as a per­ma­nent exhi­bi­ti­on form­er­ly sited whe­re the World Hor­ti Cen­ter stands today. "I'm sur­pri­sed at her inte­rest in hor­ti­cul­tu­re, and espe­cial­ly at her excel­lent grasp of under­ly­ing basics such as the inter­play of light and car­bon dioxi­de in pho­to­syn­the­sis," Adri­chem remarked.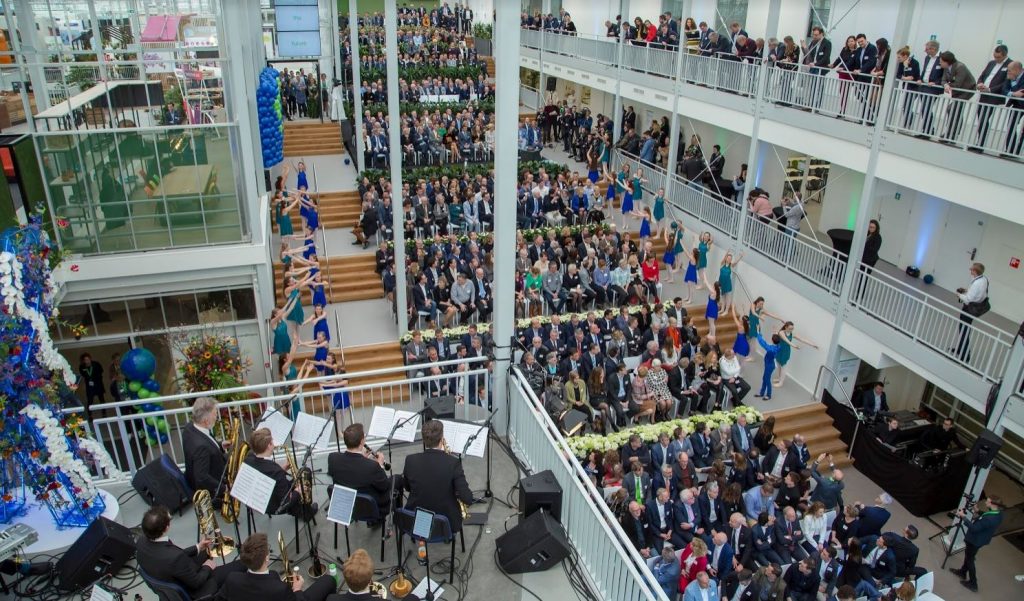 In the after­noon, all the par­ti­ci­pa­ting part­ners were able to invi­te their cus­to­mers, so that a broad-based hor­ti­cul­tu­ral com­mu­ni­ty was gathe­red at the World Hor­ti Cen­ter. At Inno­va­ti­on Squa­re, Fons van Nierop of Klasmann-Deilmann Benelux's sales divi­si­on pre­sen­ted the Grow­coon. The subsidiary's Head of Sales Daph­ne Bron­khorst and Inno­va­ti­on Mana­ger Sjors Bei­jer were both at Klasmann-Deilmann's stand to share their know­ledge with the many visi­tors. Impres­sed by the pre­sen­ta­ti­ons, gui­ded tours and dis­cus­sions she expe­ri­en­ced at the World Hor­ti Cen­ter, Ste­fa­nie Gra­de (Head of Rese­arch & Deve­lo­p­ment at Klasmann-Deilmann GmbH) enthu­sed: "It's ter­ri­fic to see so many com­pa­nies from the hor­ti­cul­tu­ral sec­tor brought tog­e­ther like this under one roof, in a faci­li­ty that offers gre­at scope for rese­arch and deve­lo­p­ment as well as cour­ses for stu­dents. There's not­hing else like this."
As well as tours and the Inno­va­ti­on Squa­re, other visi­tor attrac­tions inclu­ded talks, podi­um dis­cus­sions and a wide ran­ge of work­shops on topics such as nut­ri­ti­on, flo­ris­t­ry, cir­cu­lar eco­no­my, inter­na­tio­nal entre­pre­neurs­hip and the future of busi­ness. And stu­dents had the oppor­tu­ni­ty to pre­sent their pro­jects in an infor­mal set­ting and make con­ta­ct with poten­ti­al future employers.
At the end of the day, Vol­leb­regt, who helms our Nether­lands sub­si­dia­ry, gave his ver­dict: "This event brought the hor­ti­cul­tu­ral sec­tor into the spot­light. The main focus today was on the industry's future and on inno­va­ti­on. And the tools to help us move for­ward in the­se are­as are right here."