Our voca­tio­nal trai­nees share their experience
Twel­ve of our voca­tio­nal trai­nees recent­ly boar­ded a train for Essen. Their desti­na­ti­on: the Inter­na­tio­nal Plant Fair (IPM). They spent a day the­re gathe­ring impres­si­ons, com­ple­ting a 'Chal­len­ge Race' through the various halls. Wieb­ke Volk­mann, who is trai­ning to beco­me a Busi­ness Admi­nis­tra­tor for Mar­ke­ting Com­mu­ni­ca­ti­ons, inter­view­ed our trai­nees to find out what they had got out of the day.
A smart­pho­ne's eye-view of our stand at the IPM
The out­ward train jour­ney began in Mep­pen at 7.31 a.m. Were you psy­ched, or less so becau­se you'd been to an event like this before?
Julia Roling (trai­nee Indus­tri­al Busi­ness Admi­nis­tra­tor): "I'd never been to such a big tra­de show, so I had no idea what to expect. For me, rea­li­sa­ti­on about the sheer sca­le of the event daw­ned only gra­du­al­ly as one hall gave way to ano­t­her, and then another."
Mar­co Schu­bert (trai­nee IT Spe­cia­list in Sys­tem Inte­gra­ti­on): "I'd alrea­dy been to the 'Ideen-Expo' sci­ence fair and to the Agri­tech­ni­ca show, both in Hano­ver. And I'd seen pho­tos of the exhi­bi­ti­on in Essen from pre­vious years so I knew rough­ly what awai­ted me. It was gre­at to see that the com­pa­ny whe­re I work had such an impres­si­ve pre­sence at a pres­ti­gious event like this."
Had you thought about what Klasmann-Deilmann's stand would be like? What appealed to you about it?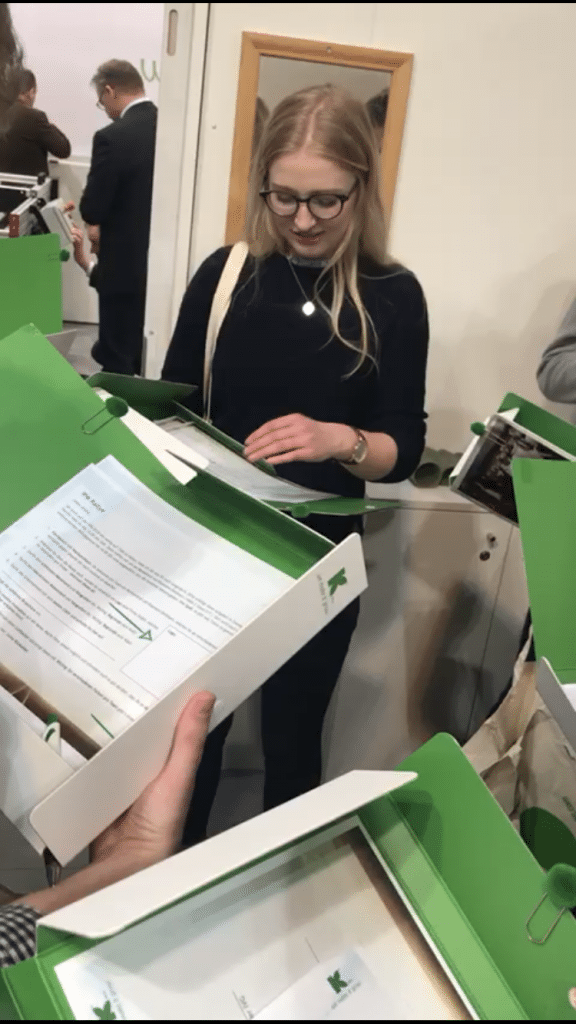 Mar­kus Peters (trai­nee Indus­tri­al Busi­ness Admi­nis­tra­tor): "Based on pic­tures from pre­vious years, I knew to expect a lar­ge stand. But I hadn't rea­li­sed qui­te how huge it would be ‑ and on two storeys, too. The stand was real­ly eye-catching, espe­cial­ly the stair­ca­se and the table cove­r­ed in peat. I par­ti­cu­lar­ly lik­ed the LED frames. I didn't see things like that any­whe­re else at the show."
Mari­na Kunz (trai­nee Indus­tri­al Busi­ness Admi­nis­tra­tor): "I found the Klasmann-Deilmann stand real­ly appe­aling. Whe­re­as the­re were lots of stands at the IPM that attrac­ted a cer­tain amount of atten­ti­on with their bright flas­hy colours, on clo­ser inspec­tion they were often not actual­ly that impres­si­ve at all. That wasn't the case with Klasmann-Deilmann; the stand was ele­gant and not at all osten­ta­tious, but with the LED frames making it high­ly con­spi­cuous. And I thought the lounge area was very inviting."
Oli­ver Rol­fes (trai­nee Indus­tri­al Main­ten­an­ce Mecha­nic): "I had no idea what the stand would be like befo­re­hand. The size was real­ly impres­si­ve. But becau­se so many peop­le were the­re at a given moment, in a way it see­med small as well! It was real­ly busy. I also thought the floor gra­phics and the dis­play points gui­ding visi­tors to the stand were pret­ty cool ‑ effec­tively giving Klasmann-Deilmann a pre­sence at mul­ti­ple locations."
You were on a pret­ty tight sche­du­le ‑ were you able to get an idea of what it was like for Klasmann-Deilmann's exhi­bi­ti­on per­son­nel? Can you ima­gi­ne spen­ding a who­le week on the stand?
Jakob Schoofs (com­bi­ned voca­tio­nal trai­ning and degree pro­gram­me in Busi­ness Infor­ma­ti­on Sys­tems): "I think the days must be long and tiring ‑ both mental­ly and phy­si­cal­ly ‑ for the peop­le staf­fing the stand. But I can defi­ni­te­ly see mys­elf hel­ping out for a week at the IPM in Essen."
Joshua Els­kamp (com­bi­ned voca­tio­nal trai­ning and degree pro­gram­me in Indus­tri­al Engi­nee­ring): "I was hel­ping out at the IPM all week and I can con­firm that it was pret­ty exhaus­ting: a lot of time spent on your feet and having to switch bet­ween lan­guages ‑ some­ti­mes in quick suc­ces­si­on. Wit­hin only a few minu­tes, Eng­lish and Ger­man ‑ as well as Dut­ch or Spa­nish ‑ were requi­red. Then, in the next con­ver­sa­ti­on, my mind would cook up a mix­tu­re of all the­se lan­guages! But I got a lot out of it too: I met employees and part­ners of Klasmann-Deilmann from all over the world and lear­ned some use­ful tech­ni­cal stuff."
How did you get around during the 'Chal­len­ge Race' through the exhi­bi­ti­on grounds ‑ did it take you to all of the halls? And how was it, having to speak to tra­de show per­son­nel ‑ some of them from other coun­tries – to com­ple­te the tasks assi­gned you?
Alex Ved­der (trai­nee Indus­tri­al Busi­ness Admi­nis­tra­tor): "I was real­ly loo­king for­ward to the Chal­len­ge Race. I lik­ed being in teams of two that were picked at ran­dom befo­re­hand. We cove­r­ed a lot of ground, right through from Hall no.1 through to Hall no.12. We wouldn't have got around as much if it hadn't been for this acti­vi­ty. One task was the 'pro­mo­tio­nal-mate­ri­al swap'. At the start we were given some mate­ri­al for Klasmann-Deilmann and had to exchan­ge it for other mate­ri­al at various stands. We met with mild resis­tance at some stands, but some­ti­mes we were lucky and recei­ved some cool stuff. But I'd have lik­ed to get a bet­ter idea of what was invol­ved in staf­fing the Klasmann-Deilmann stand."
Nick Posch­mann (trai­nee Indus­tri­al Mecha­nic): "We didn't actual­ly visit that many dif­fe­rent halls on the Chal­len­ge Race ‑ we sim­ply ran out of time. This would pro­bab­ly have also been the case if we hadn't done this acti­vi­ty, but we wouldn't have tal­ked to as many peop­le staf­fing other stands."
René Föcke (trai­nee Indus­tri­al Busi­ness Admi­nis­tra­tor): "We ten­ded to spend a fair bit of time at the various stands, whe­re we took the oppor­tu­ni­ty to chat with peop­le from many dif­fe­rent coun­tries. It was espe­cial­ly inte­res­ting to see how various pro­ducts pro­mo­ted at other stands could com­ple­ment Klasmann-Deilmann's pro­ducts. Then our time was up and we thought, 'What a shame, there's so much we didn't get around to seeing.'"
All of the voca­tio­nal trai­nees agreed that this trip should be an annu­al event. "And it ought to be com­pul­so­ry" was the unani­mous ver­dict. See­ing Klasmann-Deilmann at a tra­de show like this hel­ps to under­stand the com­pa­ny bet­ter. All in all, the trip was a gre­at expe­ri­ence for the trainees.