A day at the IPM
Our vocational trainees share their experience
Twelve of our vocational trainees recently boarded a train for Essen. Their destination: the International Plant Fair (IPM). They spent a day there gathering impressions, completing a 'Challenge Race' through the various halls. Wiebke Volkmann, who is training to become a Business Administrator for Marketing Communications, interviewed our trainees to find out what they had got out of the day.
The outward train journey began in Meppen at 7.31 a.m. Were you psyched, or less so because you'd been to an event like this before?
Julia Roling (trainee Industrial Business Administrator): "I'd never been to such a big trade show, so I had no idea what to expect. For me, realisation about the sheer scale of the event dawned only gradually as one hall gave way to another, and then another."
Marco Schubert (trainee IT Specialist in System Integration): "I'd already been to the 'Ideen-Expo' science fair and to the Agritechnica show, both in Hanover. And I'd seen photos of the exhibition in Essen from previous years so I knew roughly what awaited me. It was great to see that the company where I work had such an impressive presence at a prestigious event like this."
Had you thought about what Klasmann-Deilmann's stand would be like? What appealed to you about it?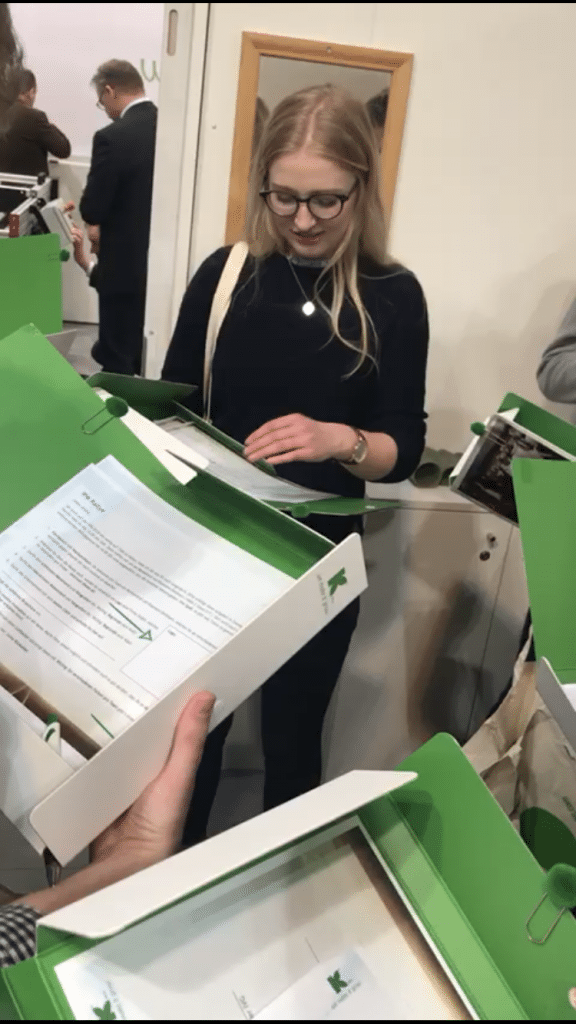 Markus Peters (trainee Industrial Business Administrator): "Based on pictures from previous years, I knew to expect a large stand. But I hadn't realised quite how huge it would be ‑ and on two storeys, too. The stand was really eye-catching, especially the staircase and the table covered in peat. I particularly liked the LED frames. I didn't see things like that anywhere else at the show."
Marina Kunz (trainee Industrial Business Administrator): "I found the Klasmann-Deilmann stand really appealing. Whereas there were lots of stands at the IPM that attracted a certain amount of attention with their bright flashy colours, on closer inspection they were often not actually that impressive at all. That wasn't the case with Klasmann-Deilmann; the stand was elegant and not at all ostentatious, but with the LED frames making it highly conspicuous. And I thought the lounge area was very inviting."
Oliver Rolfes (trainee Industrial Maintenance Mechanic): "I had no idea what the stand would be like beforehand. The size was really impressive. But because so many people were there at a given moment, in a way it seemed small as well! It was really busy. I also thought the floor graphics and the display points guiding visitors to the stand were pretty cool ‑ effectively giving Klasmann-Deilmann a presence at multiple locations."
You were on a pretty tight schedule ‑ were you able to get an idea of what it was like for Klasmann-Deilmann's exhibition personnel? Can you imagine spending a whole week on the stand?
Jakob Schoofs (combined vocational training and degree programme in Business Information Systems): "I think the days must be long and tiring ‑ both mentally and physically ‑ for the people staffing the stand. But I can definitely see myself helping out for a week at the IPM in Essen."
Joshua Elskamp (combined vocational training and degree programme in Industrial Engineering): "I was helping out at the IPM all week and I can confirm that it was pretty exhausting: a lot of time spent on your feet and having to switch between languages ‑ sometimes in quick succession. Within only a few minutes, English and German ‑ as well as Dutch or Spanish ‑ were required. Then, in the next conversation, my mind would cook up a mixture of all these languages! But I got a lot out of it too: I met employees and partners of Klasmann-Deilmann from all over the world and learned some useful technical stuff."
How did you get around during the 'Challenge Race' through the exhibition grounds ‑ did it take you to all of the halls? And how was it, having to speak to trade show personnel ‑ some of them from other countries – to complete the tasks assigned you?
Alex Vedder (trainee Industrial Business Administrator): "I was really looking forward to the Challenge Race. I liked being in teams of two that were picked at random beforehand. We covered a lot of ground, right through from Hall no.1 through to Hall no.12. We wouldn't have got around as much if it hadn't been for this activity. One task was the 'promotional-material swap'. At the start we were given some material for Klasmann-Deilmann and had to exchange it for other material at various stands. We met with mild resistance at some stands, but sometimes we were lucky and received some cool stuff. But I'd have liked to get a better idea of what was involved in staffing the Klasmann-Deilmann stand."
Nick Poschmann (trainee Industrial Mechanic): "We didn't actually visit that many different halls on the Challenge Race ‑ we simply ran out of time. This would probably have also been the case if we hadn't done this activity, but we wouldn't have talked to as many people staffing other stands."
René Föcke (trainee Industrial Business Administrator): "We tended to spend a fair bit of time at the various stands, where we took the opportunity to chat with people from many different countries. It was especially interesting to see how various products promoted at other stands could complement Klasmann-Deilmann's products. Then our time was up and we thought, 'What a shame, there's so much we didn't get around to seeing.'"
All of the vocational trainees agreed that this trip should be an annual event. "And it ought to be compulsory" was the unanimous verdict. Seeing Klasmann-Deilmann at a trade show like this helps to understand the company better. All in all, the trip was a great experience for the trainees.