Using a dro­ne to deter­mi­ne extrac­tion quantities
Stu­dents embark on pro­ject at Klasmann-Deilmann
Whenever pos­si­ble, Klasmann-Deilmann gives assign­ments with a dif­fe­rence to young peop­le doing voca­tio­nal trai­ning and stu­dy pro­gram­mes. The­se inclu­de a cur­rent pro­ject on dro­nes invol­ving five stu­dents. They are using the latest infor­ma­ti­on tech­no­lo­gy to deve­lop a method that deli­vers extre­me­ly pre­cise quan­ti­ta­ti­ve assess­ments of stocks in extrac­tion areas.
Wea­ther con­di­ti­ons are favoura­ble. It's sun­ny with almost no wind. Five stu­dents have dri­ven out onto one of our extrac­tion sites. Their dar­ing mis­si­on: a test flight with a dro­ne. On a level sur­face wit­hin the Ost­feld peat­field, they place the qua­dro­co­p­ter on the ground. Befo­re take­off, they enter the desi­red alti­tu­de in the con­trol tablet and set the inter­vals at which the inte­gra­ted came­ra is to take photos.
The minia­tu­re air­craft, weig­hing some 1.5 kg, takes off, clim­bing steadi­ly and reaching an alti­tu­de of 80 m. The stu­dents watch, trans­fi­xed by this tech­no­lo­gi­cal mar­vel. Then the qua­dro­co­p­ter starts its for­ward move­ment high abo­ve the 500-odd-met­re-long peat stack.
"It makes five pas­ses over the stack in dif­fe­rent posi­ti­ons to take pho­tos with a high degree of over­lap," exp­lains Lars Wortel­bo­er. Two years ago Lars began a com­bi­ned voca­tio­nal trai­ning und degree pro­gram­me in Lin­gen, doing Busi­ness Infor­ma­ti­on Sys­tems at Osna­brück Uni­ver­si­ty of App­lied Sci­en­ces (HSO). He is assis­ting our IT team during his prac­ti­cal-trai­ning phases.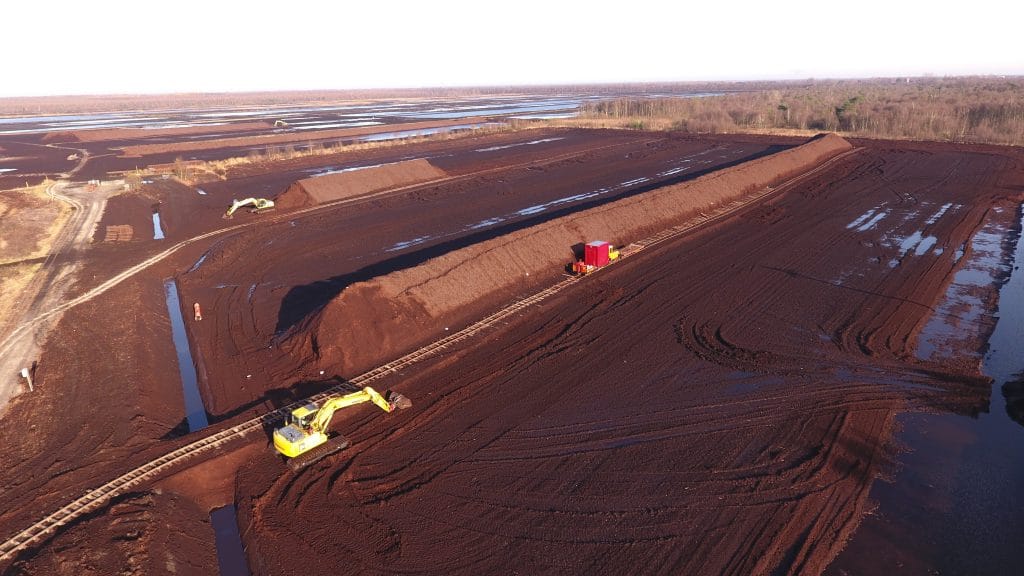 The­se dro­ne flights are part of a stu­dy pro­ject. As the group con­sists of pro­spec­ti­ve IT spe­cia­lists and busi­ness admi­nis­tra­tors, a topic had to be found at the inter­face bet­ween the­se two are­as. "When Klasmann-Deilmann sug­gested working with a dro­ne, we leapt on board strai­ght away," says Niklas Albers. He had alrea­dy qua­li­fied with us as an Indus­tri­al Busi­ness Admi­nis­tra­tor and, buil­ding on this, is now doing a com­bi­ned degree and voca­tio­nal trai­ning cour­se in Busi­ness Admi­nis­tra­ti­on. It was not hard for Lars and Niklas to per­sua­de fel­low HSO stu­dents based at Lin­gen to sign up for this qua­dro­co­p­ter dro­ne pro­ject with Klasmann-Deilmann.
The small fly­ing machi­ne whirrs over our heads as Niklas exp­lains the pro­cess. "One pro­blem is tel­ling whe­re the stack ends and the under­ly­ing ground sur­face begins," he says, poin­ting to the bounda­ry zone. This is par­ti­cu­lar­ly hard to do from an aeri­al per­spec­ti­ve, sin­ce both the stack and the sur­roun­ding peat­land are the same colour. "So we've mar­ked the stacks with small pie­ces of white tar­pau­lin." Lars adds: "The­se are the refe­rence points or con­trol points for the sur­vey­ing software."
It was a long pro­cess befo­re they could get the dro­ne up in the air. "We had to fill in lots of forms and obtain appro­val befo­re we could fly it at all," he says. This inclu­ded obtai­ning take-off per­mis­si­on from the regio­nal roads and trans­port aut­ho­ri­ty (NLSV) and pro­ving they could safe­ly ope­ra­te an unman­ned aeri­al sys­tem (UAS). For this pur­po­se both of them under­went trai­ning at a model air­craft club in Sur­wold. "And, becau­se we're in a restric­ted-flight zone, we can fly only at spe­ci­fic times."
Lars, Niklas and the others are sup­por­ted by pro­ject super­vi­sor Hen­ry Hurink. Pro­ces­sing data obtai­ned by dro­nes is part of his rou­ti­ne dai­ly work invol­ving the taking of site mea­su­re­ments for our cli­ma­te foot­print. So his expe­ri­ence is inva­lu­able to the students.
The task now is to iden­ti­fy the best method of deter­mi­ning the volu­me of extrac­ted peat as pre­cise­ly as pos­si­ble. "We're still doing a lot of try­ing out and tes­ting at the moment," says Niklas. "The hig­her the dro­ne, the bet­ter the over­view, but the accu­ra­cy may be com­pro­mi­sed abo­ve a cer­tain height." When, star­ting in Febru­a­ry, the raw mate­ri­als are suc­ces­si­ve­ly loa­ded onto the rail­way cars and the true volu­me can be deter­mi­ned with refe­rence to the num­ber of wagons, the young inves­ti­ga­tors can com­pa­re their figu­res with the actu­al quantity.
The stack dimen­si­ons had pre­vious­ly been deter­mi­ned manu­al­ly using a tape mea­su­re. Howe­ver, as the stacks are not com­ple­te­ly sym­metri­cal or even, results obtai­ned this way may well be inac­cu­ra­te. Use of a dro­ne could soon make such impre­cisi­on a thing of the past. Come the spring­time, the stu­dents will know more …