The gro­wing medi­um of the future
Klasmann-Deilmann pres­ents stu­dent awards
The stu­dents of the WUR Chal­len­ge in Wagen­in­gen pro­vi­ded unusu­al approa­ches. The chal­len­ge, orga­nis­ed by Wagen­in­gen Uni­ver­si­ty, was to design an urban green­house to sup­ply the resi­dents of the city of Ams­ter­dam with food. One of the tasks invol­ved was to crea­te the gro­wing medi­um of the future.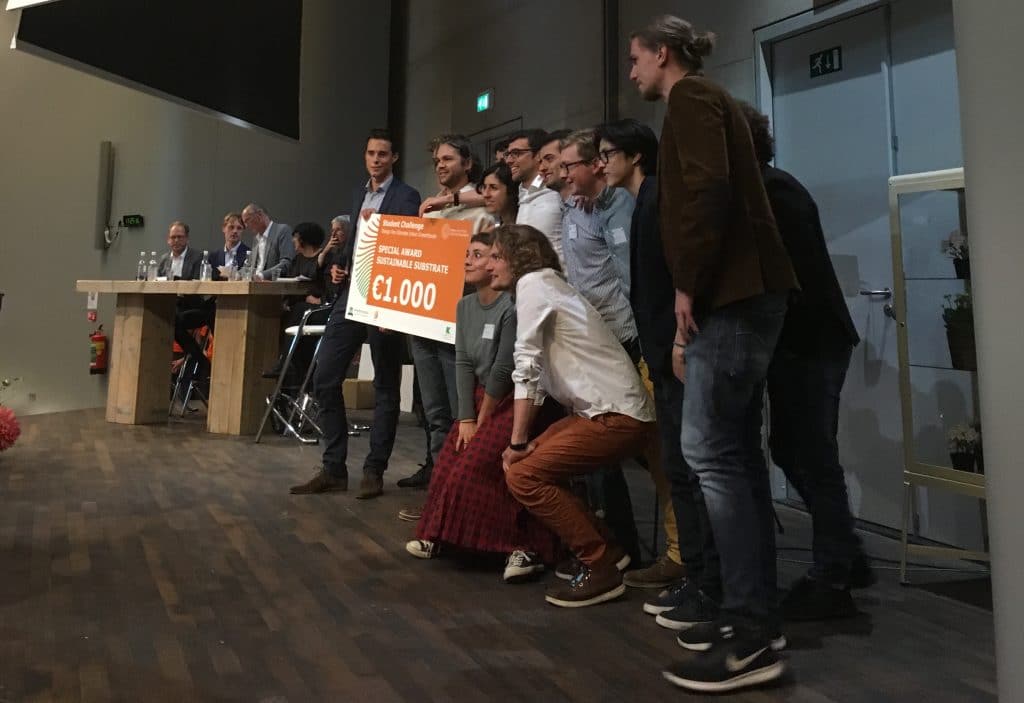 The first pri­ze in the sub-chal­len­ge to design a sus­tainab­le gro­wing medi­um was won by the "Green­S­park" team. Their sub­stra­te of the future is based on biochar as an alter­na­ti­ve raw mate­ri­al, amen­ded with saw­dust and peat. Klasmann-Deilmann prai­sed the team for its expe­ri­men­tal work and its ana­ly­sis and inclu­si­on of the rele­vant spe­cia­list lite­ra­tu­re. The jury com­men­ted, "The idea is not com­ple­te­ly new, but it's still inno­va­ti­ve. The fea­tures are bene­fi­cial, but the­re are some chal­len­ges to overcome."
Sjors Bei­jer (Inno­va­ti­on Mana­ger Klasmann-Deilmann Bene­lux) said, "Designing a sus­tainab­le sub­stra­te for our par­ti­al chal­len­ge has shown many par­al­lels bet­ween the mate­ri­als that the stu­dents have con­si­de­red and tho­se that we are tes­ting in the incu­ba­tor." He also prai­sed the ent­i­re event: "An urban green­house to sup­ply city dwel­lers is an important topic for the future. It is inte­res­ting to see how the stu­dents sol­ved the tasks and what designs they made. They have a more unbia­sed view and thus pro­vi­de unusu­al approa­ches to food pro­duc­tion. We see urban far­ming as an upco­m­ing trend, allowing inha­bi­tants of future mega­ci­ties to con­nect with food pro­duc­tion. But by sca­le, it will not be able to replace main­stream pro­duc­tion of food – it will be a par­al­lel, and in terms of sub­stra­te volu­mes pro­bab­ly a niche – but an inte­res­ting seg­ment for new pro­ducts. Here, we are thin­king about ver­ti­cal far­ming with high hygie­ne stan­dards, and hydroponics."
A "Desi­gner Mar­ket" was held at luncht­i­me to give stu­dents and busi­ness enter­pri­ses the chan­ce to net­work. Our booth at the mar­ket was staf­fed by Sarah Grün­ding (Human Resour­ces), Sebas­ti­an Kipp (Advi­so­ry Ser­vices & Qua­li­ty Manage­ment) and Sjors Bei­jer, who infor­med nume­rous stu­dents about Klasmann-Deilmann's qua­li­ties as an employer.
Click here to read the arti­cle about the webi­nar with Sebas­ti­an Kipp. In this webi­nar he pro­vi­ded the stu­dents taking part in the WUR Chal­len­ge with the necessa­ry tools to crea­te the gro­wing medi­um of the future.
The main chal­len­ge to design an urban green­house ‑ by the way loca­ted in an exis­ting buil­ding, the for­mer pri­son 'Ams­ter­dam Bajes' ‑ was won by the team "Green­WURks". They pre­sen­ted their design via a movie. Click here to watch it.
&feature=youtu.be">Click here for the video about the who­le event.