The growing medium of the future
Klasmann-Deilmann presents student awards
The students of the WUR Challenge in Wageningen provided unusual approaches. The challenge, organised by Wageningen University, was to design an urban greenhouse to supply the residents of the city of Amsterdam with food. One of the tasks involved was to create the growing medium of the future.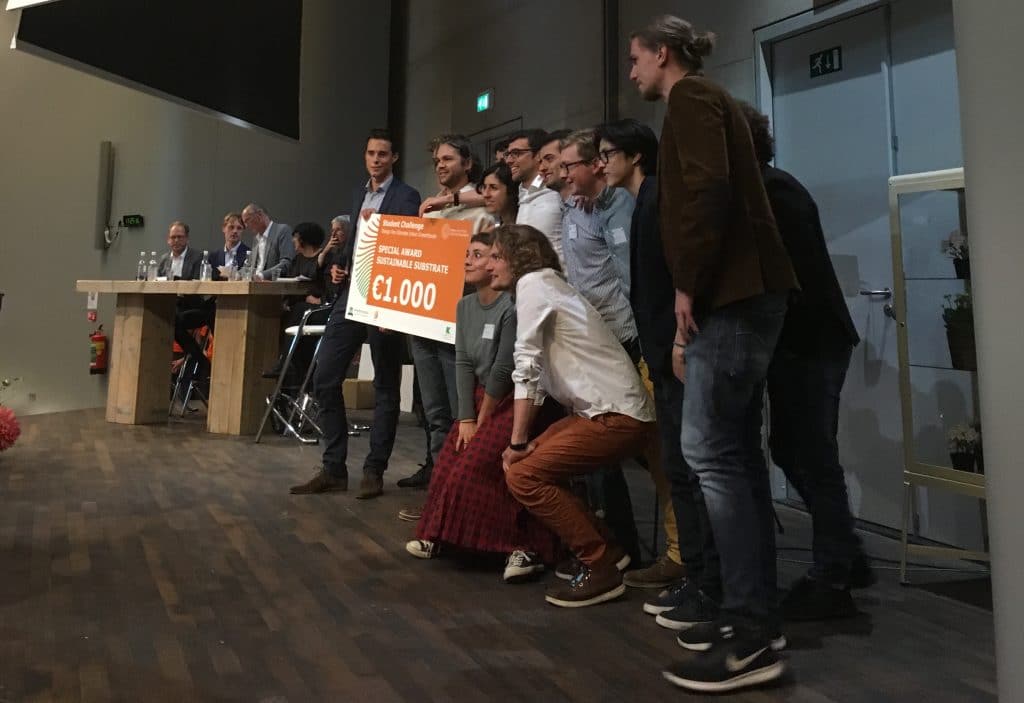 The first prize in the sub-challenge to design a sustainable growing medium was won by the "GreenSpark" team. Their substrate of the future is based on biochar as an alternative raw material, amended with sawdust and peat. Klasmann-Deilmann praised the team for its experimental work and its analysis and inclusion of the relevant specialist literature. The jury commented, "The idea is not completely new, but it's still innovative. The features are beneficial, but there are some challenges to overcome."
Sjors Beijer (Innovation Manager Klasmann-Deilmann Benelux) said, "Designing a sustainable substrate for our partial challenge has shown many parallels between the materials that the students have considered and those that we are testing in the incubator." He also praised the entire event: "An urban greenhouse to supply city dwellers is an important topic for the future. It is interesting to see how the students solved the tasks and what designs they made. They have a more unbiased view and thus provide unusual approaches to food production. We see urban farming as an upcoming trend, allowing inhabitants of future megacities to connect with food production. But by scale, it will not be able to replace mainstream production of food – it will be a parallel, and in terms of substrate volumes probably a niche – but an interesting segment for new products. Here, we are thinking about vertical farming with high hygiene standards, and hydroponics."
A "Designer Market" was held at lunchtime to give students and business enterprises the chance to network. Our booth at the market was staffed by Sarah Gründing (Human Resources), Sebastian Kipp (Advisory Services & Quality Management) and Sjors Beijer, who informed numerous students about Klasmann-Deilmann's qualities as an employer.
Click here to read the article about the webinar with Sebastian Kipp. In this webinar he provided the students taking part in the WUR Challenge with the necessary tools to create the growing medium of the future.
The main challenge to design an urban greenhouse ‑ by the way located in an existing building, the former prison 'Amsterdam Bajes' ‑ was won by the team "GreenWURks". They presented their design via a movie. Click here to watch it.
&feature=youtu.be">Click here for the video about the whole event.