A forward-looking company stays young
Schwegermoor GmbH celebrates its 50th anniversary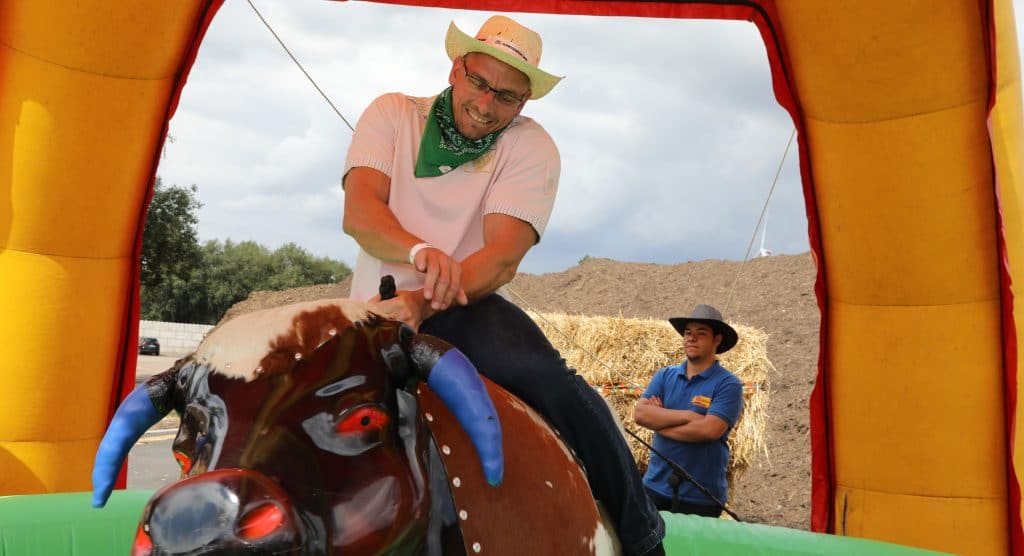 It was with a big Family Festival that Schwegermoor GmbH celebrated its 50th anniversary. Well over 100 employees and family members enjoyed a day on the company premises, which received a Western-style décor. Barbecue food – cooked on a mobile smoker – was on offer, as was bull riding and many other Wild West activities. "Schwegermoor GmbH holds a very special place in the Klasmann-Deilmann Group," said Norbert Siebels, outgoing Managing Director of Klasmann-Deilmann GmbH, during his ceremonial address. "For decades now, this location has specialised in the production of potting soils – and our customers greatly appreciate this."
Schwegermoor GmbH's roots stretch back to 1910, when the 'Hannoversche Kolonisations- und Moorverwertungs-Aktiengesellschaft' (Hakumag) built a power plant in Bohmte, seeking to obtain nitrogenous fertiliser from the low-temperature carbonisation of peat. In 1968, peat plant Torfwerk Schwegermoor GmbH & Co. KG was formed which has, as Schwegermoor GmbH, been a wholly owned subsidiary of the Klasmann-Deilmann Group since 1998. It has been helmed by Günter Obermeyer since March 2006.
The company, with a current headcount of 36, produces some 300,000 m³ of potting soils and bark products per annum. The most important raw material is peat from its own extraction sites. Every year, around 20,000 m³ of sod-cut peat and 130,000 m³ of milled peat are harvested here.
"At the same time, the composition of these potting soils is changing. Recently, the proportion of alternative constituents used, such as wood fibre and green compost, has increased to around 40% – a development we welcome and support," Norbert Siebels said. Schwegermoor has operated a composting facility for green waste since as long ago as 1990, producing an average of 40,000 m³ of quality-assured green compost used as an additive in potting soils.
It will also be getting its own wood fibre facility this year. "This investment will take us further into the future," asserted Managing Director Günter Obermeyer. Our production target for the coming year is around 10,000 m³ of wood fibre, rising in the future to a peak output of up to 45,000 m³ per annum. "With our own premium-quality raw materials, we can respond to the increasing demand for organic growing media and peat-reduced potting soils," Obermeyer added.
Rounding off his address, Norbert Siebels concluded: "At 50, Schwegemoor truly is a firm that has stayed young at heart – because it remains at the forefront of progress and maintains good prospects for the future. And a forward-looking company stays young."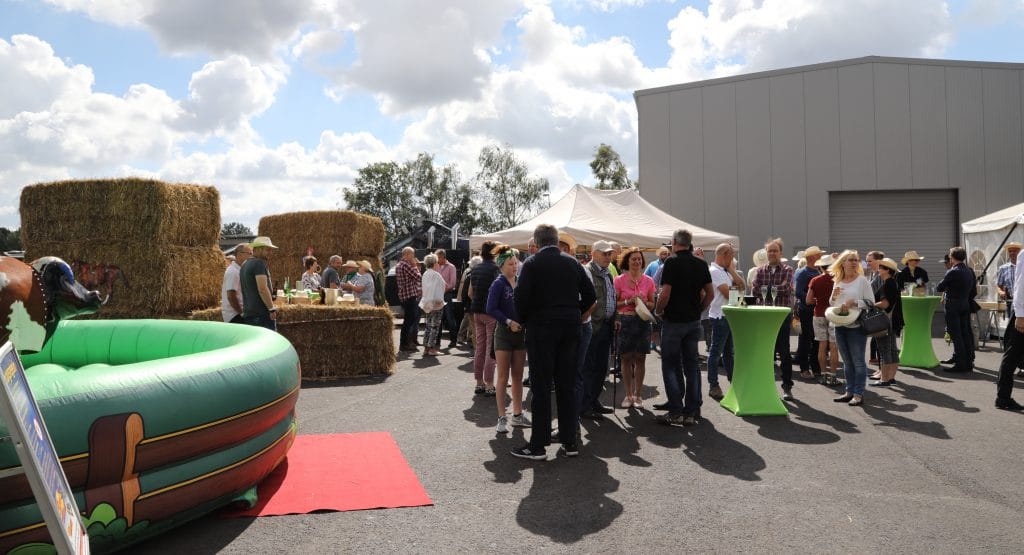 The story of Schwegermoor GmbH
In 1910, the 'Hannoversche Kolonisations- und Moorverwertungs-Aktiengesellschaft' ('Hannover Peatland Settlement and Utilisation Stock Corporation, Hakumag) built a power plant on Dammer Straße in Bohmte, the aim being to obtain nitrogenous fertiliser from the low-temperature carbonisation of peat. Methane, a by-product of this process, was to be used to generate electricity. However, long drying times meant not enough peat was available to ensure continuous operations. The power plant was closed only two years later. In subsequent years, production focused on black peat for domestic fuel, and on white peat packed in jute sacks and bales in slatted wooden crates.
On 20 March 1968, Franz Meinen and Fritz Wernet had Torfwerk Schwegermoor GmbH & Co. KG entered in the register of companies. It was on this day that the present-day Schwegermoor GmbH was born. Whereas this new firm did use its own land for extracting sod-cut peat, it primarily relied on Hakumag's leased sites and operating facilities. Bales of peat and valve sacks were marketed under the umbrella of the former 'Peat Litter Association' and the 'Bremen Peat Export Business'.
In 1986, the former Klasmann Werke GmbH acquired a one-third stake in Schwegemoor GmbH. The location got its own substrate factory. It was henceforth Klasmann that took charge of the marketing of the bales of peat and potting soils under the 'Luise' brand. Sales activities through peat export operations in Bremen were scaled back.
1995 saw Schwegermoor purchase operationally necessary material assets, buildings and land from Hakumag. The old factory building, dating from Germany's economic boom period associated with industrialisation, burned down in June of that year and production of bales was discontinued.
In June 1996, the compost manufacturer 'Kompostierungsgesellschaft Region Osnabrück (KRO)' began operations directly on the plant site. The first 'organic compost' was produced and distributed in 1998 and, in subsequent years, KRO processed up to 100,000 tonnes of organic waste every year. The bulk of the organic compost was sold for agricultural purposes. Schwegermoor held a 10% interest in KRO and also assumed its operatorship. In June 2014, the facility was totally destroyed in a blaze. A new plant is currently under construction, although this will no longer be operated by Schwegermoor GmbH.
In 1998, the company was integrated into the Klasmann-Deilmann Group as a wholly owned subsidiary. That year also marked the start of cooperation between Schwegermoor and Compo. This business relationship continues to this day, with Schwegermoor producing high-quality potting soils for Compo, augmented by potting soils under Klasmann-Deilmann's Florabella brand.
In 2001, the company was renamed Schwegermoor GmbH.