In-house inst­ruc­tion for voca­tio­nal trai­nees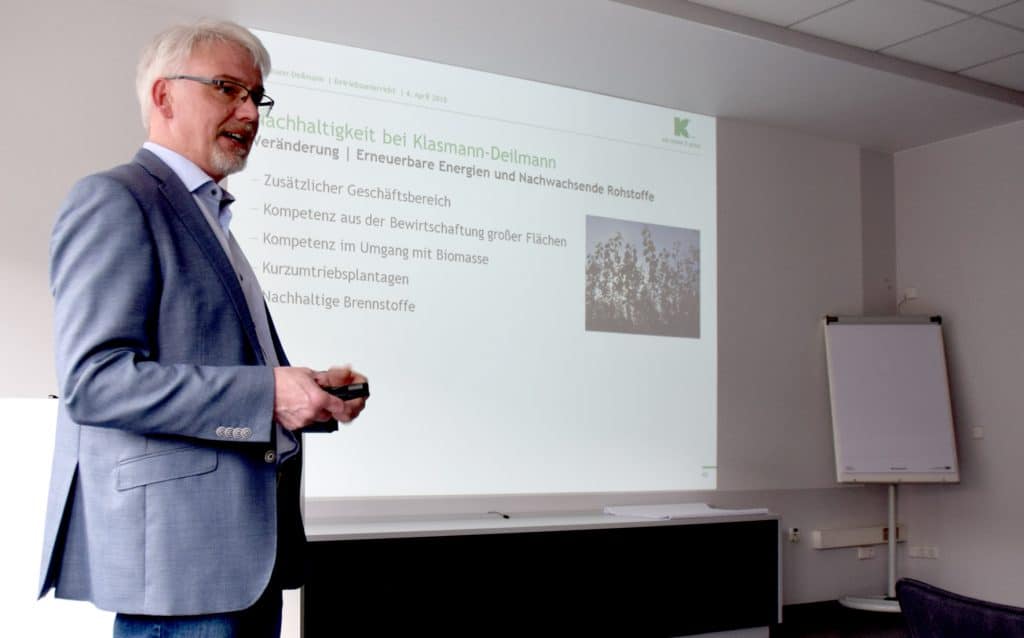 Dual voca­tio­nal trai­ning invol­ves inter­play bet­ween theo­ry and prac­tice. Klasmann-Deilmann's trai­nees spend some of their time on day release at voca­tio­nal school and the rest in the work­place. To explo­re sub­ject mat­ter in grea­ter depth and pro­vi­de insights into unknown are­as, they also recei­ve in-house tea­ching ‑ and the­se clas­ses have been pro­vi­ded for more than 20 years.
In a glo­bal com­pa­ny, the­re is much to dis­co­ver. So that our trai­nees obtain as broad an over­view as pos­si­ble, they spend time in several dif­fe­rent depart­ments. We also pro­vi­de them with in-house inst­ruc­tion that expands on sub­ject mat­ter rele­vant to their trai­ning, give a com­pre­hen­si­ve intro­duc­tion to our com­pa­ny and its pro­duc­ts, and look at topics that can be dealt with only brief­ly in day-to-day trai­ning.
The topic being addres­sed today is sustai­na­bi­li­ty. During les­sons, the trai­nees and their inst­ruc­tor will be explo­ring the three pil­lars of sustai­na­bi­li­ty: eco­lo­gy, eco­no­my and soci­al deve­lop­ment. With refe­rence to the Sustai­na­bi­li­ty Report, Dirk Röse (Head of Cor­po­ra­te Com­mu­ni­ca­ti­ons) will illus­tra­te what the­se com­mu­ni­ca­ti­ons activi­ties are all about. "So that it isn't just empty words, we need actions, fac­ts and valid argu­ments ‑ the­se are cru­ci­al requi­re­ments," he says. "To crea­te trans­pa­ren­cy regar­ding our cli­ma­te respon­si­bi­li­ty, we cal­cu­la­te a car­bon foot­print every year. To make sustai­na­bi­li­ty quan­ti­fia­ble, we have intro­du­ced key per­for­mance indi­ca­tors. Stan­dards make for com­pa­ra­bi­li­ty. And that's why we pro­du­ce our Sustai­na­bi­li­ty Report to GRI stan­dards."
The trai­nees are impres­sed at the rigour with which Klasmann-Deilmann puts sustainab­le cri­te­ria into prac­tice. "It's inte­res­ting to find out what goes into a Sustai­na­bi­li­ty Report," comments Niklas Ber­ger, who is on a com­bi­ned voca­tio­nal-trai­ning und degree pro­gram­me in Busi­ness Admi­nis­tra­ti­on (Betriebs­wirt­schaft). René Föcke (Trai­nee Indus­tri­al Busi­ness Admi­nis­tra­tor (Indus­trie­kauf­mann)) agrees, not­ing: "We want to grow while redu­cing our emis­si­ons. At first glance, that seems a con­tra­dic­tion in terms. I'm keen to see what solu­ti­ons Klasmann-Deilmann will find to this pro­blem."
Some mate­ri­al cove­r­ed is fami­li­ar to trai­nees from their day-to-day work, but the­re is always much unchar­te­red ter­rito­ry. "The fact that peat extrac­tion was once actual­ly desi­red by the sta­te befo­re a shift occur­red in public per­cep­ti­on ‑ well, that was new to me," says Mar­kus Peters (Trai­nee Indus­tri­al Busi­ness Admi­nis­tra­tor).
Often, the­se in-house ses­si­ons brea­the life into other­wi­se some­what dry theo­ry. "Sustai­na­bi­li­ty is very much a buz­zword at the moment," says Julia Roling (Trai­nee Indus­tri­al Busi­ness Admi­nis­tra­tor), "but fin­ding out how an orga­ni­sa­ti­on actual­ly puts it into prac­tice is real­ly fasci­na­ting." Wieb­ke Volk­mann (Busi­ness Admi­nis­tra­tor for Mar­ke­ting Com­mu­ni­ca­ti­ons (Kauf­frau für Mar­ke­ting­kom­mu­ni­ka­ti­on)) also feels that the­re is inter­play bet­ween prac­tice and theo­ry. "Day-to-day work has always touched on issu­es of sustai­na­bi­li­ty at cer­tain points. And now we can see ever­ything in a broa­der con­text and gain an over­all pic­tu­re."
"The in-house tea­ching shows us whe­re things slot into the over­all frame­work," says Lore­na Ahrens (Trai­nee Indus­tri­al Busi­ness Admi­nis­tra­tor). It gives trai­nees a men­tal map sho­wing them whe­re details fit into the big pic­tu­re: "Even if you've alrea­dy been in a given depart­ment, often the work you do rela­tes to only part of its remit. The in-house ses­si­ons remind you of how it all fits tog­e­ther and gives you a bet­ter idea of how the depart­ments and other parts of the com­pa­ny are rela­ted."
In-house inst­ruc­tion has been pro­vi­ded by Klasmann-Deilmann for more than 20 years now. "Right now, the­se clas­ses have two main aims. First­ly, to take a more in-depth look at sub­ject mat­ter rele­vant to trai­ning, drawn from the various spe­cia­list divi­si­ons such as pay­roll, mate­ri­als manage­ment and pro­duc­tion manage­ment. And second­ly, to teach trai­nees more about our com­pa­ny; about pro­duc­ts, pro­ces­ses and divi­si­ons that their trai­ning doesn't touch on so much," says Trai­ning Mana­ger Andrea Bruns (Human Resour­ces Ser­vices).
Input is valued from the trai­nees them­sel­ves on what they want to see cove­r­ed. "They know best what ques­ti­ons they want ans­we­red and what infor­ma­ti­on they need, and are encou­ra­ged to help actively con­tri­bu­te to the­se clas­ses," Bruns exp­lains. "This may take the form of class­room par­ti­ci­pa­ti­on and direct ques­ti­ons during les­sons. But we're also open to sug­ges­ti­ons for topics befo­re­hand."
In-house tea­ching is pro­vi­ded at a sin­gle loca­ti­on, joint­ly atten­ded by our Geese-based trai­nees and tho­se at our Sedels­berg site. As well as regu­lar clas­ses, it also inclu­des other edu­ca­tio­nal events. The­se inclu­de tours of the pro­duc­tion com­pa­ny (Pro­duk­ti­ons­ge­sell­schaft Nord) in Sedels­berg and a visit to the IPM tra­de show in Essen, Ger­ma­ny.