Streng­t­he­ning our inno­va­ti­on culture
Young inter­na­tio­nal employees learn Design Thinking
Is crea­ti­vi­ty some­thing that can be lear­ned? In other words, can anyo­ne be crea­ti­ve? The­se are ques­ti­ons that some of the atten­de­es at the Design Thin­king work­shop at the Klasmann-Deilmann Inno­va­ti­on Cen­ter in Gees­te undoub­ted­ly asked them­sel­ves. Mem­bers of the Has­so Platt­ner Insti­tu­te from Pots­dam, which leads the field in this sec­tor, exp­lai­ned the dif­fe­rent pha­ses of "Design Thin­king" to our young employees.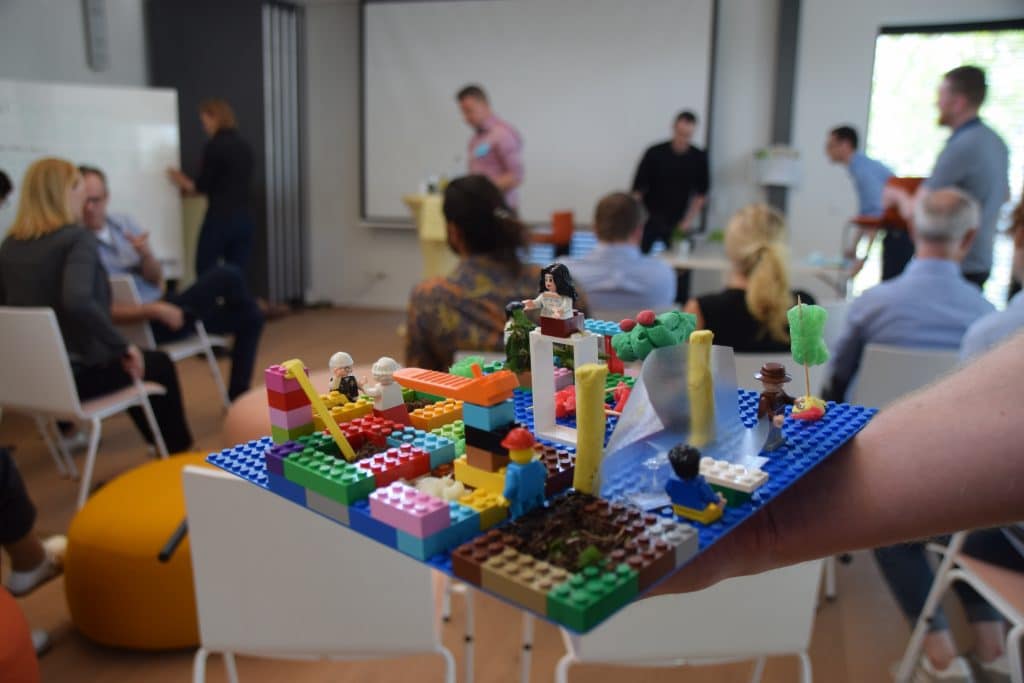 The 13 young men and women are busy making things with Lego bricks and figu­res, mul­ti-colou­red poly­sty­re­ne parts, rub­ber bands, tooth­picks, paper cups, felt pens, car­tridge paper and various other uten­sils. They are employees from Ger­ma­ny, Fran­ce, Ire­land, Lit­hua­nia, Lat­via and the Nether­lands and they are working on a pro­to­ty­pe for use of the cur­r­ent­ly vacant sto­rage buil­ding in Groß Hese­pe. The chal­len­ge: to design a new loca­ti­on expe­ri­ence for the staff there.
But how do you come up with the bright idea you need to make a pro­to­ty­pe in the first place? This is actual­ly one of the final pha­ses of the crea­ti­ve pro­cess. Under the inst­ruc­tion of mem­bers of the Has­so Platt­ner Insti­tu­te, our juni­or staff reached that sta­ge by app­ly­ing the princi­ples of "Design Thin­king": under­stan­ding, obser­ving, defi­ning the view­point, fin­ding ide­as, deve­lo­ping and tes­ting a pro­to­ty­pe. "First of all, you have to learn as much as you can about the pro­blem invol­ved, to iden­ti­fy the rele­vant ques­ti­ons and under­stand the users who are invol­ved," exp­lains lead coach Samu­el Tsche­pe. Alt­hough the dif­fe­rent pha­ses are com­ple­ted one after the other, it is always a good idea to look back over the pre­ce­ding pha­ses and keep adap­ting things if necessa­ry. This is becau­se know­ledge acqui­red at a later sta­ge of the pro­cess can actual­ly chan­ge the star­ting point, which means it is important to remain open-min­ded for new ide­as and fin­dings ins­tead of clinging on to the initi­al plan.
The focus is on the user. "This is a cen­tral princip­le of Design Thin­king," sta­tes Samu­el Tsche­pe. The pro­duct does not have to plea­se the deve­lo­per, but the per­son who is going to use it, i.e. the cus­to­mer. Accord­in­gly, our juni­or staff swar­med out and inter­view­ed employees in Groß Hese­pe. But befo­re they did so, they lear­ned appro­pria­te inter­view tech­ni­ques to give them a bet­ter idea of how to iden­ti­fy the users' needs. Empa­thy and the abi­li­ty to lis­ten are essen­ti­al cri­te­ria for reco­gnis­ing the customer's wishes.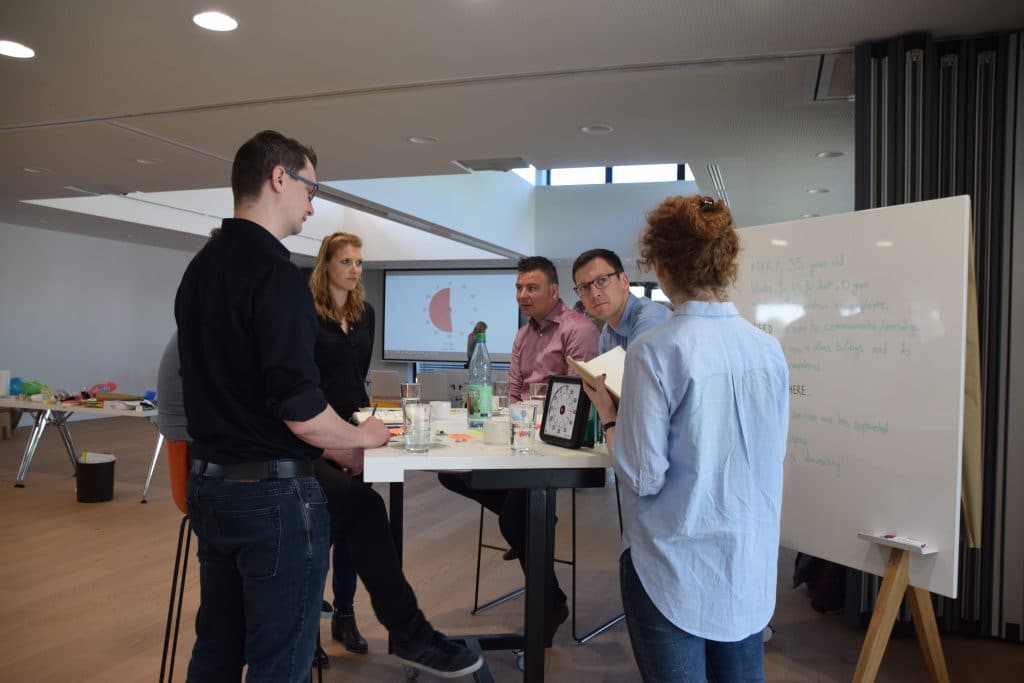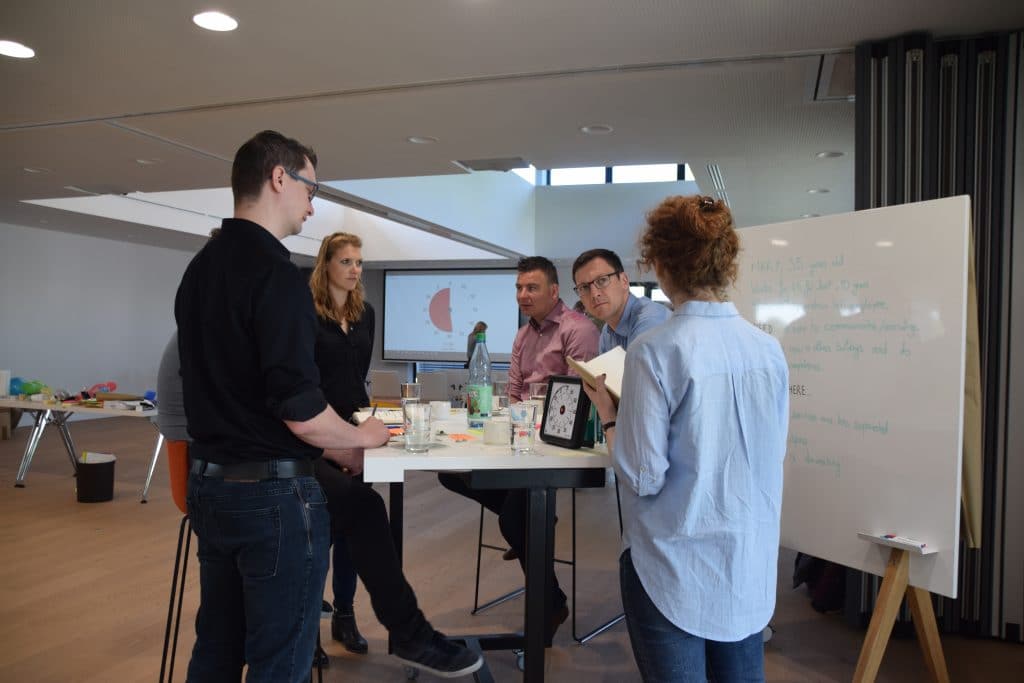 Working in teams, they col­la­ted, dis­cus­sed and scru­ti­ni­s­ed their results, loo­ked for over­lap­ping are­as, deve­lo­ped the view­point, syn­the­sis­ed the fin­dings. The inspi­ra­ti­on at the end of the­se pro­ces­ses is the star­ting point for fin­ding ide­as. The coa­ches taught the young employees various crea­ti­vi­ty tech­ni­ques in pre­pa­ra­ti­on for their work and sent them off with the fol­lowing words of advice: "Fail ear­ly, fail often." Samu­el Tsche­pe exp­lains: "A lack of inspi­ra­ti­on and fear of making mista­kes are typi­cal fac­tors that inhi­bit crea­ti­vi­ty. That is why we belie­ve it is important to address the­se aspects so that the teams can suc­cess­ful­ly embark on the pha­se in which they find ideas."
The key princi­ples of the idea-fin­ding pha­se are expe­ri­men­ta­ti­on, team­work and visua­li­sa­ti­on. The "ide­as train" is a good examp­le of this. The team forms a line and then begins to move around – this can be in a room, throughout the who­le buil­ding or even out­side. All mem­bers of the team are equip­ped with a pen and sti­ckers. The mem­ber at the front of the line calls out an idea or a thought. The per­son behind him spon­ta­ne­ous­ly ans­wers the first thing he asso­cia­tes with that idea, wri­tes it down on a sti­cker, which he then sticks to the back of the per­son in front of him. This con­ti­nues down the line, always working on the princip­le of asso­cia­ti­on and buil­ding up on the ide­as of the other members.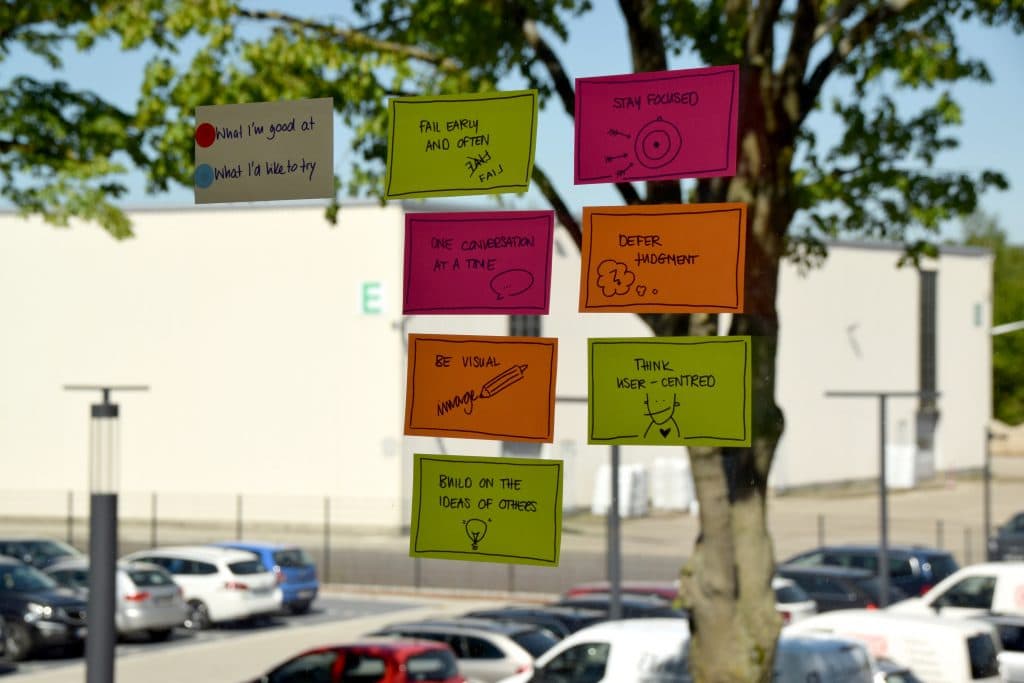 The collec­tion of ide­as is fol­lo­wed by the decisi­on-making pha­se. Our young employees rejec­ted a num­ber of ide­as in order to deve­lop one good idea and to make the pro­to­ty­pe, for examp­le by using the mate­ri­al descri­bed abo­ve. The pro­to­ty­pe does not have to be per­fect by any means. It is important to give the test user an idea of the plan­ned pro­duct. The princip­le "Fail ear­ly, fail often" is app­lied in order to inte­gra­te the customer's view­point, but also to reco­gni­se weak points at an ear­ly sta­ge and thus save cos­ts. The pro­ce­du­re is ite­ra­ti­ve: the deve­lo­pers con­ti­nue to adapt their pro­to­ty­pe step by step, always in con­sul­ta­ti­on with the user.
At the end of the three-day work­shop, our juni­or staff pre­sen­ted the results of their work to a wide audi­ence. But more than that, they also demons­tra­ted what they had lear­ned: acting the parts of the poten­ti­al users, they con­vey­ed a good impres­si­on of the users' needs, pla­ced the focus on empa­thy, told their per­so­nal sto­ries. It is exact­ly this pro­ce­du­re that fol­lows the key basic princi­ples of Design Thin­king: a user-ori­en­ted approach com­bi­ned with visu­al work. The focus is on the user, not the developer.
This mar­ked the end of the second inter­na­tio­nal team event for our juni­or staff. The first mee­ting took place in Rot­ter­dam in Octo­ber 2017. They will be invi­ted to Šilu­tė in Lit­hua­nia for the next mee­ting; the final inter­na­tio­nal team event of this two-year trai­ning pro­gram­me will be held next spring. Bet­ween the­se group mee­tings, the com­pa­ny sup­ports the deve­lo­p­ment and pro­mo­tes the skills of the indi­vi­du­al team mem­bers. At mee­tings with Human Resour­ces staff and their super­vi­sors, the young employees look at oppor­tu­nities for their pro­fes­sio­nal deve­lo­p­ment and draw up a plan for achie­ving the­se goals.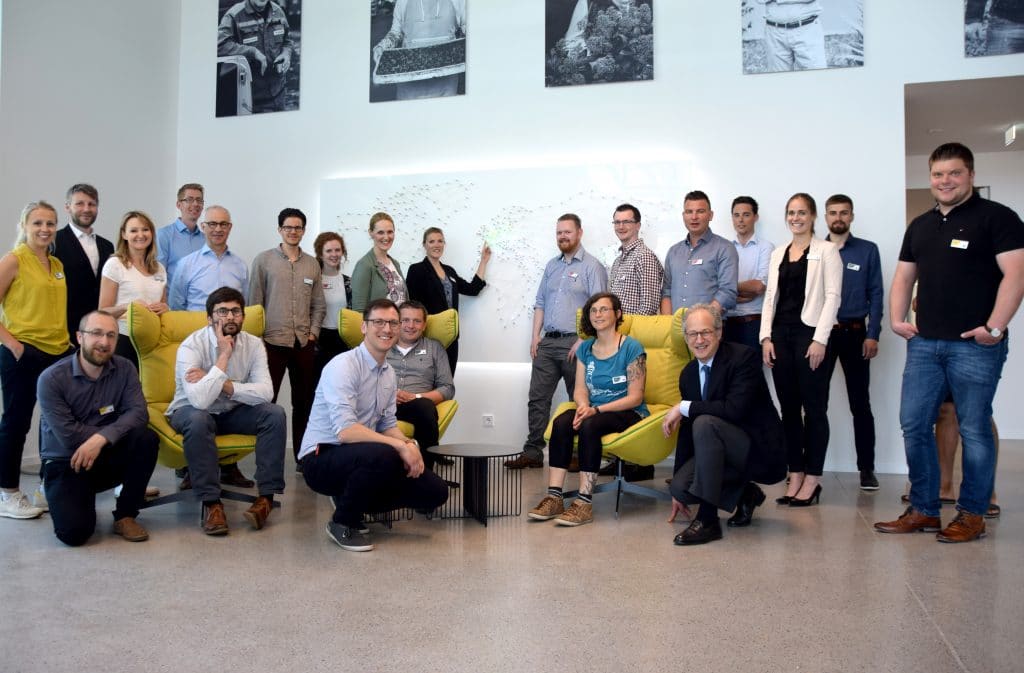 Design Thin­king is ano­t­her ele­ment with which we hope to boost our powers of inno­va­ti­on. The expe­ri­ence acqui­red at our incu­ba­tor has alrea­dy shown that it makes sen­se to invol­ve the cus­to­mer in pro­duct deve­lo­p­ment at an ear­ly sta­ge. Working with pro­to­ty­pes is a new and pro­mi­sing approach in this pro­cess: the pro­to­ty­pe quick­ly gives deve­lo­per and cus­to­mer a clear idea of the pro­duct befo­re we invest a lot of time and money in the details. Nega­ti­ve feed­back is deli­ber­ate­ly accep­ted and the lear­ning and deve­lo­p­ment pro­ces­ses are acce­le­ra­ted so that the pro­ducts are rea­dy for mar­ket roll­out sooner.