Mour­ning for Dr Klaus Jür­gen Deilmann
We mourn our for­mer share­hol­der Dr. Klaus Jür­gen Deilmann, who died peace­ful­ly last Sunday in Bad Bent­heim at the age of 93 after a ful­fil­led life. Klaus Jür­gen Deilmann and his bro­ther Hans Carl Deilmann led the fami­ly busi­ness C. Deilmann in the 3rd genera­ti­on for several deca­des until they han­ded over the respon­si­bi­li­ty to Carl-Ger­rit Deilmann and Carl-Joa­chim Deilmann in 2007. The main focus of his suc­cess­ful work was in the coal and steel indus­try as well as in the oil and natu­ral gas busi­ness. In the 1980s, he was instru­men­tal in the sale of lar­ge parts of the fami­ly busi­ness to the then Preus­sag AG. Time and again, he expres­sed his clo­se and appre­cia­ti­ve ties with the Klasmann-Deilmann Group. His com­pa­n­ions appre­cia­ted the calm and con­struc­ti­ve way in which he advan­ced important pro­jects, his balan­ced con­vic­tions and joint goals. His actions were cha­rac­te­ri­sed by strai­ght­for­ward­ness and fore­sight. In ever­ything he did, he always kept the well-being of the com­pa­ny and its employees in mind.
Our sym­pa­thy goes to the fami­ly Carl-Ger­rit Deilmann as well as to all rela­ti­ves and friends. We will keep an hono­ura­ble memo­ry of Dr Klaus Jür­gen Deilmann.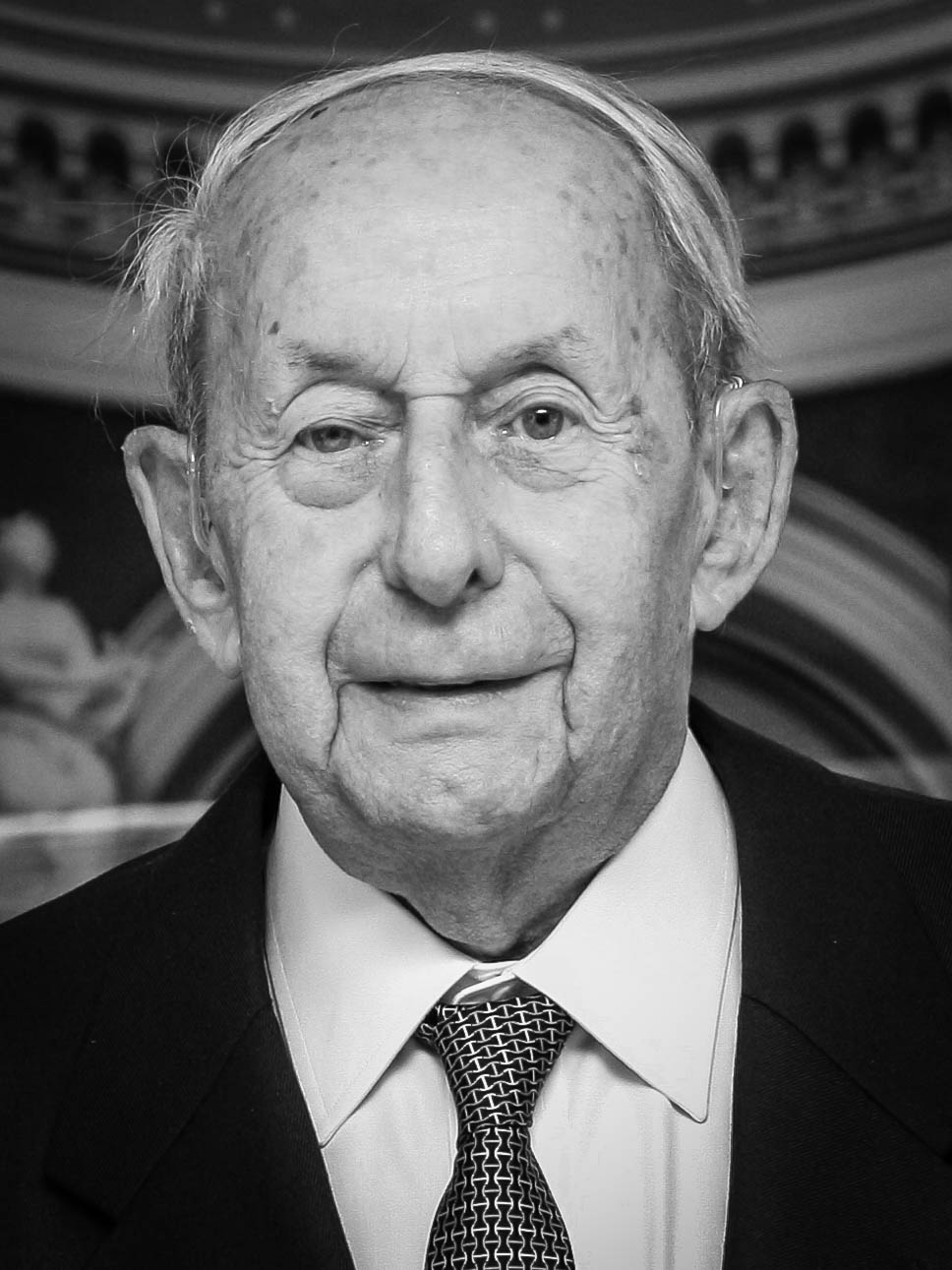 Dr Klaus Jür­gen Deilmann was born in Dort­mund on 9 August 1927. He lived in his par­ents' house until 1941 and then atten­ded a boar­ding school in Bad Godes­berg. As an air for­ce hel­per, he had to help out on anti-air­craft guns from ear­ly 1943 to pro­tect Ger­man cities from Allied bom­bing raids. This was fol­lo­wed by a peri­od of ser­vice in the Reich Labour Ser­vice and a peri­od as an offi­cer cadet in the Ger­man Navy. At the end of the war Jür­gen Deilmann was brief­ly cap­tu­red by Ame­ri­can and Bri­tish for­ces. He retur­ned to Dort­mund in 1945 and gra­dua­ted from high school in 1948. From 1949 to 1954 he stu­di­ed law and eco­no­mics at the uni­ver­si­ties of Bonn and Tübin­gen. The time in Switz­er­land that fol­lo­wed left a deep impres­si­on on him, espe­cial­ly in human terms. His best memo­ries are of the "small and first-class uni­ver­si­ty with nume­rous for­eign stu­dents" in Bern, whe­re he pas­sed his sta­te exami­na­ti­on. In 1956 his doc­to­ral the­sis was on "Com­pe­ti­ti­ve Fea­tures in the Coal Mining Indus­try with Spe­cial Con­si­de­ra­ti­on of the Ruhr Coal Mining Industry".
In 1954 Jür­gen Deilmann joi­ned the Ger­man engi­nee­ring com­pa­ny "Braun­schwei­gi­sche Maschi­nen­bau-Anstalt" (BMA), beca­me an aut­ho­ri­sed signa­to­ry in 1957 and in 1958 joi­ned the board. He was respon­si­ble for finan­ce, com­mer­cial admi­nis­tra­ti­on and human resour­ces. At times, howe­ver, he also took on sales acti­vi­ties abroad, which led him as far away as Rus­sia, India, Cuba and Chi­le, whe­re he bene­fi­ted from the inter­na­tio­nal expe­ri­ence he had gai­ned in Bern. "The­se con­ta­cts with dif­fe­rent peop­le from dif­fe­rent cul­tures have cer­tain­ly fur­ther streng­t­he­ned the expe­ri­en­ces I had in Switz­er­land and, in the con­text of the com­mit­ment, led to (...) tole­ran­ce and prag­ma­tism," he later sum­med up. Dr Klaus Jür­gen Deilmann worked for BMA until the end of 1966, and from 1965 he was also a mem­ber of the manage­ment of C. Deilmann Berg­bau GmbH.
In the years that fol­lo­wed, he took on nume­rous super­vi­so­ry board posts, such as at Deilmann-Hani­el GmbH bet­ween 1968 and 1993 (Chair­man 1989 to 1993), Deu­tag (1969 to 1991), Erd­gas-Ver­kaufs-Gesell­schaft (1968 to 1991), West­gas GmbH (1971 to 1991) and Preus­sag AG (1996 to 2001). From 1968 to 1991 he was a mem­ber of the advi­so­ry board of Uran­erz­berg­bau-GmbH and bet­ween 1976 and 1992 of Ruhr­gas AG, and in 1982 he beca­me depu­ty chair­man of the board of the Wirt­schafts­ver­band Erd­öl und Erd­gas­ge­win­nung e.V. Loo­king back, he sum­ma­ri­sed the basic under­stan­ding of his work as fol­lows: "At almost all sta­ges of my pro­fes­sio­nal life I was promp­ted to enter into coope­ra­ti­on with natio­nal and inter­na­tio­nal groups. Coope­ra­ti­on is unt­hin­ka­ble without tole­ran­ce and without com­pro­mi­se. The only important thing is that in pro­fes­sio­nal life com­pro­mi­ses are objec­tively jus­ti­fied and desi­gned to last."
Dr Klaus Jür­gen Deilmann was also invol­ved in many asso­cia­ti­ons, such as on the board of the Lower Sax­o­ny Metal Asso­cia­ti­on and the Ener­gy Indus­try Com­mit­tee at the Fede­ra­ti­on of Ger­man Indus­tries, as vice pre­si­dent and tre­a­su­rer of the Con­fe­de­ra­ti­on of Ger­man Employ­ers' Asso­cia­ti­ons, of which he was an hono­ra­ry mem­ber of the exe­cu­ti­ve com­mit­tee, and as vice pre­si­dent of the Insti­tu­te of Ger­man Indus­try in Colo­gne. He had a clo­se friendship for many years with Hanns Mar­tin Schley­er, then Pre­si­dent of the Employ­ers' Asso­cia­ti­on. After his assas­si­na­ti­on by Ger­man ter­ro­rists in autumn 1977, Dr Klaus Jür­gen Deilmann beca­me Vice-Pre­si­dent of the Hanns Mar­tin Schley­er Foun­da­ti­on in Colo­gne. In addi­ti­on to mem­bers­hips in the Cham­bers of Indus­try and Com­mer­ce in Braun­schweig and Osna­brück-Ems­land and in the busi­ness asso­cia­ti­ons of Lower Sax­o­ny, his acti­vi­ties in the asso­cia­ti­on of foun­da­ti­ons "Stif­ter­ver­band für die Deut­sche Wis­sen­schaft" in Essen deser­ve spe­cial men­ti­on. He sup­por­ted the CD Foun­da­ti­on, which was estab­lis­hed to honour his father Carl Deilmann, until the end of his life. In 2009, Dr. Klaus Jür­gen Deilmann sum­med up his wide-ran­ging com­mit­ments: "I belie­ve that it is important to con­scious­ly set oneself tasks in life and to be pre­pa­red to take on respon­si­bi­li­ty." On 13 Octo­ber 1995 he was awar­ded the Cross of Merit, 1st Class, of the Order of Merit of the Federal Repu­blic of Ger­ma­ny for his cha­ri­ta­ble com­mit­ment in the asso­cia­ti­ons and his sup­port of nume­rous cha­ri­ta­ble causes.
In his home town of Bad Bent­heim, Dr Klaus Jür­gen Deilmann generous­ly sup­por­ted sports clubs, schools, vol­un­ta­ry fire bri­ga­des, the local branch of the Ger­man Red Cross, the open-air theat­re, the sand­stone muse­um and other insti­tu­ti­ons and asso­cia­ti­ons. He always focus­sed on impro­ving their infra­st­ruc­tu­re by pro­mo­ting invest­ment. In addi­ti­on, Dr Klaus Jür­gen Deilmann generous­ly sup­por­ted supra-regio­nal orga­ni­sa­ti­ons, such as the Ger­man Socie­ty for the Res­cue of Ship­w­re­cked Per­sons, and pro­jects such as the new con­struc­tion of the Bethel Child­ren's Cent­re and the Frau­en­kir­che Dresden.
Dr Jür­gen Deilmann died at home in Bad Bent­heim on 1 Novem­ber 2020 at the age of 93.