Cele­bra­ting our ide­as and innovations
World Intel­lec­tu­al Pro­per­ty Day
The cor­po­ra­te histo­ry of Klasmann-Deilmann shows that it real­ly is pos­si­ble to reinvent oneself, time and again. Our inven­ti­ve spi­rit and crea­ti­vi­ty have repeated­ly stee­red the com­pa­ny in new direc­tions. Whe­ther inven­ti­ons in the field of mecha­ni­cal engi­nee­ring or new deve­lo­p­ments, such as mar­ke­ting peat as ani­mal lit­ter, or the crea­ti­on of spe­cial pur­po­se substrates – the com­pa­ny has never stood still. To mark World Intel­lec­tu­al Pro­per­ty Day, the fol­lowing arti­cle high­lights some of our inge­nious ide­as to date.
Mecha­ni­cal engineering
In the 1930s, the main­ten­an­ce work­shop at Hese­per Torf­werk GmbH deve­lo­ped a func­tio­n­al mecha­ni­cal engi­nee­ring depart­ment which ‑ both at home and abroad, befo­re and after the Second World War ‑ sold exca­va­tors, sod collec­tors and tur­ning machi­nes desi­gned and built in-house. The bre­akthrough for Klasmann's mecha­ni­cal engi­nee­ring ope­ra­ti­ons came in the mid-1950s with the mar­ke­ting of its paten­ted white-peat dig­ging machi­ne, which cut white-peat sods and sta­cked them for dry­ing in a ful­ly auto­ma­ted pro­cess. It final­ly and defi­ni­tively repla­ced labour-inten­si­ve hand peat cut­ting and soon beca­me a big seller.
Light­weight craw­ler vehicle
In the late 1950s, a light­weight craw­ler vehi­cle ‑ ano­t­her in-house design ‑ mar­ked the start of mecha­ni­sa­ti­on in the pre­pa­ra­ti­on of extrac­tion are­as. This all-pur­po­se machi­ne powe­red by a 24 h. p. die­sel engi­ne enab­led equip­ment to be atta­ched for ground level­ling, crea­ting drai­na­ge slits ('Mecking Drai­na­ge') or dig­ging ditches.
A vibra­ting appa­ra­tus fol­lo­wed in March 1966: an inno­va­ti­on that tur­ned the peat mul­ti­ple times, thus dry­ing it. This even­tual­ly evol­ved into a mul­ti-pur­po­se craw­ler vehi­cle that could be fit­ted with the same attach­ments envi­sa­ged for the light­weight craw­ler. This machi­ne could now be used not only for vibra­ti­on but also for drai­na­ge slit­ting, clea­ning dit­ches, level­ling ground and depo­si­t­ing spoil.
Right up to the 1980s, mecha­ni­cal engi­nee­ring was a main­stay of Klasmann's ope­ra­ti­ons. The final major inno­va­ti­on was 'exca­va­tor no. 15', com­mis­sio­ned by C. Deilmann AG, con­struc­tion of which began in 1981. The machi­ne, with a bucket-lad­der exca­va­tor design uni­que world­wi­de, weig­hed 80 ton­nes and was able to exca­va­te and spread out 150 cubic metres of indus­tri­al peat per hour at a speed of 30 metres/hour. It dug to a width of three metres and a depth of up to 1.7 metres.
In coope­ra­ti­on with well-known mecha­ni­cal engi­nee­ring com­pa­nies, we con­ti­nued to deve­lop spe­cial pur­po­se machine­ry to suit our own requi­re­ments. The­se inclu­de the bog shut­tle for loading black peat, as well as the mecha­ni­cal collec­tor and stack piling machine.
From ani­mal lit­ter to gro­wing medium
When the sales of peat lit­ter as bed­ding for hor­ses began to decli­ne as a result of incre­a­sing car owners­hip after the end of World War I, the com­pa­ny had to rethink its poli­ci­es. The Peat Lit­ter Asso­cia­ti­on, which was foun­ded in Ber­lin in 1919 with Georg Klasmann as one of the foun­der mem­bers, began to inves­ti­ga­te other poten­ti­al uses for peat in agri­cul­tu­re and hor­ti­cul­tu­re. The for­ma­ti­on of "For­schungs- und Wer­be­stel­le für Moostorf", a sub­si­dia­ry of the Peat Lit­ter Asso­cia­ti­on foun­ded in Ber­lin in 1934 and dedi­ca­ted to rese­ar­ching and pro­mo­ting the use of peat moss, mar­ked the start of sys­te­ma­tic pro­duct deve­lo­p­ment. Working in col­la­bo­ra­ti­on with Ber­lin Uni­ver­si­ty, the rese­arch sci­en­tists iden­ti­fied phy­si­cal and che­mi­cal pro­per­ties of peat which were of inte­rest for the hor­ti­cul­tu­ral busi­ness, such as its low nut­ri­ent con­tent, low pH value, high water and air capa­ci­ty and high humic acid content.
To meet the demand for humus and fer­ti­li­ser, the Peat Lit­ter Asso­cia­ti­on laun­ched its blen­ded-peat fer­ti­li­ser 'Manu­ral' in 1952, to be fol­lo­wed by 'Super Manu­ral'. Gar­de­ners could now app­ly both humus and fer­ti­li­ser at the same time. Super Manu­ral sold so well that the 'Hese­per Torf­werk GmbH' peat plant had to run its pro­duc­tion faci­li­ty on a dou­ble-shift basis.
In 1959, with com­mer­cial hor­ti­cul­tu­re in mind, Deilmann began pro­du­cing the world's first rea­dy-made sub­stra­te at the Sedels­berg site; it was a blend of white peat, lime, fer­ti­li­ser and trace ele­ments. Desi­gned as a high­ly ver­sa­ti­le foun­da­ti­on for plant growth, it was avail­ab­le at all times and with the same composition.
The Hese­per Torf­werk GmbH began pro­du­cing it in the same year, to which end it exten­ded and modi­fied the pro­duc­tion faci­li­ties at the Groß Hese­pe and Vehne­moor loca­ti­ons once again.
1974 pro­ved a tur­ning point in the sto­ry of the 'Klasmann Wer­ke' ope­ra­ti­ons. The peat-fired power sta­ti­on in Rüh­le cea­sed ope­ra­ting owing to poor effi­ci­en­cy, which meant the most important sales chan­nel for black-peat-deri­ved fuel peat no lon­ger exis­ted. A sup­ply agree­ment for black peat dried in sum­mer, known as indus­tri­al peat, pro­ved a worthy fol­low-up solu­ti­on; it con­cer­ned the deli­very of peat for the manu­fac­tu­re of acti­va­ted car­bon in the Nether­lands. This stro­ke of good for­tu­ne eased the situa­ti­on at the time and allo­wed the com­pa­ny to car­ry out an exten­si­ve stra­te­gic realignment.
At the same time, Klasmann sought to per­sua­de the Peat Lit­ter Asso­cia­ti­on to chan­ge its stra­te­gy and use not only white peat but also black peat in the pro­duc­tion of gro­wing media, but this did not recei­ve the majo­ri­ty sup­port of the Asso­cia­ti­on. Klasmann Wer­ke sub­se­quent­ly left the Asso­cia­ti­on in order, from then on, to mar­ket its own pro­ducts under its own manage­ment. A short time later the peat ope­ra­ti­ons of C. Deilmann AG also par­ted com­pa­ny with the Peat Lit­ter Asso­cia­ti­on for the same rea­son, from which time they mar­ke­ted their pro­ducts under the Neu­haus brand.
In tho­se years, Klasmann deve­lo­ped a who­le ran­ge of gro­wing media based on black peat. Substrates such as Pot­g­rond H and Pot­g­rond P are still top sel­lers even now. In respon­se to the envi­ron­men­tal deba­te, Klasmann-Deilmann began to deve­lop com­post-based substrates. In 1991, the com­pa­ny built its first green was­te com­pos­ting faci­li­ty in Groß Hese­pe. It com­plies with the RHP qua­li­ty assuran­ce sys­tem, which means that the com­post can be used in gro­wing media. Klasmann-Deilmann is also acti­ve in the orga­nic sub­stra­te sec­tor and the­se pro­ducts are con­ti­nu­al­ly adap­ted and impro­ved in con­sul­ta­ti­on with orga­nic hor­ti­cul­tu­re com­pa­nies. Our top qua­li­ty green com­post TerrAktiv is an important com­po­nent in orga­nic substrates. In the late 1990s, Klasmann-Deilmann began to incor­po­ra­te wood fibres in its gro­wing media, which it initi­al­ly sourced from other sup­pliers. In the mean­ti­me, Klasmann-Deilmann ope­ra­tes its own wood fib­re faci­li­ties, set­ting new stan­dards in the gro­wing-media industry.
Today
Even today, the com­pa­ny still pro­mo­tes this enter­pri­sing spi­rit and embraces chan­ge. The Inno­va­ti­on Board is aimed at pro­mo­ting new ide­as and sug­ges­ti­ons on all levels and in all sec­tors of the com­pa­ny. We orga­ni­se ide­as work­shops, an inter­nal blog for ide­as and an ide­as data­ba­se to make crea­ti­vi­ty an inte­gral ele­ment of our cor­po­ra­te cul­tu­re and to encou­ra­ge employees to show initia­ti­ve. We are con­stant­ly enhan­cing our pro­ducts and alter­na­ti­ve sub­stra­te con­sti­tu­ents and our incu­ba­tor team inves­ti­ga­tes new sub­stra­te con­sti­tu­ents and inno­va­ti­ve gro­wing systems.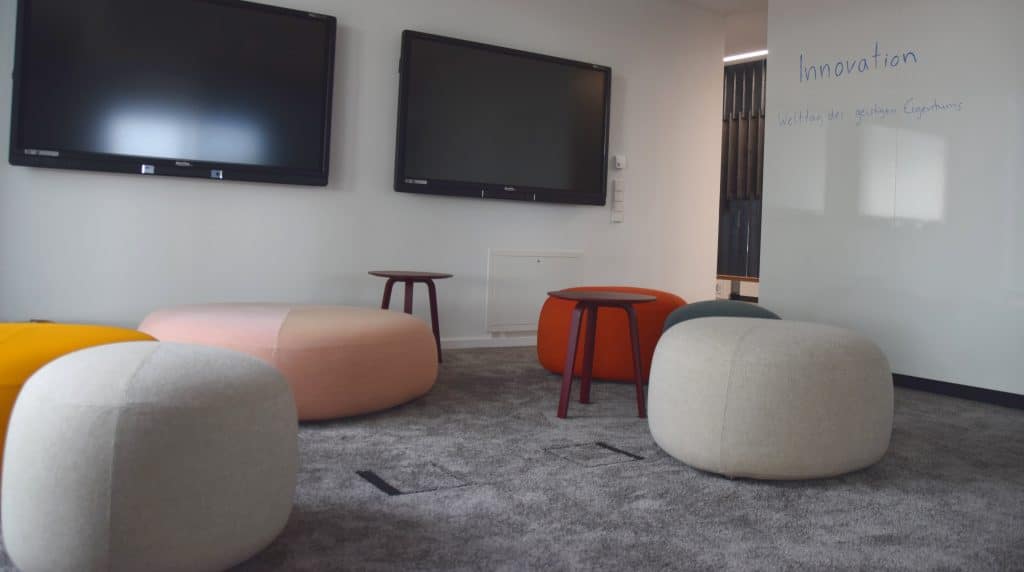 In the mean­ti­me, growth and inno­va­ti­on have even found a phy­si­cal home at our com­pa­ny: the con­struc­tion of a new buil­ding at our com­pa­ny head­quar­ters in Gees­te is nea­ring com­ple­ti­on. Its archi­tec­tu­re and inte­rior design pro­vi­de ide­al con­di­ti­ons for inno­va­ti­ve work. Open-plan are­as in bright, airy rooms ensu­re trans­pa­ren­cy, direct com­mu­ni­ca­ti­on and short distan­ces. The open-plan work­pla­ces are desi­gned so that they can also be used at short noti­ce by col­leagues from other loca­ti­ons or by exter­nal ser­vice pro­vi­ders. The­re are, of cour­se, also more seclu­ded work­pla­ces for peop­le who need peace to think or to con­cen­tra­te on their work.
World Intel­lec­tu­al Pro­per­ty Day was first pro­c­lai­med by the World Intel­lec­tu­al Pro­per­ty Orga­niz­a­ti­on in the year 2000 at the ins­ti­ga­ti­on of the UNESCO. It is inten­ded to com­mu­ni­ca­te the impor­t­ance of crea­ti­vi­ty and intel­lec­tu­al pro­per­ty and is cele­bra­ted on 26 April every year.