Two trai­nees qua­li­fy as cli­ma­te pilots
Cli­ma­te check at the company
Peop­le who know how to save ener­gy or use it effi­ci­ent­ly and who pay atten­ti­on to the cli­ma­te as con­su­mers and with regard to food and mobi­li­ty can help to pro­tect the cli­ma­te. The ear­lier peop­le beco­me awa­re of this topic, the bet­ter. That is why Klasmann-Deilmann is again taking part in the cam­pai­gn to have trai­nees qua­li­fy as cli­ma­te pilots. This year's trai­nees are Julia Roling and Nick Posch­mann and they will con­duct an in-house cli­ma­te check to spot­light the company's performance.
Armed with note­book and pen­cil, Julia Roling and Nick Posch­mann work their way through the com­pa­ny buil­ding in Gees­te, inspec­ting every nook and cran­ny. Chris­ti­an Nien­hus­mei­er, Pro­ject Mana­ger for Ener­gy Tech­no­lo­gy, hel­ps them with their inves­ti­ga­ti­ons and pro­vi­des tips about what they should be loo­king for. They are now approa­ching our new buil­ding, the Inno­va­ti­on Cen­ter. "The wall clad­ding is made of recy­cled mate­ri­al. Do you see?" Chris­ti­an Nien­hus­mei­er points to the panel­ling on the faça­de. "You can't tell from a distance, but it is made of wood," he says, tap­ping on the material.
The buil­ding has not yet been com­ple­ted, which is why the trai­nees can see many things that would other­wi­se be con­cea­led. The pro­ject engi­neer puts his hand in behind the faça­de and pulls out the cor­ner of a mine­ral wool mat which is used as insu­la­ti­on. "The new buil­ding is desi­gned to meet the stan­dard for ener­gy-effi­ci­ent buil­dings in the cate­go­ry "KfW-Effi­zi­enz­haus 55". This means that the ener­gy con­sump­ti­on is com­pa­ra­tively low thanks to the insu­la­ting mate­ri­als, gla­zing and hea­ting system."
Click here to read our arti­cle about pho­to­vol­taics as an ele­ment of sustainability.
The three then move on to the new rese­arch green­house. The walls of the green­house have dou­ble gla­zing. "Again, we gave high prio­ri­ty to ener­gy effi­ci­en­cy. That is why many things are done auto­ma­ti­cal­ly, such as con­trol­ling the tem­pe­ra­tu­re, ope­ning and clo­sing the win­dows and posi­tio­ning the ener­gy screens," exp­lains Chris­ti­an Nien­hus­mei­er. "The­se screens make sure that the heat stays insi­de the green­house and simul­ta­ne­ous­ly pro­tect the plants from too strong sun­light and over­hea­ting." Des­pi­te the­se effects, the expe­ri­men­tal green­house has far hig­her ener­gy con­sump­ti­on than the new head office buil­ding. "One of the rea­sons for this is that we have to main­tain a cer­tain tem­pe­ra­tu­re at all times, i.e. in both sum­mer and win­ter, and not just during the day­ti­me but also at night." Ano­t­her rea­son is that it has to be ven­ti­la­ted fre­quent­ly to keep the rela­ti­ve humi­di­ty low.
The next stop is the work­shop, which was built in the 1920s. At that time, buil­dings were desi­gned com­ple­te­ly dif­fer­ent­ly and insu­la­ti­on was by no means stan­dard. "This means we have to take a dif­fe­rent approach to get the buil­ding warm. That is why we work with infra­red radi­ant hea­ters," says Chris­ti­an Nien­hus­mei­er, and exp­lains how the­se devices work. Unli­ke other hea­ting sys­tems, they heat solid bodies ins­tead of the ambi­ent air.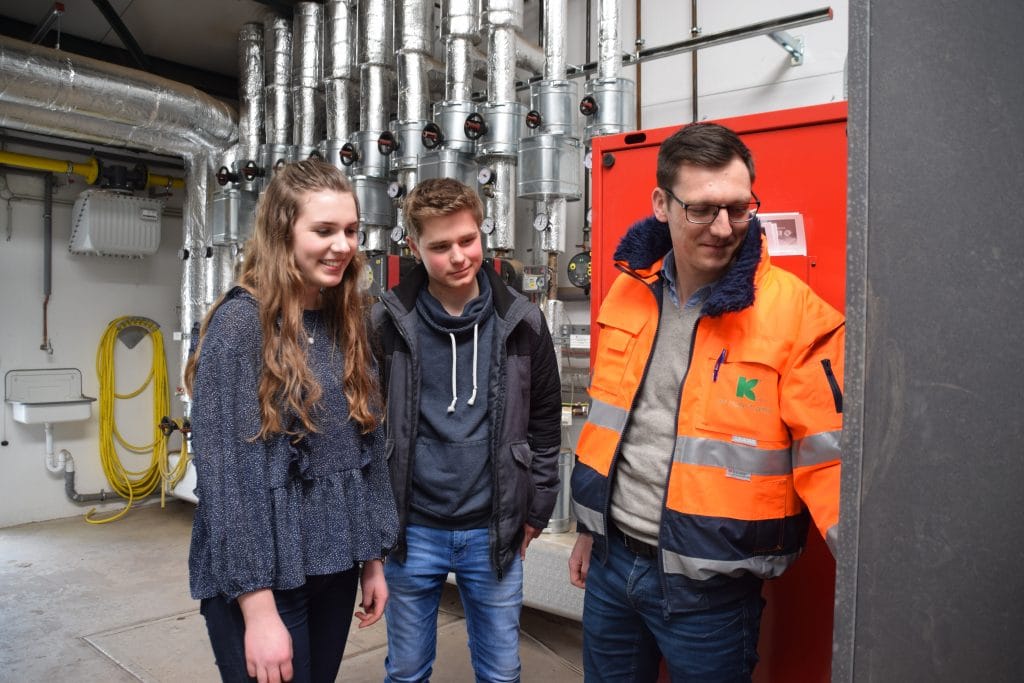 Tog­e­ther the three inves­ti­ga­tors take a look at the hea­ting plant and exami­ne the light sources, almost all of which are mean­while based on LED. It is abso­lute­ly clear: the­re is no shor­ta­ge of mate­ri­al for the cli­ma­te check and many aspects to con­si­der. Both trai­nees have accu­mu­la­ted a gre­at deal of input during the first block of cli­ma­te pilot trai­ning and – in addi­ti­on to hand­ling the cli­ma­te check at the com­pa­ny – have also deci­ded to con­duct a sur­vey to find out how many employees cycle to work. "The per­cen­ta­ge will pro­bab­ly not be very high," pre­dicts Nick Posch­mann (trai­nee indus­tri­al main­ten­an­ce mecha­nic). "Here in the coun­try, many employees have to tra­vel qui­te a long distance to work. That has to be taken into account when eva­lua­ting the figu­res," says the pro­spec­ti­ve cli­ma­te pilot.
Here you can read ano­t­her arti­cle about cli­ma­te pilots in our company.
Both trai­nees are alrea­dy loo­king for­ward to the next trai­ning unit for cli­ma­te pilots. "It was real­ly high­ly infor­ma­ti­ve and I lear­ned a gre­at deal for me per­so­nal­ly," comments Julia Roling. "The­re was also a gre­at sen­se of com­mu­ni­ty." For examp­le, all the cli­ma­te pilots coo­ked a cli­ma­te-friend­ly meal tog­e­ther. "That was qui­te a chal­len­ge," says the future indus­tri­al busi­ness admi­nis­tra­tor. "To begin with, we had to agree about what to cook. When we shop­ped for the ingre­dients, we had to make sure they were cli­ma­te-friend­ly, i.e. no meat, regio­nal pro­du­ce, no plastic pack­a­ging if pos­si­ble – it all took lon­ger than we had thought."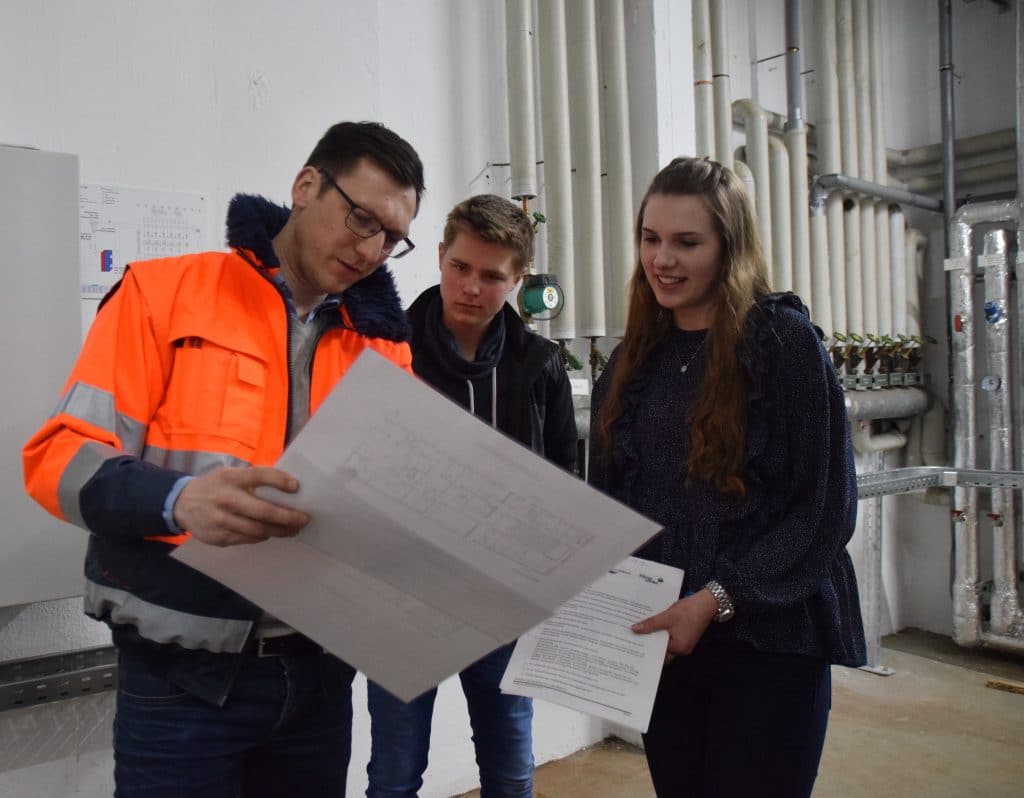 They now feel well equip­ped to con­duct the cli­ma­te check. During the trai­ning cour­se, the atten­de­es took an in-depth look at cli­ma­te pro­blems and car­bon foot­prints, scru­ti­ni­s­ed electri­ci­ty and gas bills, per­for­med their own cal­cu­la­ti­ons and visi­ted the Cli­ma­te Cent­re in Werl­te whe­re they lear­ned various ways of saving ener­gy and con­se­quent­ly redu­cing car­bon emis­si­ons. They also exami­ned dif­fe­rent insu­la­ti­on mate­ri­als and sys­tems, buil­ding mate­ri­als and hea­ting plant. The two trai­nees make up a per­fect team: "I knew qui­te a lot about insu­la­ti­on and hea­ting, becau­se I worked on a buil­ding site during the holi­days," says Nick Posch­mann. "It was the exact oppo­si­te in my case," adds Julia Roling. "I had alrea­dy done a lot of work on cli­ma­te pro­tec­tion at school, but insu­la­ti­on and hea­ting were com­ple­te­ly new aspects for me."
The second block of les­sons will begin in June and will eva­lua­te the fin­dings. We are eager­ly awai­t­ing the out­co­me, as this is the third time we have sent trai­nees to qua­li­fy as cli­ma­te pilots. As a result, the trai­nees could split up the cli­ma­te check into the dif­fe­rent buil­dings. The first two can­di­da­tes asses­sed our for­mer admi­nis­tra­ti­on buil­ding, the next group ana­ly­sed the ener­gy figu­res for the work­shop and Julia and Nick are con­duc­ting the cli­ma­te check for the new head office building.
Cli­ma­te pilot trai­ning is a joint pro­ject run by the Ener­gy Effi­ci­en­cy Agen­cy of the Ems­land district, Werl­te Cli­ma­te Cent­re and Mar­stall Cle­mens­werth Youth Edu­ca­ti­on Cent­re.