Inter­na­tio­nal Talent Sourcing at its best
Klasmann-Deilmann has alrea­dy been able to bene­fit from the many talen­ted stu­dents at Wagen­in­gen Uni­ver­si­ty (WUR). Many of our trai­nees are alum­ni of the WUR, which is one of the most important sci­en­ti­fic insti­tu­ti­ons in the field of life sci­en­ces world­wi­de. Every year, the Care­er Day offers an excel­lent oppor­tu­ni­ty to talk to poten­ti­al applicants.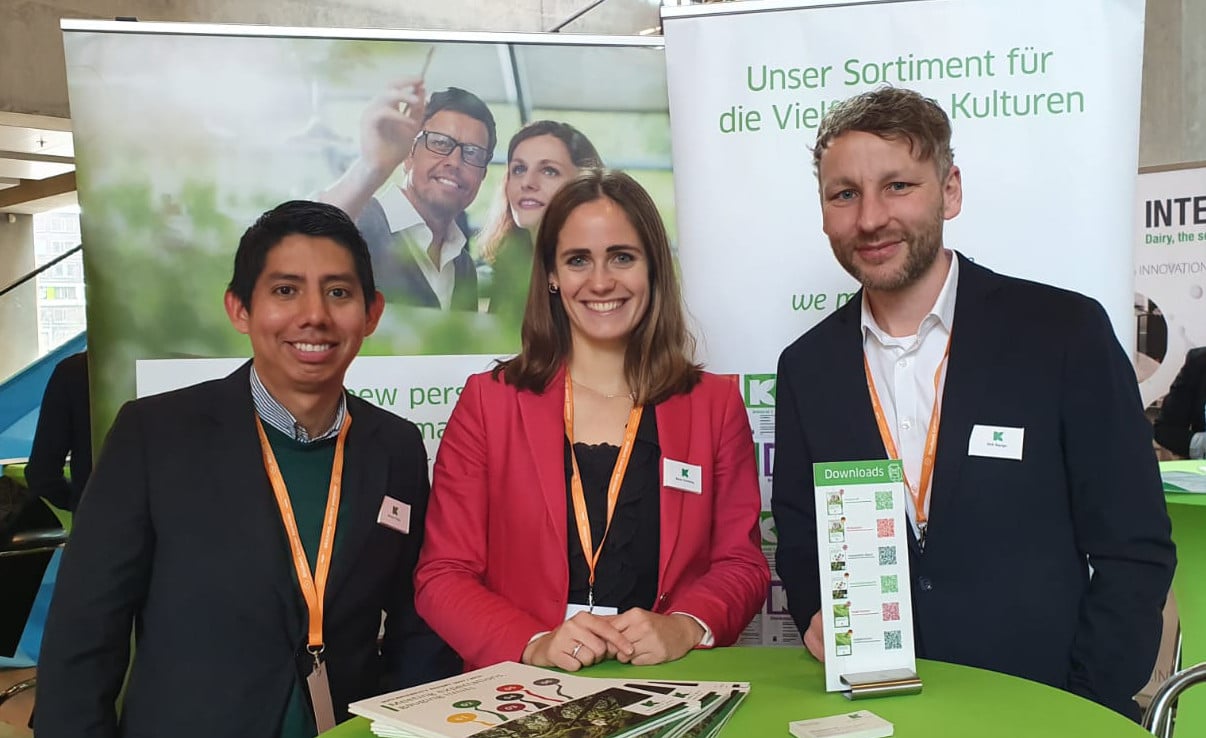 This year, Klasmann-Deilmann was again repre­sen­ted with a stand at the Care­er Day at the WUR. Elwu­in Fial­los (Trai­nee Pro­duc­tion, in the pic­tu­re left), Sarah Grün­ding (HR, cent­re) and Dirk Sajo­go (Direc­tor HR & Legal, right) ans­we­red ques­ti­ons from nume­rous students.
"I was very plea­sed with the gre­at inte­rest in Klasmann-Deilmann as a com­pa­ny and as a poten­ti­al employ­er. We had many inte­res­ting con­ver­sa­ti­ons with stu­dents inte­res­ted in a trai­nee pro­gram­me or internships", said Dirk Sajogo.
"A lar­ge num­ber of stu­dents took the chan­ce to get in con­ta­ct with us in advan­ce. At the day of the Care­er Day, we held job inter­views with four can­di­da­tes," says Sarah Grün­ding. We have expli­ci­tly sought app­li­cants for the fol­lowing three positions:
Our assort­ment for the varie­ty of cultures
With cus­to­mers, sales part­ners and sub­si­dia­ries in 70 coun­tries on five con­ti­nents, we are extre­me­ly well-con­nec­ted inter­na­tio­nal­ly. Dia­lo­gue is our strength. Eng­lish is our second nati­ve lan­guage and every other for­eign lan­guage makes it easier to inter­act wit­hin the Group.
Employees, spe­cia­list and mana­ge­ri­al staff, expe­ri­en­ced per­son­nel and new­co­mers – as an inter­na­tio­nal team covering a wide ran­ge of disci­pli­nes and with diver­se capa­bi­li­ties, we all work hand in hand. We are con­stant­ly on the loo­kout for com­mit­ted indi­vi­du­als to streng­t­hen our team: stra­te­gists and crea­ti­ve minds, peop­le with excep­tio­nal exper­ti­se and high stan­dards in all that they do.
We are cur­r­ent­ly loo­king for can­di­da­tes for the fol­lowing three positions
M.Sc. stu­dent Microbiology/ Horticulture/Agricultural Sciences
Inter­na­tio­nal Trai­nee Production