A sus­tainab­le hea­ting solution
A fifth pro­duc­tion site gets wood­chip heating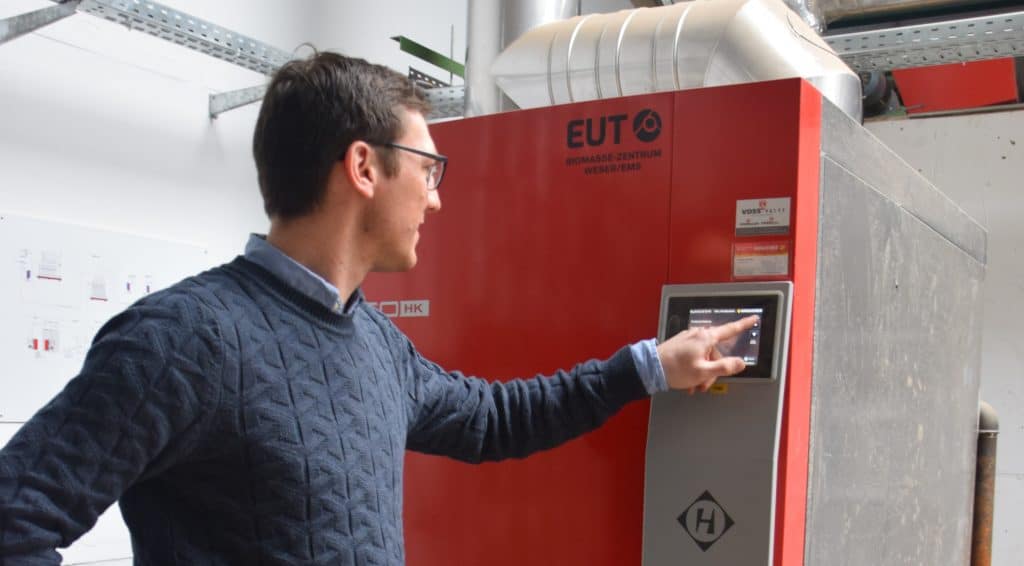 Being a rene­wa­ble resour­ce, wood is a popu­lar fuel for sus­tainab­le hea­ting. Klasmann-Deilmann has now repla­ced sys­tems based on fos­sil fuels such as oil and gas with wood­chip hea­ting at a total of five pro­duc­tion locations.
The wood­chip hea­ting faci­li­ty at Gees­te has now been in ope­ra­ti­on sin­ce Decem­ber 2017. A com­plex dis­tri­bu­ti­on sys­tem is necessa­ry to meet the dif­fe­rent hea­ting requi­re­ments of two lar­ge admi­nis­tra­ti­ve buil­dings, the expe­ri­men­tal green­house and a hall housing our phy­sics labo­ra­to­ry. This sys­tem pre­cise­ly regu­la­tes the water tem­pe­ra­tu­re needs of the various parts of the­se buil­dings. And a feed­back sys­tem indi­ca­tes whe­ther this tar­get level is achieved.
A tem­pe­ra­tu­re sen­sor ensu­res that the water tem­pe­ra­tu­re in the boi­ler is kept at a con­stant 83 degrees Cel­si­us. "If it drops below this level, the sen­sor auto­ma­ti­cal­ly cau­ses more wood to be fed into the com­bus­ti­on fur­nace," exp­lains Chris­ti­an Nien­hus­mei­er, a mem­ber of the Tech­no­lo­gy & Pro­cu­re­ment team and both Pro­ject Engi­neer and Pro­ject Mana­ger for Ener­gy Tech­no­lo­gy. "In case the tem­pe­ra­tu­re can no lon­ger be main­tai­ned, we have a back­up gas boi­ler, alt­hough this starts up only when it's very cold outside."
Addi­tio­nal­ly, the gas boi­ler takes on the job of genera­ting heat when main­ten­an­ce work is nee­ded on the wood­chip hea­ting sys­tem. This not­with­stan­ding, pro­gres­si­ve­ly repla­cing fos­sil ener­gy sources as far as pos­si­ble is part of Klasmann-Deilmann's cor­po­ra­te phi­lo­so­phy. It was this that led to the com­pa­ny put­ting its first wood­chip hea­ting faci­li­ty into ope­ra­ti­on in Ger­ma­ny in ear­ly 2013 – in our Sedels­berg-based pro­duc­tion com­pa­ny Pro­duk­ti­ons­ge­sell­schaft Nord. Others fol­lo­wed in Zilais­kalns (Lat­via) in 2014 and in Lau­ke­sa (Lit­hua­nia) in 2015. Addi­tio­nal­ly, at the Lit­hua­ni­an site of Silu­te, the admi­nis­tra­ti­ve buil­ding, work­shop, fac­to­ries and sto­rage faci­li­ty have been sup­plied with heat from a wood­chip unit for some time now. The main source of the­se wood­chips is the company's own short-rota­ti­on cop­pi­ce plan­ta­ti­ons.
At our Gees­te loca­ti­on, the new wood­chip hea­ting sys­tem repla­ced two lar­ge gas boi­lers dating from the 1970s. "Thanks to modern engi­nee­ring and the advan­ces made, the cur­rent faci­li­ty is con­si­der­ab­ly more effi­ci­ent," Nien­hus­mei­er says. "It is desi­gned to run at full capa­ci­ty vir­tual­ly all year just hea­ting the green­house, while at the same time pro­du­cing no more heat than is nee­ded. This means that modern-day wood-based hea­ting sys­tems are sus­tainab­le not only becau­se they use a rene­wa­ble resource."
Electri­cal ener­gy is also requi­red – spe­ci­fi­cal­ly, to dri­ve the agi­ta­tor, screw con­veyor and ash remo­ver. At Klasmann-Deilmann, this electri­ci­ty is also envi­ron­ment­al­ly friend­ly: sin­ce 2015, our Gees­te site has bought in green power.
Rai­ner Krebs (Head of Pro­cu­re­ment Ser­vices) and Thors­ten Bahns (Head of Main­ten­an­ce Electric) play­ed a key role in instal­ling and star­ting up the wood­chip hea­ting sys­tem. Rai­ner Krebs was invol­ved chief­ly in the con­struc­tion work and Thors­ten Bahns sees to the smooth ope­ra­ti­on of the facility.