A sustainable heating solution
A fifth production site gets woodchip heating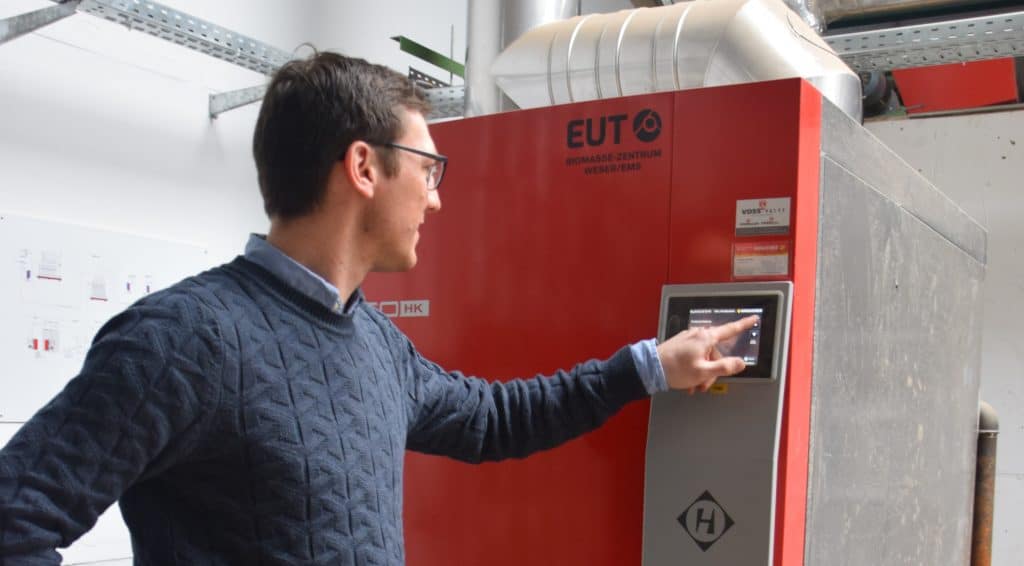 Being a renewable resource, wood is a popular fuel for sustainable heating. Klasmann-Deilmann has now replaced systems based on fossil fuels such as oil and gas with woodchip heating at a total of five production locations.
The woodchip heating facility at Geeste has now been in operation since December 2017. A complex distribution system is necessary to meet the different heating requirements of two large administrative buildings, the experimental greenhouse and a hall housing our physics laboratory. This system precisely regulates the water temperature needs of the various parts of these buildings. And a feedback system indicates whether this target level is achieved.
A temperature sensor ensures that the water temperature in the boiler is kept at a constant 83 degrees Celsius. "If it drops below this level, the sensor automatically causes more wood to be fed into the combustion furnace," explains Christian Nienhusmeier, a member of the Technology & Procurement team and both Project Engineer and Project Manager for Energy Technology. "In case the temperature can no longer be maintained, we have a backup gas boiler, although this starts up only when it's very cold outside."
Additionally, the gas boiler takes on the job of generating heat when maintenance work is needed on the woodchip heating system. This notwithstanding, progressively replacing fossil energy sources as far as possible is part of Klasmann-Deilmann's corporate philosophy. It was this that led to the company putting its first woodchip heating facility into operation in Germany in early 2013 – in our Sedelsberg-based production company Produktionsgesellschaft Nord. Others followed in Zilaiskalns (Latvia) in 2014 and in Laukesa (Lithuania) in 2015. Additionally, at the Lithuanian site of Silute, the administrative building, workshop, factories and storage facility have been supplied with heat from a woodchip unit for some time now. The main source of these woodchips is the company's own short-rotation coppice plantations.
At our Geeste location, the new woodchip heating system replaced two large gas boilers dating from the 1970s. "Thanks to modern engineering and the advances made, the current facility is considerably more efficient," Nienhusmeier says. "It is designed to run at full capacity virtually all year just heating the greenhouse, while at the same time producing no more heat than is needed. This means that modern-day wood-based heating systems are sustainable not only because they use a renewable resource."
Electrical energy is also required – specifically, to drive the agitator, screw conveyor and ash remover. At Klasmann-Deilmann, this electricity is also environmentally friendly: since 2015, our Geeste site has bought in green power.
Rainer Krebs (Head of Procurement Services) and Thorsten Bahns (Head of Maintenance Electric) played a key role in installing and starting up the woodchip heating system. Rainer Krebs was involved chiefly in the construction work and Thorsten Bahns sees to the smooth operation of the facility.