Making the same decisi­ons as mana­gers at the age of 16
School pupils enjoy busi­ness role­play game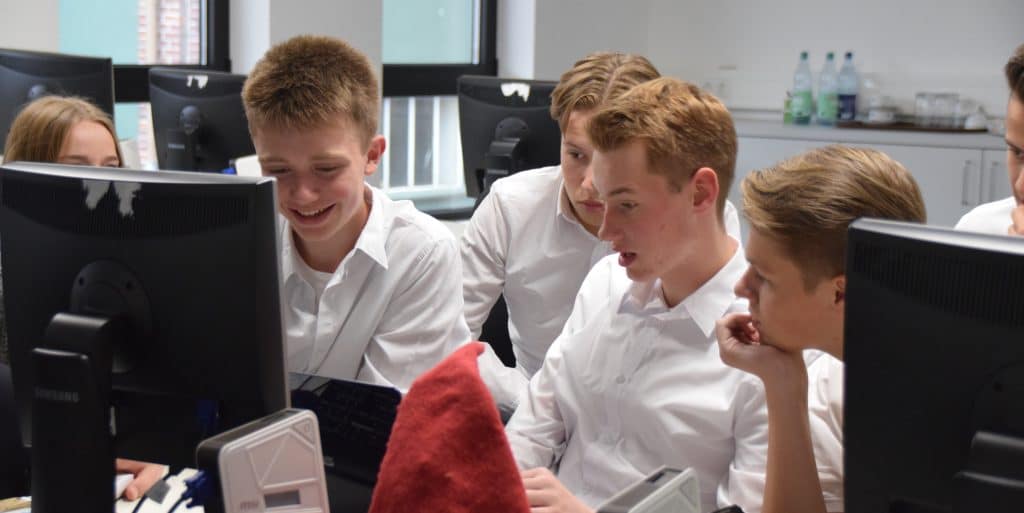 What decisi­ons do mana­gers have to take on a dai­ly basis, and why? For a week, pupils at the Wind­thorst-Gym­na­si­um secon­da­ry school in Mep­pen got to tas­te what this respon­si­bi­li­ty feels like. At our Inno­va­ti­on Cen­ter in Gees­te, they took part in the Manage­ment Infor­ma­ti­on Game (MIG) under the gui­d­ance of a Lower Sax­o­ny insti­tu­te that pro­mo­tes busi­ness and com­mer­ce edu­ca­ti­on. This pro­vi­ded an oppor­tu­ni­ty to get to grips with eco­no­mic issu­es, inclu­ding more com­plex matters.
The pupils took notes eager­ly when edu­ca­tio­nal expert Tho­mas Kühn of Bil­dungs­werk der Nie­der­säch­si­schen Wirt­schaft gGmbH (BNW) announ­ced growth pro­spects for the next quar­ter. He men­tio­ned wage deve­lo­p­ments in the indus­try, adding that hig­her fuel pri­ces had meant a 5% incre­a­se in trans­port cos­ts. The­se para­me­ters would have to be fac­to­red in by the Year 11 youngs­ters as they tack­led the chal­len­ge they were set on the second day of the Manage­ment Infor­ma­ti­on Game (MIG): pre­pa­re a bid invol­ving a new pro­duct for a fic­ti­tious elec­tro­nics store. This out­let has offe­red to be the exclu­si­ve dis­tri­bu­tor sel­ling this new­ly deve­lo­ped pro­duct, but this is atta­ched to a num­ber of deman­ds. So the objec­ti­ve was clear – and three com­pe­ting teams got to work.
The point of the Manage­ment Infor­ma­ti­on Game is for pupils to explo­re the mul­ti­ple inter­ac­tions bet­ween indi­vi­du­al com­pa­nies and the wider eco­no­my. In brief talks, they are given input on macro- and microeco­no­mic issu­es, befo­re they app­ly this know­ledge in group work and have a go at being cor­po­ra­te decisi­on-makers themselves.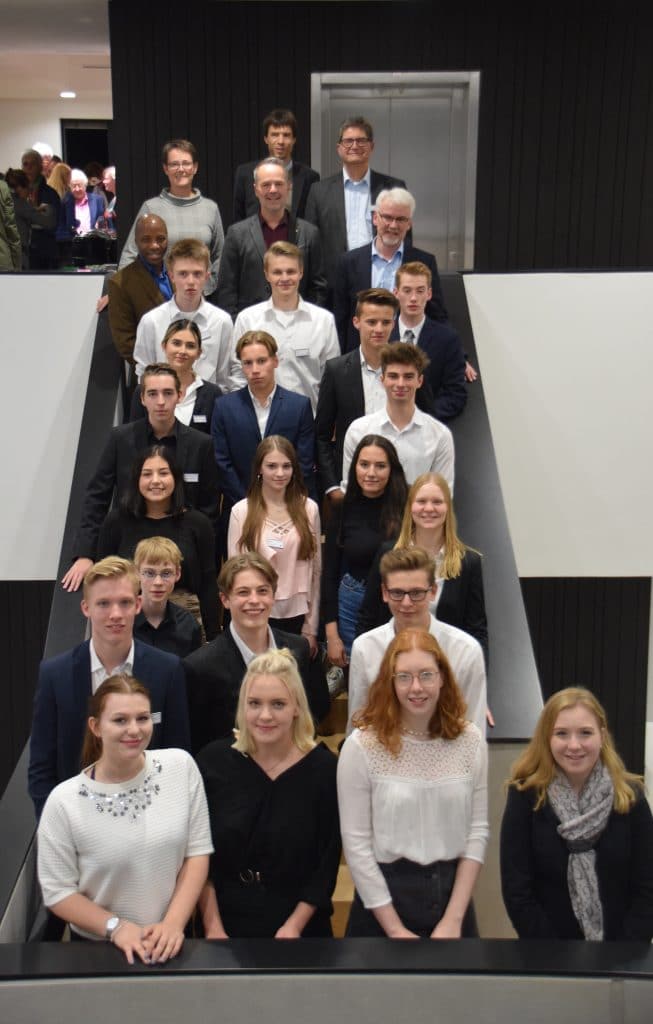 And, on the evening of the fourth day of a real­ly deman­ding week, the pupils had to pro­ve they were up to this role. In front of an audi­ence of around 70 peop­le, each group pre­sen­ted its pro­duct. The audi­ence, con­sis­ting of the pupils' par­ents and repre­sen­ta­ti­ves of Klasmann-Deilmann, Meppen's Rota­ry Club, the indus­tri­al employ­ers' asso­cia­ti­on (IAV) for Osna­brück, Ems­land and Bent­heim coun­ty, and the pupils' own school, repre­sen­ted the 'elec­tro­nics store'. At the end, they all voted to deter­mi­ne a win­ner – i.e. the busi­ness that was awar­ded the contract.
Par­ti­ci­pant Vin­cent Kreutz­mann was inter­view­ed. He said, "I was real­ly ner­vous about spea­king in front of so many peop­le, most of whom I don't know and all of whom are much older than me. It's a gre­at oppor­tu­ni­ty to grow and over­co­me one's fears. I ans­we­red lots of ques­ti­ons from the audi­ence, and thanks to the group I was well-pre­pa­red for this." The 16-year-old 'CEO' of his 'com­pa­ny' added: "This gave me enough back­ground know­ledge to react spon­ta­ne­ous­ly when I nee­ded to." And Celi­na Nedow com­men­ted: "Ever­yo­ne play­ed a dif­fe­rent role and we were all equal­ly important. This made the team­work much more inten­si­ve and clo­ser to the real world than it often is at school."
The chan­ge of lear­ning envi­ron­ment was also an important expe­ri­ence for the pupils. "It was inte­res­ting to see a com­pa­ny buil­ding from the insi­de. It gives you an idea of what life will be like later on," said Sophie Stepp­uhn. Gesa-Marie Anne­ken added: "At school, work on the pro­ject would not have been so full-on. You're often dis­trac­ted the­re, but here we also got to see a real work­place for our­sel­ves." Kevin John­son agreed: "It makes a big dif­fe­rence to be in a set­ting just right for the MIG. And we also had to plan and orga­ni­se all aspects of the group work our­sel­ves. Ever­ything had to be coor­di­na­ted, inclu­ding the pre­sen­ta­ti­on. At school that's usual­ly the teacher's job."
This insi­de look at the busi­ness and cor­po­ra­te world may also pro­vi­de a nudge care­ers-wise. Han­nah Schä­rich remar­ked: "I've always said I can't see mys­elf working in an office. But I was in char­ge of crun­ching the num­bers and sud­den­ly noti­ced it isn't at all drea­ry – now I think it would suit me real­ly well."
"Of cour­se, the idea isn't to get all the stu­dents doing busi­ness degrees later on. But it's important that they under­stand how the world of com­mer­ce works. Now when they read the news­pa­per they can rela­te to the­se things bet­ter," said Dani­el Albers, Busi­ness Stu­dies tea­cher at Wind­thorst-Gym­na­si­um. "Busi­ness Stu­dies is a fair­ly new school sub­ject here in Lower Sax­o­ny. The MIG com­ple­ments regu­lar clas­ses very well becau­se it's much easier for the pupils to appre­cia­te com­plex busi­ness and eco­no­mic issu­es through their own expe­ri­ence. They also had to make a pre­sen­ta­ti­on, pre­sent them­sel­ves in front of a big audi­ence, and draw up fin­dings qui­te inde­pendent­ly – which is exact­ly what we want, name­ly to help each pupil beco­me more self-suf­fi­ci­ent as a person."
Klasmann-Deilmann has alrea­dy hos­ted MIG events several times, most recent­ly in the sum­mer of 2014. "Once our con­struc­tion pro­ject was com­ple­te and the new pre­mi­ses in our Inno­va­ti­on Cen­ter in Gees­te ope­ned up brand-new pos­si­bi­li­ties, we defi­ni­te­ly knew we wan­ted to sup­port the Manage­ment Infor­ma­ti­on Game again," said Moritz Böcking, Mana­ging Direc­tor of Klasmann-Deilmann GmbH. "Our Aca­de­my, which forms the heart of our Inno­va­ti­on Cen­ter, is a place of lear­ning – and that app­lies to us, too. So we're deligh­ted that, working with schools, we can pro­vi­de a lear­ning envi­ron­ment for school pupils as well. The­se youngs­ters are tomorrow's talent pool. They're our future."
The week-long event was spon­so­red by Meppen's Rota­ry Club. The pupils recei­ved addi­tio­nal know­ledge input pro­vi­ded by experts from various com­pa­nies in the regi­on, inclu­ding health insuran­ce pro­vi­der Bar­mer Mep­pen, cor­po­ra­te com­mu­ni­ca­ti­ons agen­cy david uk, a bank (Ems­län­di­sche Volks­bank) and tax con­sul­tants Hein­rich von Basum.