100 years of busi­ness in Vehnemoor
In 1916, in the midd­le of World War I, Georg Klasmann and Count Fried­rich of Lands­berg-Velen purcha­sed an old bog­land esta­te and foun­ded the com­pa­ny Vehne­moor GmbH. Peat extrac­tion began after the war and the first bales left the new fac­to­ry buil­ding in 1921. Vehne­moor has remai­ned an important pro­duc­tion site for Klasmann-Deilmann right up to the pre­sent day. Rea­son enough, then, to take a look at the tur­bu­lent histo­ry of its ear­ly years …
The­re was war in Ger­ma­ny and Euro­pe and Fried­rich von Essern was unab­le to cope with the situa­ti­on. He was despe­ra­te and all he wan­ted was to sell off the who­le esta­te, inclu­ding the house and out­buil­dings, live­stock and equip­ment. The 1650-hec­ta­re esta­te, which was situa­ted in a bog bes­i­de the Hun­te-Ems Canal, was final­ly sold for a sum of 670,000 marks to Georg Klasmann Jun. as the sole purcha­ser. Sin­ce the foun­da­ti­on of Hese­per Torf­wer­ke GmbH in 1913 – the event which actual­ly marks the begin­ning of the Klasmann-Deilmann com­pa­ny – Count Fried­rich of Lands­berg-Velen, the local lan­dow­ner and owner of the peat com­pa­ny, had appoin­ted Klasmann to the posi­ti­on of life-long mana­ger and it was in that capa­ci­ty that Georg Klasmann Jun. now hand­led the nego­tia­ti­ons for the purcha­se of the bog­land estate.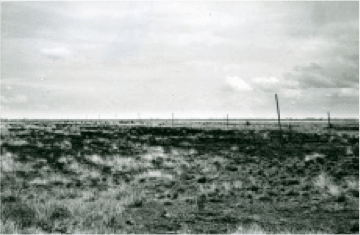 The Count had inves­ted around one mil­li­on marks in the Hese­pe peat works just three years ear­lier and to begin with, Georg Klasmann "could not get him inte­res­ted in the pro­per­ty," as he wro­te in his memoi­rs. As the son of a busi­ness­man, howe­ver, Klasmann was far-sigh­ted and reco­gnis­ed the estate's poten­ti­al. He the­re­fo­re deci­ded to nego­tia­te on his own behalf and secu­red tit­le to the Vehne­moor esta­te for the sum of 670,000 marks. This bold and con­fi­dent decisi­on appears to have impres­sed the Count, as he chan­ged his mind and con­tri­bu­t­ed a sum of 250,000 marks towards the purcha­se. And so, on 21 June 1916, the two part­ners foun­ded Vehne­moor GmbH, which was regis­tered in Olden­burg until 1919, when it was trans­fer­red to Ede­wech­ter­damm. Georg Klasmann took on the role of mana­ging direc­tor of the company.
So the esta­te had been purcha­sed and the plan to set up a peat works had been drawn up. For the time being, howe­ver, the plan was to come to not­hing: the war had led to a shor­ta­ge of mate­ri­al and labour which made it impos­si­ble to estab­lish a pro­duc­tion site. Ever the prag­ma­tist, Georg Klasmann did not let that stop him and ins­tead for­ged ahead with deve­lo­p­ment of the agri­cul­tu­ral ope­ra­ti­ons. Des­pi­te many a set­back, he suc­cee­ded in expan­ding the company's agri­cul­tu­ral land from 20 to 105 hec­ta­res – more than five times the ori­gi­nal size. But all that time, he had never given up on his ori­gi­nal plan of set­ting up a peat pro­duc­tion site.
Con­struc­tion of the fac­to­ry buil­ding began after the end of the war. Alt­hough Georg Klasmann had han­ded over the reins to Franz Mecking in 1919, he was still clo­se­ly invol­ved in the new ven­ture. In 1921, he show­ed the site to a con­tem­pora­ry, who was great­ly impres­sed: "The­re are […] pre­pa­ra­ti­ons under way to begin extrac­ting peat. They are also buil­ding a peat lit­ter fac­to­ry with an annu­al capa­ci­ty of 40,000 ton­nes. They plan to extract peat from an area of 30 hec­ta­res every year. The com­pa­ny will have to expect capi­tal expen­dit­ures amoun­ting to 5 mil­li­on marks."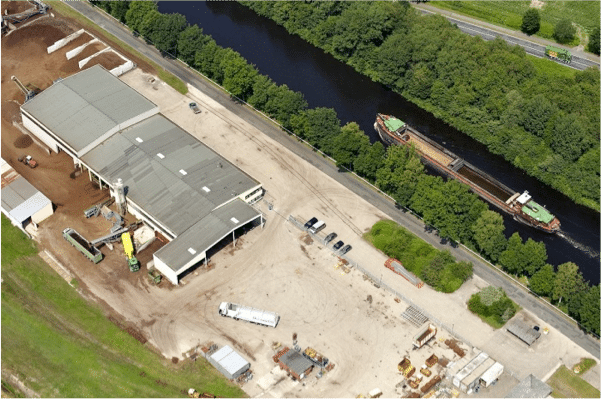 The big day came on 10 Novem­ber 1921 when the first bales of peat left the fac­to­ry. To begin with, the workers still cut the white peat by hand. It was not until 1922, when the high-vol­ta­ge power line was instal­led, that mecha­ni­cal extrac­tion could begin using two Wie­landt exca­va­tors. Thanks to its con­ve­ni­ent loca­ti­on, the Vehne­moor plant soon beca­me an important export site. The peat was taken to the port in the near­by city of Bre­men for ship­ment to the USA and the Cana­ry Islands. By 1930, the site was alrea­dy expor­ting almost 450,000 bales per year and the bold purcha­se of the bog­land esta­te had obvious­ly paid off.