The last train from South Field
Bird reser­ve with a cycle path
Groß Hese­pe, Süd­feld (South Field), sub­di­vi­si­on 28. Con­di­ti­ons are hazy. The cars of the nar­row-gau­ge bog rail­way are ful­ly loa­ded. Heinz Rudolf Brü­ning starts up the engi­ne, emer­ges from the driver's cab, steps onto the run­ning board and sprink­les sand on the tracks to impro­ve the train's grip. It's the last train ever to lea­ve South Field for Schö­ninghs­dorf in the Ems­land regi­on, and it marks not only the end of an era, but also the start of some­thing new.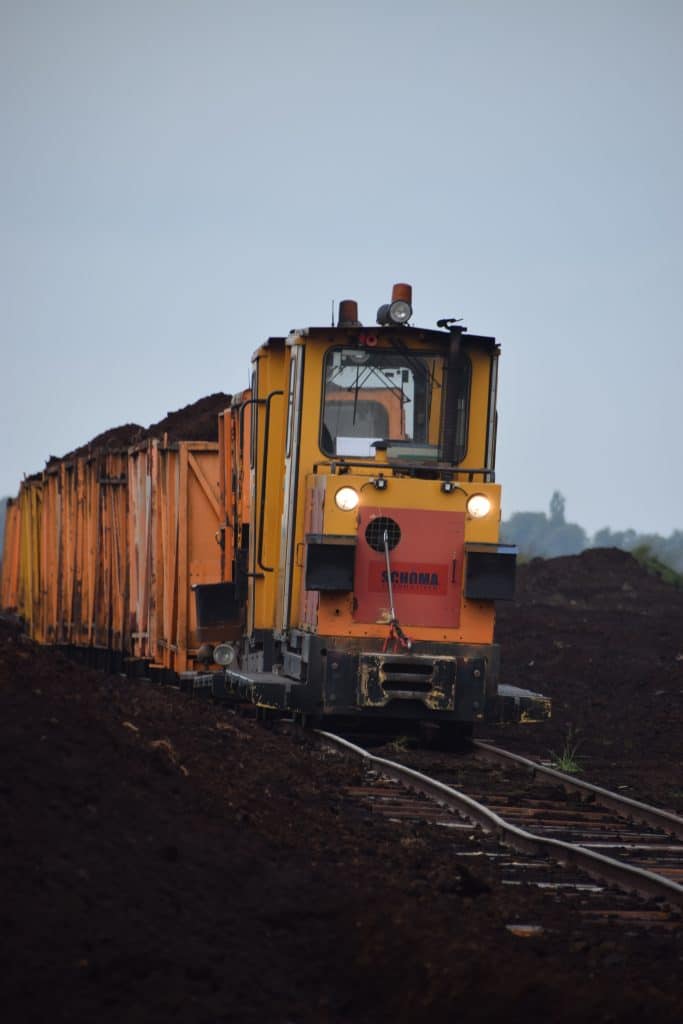 At one time, South Field was among the lar­gest of the peat extrac­tion sites in Ems­land. The Dalum-Wiet­mar­scher Moor peat­land area, for which Klasmann-Deilmann had held a lea­se covering 1,010 hec­ta­res sin­ce 1955, stret­ches out to the south of the road cal­led Twis­ter Stra­ße. "Back then, 100 peop­le worked here. Nowa­days it's very dif­fe­rent," says Mar­tin Pir­sig as he wat­ches the last train move away. Today in the role of Field Super­vi­sor, he knows every aspect of work on the bog, having star­ted from scratch in 1980 for what used to be cal­led 'Klasmann Wer­ke'. At the time the­re was still felt to be an 'une­qui­vo­cal obli­ga­ti­on' to remo­ve all the peat from the site. Howe­ver, only a year later Lower Saxony's peat­land pro­tec­tion law came into for­ce, sin­ce when all pris­ti­ne bogs have been given pro­tec­tion sta­tus. Peat is extrac­ted only from are­as that had alrea­dy been drai­ned during the pre-legis­la­ti­on period.
Pre­pa­ra­ti­on for re-wetting
But now the extrac­tion per­mit is run­ning out. Sub­di­vi­si­ons 29 – 33, in which Klasmann-Deilmann was still obtai­ning peat in recent years, are to beco­me semi-natu­ral habi­tats thanks to the re-wet­ting pro­cess. This invol­ves Klasmann-Deilmann pre­pa­ring the various sub­fiel­ds with hydrau­lic and tra­cked exca­va­tors, resul­ting in hol­lows and rid­ges. This hel­ps rain­wa­ter to collect in the depres­si­ons and the­se are­as to remain wet. Over­flow chan­nels are also necessa­ry for water regulation.
"When you're out on the bog at 5 a.m., the­re are birds, everything's cove­r­ed by a lay­er of hoar frost – that's natu­re at its best," Pir­sig con­ti­nues. It will cer­tain­ly be a stran­ge fee­ling to just pass by this place after having spent years working here. It was in 1983 that exca­va­tions began in sub­di­vi­si­on no. 28. Back then, indus­tri­al peat, which was used for manu­fac­tu­ring acti­va­ted-car­bon fil­ters, was still obtai­ned in three shifts. "The exca­va­tor some­ti­mes had to be tur­ned round at night when it came to the end of a given sub­field," Pir­sig recalls.
In 1997, the last of the white peat was cut in South Field. A new per­mit was appro­ved from 2000, under which extrac­tion from a still vir­tual­ly untouched part of the site had to be dis­con­ti­nued in order that ope­ra­ti­ons in sub­di­vi­si­ons 28 – 33 could be exten­ded. The last of the indus­tri­al peat, which is requi­red for manu­fac­tu­ring par­ti­cu­lar­ly high-qua­li­ty acti­va­ted-car­bon fil­ters, was obtai­ned here in 2004. Then, from 2005, fro­zen black peat was exca­va­ted and har­ve­s­ted from the area. In its final years, the bog rail­way car­ri­ed 100,000 cubic metres of peat to the sub­stra­te fac­to­ry in Schö­ninghs­dorf every year.
Pir­sig spells out the final steps for Klasmann-Deilmann in South Field: "Remo­ving the points, level­ling the tracks and that's it." Then the regio­nal peat board will come in to re-wet the site. The bird reser­ve is inten­ded to pro­vi­de a habi­tat for rare spe­ci­es; sheep will gra­ze the­re to keep vege­ta­ti­on growth down.
In con­nec­tion with Dalum-Wiet­mar­scher Moor and Georgs­dor­fer Moor (a desi­gna­ted EU bird pro­tec­tion zone), which its­elf is part of the trans­na­tio­nal Bourtan­ger Moor-Bar­ger­ve­en peat­land natu­re reser­ve, the­re will soon be an orbi­tal cycle path around the area. Cyc­lists and wal­kers will then be able to enjoy views of the expan­si­ve bog land­s­cape from van­ta­ge points.
One final glance takes in the bog rail­way, now no more than a dot on the horizon.