Supporting young people
Opportunities for sharing with the 'Deutschlandstipendium' scholarship programme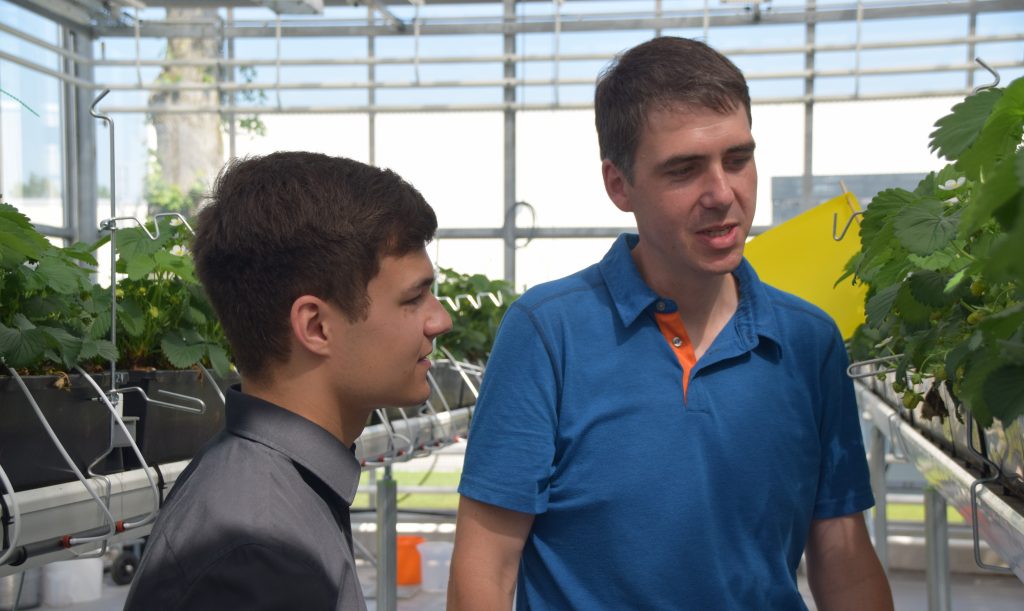 Since Klasmann-Deilmann started supporting the 'Deutschlandstipendium' scholarship programme, it has proved to be a real blessing for the firm. The committed students share with us what really moves them, and we can support them in their projects with our know-how. Our current scholarship holder Mario Verbeek recently visited the company.
In 2014, Klasmann-Deilmann started cooperating with Osnabrück University of Applied Sciences as an opportunity for continued close exchange with the students. Since then, we have also been supporting the 'Deutschlandstipendium' scholarship programme. Mario Verbeek is now our fourth scholarship holder in the programme and came to visit us at company headquarters in Geeste.
The trained horticulturist is in the fourth semester of his degree in industrial engineering for agricultural and horticultural businesses. He is currently working on his Bachelor's thesis, which looks at vertical farming. This pioneering approach for the food industry is currently the subject of intensive discussions in the horticultural sector.
While visiting the company, Mario met other contacts from various different business units. As well as looking at our production activities in Geeste, he was shown around our new experimental greenhouse by Florian Hensmann (Head of the Greenhouse) and also became more familiar with our Human Resources department.
Mario Verbeek's father runs a horticultural business in the Lower Rhine region. He had already heard about Klasmann-Deilmann before the scholarship programme put him in contact with us. "When you're involved in the branch, the company is naturally a known entity", he says. "Even those who don't have much practical experience will come across the name Klasmann-Deilmann at the latest during their horticultural course in Osnabück. We use Klasmann-Deilmann substrates for example in our experimental greenhouses", he continues.
Mario-Verbeek has already decided to continue his studies with a Master's degree, after which he could well imagine a future with our company. "I'm glad I've taken this step. It is good to have direct contact with the experts and also to have some idea of where I could look for employment after completing my studies", says Mario Veerbeek. "Let me certainly confirm that", adds Dirk Sajogo (Director Human Resources/Legal). "We keep on encountering interesting people in the course of our work, and we like to offer the scholarship holders support and encouragement. All the better if this leads to an employment opening for them in the end."