Students and experts come together at workshop
Dialogue on equal terms
For some years now, Osnabrück University of Applied Sciences and Klasmann-Deilmann have maintained a productive relationship. It was in this connection that University President Professor Andreas Bertram and Klasmann-Deilmann Managing Director Moritz Böcking hit on the idea of holding a joint workshop for students of the university and experts at the company. It took place on the substrate producer's premises. In this interview, student Christian Frerichs, Klasmann-Deilmann's Head of Human Resources Benedikt Kossen and Eckhard Schlüter from the Advisory Services division spoke about the event.
Kim Karotki: Mr Frerichs, what are you studying? And were you actually familiar with Klasmann-Deilmann before the workshop?
Christian Frerichs: I am studying agribusiness and food industry management at Osnabrück University of Applied Science, specialising in the subjects Soil, Plant Nutrition and Crop Protection. My particular interest is in horticulture, in which substrates play a crucial role concerning the nutrition and physiology of plants. I have already had contact with Klasmann-Deilmann for student projects and my Bachelor's dissertation. In 2015 I also received a grant under the public-private Deutschlandstipendium programme, co-funded by the substrate producer. This workshop gave me the opportunity to get to know the company – and its local contact persons – better on its very premises.
Kim Karotki: You were one of 30 or so people attending the workshop. How were you received at Klasmann-Deilmann?
Frerichs: Very positively! First, by way of introduction, talks were given about the development of the substrate industry in recent decades and about topical issues in this sector. This initial part was concluded by a tour of the operations at the Sedelsberg site.
Kim Karotki: Mr Schlüter, what did the workshop cover after that?
Eckhard Schlüter: The main focus was on innovation, and the context we chose for this theme was the usage of wood fibre in growing media. In two groups, different topics – 'alternative substrate constituents' and 'environmental aspects of growing media' – were addressed. The relevant challenges that need to be considered for any new ingredient were explored with regard to horticultural suitability, as well as economic and environmental considerations. The students developed appropriate solutions. We also talked about the significance of the food sector at Klasmann-Deilmann: just over 40% of our products play an important role in the cultivation of fruits, vegetables, herbs and edible mushrooms. Few people are aware of this.
Kim Karotki: How did the workshop go down with the students, Mr Frerichs?
Frerichs: I particularly liked the open dialogue between the students and Klasmann-Deilmann's Advisory Services division. We discussed the future of the substrate industry and the carbon footprint of various substrate constituents, as well as which products will be in demand and which raw materials have potential for use.
Kim Karotki: Mr Kossen, what was the thinking behind holding a workshop?
Benedikt Kossen: It is important to Klasmann-Deilmann to maintain contact with higher-education institutions – especially Osnabrück University of Applied Science – in the fields of commercial horticulture, agriculture and forestry. For horticultural graduates with a Bachelor's and/or Master's degree, there are attractive fields of activity in the growing-media sector. And we are now noticing increasing interest from northern Germany and the Ruhr area.
Kim Karotki: What did you take away with you from the interaction at the workshop?
Kossen: We were able to help the participants get a grasp of the substrate industry's significance, and we also benefited ourselves from promising contacts with the students. We are also intensifying contact with the teaching staff who were also there. A very stimulating exchange of ideas took place.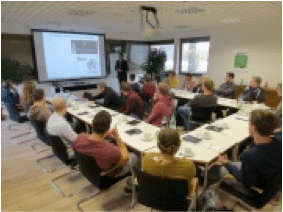 Kim Karotki: And from the students' perspective, Mr Frerichs?
Frerichs: This workshop was highly motivating, as the professionals conducted the dialogue with us on equal terms. This encouraged the younger students, too, to make many interesting contributions on the environmental aspects of substrates. We went home with the feeling that the substrate industry needs future qualified specialists like us.
Kim Karotki: Mr Schlüter, was the workshop a one-off event?
Schlüter: Well, it was certainly a first – and, from our point of view, a success. The professors from Osnabrück are already indicating a desire to hold events of this kind every two years. In terms of content, it further augments the conventional site tour that we have offered so far as part of a student excursion; it has more the status of an short academic course. And, on top of this, both peat (as the main component of substrates) and alternative substrates provide many thematic ideas for interesting degree theses or practical vocational projects.