Peat mos­ses at the Inno­va­ti­on Center
Fasci­na­ting plants
Peat mos­ses now grow in a peat basin out­side our Inno­va­ti­on Cen­ter in Gees­te. Howe­ver, they did not appe­ar ent­i­re­ly of their own accord, but with a litt­le help from Jan Köb­bing (Head of Sus­taina­bi­li­ty Manage­ment) and Doro­thea Ram­mes (Land Use + Sus­taina­bi­li­ty Manage­ment). They plan­ted a mix­tu­re of dif­fe­rent spe­ci­es of peat mos­ses here, sowing a total of 1100 plants of six dif­fe­rent spe­ci­es and making sure that the indi­vi­du­al spe­ci­es were given their own ide­al hydro­lo­gi­cal con­di­ti­ons, i.e. hydro­phi­lic spe­ci­es below the water­line, the more tole­rant spe­ci­es abo­ve the water level.
A tank was instal­led to collect the rain­wa­ter nee­ded for rai­sed peat bogs. It is no coin­ci­dence that the­se bogs are also refer­red to as "rain­wa­ter bogs". A selec­tively actua­ted pump adds water to the peat basin or remo­ves it through an over­flow to keep the water at a con­stant level, ensu­ring opti­mum mois­tu­re sup­ply to the mosses.
The indi­ge­nous plants were rai­sed in green­houses by the Micro­pro­pa­ga­ti­on Ser­vices com­pa­ny in Lei­ces­ter­shire, Eng­land. Only a small part of the moss plant is nee­ded for pro­pa­ga­ti­on in a nut­ri­ent solu­ti­on under labo­ra­to­ry con­di­ti­ons and then left to grow into a lar­ge plant in the green­house. This method has two advantages:
Peat mos­ses are pro­tec­ted spe­ci­es and the remo­val of lar­ge quan­ti­ties from bogs may only be per­for­med in com­pli­an­ce with strict regu­la­ti­ons. When the mos­ses are pro­pa­ga­ted in the labo­ra­to­ry, this step is prac­ti­cal­ly eliminated.
Moreo­ver, the mos­ses rai­sed in a green­house do not con­tain any other unwan­ted flo­ra or fau­na, so that no other orga­nisms are impor­ted inadvertently.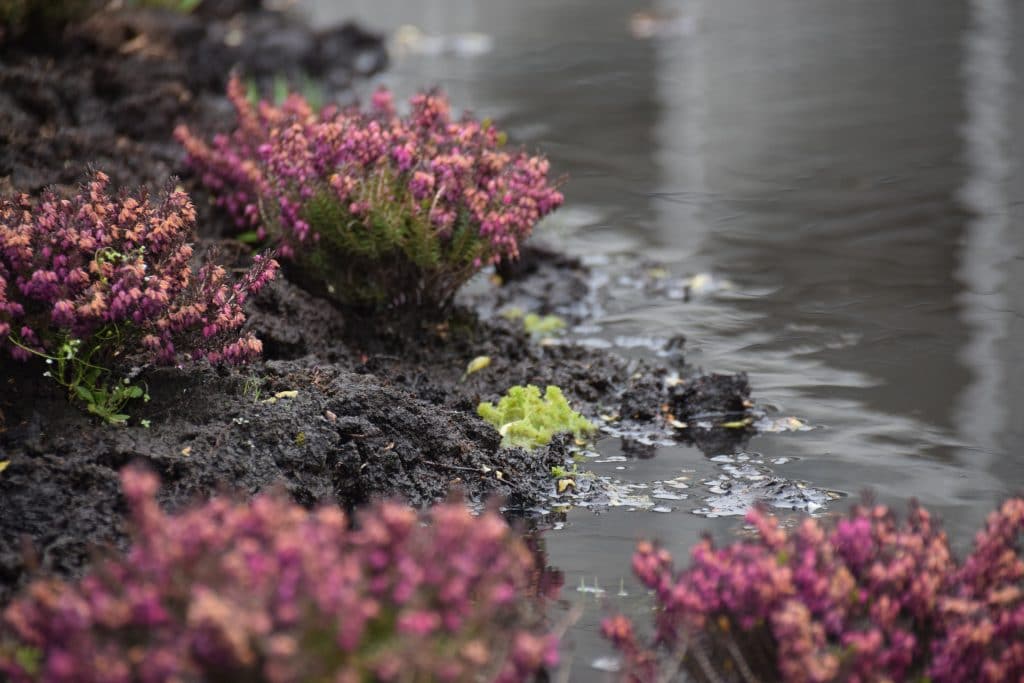 Peat mos­ses are fasci­na­ting plants: they grow even in pla­ces whe­re the nut­ri­ent sup­ply would not per­mit any other plants to grow and thus ful­fil an important eco­lo­gi­cal role. At the same time, they emit hydro­gen ions and so crea­te an acid envi­ron­ment which makes it even har­der for com­pe­ting plants to grow.
What's more, they can grow without restric­tion: the plant grows upwards while the base under water dies off owing to lack of air. This is how peat is crea­ted. In rai­sed bogs, this peat grows in height by rough­ly one mil­li­met­re per annum.
Becau­se of this peat for­ma­ti­on, peat mos­ses play a key role in cap­tu­ring CO2 in rai­sed bogs. Bogs store twice as much car­bon as the world's ent­i­re forests.