Peat moss cul­ti­va­ti­on pro­ject underway
Klasmann-Deilmann has embar­ked on the world's lar­gest pro­ject cul­ti­vat­ing peat moss. In clo­se col­la­bo­ra­ti­on with the Uni­ver­si­ty of Han­no­ver, a total of 10 hec­ta­res of land form­er­ly used for peat extrac­tion are to be pre­pa­red by the end of 2016. Over the past few weeks, more than three hec­ta­res have alrea­dy been 'ino­cu­la­ted' with peat moss. The aim of this under­ta­king, fun­ded by the federal sta­te of Lower Sax­o­ny, is to deve­lop a rene­wa­ble resour­ce for sub­stra­te manu­fac­tu­re. To this end, peat moss growth must be sti­mu­la­ted so that appre­cia­ble quan­ti­ties are obtained.
Sum­ming up pro­gress, Mana­ging Direc­tor Moritz Böcking says: "We have suc­cess­ful­ly com­ple­ted the first sta­ge of the pro­ject, name­ly collec­ting and dis­tri­bu­ting the peat moss." What will be important in the win­ter mon­ths is that the gro­wing sites show good deve­lo­p­ment and the peat moss copes with the chan­ge of loca­ti­on. In the year ahead, the­se acti­vi­ties will be con­si­der­ab­ly expan­ded, with the remai­ning two-thirds of the desi­gna­ted area ino­cu­la­ted. Various irri­ga­ti­on and drai­na­ge tech­ni­ques will be tri­al­led in this con­nec­tion with a view to mini­mi­sing fluc­tua­tions in water level. "At the same time, we will be star­ting lar­ge-sca­le tri­als aimed at tes­ting the moss's sui­ta­bi­li­ty for use in substrates. Also on the agen­da is the devi­sing of a workab­le and cost-effec­ti­ve har­ve­s­ting method," adds Böcking.
The go-ahead for this rese­arch pro­ject was given in the sum­mer of 2015, which is also when the Uni­ver­si­ty of Han­no­ver and the Thü­nen Insti­tu­te in Braun­schweig began sci­en­ti­fi­cal­ly inves­ti­ga­ting any chan­ges over time in bio­di­ver­si­ty on the sites in ques­ti­on, and in green­house gas emis­si­ons. "We expect that the sequestra­ti­on of green­house gases can be acce­le­ra­ted when the peat moss starts to grow on its new site," comments Böcking. A con­ti­nuous exchan­ge of infor­ma­ti­on is taking place with Canada's Spha­gnum Peat Moss Asso­cia­ti­on, which is pur­suing simi­lar pro­jects. The Inter­na­tio­nal Peat­land Socie­ty (IPS) is also invol­ved; the IPS is col­la­ting the fin­dings of such under­ta­kings and con­duc­ting sci­en­ti­fic fol­low-up. "We are espe­cial­ly plea­sed about the clo­se and con­struc­ti­ve coope­ra­ti­on with the Ems­land district aut­ho­ri­ty, which has green-ligh­ted this important rese­arch project."
Moss from peat hum­mocks is spe­ci­fi­cal­ly requi­red for this pro­ject. This moss has been remo­ved from alrea­dy res­to­red are­as and then dis­tri­bu­t­ed over sites whe­re stan­dard re-wet­ting prac­ti­ce had alrea­dy been imple­men­ted or was still due to be car­ri­ed out. Full appro­val for this was obtai­ned from the rele­vant aut­ho­ri­ties, thus making sure that the­se acti­vi­ties meet the hig­hest envi­ron­men­tal stan­dards. "We are maxi­mi­sing trans­pa­ren­cy in our com­mu­ni­ca­ti­on on this pro­ject, and are avail­ab­le for open dia­lo­gue with natu­re con­ser­va­ti­on orga­ni­sa­ti­ons," Böcking assures.
After exten­si­ve pre­pa­ra­ti­ons, the first third of the two five-hec­ta­re gro­wing sites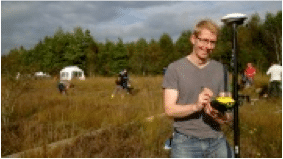 had been pre­pa­red for ino­cu­la­ti­on with peat moss. Octo­ber saw the start of work pro­per to extract moss from the 'Wil­des Moor' bog near Papen­burg, after which it was dis­tri­bu­t­ed on the gro­wing sites in the 'Pro­vin­zi­al­moor' and 'Drenth' peat­land are­as. To pro­tect them from the wea­ther, the sen­si­ti­ve peat moss shoots have now been cove­r­ed with straw or shading nets.
On the re-wet­ted peat­land site Pro­vin­zi­al­moor, a 'Spha­gnum bank' is being crea­ted as a peat moss reser­voir for res­to­red sites in the future. Ano­t­her for­mer peat extrac­tion site, Drenth, is ser­ving as a kind of lab in which bio­mass growth and the resis­tance of the various cul­ti­va­ted peat mos­ses are being tes­ted, as is their sui­ta­bi­li­ty as a sub­stra­te constituent.