Over­co­m­ing the cri­sis together
Dear Cus­to­mers and Busi­ness Partners,
The coro­na­vi­rus pan­de­mic has chan­ged our lives. Poli­ti­cal lea­ders are cau­tious­ly explo­ring ave­nues they hope will return us to nor­ma­li­ty. A care­ful balan­ce is requi­red bet­ween pro­tec­ting the popu­la­ti­on from COVID-19 on the one hand, and eco­no­mic sta­bi­li­ty on the other.
Many com­pa­nies are being pushed to their limits at this time – inclu­ding tho­se in com­mer­cial hor­ti­cul­tu­re. We hope the bur­dens you and your busi­ness are facing remain mana­ge­ab­le, lea­ving all future opti­ons open. A strong part­ner, we are con­ti­nuing to stand shoul­der to shoul­der with you.
Sin­ce the end of Febru­a­ry, our cri­sis manage­ment team has been working every sin­gle day to pro­tect our work­for­ce from infec­tion. Full sub­stra­te pro­duc­tion ope­ra­ti­ons are ensu­red. Our sales and advi­so­ry teams are still the­re for you. And we are enga­ging with poli­cy­ma­kers to main­tain free move­ment of goods in the com­mer­cial-hor­ti­cul­tu­re sector.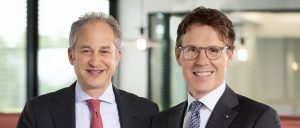 We are here for you. Plea­se let us know how you are doing the­se days and send us a mes­sa­ge to [email protected]​klasmann-​deilmann.​com with the key­word: #tog­e­ther­throught­he­cri­sis. Or get in touch with your con­ta­ct at Klasmann-Deilmann.
We wish you, your fami­lies and your com­pa­ny all the best. Stay healt­hy and safe!
Best wis­hes,
Moritz Böcking & Bernd Wehming
Mana­ging Direc­tors of the Klasmann-Deilmann Group