Overcoming the crisis together
Dear Customers and Business Partners,
The coronavirus pandemic has changed our lives. Political leaders are cautiously exploring avenues they hope will return us to normality. A careful balance is required between protecting the population from COVID-19 on the one hand, and economic stability on the other.
Many companies are being pushed to their limits at this time – including those in commercial horticulture. We hope the burdens you and your business are facing remain manageable, leaving all future options open. A strong partner, we are continuing to stand shoulder to shoulder with you.
Since the end of February, our crisis management team has been working every single day to protect our workforce from infection. Full substrate production operations are ensured. Our sales and advisory teams are still there for you. And we are engaging with policymakers to maintain free movement of goods in the commercial-horticulture sector.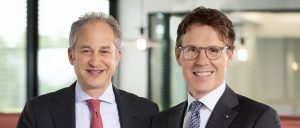 We are here for you. Please let us know how you are doing these days and send us a message to with the keyword: #togetherthroughthecrisis. Or get in touch with your contact at Klasmann-Deilmann.
We wish you, your families and your company all the best. Stay healthy and safe!
Best wishes,
Moritz Böcking & Bernd Wehming
Managing Directors of the Klasmann-Deilmann Group