Our voca­tio­nal trai­nees get all dramatic
Acting work­shop in Groß Hesepe
Our voca­tio­nal trai­nees, par­ti­ci­pants in a dra­ma work­shop, had three days – from Tues­day to Thurs­day – to work on a play. As they had to pre­mie­re their pro­duc­tion on the Fri­day, the clock was ticking. Their venue was the new lec­tu­re theat­re in Groß Hesepe.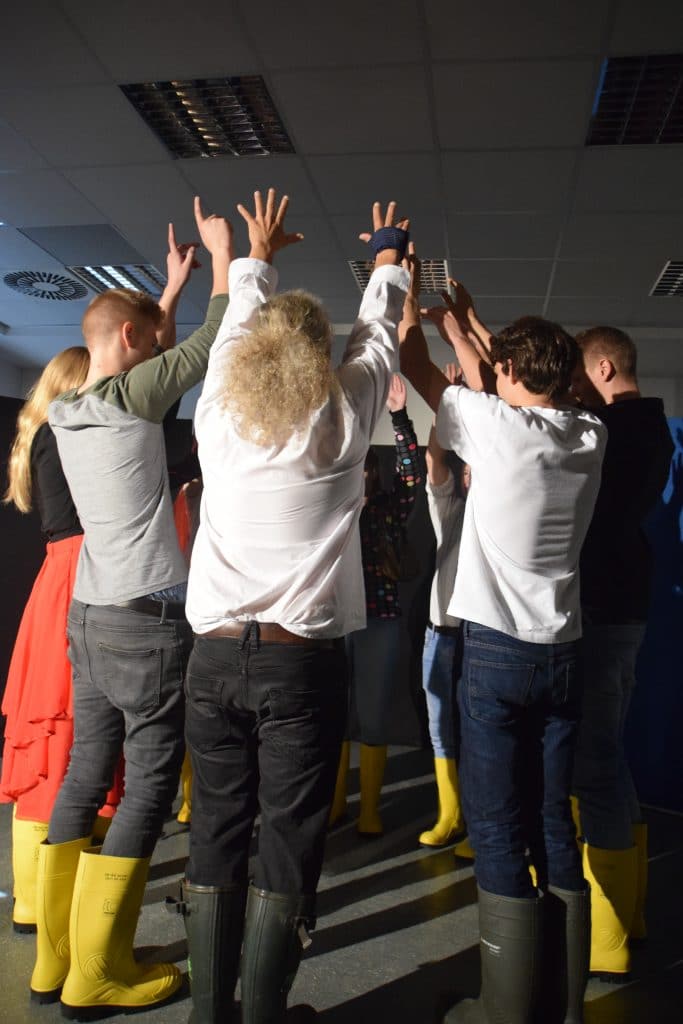 Stam­ping their feet, clad in yel­low rub­ber boots, and forming a cara­van, our voca­tio­nal trai­nees enter the sta­ge. They make a cir­cle, each indi­vi­du­al eit­her side­ways on to, or with their backs to, the audi­ence. This con­veys that the cast are a clo­se-knit group. They move rhyth­mi­cal­ly to a record­ing of the Nan­cy Sina­tra song 'The­se boots are made for wal­kin'', until the music abrupt­ly stops and the trai­nees, cur­sing, go their own sepa­ra­te ways.
The rub­ber boots are some­thing of a recur­ring the­me in this pro­duc­tion, func­tio­n­ing as 'tele­por­ta­ti­on shoes' for gol­fers, the 'Vaso­mat' sen­sor for house plants and the 'Mul­ti­tool' device at a fes­ti­val. Our trai­nees demons­tra­te how ver­sa­ti­le a pair of yel­low wel­lies can be and their adver­ti­se­ments are smart, humo­rous and iro­nic, as evi­den­ced by the fact that the Mul­ti­tool can be used for coo­ling drinks, hea­ting up food or ‑ who'd have thought it? ‑ kee­ping one's feet dry in the rain (unli­ke flip­flops)! 'Mul­ti­tool ‑ means your beer is always cool', 'Mul­ti­tool ‑ means your feet need never be cool' and 'Mul­ti­tool ‑ means you're always cool' ‑ with slo­gans and self-satis­fied smi­les, the trai­nees extol the vir­tu­es of this mira­cle footwear.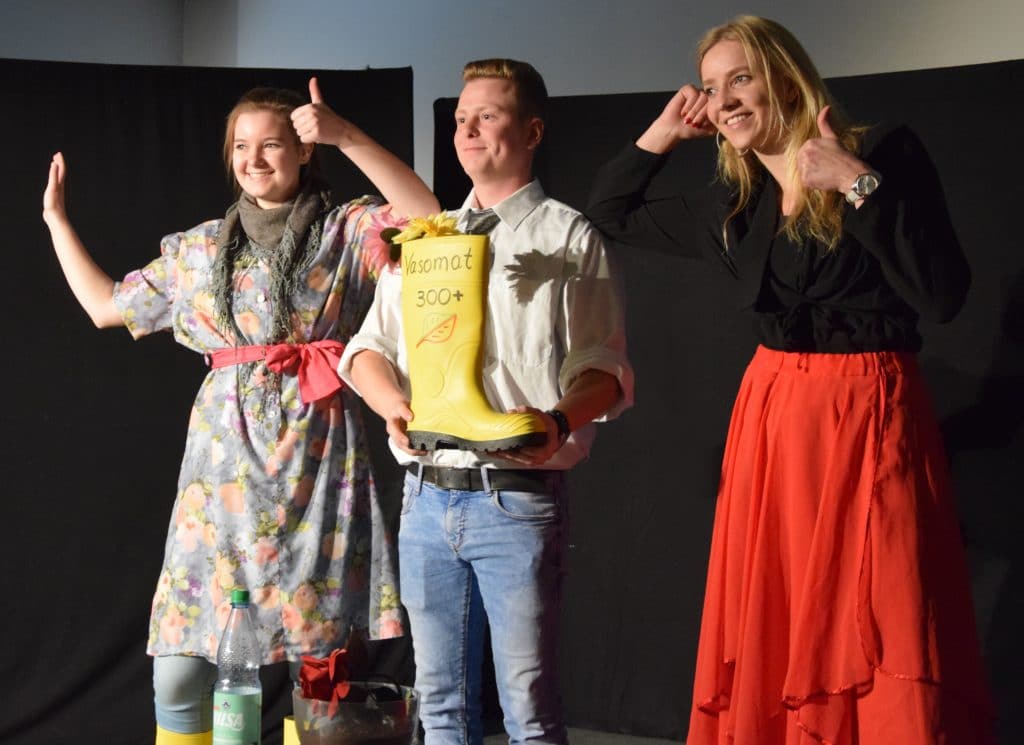 With a com­mer­cial par­o­dy­ing the ste­reo­ty­pes of adver­ti­sing aimed at the house­wi­fe mar­ket, our trai­nees get the audi­ence enthu­si­astic about the 'Vaso­mat 300 +'. Lore­na Ahrens plays the des­pai­ring Haus­frau, con­vin­cin­gly moro­se and shame-faced as she admits her house plants have died on her again. Natu­ral­ly, howe­ver, her sty­lish friend (Sabri­na Wal­ker) knows what to do: "I've got just what you need – the Vaso­mat!" The pithy but catchy slo­gan "Red means it's bare­ly ali­ve, green means it's going to thri­ve" is repeated with hoots of laugh­ter by many mem­bers of the audi­ence after the play.
Just wel­lies?
Rea­ding bet­ween the lines, it beco­mes clear that the boots also have a wider sym­bo­lic mea­ning. After all, the expe­ri­en­ces of a voca­tio­nal trai­nee may inclu­de shaking in one's boots (at first), and may­be even occa­sio­nal­ly fee­ling like the rug has been pul­led out from under one's feet. Not to men­ti­on put­ting one's best foot for­ward and the dai­ly task of boo­ting up one's computer …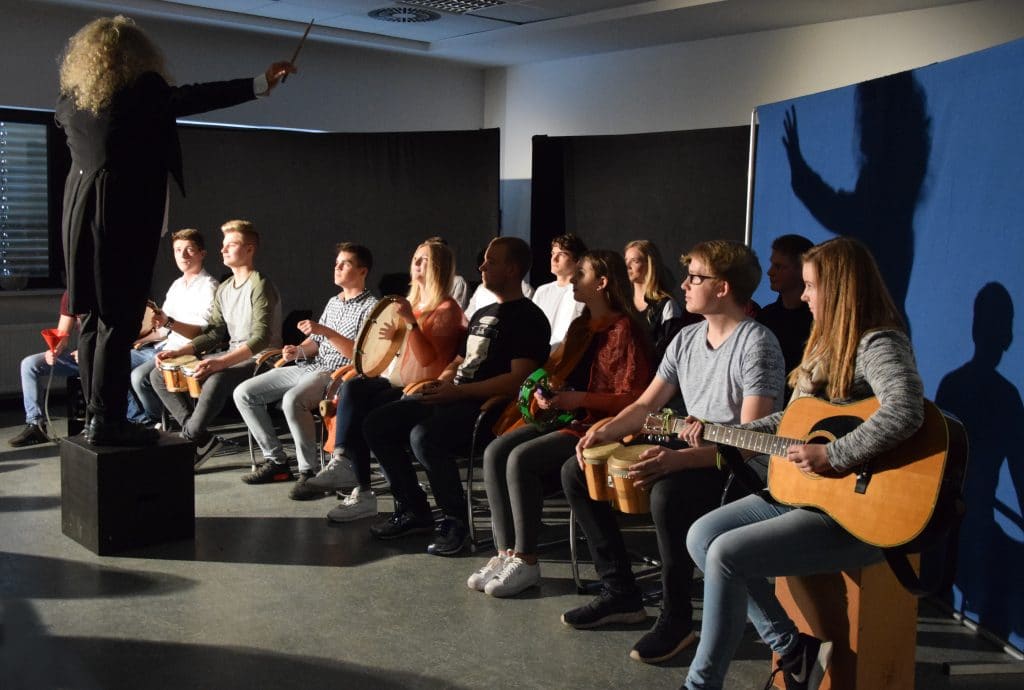 And acting, of cour­se, means step­ping into someo­ne else's shoes, which they all do con­vin­cin­gly. It is obvious that the end of the play will be met with thun­de­rous applau­se for our trai­nees, as the audi­ence have enjoy­ed them­sel­ves tre­men­dous­ly. The talen­ted young cast not only impress the theat­re­go­e­rs by vir­tue of having put on a play after only three days ‑ qui­te a feat ‑ but with their expres­si­ve use of their bodies, voices and music, their humour and their knack for parody.
"The trai­nees real­ly did do ever­ything them­sel­ves, from wri­ting the script to the sta­ging," said dra­ma tea­cher Lia­ne Kirch­hoff of Osna­brück-based edu­ca­tio­nal dra­ma pro­vi­der 'thea­ter­päd­ago­gi­sche werk­statt gGmbH' after the public per­for­mance. "All we did was pro­vi­de them with some gui­d­ance and the tools they nee­ded." The basics of sta­ge acting, ways of being aes­the­ti­cal­ly crea­ti­ve, the use of one's body, breat­hing and voice, and deve­lo­ping cha­rac­ters ‑ the­se were just some of the aspects that the two dra­ma edu­ca­tors Lia­ne Kirch­hoff and Micha­el Wal­ter Schroth cove­r­ed with the trai­nees. "Put­ting this on in such a short time was qui­te an achievement."
Per­so­na­li­ty development
In an inter­view with our edi­to­ri­al staff, the par­ti­ci­pants reve­a­led that the four days of the work­shop and per­for­mance had been a real chal­len­ge. "It was fan­tastic fun, but we were exhaus­ted every evening," says Busi­ness Infor­ma­tics stu­dent Jakob Schoofs. "I think the rea­son was that we had an incredi­ble amount to pro­cess." It was the dra­ma exer­ci­ses that he found most sti­mu­la­ting: impro­vi­sa­ti­on, con­cen­tra­ti­on and being awa­re of one's fel­low actors. Has eye con­ta­ct been estab­lis­hed? What is the other person's pos­tu­re tel­ling me? The­se things are use­ful in ever­y­day life as well.
Sabri­na Wal­ker also feels the­re are real-world app­li­ca­ti­ons: "For examp­le, I now have a who­le new awa­reness of the effect of my per­so­nal deme­a­nour on others." The work­shop was also a good oppor­tu­ni­ty for ever­yo­ne to get to know the trai­nees at the loca­ti­on other than whe­re they them­sel­ves were based. "The big­gest chal­len­ge came on the first day. We were inst­ruc­ted to laugh, cry, scream and get angry on cue ‑ in front of peop­le, some of whom I'd never met. After we'd all got acquain­ted with each other, this made the other days easier. We grew in con­fi­dence and ever­yo­ne contributed."
Our Trai­ning Mana­ger Andrea Bruns exp­lains the ratio­na­le for inclu­ding the dra­ma work­shop as part of the trai­ning plan: "Trai­ning is not only the dis­se­mi­na­ti­on of know-how, but also per­so­na­li­ty deve­lo­p­ment." She feels the out­put real­ly is to be applau­ded in every sen­se: "During the work­shop, the trai­nees got to know each other well and grew into a team ‑ regard­less of what they're trai­ning to beco­me and whe­re they're doing it. Tog­e­ther they deve­lo­ped sce­nes that they pre­sen­ted to a size­ab­le audi­ence on the final day. During this pro­cess they were crea­ti­ve, inves­ted gre­at collec­ti­ve effort in the out­co­me and show­ed per­se­ver­an­ce. And, import­ant­ly, they expe­ri­en­ced shared suc­cess and can be proud of what they offe­red up ‑ a good foun­da­ti­on for grea­ter self-confidence."