Klasmann-Deilmann says fare­well to Mana­ging Direc­tor Nor­bert Siebels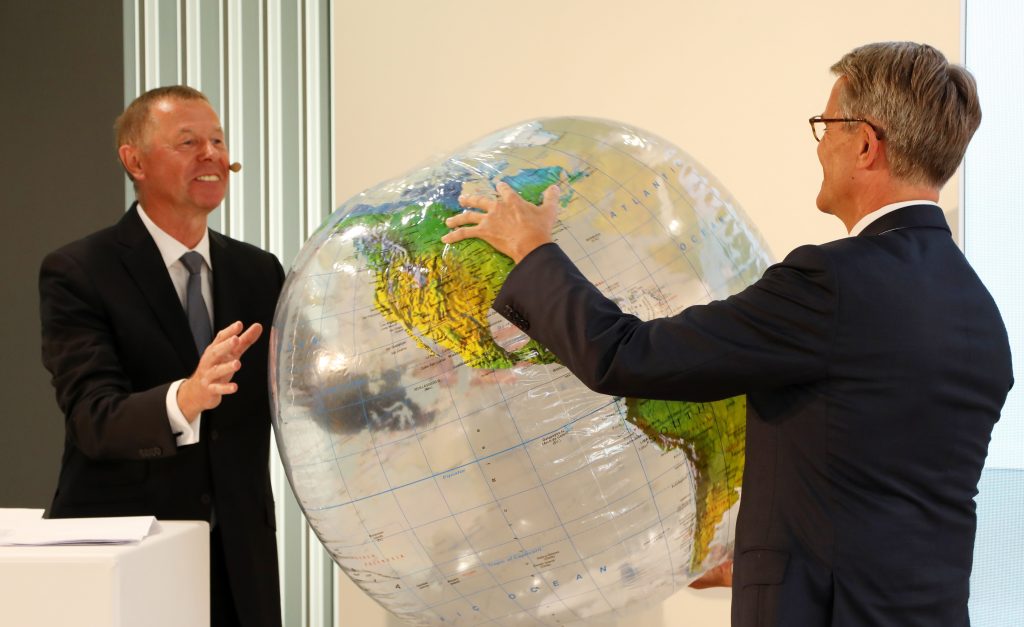 Klasmann-Deilmann GmbH has said fare­well to its long-stan­ding Mana­ging Direc­tor Nor­bert Siebels. During an offi­cial cere­mo­ny, the Admi­nis­tra­ti­ve Board and work­for­ce repre­sen­ta­ti­ves tog­e­ther with com­pa­n­ions and col­leagues were joi­ned by guests from the worlds of poli­tics and busi­ness in paying tri­bu­te to his achievements.
"You are a glo­bal play­er, and you have tur­ned Klasmann-Deilmann into a glo­bal play­er", said Bern­hard Alte­vers, mem­ber of the Admi­nis­tra­ti­ve Board in his eulo­gy loo­king back at the peri­od sin­ce 1990. "You have safe­guar­ded resour­ces, built fac­to­ries, taken over pro­duc­tion com­pa­nies and foun­ded sales companies."
It was just a few mon­ths after Klasmann Wer­ke mer­ged with C. Deilmann-Torf­be­trie­be that Nor­bert Siebels joi­ned the new­ly for­med Klasmann-Deilmann GmbH in May 1990 as Head of Pro­duct Deve­lo­p­ment. He was then appoin­ted Mana­ging Direc­tor by the Super­vi­so­ry Board befo­re the end of the year. Under his aus­pi­ces, Klasmann-Deilmann Ire­land was acqui­red in 1991 and the first future-ori­en­ted sup­ply agree­ments were con­clu­ded for raw mate­ri­als from Lit­hua­nia. In 1993 the com­pa­ny star­ted raw mate­ri­als tra­ding through Bol Peat, the Pot­g­rond Cen­trum in the port of Rot­ter­dam was com­mis­sio­ned in 1996 and in 2000 Klasmann-Deilmann acqui­red its first share­hol­ding in the Lit­hua­ni­an pro­duc­tion com­pa­nies in Silu­te and Lau­ke­sa. The sales com­pa­ny Klasmann-Deilmann Asia Paci­fic in Sin­g­a­po­re was foun­ded in 2001. The peat ope­ra­ti­ons in Ezerelis/Lithuania fol­lo­wed in 2005, tog­e­ther with Klasmann-Deilmann Bel­gi­um and Klasmann-Deilmann Brug­ge. The lar­ge Fac­to­ry 4 in Silu­te was inau­gu­ra­ted in 2010. To safe­guard white peat sup­plies in the long term, in 2011 Klasmann-Deilmann acqui­red exten­si­ve resour­ces in Lat­via and foun­ded Klasmann-Deilmann Lat­via. In the same year, Klasmann-Deilmann Aus­tria and Klasmann-Deilmann Ame­ri­cas were laun­ched as sales com­pa­nies. Klasmann-Deilmann Pol­s­ka has been whol­ly owned by Klasmann-Deilmann sin­ce 2012. This was fol­lo­wed by Klasmann-Deilmann Chi­na in 2013 and Klasmann-Deilmann Euro­pe in 2015. On a par­al­lel basis, con­tracts were con­clu­ded with inde­pen­dent sales part­ners in many coun­tries who took on the exclu­si­ve sales of gro­wing media in the indi­vi­du­al mar­kets. Over the years, this resul­ted in a net­work that spans the ent­i­re world today.
Klasmann-Deilmann also took ear­ly steps to meet the deman­ds from the poli­ti­cal sec­tor and envi­ron­ment pro­tec­tion orga­ni­sa­ti­ons for the use of alter­na­ti­ves to peat in the pro­duc­tion of gro­wing media. The first com­pos­ting faci­li­ties went into ope­ra­ti­on in 1991. Sin­ce 2010, Klasmann-Deilmann has been pro­du­cing its own wood fibres and mean­while ope­ra­tes five wood fib­re faci­li­ties, giving the com­pa­ny an ear­ly foot­hold on the bio-substrates seg­ment, whe­re Klasmann-Deilmann mean­while leads the market.
"It's in your blood to have a glo­bal mind­set and take a glo­bal approach", sum­ma­ri­sed Bern­hard Alte­vers. "In this way, you have taken Klasmann-Deilmann right around the world, put­ting down roots in many pla­ces. Cor­po­ra­te growth was in good hands with you. It's also in your blood to com­bi­ne a glo­bal approach with local action. You were never one to con­trol the company's glo­bal desti­ny from the com­fort of your own desk. You were con­stant­ly on the move, visi­t­ing sub­si­dia­ries and sales part­ners, you were on site, you were at the heart of it all. You were both glo­bal play­er and always also local play­er. You knew that Klasmann-Deilmann's suc­cess is clo­se­ly lin­ked to the suc­cess of its busi­ness and sales part­ners. You knew that suc­cess depends on pre­sence and dialogue."
The­se thoughts were also reflec­ted by Kazi­mie­ras Kamins­kas as Mana­ging Direc­tor of the Lit­hua­ni­an pro­duc­tion com­pa­ny Klasmann-Deilmann Silu­te and mem­ber of the Group Exe­cu­ti­ve Com­mit­tee: "You were invol­ved right from the start in the deve­lo­p­ment of our orga­ni­sa­ti­ons in Lit­hua­nia and Lat­via and in set­ting up the pro­duc­tion faci­li­ties. You took Klasmann-Deilmann's first steps in the Bal­tic regi­on in 1991 and play­ed a major role in acqui­ring the Lit­hua­ni­an com­pa­nies Silu­te, Lau­ke­sa, Gedri­mai and Eze­re­lis. You were also respon­si­ble for com­pre­hen­si­ve invest­ment, for instance in the con­struc­tion of new fac­to­ries. You gave us inten­si­ve sup­port and always had the right advice to fur­ther the deve­lo­p­ment of the organisation."
Mar­tin Schlich­ter, Pre­si­dent of the Cham­ber of Com­mer­ce and Indus­try Osnabrück/Emsland/County Bent­heim spo­ke about Nor­bert Siebels' many years of exten­si­ve com­mit­ment, inclu­ding more than fif­teen years as a mem­ber of the CCI Exe­cu­ti­ve Com­mit­tee: "In this role you were actively invol­ved in shaping the work of our CCI, rather than just being a pas­si­ve par­ti­ci­pant. This app­lied pri­ma­ri­ly to the key aspect of the eco­no­mic frame­work con­di­ti­ons but also to issu­es such as ener­gy, the envi­ron­ment and sus­taina­bi­li­ty. You were par­ti­cu­lar­ly com­mit­ted to your work in the finan­cial com­mit­tee of the pre­si­di­um, whe­re you made a major con­tri­bu­ti­on with your exten­si­ve know-how and your sharp ana­ly­ti­cal mind. By the way, we real­ly bene­fi­ted from your wealth of exper­ti­se with regard to sus­taina­bi­li­ty. Ever­yo­ne here knows how important the issue is to you per­so­nal­ly and how pro­gres­si­ve Klasmann-Deilmann's sus­taina­bi­li­ty stra­te­gy is. On behalf of our CCI, I extend our heart­felt gra­ti­tu­de for your commitment."
In the end, Nor­bert Siebels took the floor and illus­tra­ted his histo­ry with a num­ber of old pho­tos of the Klasmann Wer­ken sin­ce the 1950s and Klasmann-Deilmann GmbH sin­ce 1990. "The first thing that came to mind in pre­pa­ring for this occa­si­on was 'gra­ti­tu­de'. I am very, very gra­te­ful for 28 won­der­ful years at Klasmann-Deilmann. I'd like to use this won­der­ful oppor­tu­ni­ty to say thank-you to ever­yo­ne who worked with me to make our com­pa­ny suc­cess­ful. We have spent many hours tog­e­ther, we have achie­ved a gre­at deal tog­e­ther, we have made Klasmann-Deilmann the world mar­ket lea­der and we have defen­ded this posi­ti­on year after year. I think you could say we had a bit of ever­ything: exci­te­ment and adven­ture, action and dra­ma, rather a lot of come­dy and at times even fan­ta­sy and sci­ence fic­tion. I shall miss it all very much. For me, Klasmann-Deilmann was always so much more than just a job. Klasmann-Deilmann was an important part of my life." With very per­so­nal words, he thank­ed his col­leagues and com­pa­n­ions befo­re wis­hing the new manage­ment team Moritz Böcking and Bernd Weh­ming "every suc­cess and lots of luck."
The­re were guests from more than twen­ty coun­tries all around the world. After the offi­cial cere­mo­ny, the new Inno­va­ti­on Cen­ter at Klasmann-Deilmann GmbH pro­vi­ded a fes­ti­ve atmo­s­phe­re that gave many peop­le an oppor­tu­ni­ty to say a per­so­nal fare­well to Nor­bert Siebels.