Global Player
Klasmann-Deilmann says farewell to Managing Director Norbert Siebels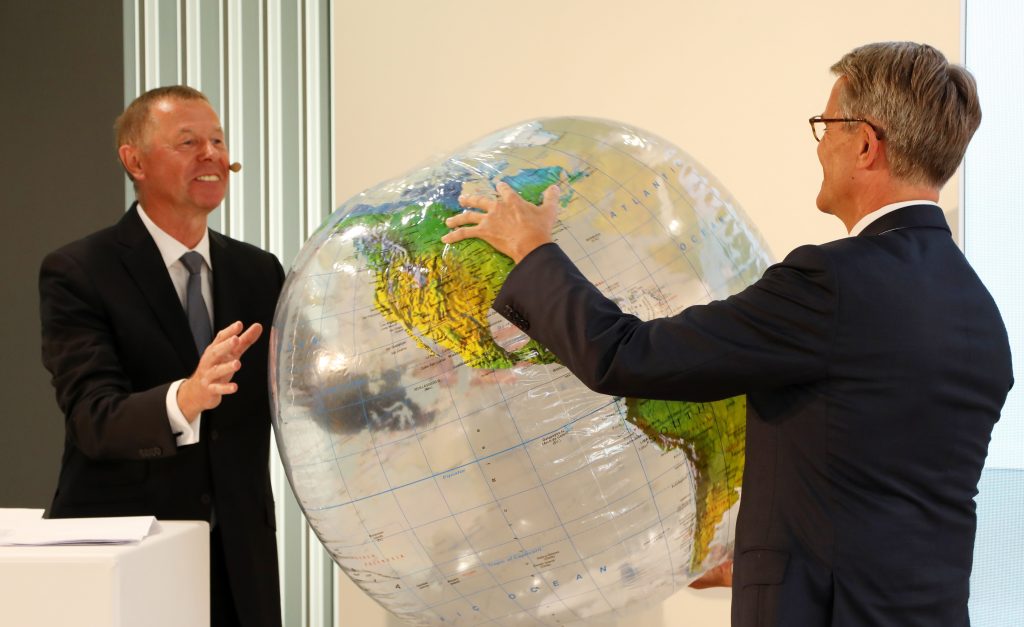 Klasmann-Deilmann GmbH has said farewell to its long-standing Managing Director Norbert Siebels. During an official ceremony, the Administrative Board and workforce representatives together with companions and colleagues were joined by guests from the worlds of politics and business in paying tribute to his achievements.
"You are a global player, and you have turned Klasmann-Deilmann into a global player", said Bernhard Altevers, member of the Administrative Board in his eulogy looking back at the period since 1990. "You have safeguarded resources, built factories, taken over production companies and founded sales companies."
It was just a few months after Klasmann Werke merged with C. Deilmann-Torfbetriebe that Norbert Siebels joined the newly formed Klasmann-Deilmann GmbH in May 1990 as Head of Product Development. He was then appointed Managing Director by the Supervisory Board before the end of the year. Under his auspices, Klasmann-Deilmann Ireland was acquired in 1991 and the first future-oriented supply agreements were concluded for raw materials from Lithuania. In 1993 the company started raw materials trading through Bol Peat, the Potgrond Centrum in the port of Rotterdam was commissioned in 1996 and in 2000 Klasmann-Deilmann acquired its first shareholding in the Lithuanian production companies in Silute and Laukesa. The sales company Klasmann-Deilmann Asia Pacific in Singapore was founded in 2001. The peat operations in Ezerelis/Lithuania followed in 2005, together with Klasmann-Deilmann Belgium and Klasmann-Deilmann Brugge. The large Factory 4 in Silute was inaugurated in 2010. To safeguard white peat supplies in the long term, in 2011 Klasmann-Deilmann acquired extensive resources in Latvia and founded Klasmann-Deilmann Latvia. In the same year, Klasmann-Deilmann Austria and Klasmann-Deilmann Americas were launched as sales companies. Klasmann-Deilmann Polska has been wholly owned by Klasmann-Deilmann since 2012. This was followed by Klasmann-Deilmann China in 2013 and Klasmann-Deilmann Europe in 2015. On a parallel basis, contracts were concluded with independent sales partners in many countries who took on the exclusive sales of growing media in the individual markets. Over the years, this resulted in a network that spans the entire world today.
Klasmann-Deilmann also took early steps to meet the demands from the political sector and environment protection organisations for the use of alternatives to peat in the production of growing media. The first composting facilities went into operation in 1991. Since 2010, Klasmann-Deilmann has been producing its own wood fibres and meanwhile operates five wood fibre facilities, giving the company an early foothold on the bio-substrates segment, where Klasmann-Deilmann meanwhile leads the market.
"It's in your blood to have a global mindset and take a global approach", summarised Bernhard Altevers. "In this way, you have taken Klasmann-Deilmann right around the world, putting down roots in many places. Corporate growth was in good hands with you. It's also in your blood to combine a global approach with local action. You were never one to control the company's global destiny from the comfort of your own desk. You were constantly on the move, visiting subsidiaries and sales partners, you were on site, you were at the heart of it all. You were both global player and always also local player. You knew that Klasmann-Deilmann's success is closely linked to the success of its business and sales partners. You knew that success depends on presence and dialogue."
These thoughts were also reflected by Kazimieras Kaminskas as Managing Director of the Lithuanian production company Klasmann-Deilmann Silute and member of the Group Executive Committee: "You were involved right from the start in the development of our organisations in Lithuania and Latvia and in setting up the production facilities. You took Klasmann-Deilmann's first steps in the Baltic region in 1991 and played a major role in acquiring the Lithuanian companies Silute, Laukesa, Gedrimai and Ezerelis. You were also responsible for comprehensive investment, for instance in the construction of new factories. You gave us intensive support and always had the right advice to further the development of the organisation."
Martin Schlichter, President of the Chamber of Commerce and Industry Osnabrück/Emsland/County Bentheim spoke about Norbert Siebels' many years of extensive commitment, including more than fifteen years as a member of the CCI Executive Committee: "In this role you were actively involved in shaping the work of our CCI, rather than just being a passive participant. This applied primarily to the key aspect of the economic framework conditions but also to issues such as energy, the environment and sustainability. You were particularly committed to your work in the financial committee of the presidium, where you made a major contribution with your extensive know-how and your sharp analytical mind. By the way, we really benefited from your wealth of expertise with regard to sustainability. Everyone here knows how important the issue is to you personally and how progressive Klasmann-Deilmann's sustainability strategy is. On behalf of our CCI, I extend our heartfelt gratitude for your commitment."
In the end, Norbert Siebels took the floor and illustrated his history with a number of old photos of the Klasmann Werken since the 1950s and Klasmann-Deilmann GmbH since 1990. "The first thing that came to mind in preparing for this occasion was 'gratitude'. I am very, very grateful for 28 wonderful years at Klasmann-Deilmann. I'd like to use this wonderful opportunity to say thank-you to everyone who worked with me to make our company successful. We have spent many hours together, we have achieved a great deal together, we have made Klasmann-Deilmann the world market leader and we have defended this position year after year. I think you could say we had a bit of everything: excitement and adventure, action and drama, rather a lot of comedy and at times even fantasy and science fiction. I shall miss it all very much. For me, Klasmann-Deilmann was always so much more than just a job. Klasmann-Deilmann was an important part of my life." With very personal words, he thanked his colleagues and companions before wishing the new management team Moritz Böcking and Bernd Wehming "every success and lots of luck."
There were guests from more than twenty countries all around the world. After the official ceremony, the new Innovation Center at Klasmann-Deilmann GmbH provided a festive atmosphere that gave many people an opportunity to say a personal farewell to Norbert Siebels.