Elec­tro­mo­bi­li­ty in Geeste
Electric car and char­ging station
Sus­taina­bi­li­ty is also a cri­ter­ion when it comes to busi­ness trips and com­mu­ting to and from work. The com­pa­ny has now pro­vi­ded an electric car and a char­ging sta­ti­on in the staff car park, so that employees at our head office in Gees­te now have the opti­on of using rene­wa­ble ener­gy on busi­ness trips or for the jour­ney home from work.
The manage­ment at Gees­te had been con­si­de­ring pro­vi­ding staff with an electric car as part of the com­pa­ny car pool for some time, but had been scep­ti­cal about the pos­si­ble ran­ge of the­se vehi­cles. In the mean­ti­me, more and more models have a sub­stan­ti­al­ly lon­ger ran­ge, so that e‑mobility is now a prac­ti­ca­ble option.
The decisi­on to install a char­ging point for electric vehi­cles was made in the cour­se of plan­ning the new Inno­va­ti­on Cen­ter and one idea led to the next.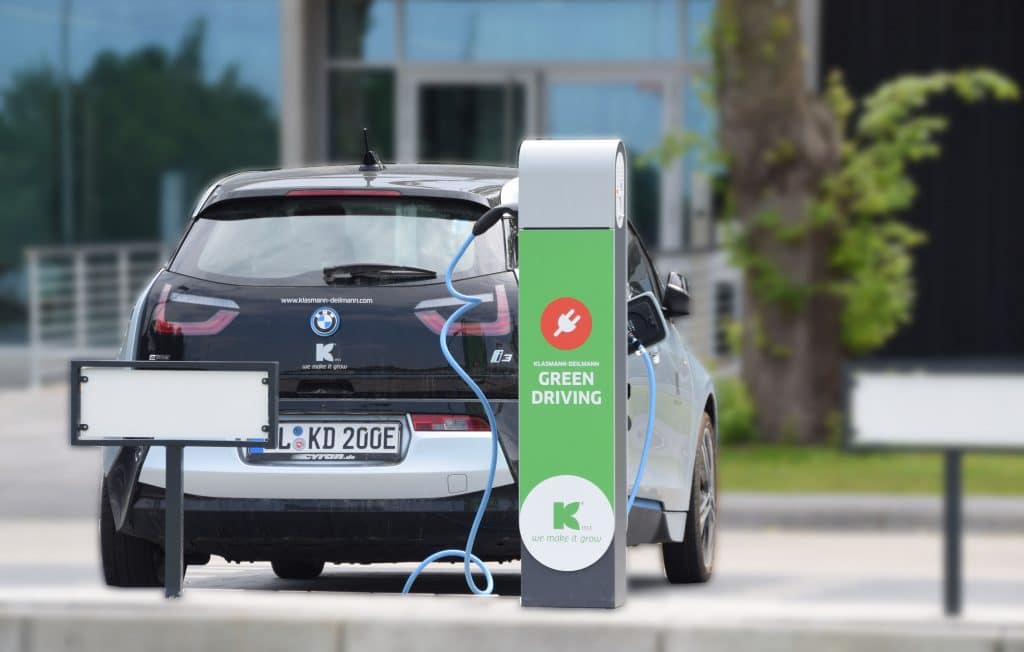 The char­ging sta­ti­on in the staff car park has two con­nec­tors so that two vehi­cles can be char­ged with green hydroelectric power at the same time. In con­trast to the twel­ve hours nee­ded to rech­ar­ge an electric car from a domestic power point, the char­ging sta­ti­on can ful­ly rech­ar­ge the bat­te­ry in just three hours. The electri­ci­ty for a full char­ge cos­ts around six euros. Anyo­ne who deci­des to com­mu­te to work with a pri­va­te electric car in future can the­re­fo­re rech­ar­ge the bat­te­ry here quick­ly and inexpensively.
The new electric car in the com­pa­ny car pool is a BMW i3. It has an appro­xi­ma­te ran­ge of 180 kilo­me­tres, making it an attrac­ti­ve opti­on even for lon­ger jour­neys. "The ran­ge of electric cars has mean­while impro­ved signi­fi­cant­ly, which is why we now want to try out this new tech­no­lo­gy and see how well it is accep­ted by our staff," says Mana­ging Direc­tor Bernd Weh­ming. "Pro­mo­ting the use of rene­wa­ble ener­gy for busi­ness tra­vel, too, will put our sus­taina­bi­li­ty acti­vi­ties on a broa­der footing."