An inno­va­ti­ve work environment
Klasmann-Deilmann opens Inno­va­ti­on Cen­ter | Cere­mo­ny atten­ded by many visi­tors from all over the world | Chal­len­ges faced in fee­ding a gro­wing glo­bal population
"Inno­va­ti­on starts here." The ratio­na­le behind the new buil­ding is clear, and Carl-Ger­rit Deilmann, Chair of the Klasmann-Deilmann GmbH Admi­nis­tra­ti­ve Board, put it in a nuts­hell. What is on Klasmann-Deilmann's agen­da are new gro­wing media, new sub­stra­te con­sti­tu­ents and new cul­ti­va­ti­on sys­tems. And, from now on, this inno­va­ti­on will be set in moti­on at the Inno­va­ti­on Cent­re, which has now been offi­cial­ly opened.
An inau­gu­ra­ti­on cere­mo­ny brought to an end the 18-mon­th con­struc­tion pha­se for Klasmann-Deilmann GmbH's new buil­ding in Gees­te, Ger­ma­ny. Visi­tors from all over the world had come here for the offi­cial cele­bra­ti­ons, inclu­ding busi­ness part­ners and cus­to­mers from Chi­na, Tai­wan, Argen­ti­na and Ger­ma­ny, as well as repre­sen­ta­ti­ves from poli­tics, the pri­va­te sec­tor and pro­fes­sio­nal associations.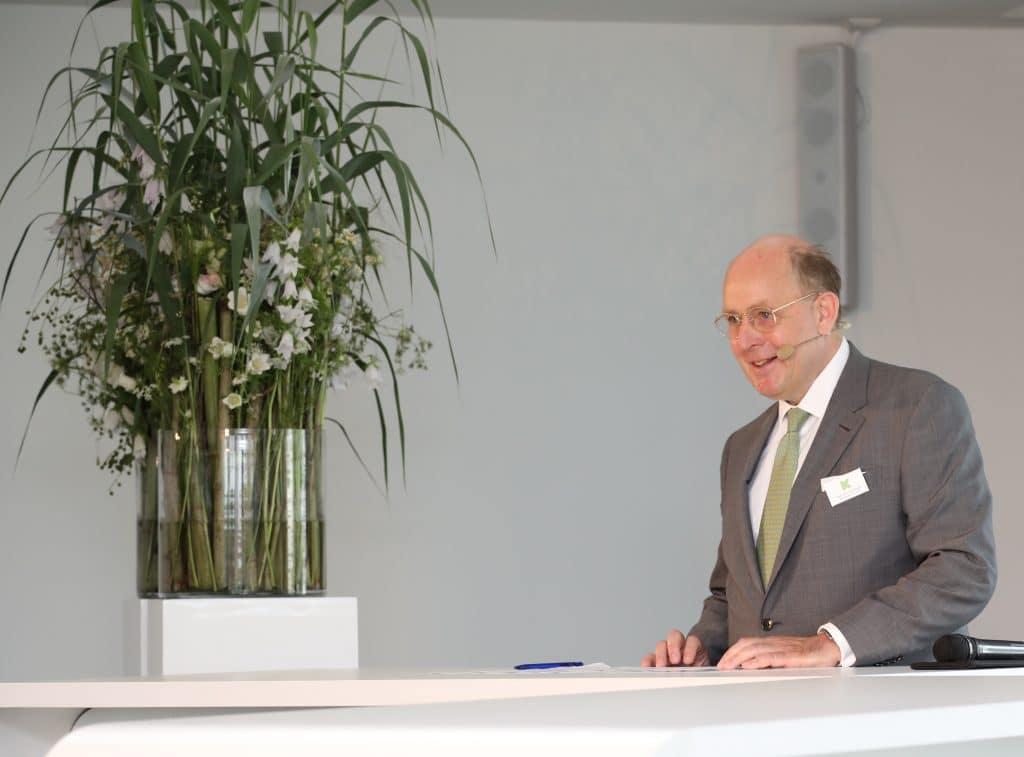 In his cere­mo­ni­al address, Carl-Ger­rit Deilmann stres­sed that "Klasmann-Deilmann is very much bound up with the resour­ce that is peat. Howe­ver, our com­pa­ny is also see­king to explo­re com­ple­te­ly new ave­nues. We have the­re­fo­re loca­ted our new head­quar­ters at a site that will, in the future, no lon­ger have its own peat sup­ply. This will spur us on to deve­lop inno­va­ti­ve pro­ducts and busi­ness models. Klasmann-Deilmann has never been an orga­ni­sa­ti­on that wat­ches things chan­ge. Klasmann-Deilmann is an orga­ni­sa­ti­on that makes things change."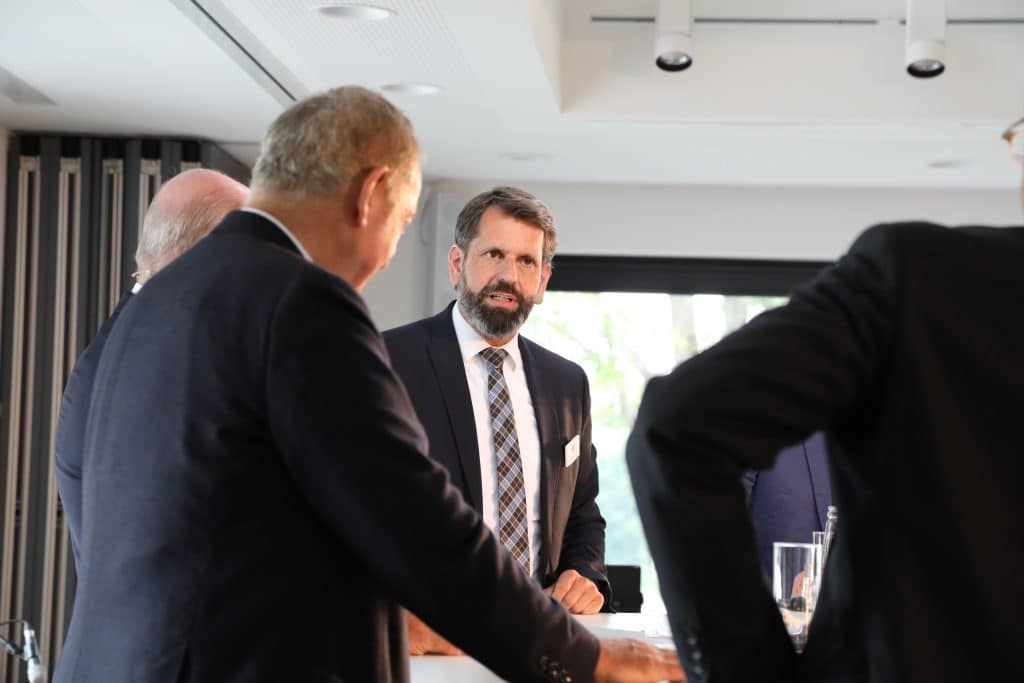 Lower Saxony's Minis­ter for the Envi­ron­ment, Olaf Lies (SPD), recal­led his first visit to the com­pa­ny – back when he was Minis­ter for Eco­no­mic Affairs. He felt at ease here in both capa­ci­ties, said Lies, as Klasmann-Deilmann is equal­ly syn­ony­mous with busi­ness growth and with its efforts in the field of envi­ron­men­tal and cli­ma­te pro­tec­tion. He empha­sis­ed that invest­ment in this new buil­ding is a good examp­le of how the Ems­land district aut­ho­ri­ty ser­ves as a role model. "Com­mer­cial suc­cess is always the result of wise loca­tio­nal choices by busi­ness enter­pri­ses," he remar­ked, adding: "The natu­re of an office work­place is signi­fi­cant to a company's skil­led workers in ways that can­not be over­sta­ted. Modern work envi­ron­ments encou­ra­ge crea­ti­vi­ty." He the­re­fo­re exten­ded his prai­se to the new building's archi­tec­tu­re. Only the day befo­re, he had pre­sen­ted Lower Saxony's Sta­te Award for Archi­tec­tu­re. On the one hand, he said, it was reg­rett­able that the Inno­va­ti­on Cen­ter had not been in the run­ning for this pri­ze. On the other, he added with a smi­le, he hopes his own staff never get to see the attrac­ti­ve inte­rior, other­wi­se they would never want to return to Han­no­ver. In par­ti­cu­lar, Olaf Lies com­men­ded Klasmann-Deilmann for being so for­ward-loo­king in dealing exten­si­ve­ly with tomorrow's busi­ness models even today. "Unfor­tu­n­a­te­ly, by no means all com­pa­nies give thought to such mat­ters if things are cur­r­ent­ly going well."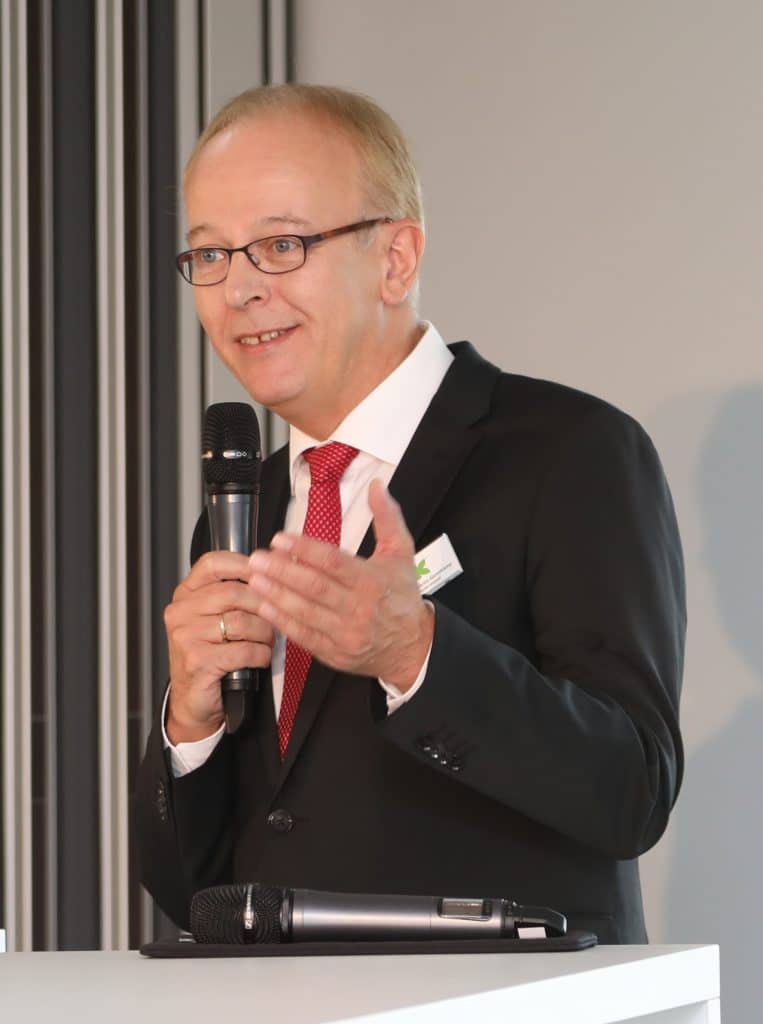 Mar­tin Geren­kamp, depu­ty district admi­nis­tra­tor for Ems­land, brought gree­tings from the district's CEO Rein­hard Win­ter and the ent­i­re district aut­ho­ri­ty. He loo­ked back over the company's long histo­ry: foun­ded in 1913, it had been instru­men­tal in the region's deve­lo­p­ment. Today, Klasmann-Deilmann is among the many 'hid­den cham­pions' that have emer­ged in the Ger­man SME sce­ne and that are important not only in our home coun­try but world­wi­de. The com­pa­ny is one of the major employ­ers in the Ems­land regi­on. He espe­cial­ly appre­cia­tes that Klasmann-Deilmann had respon­ded with inten­si­fied rese­arch and deve­lo­p­ment acti­vi­ties to the decli­ne in the tra­di­tio­nal resour­ce base and that, in the form of the Inno­va­ti­on Cen­ter, it had laid a real cor­ner­stone for its future.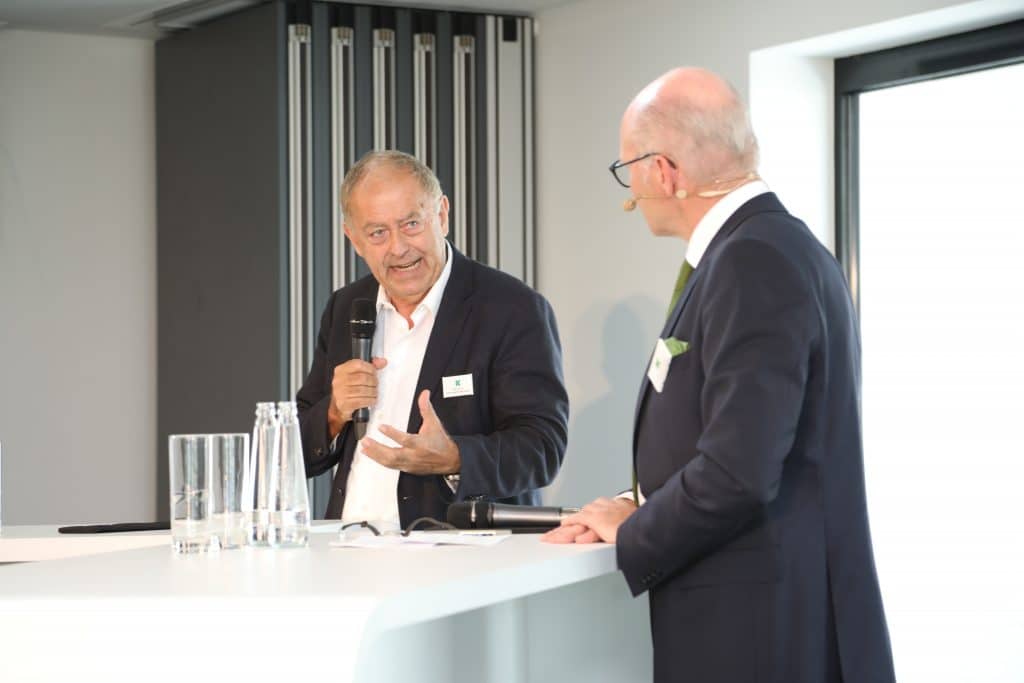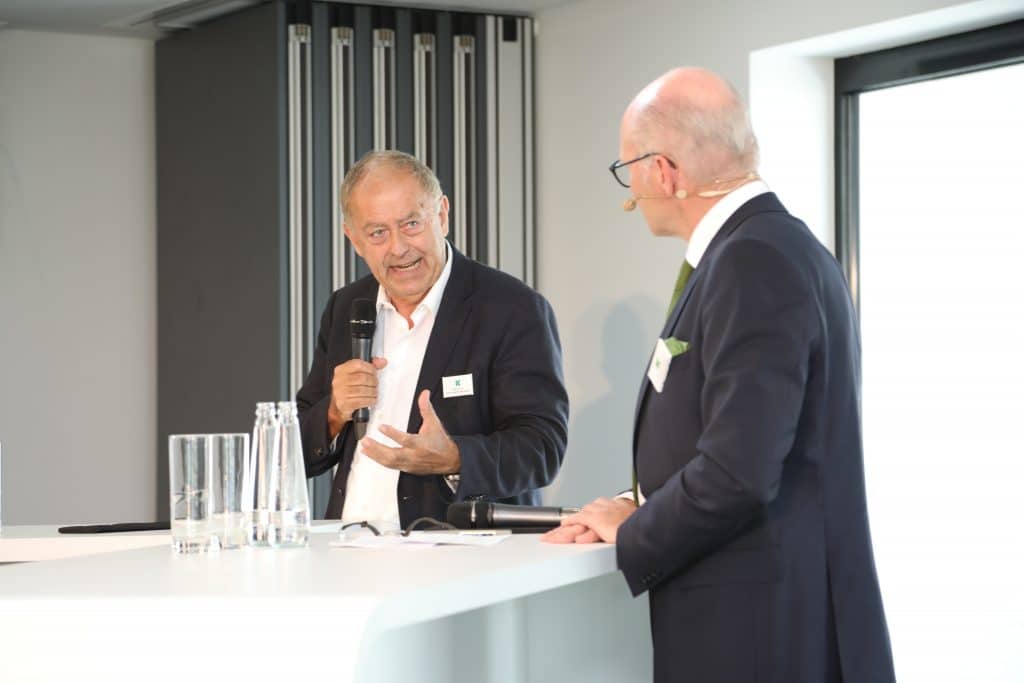 The guest spea­ker was eco­no­mist and mathe­ma­ti­ci­an Pro­fes­sor Franz Josef Rader­ma­cher, a mem­ber of the Club of Rome, who addres­sed the pro­spects for and chal­len­ges inherent in fee­ding a gro­wing glo­bal popu­la­ti­on, and dis­cus­sed oppor­tu­nities for the world's cli­ma­te and for soils that could ari­se from exten­si­ve car­bon-sequestra­ti­on mea­su­res. He sta­ted that, 10,000 years ago, the Earth had been able to feed some 20 mil­li­on peop­le. Today, the glo­bal popu­la­ti­on is well into the bil­li­ons, with a mar­ked upward ten­den­cy. In fact, twice the cur­rent num­ber of indi­vi­du­als could be fed, pro­vi­ded huma­ni­ty adopts a vege­ta­ri­an diet. Actual­ly, howe­ver, much of the bio­mass pro­du­ced is used for catt­le far­ming; of the food­s­tuffs that go to feed the rich coun­tries, "half con­sists of ener­gy". The key con­ti­nent for the future of the pla­net – espe­cial­ly in terms of food sup­ply and cli­ma­te pro­tec­tion – is Afri­ca which, becau­se of its vast deserts and low popu­la­ti­on den­si­ty, has the requi­red poten­ti­al to meet con­si­derable chal­len­ges facing human­kind. Here, it would be important to rever­se deser­ti­fi­ca­ti­on, car­ry out exten­si­ve affore­sta­ti­on, pro­mo­te humus for­ma­ti­on and impro­ve soils in a sus­tai­ned man­ner and on a lar­ge sca­le, by enri­ching them with biochar. This would be a ground-brea­king approach in terms of cli­ma­te, as CO2 would be remo­ved from the atmo­s­phe­re and remain in the soil long-term, with a posi­ti­ve impact for agri­cul­tu­re and fores­try (car­bon sequestra­ti­on). With regard to com­mer­cial hor­ti­cul­tu­re, Pro­fes­sor Rader­ma­cher said that the glo­bal popu­la­ti­on is reli­ant on "all aces being play­ed". This means that hydro­po­nics sys­tems, ver­ti­cal far­ming and other inno­va­ti­ve deve­lo­p­ments in the indus­try would be of gro­wing importance.
In the sub­se­quent panel dis­cus­sion, Moritz Böcking, Mana­ging Direc­tor of Klasmann-Deilmann GmbH, expan­ded on Radermacher's thoughts in terms of inter­na­tio­nal com­mer­cial hor­ti­cul­tu­re. He began by poin­ting out that the incre­a­sing world­wi­de demand for food­s­tuffs is taking on incre­a­sing signi­fi­can­ce for Klasmann-Deilmann, making it a key aspect of the company's stra­te­gic focus. In 2017, some 45% of gro­wing media pro­du­ced were used direct­ly for hor­ti­cul­tu­ral pro­duc­tion of vege­ta­bles, fruit, herbs and edi­ble mushrooms. Böcking put it more spe­ci­fi­cal­ly: "It's in vit­amin-rich foods that we make our con­tri­bu­ti­on. Which means: foods that are healthy."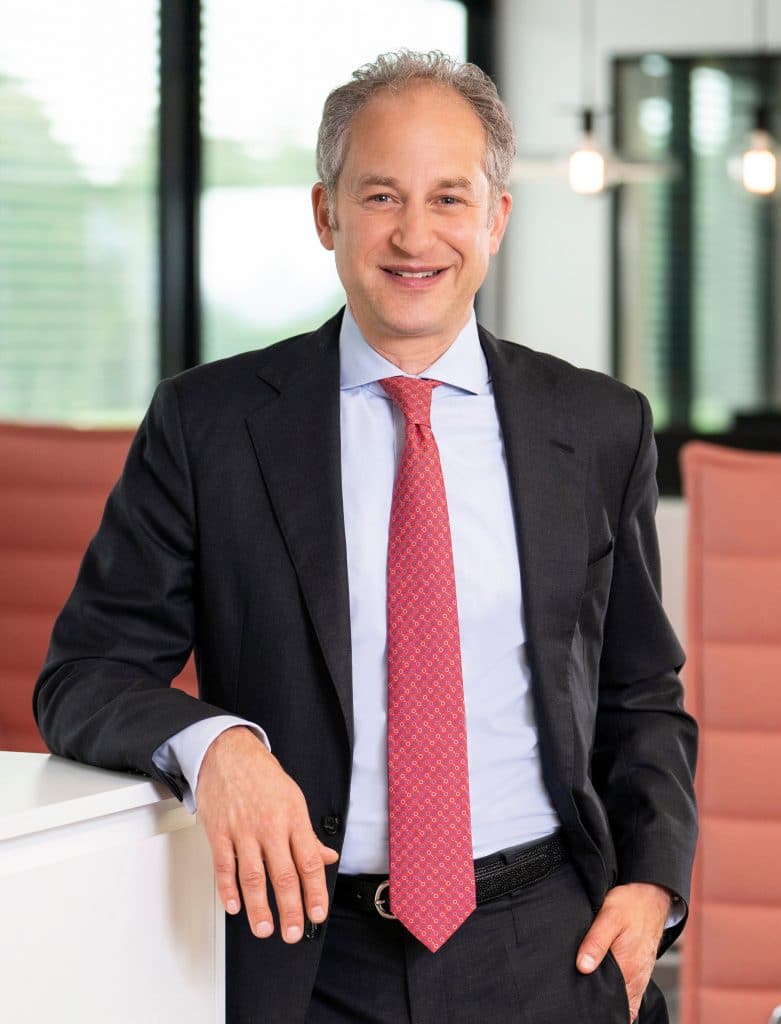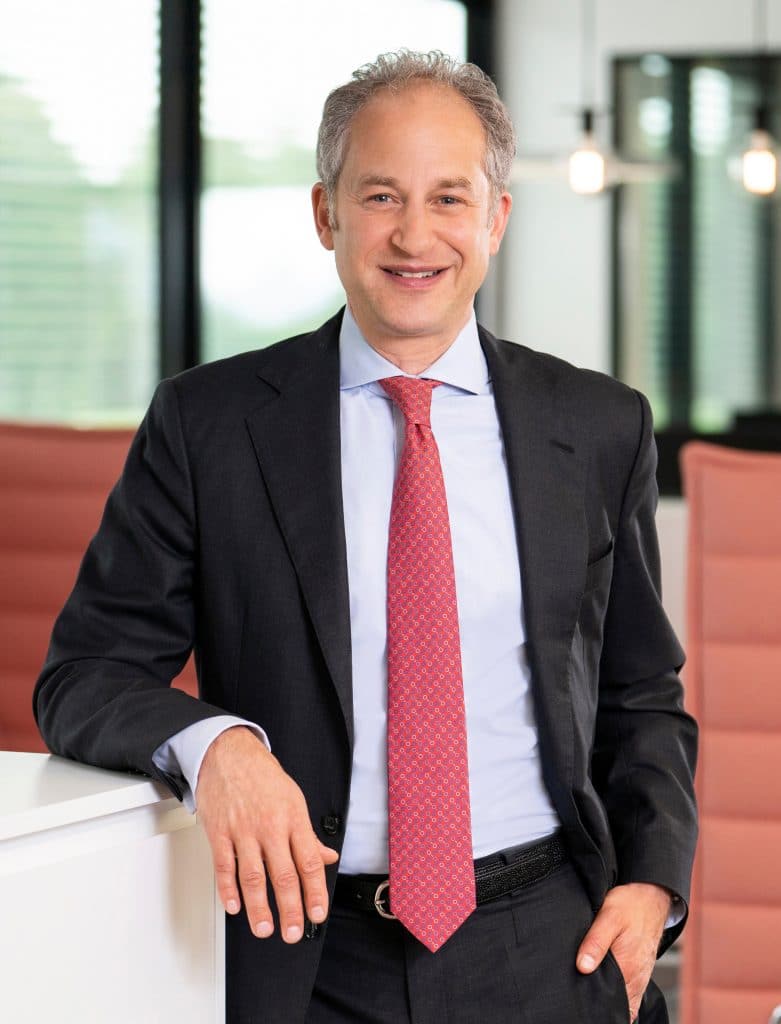 He poin­ted out that substrates have a sta­bi­li­sing role in the roo­ting zone, act as nut­ri­ent buf­fers and water stores, making them the reli­able foun­da­ti­on for high-yiel­ding plant growth. "This is espe­cial­ly important when you know pre­cise­ly whe­re our strength lies: we're unbea­t­a­ble when it comes to substrates for pro­pa­ga­ting young plants. This means we're the­re for the initi­al pha­se in a plant's growth; our con­tri­bu­ti­on is at the sta­ge that is cru­cial for a plant's fur­ther deve­lo­p­ment and yield," Böcking said. He con­ce­ded that salad crops and vege­ta­bles play more of a secon­da­ry role when the empha­sis is on fee­ding a rapidly gro­wing popu­la­ti­on, as in Afri­ca: "In many regi­ons of the world the cur­rent prio­ri­ty is not so much vit­amins but stap­le car­bo­hy­dra­te food­s­tuffs, the focus being on ara­ble crops. Which means: food that fills stomachs."
At the same time, he said, obser­va­ti­on of popu­la­ti­on and other trends in coun­tries such as Chi­na shows that gro­wing aff­lu­ence results in die­ta­ry chan­ges: "All-year-round avai­la­bi­li­ty of vege­ta­bles or fruit then takes on a new signi­fi­can­ce – and jus­ti­fia­b­ly so. And it is pre­cise­ly here that we see our poten­ti­al. The play­ers in com­mer­cial hor­ti­cul­tu­re, of which we are one, pur­sue the com­mon goal of ensu­ring a balan­ced, healt­hy diet. Ulti­mate­ly, it is con­su­mers that bene­fit from healt­hy foods. In terms of achie­ving sus­taina­bi­li­ty, this is a good line of busi­ness that we are, with our inno­va­tions, hel­ping to move for­ward," con­clu­ded Moritz Böcking.
Inte­rior desi­gner Gun­ter Fleitz – who play­ed an instru­men­tal role in shaping the Inno­va­ti­on Cen­ter – remar­ked that, unfor­tu­n­a­te­ly, the­re is no sin­gle blue­print by which busi­nes­ses can pro­mo­te the kind of inno­va­ti­on nee­ded for indus­tries such as the inter­na­tio­nal food sec­tor. At the same time, he was con­fi­dent that the 'pla­ces for inter­ac­tion' crea­ted wit­hin the Inno­va­ti­on Cen­ter, as well as the embra­cing of open­ness and trans­pa­ren­cy, would defi­ni­te­ly enhan­ce the work envi­ron­ment and con­tri­bu­te to the desi­red inno­va­ti­on. The­re is inter­play, he said, bet­ween employees' men­tal agi­li­ty on the one hand, and the look, touch, feel and sound of a work­place on the other. Fleitz put it in a nuts­hell: inno­va­ti­on emer­ges from a sen­se of wellbeing.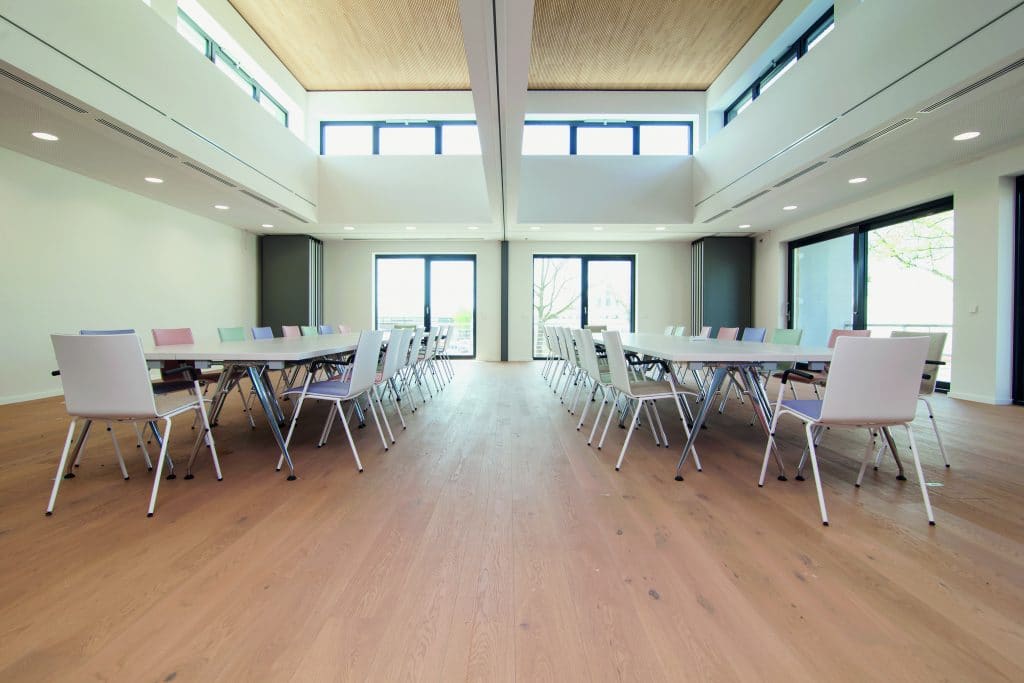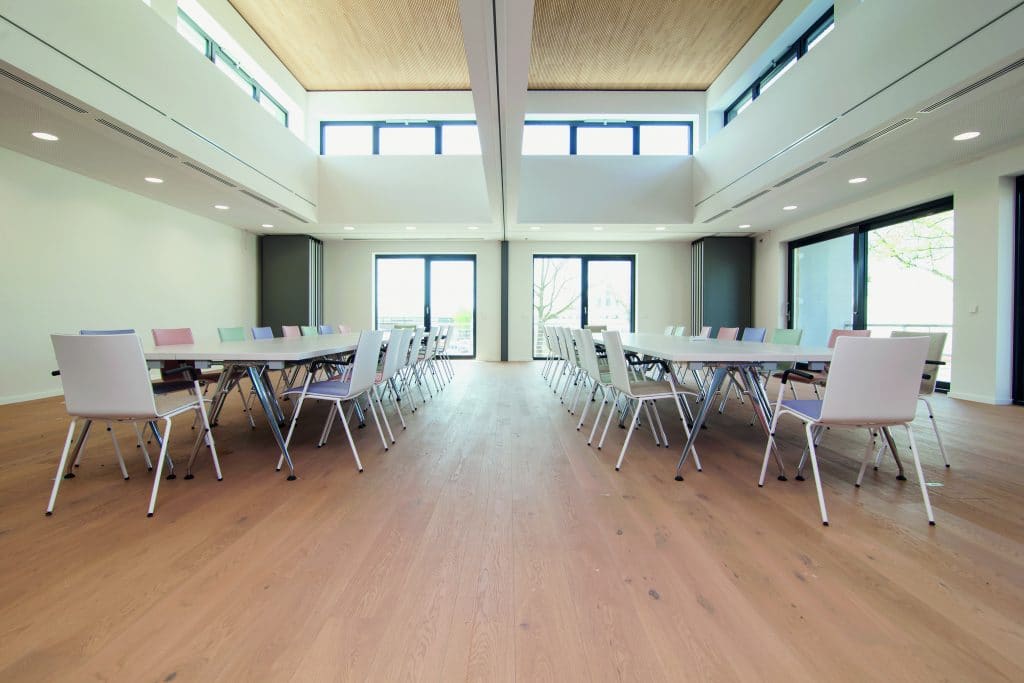 The rea­son for Klasmann-Deilmann's major invest­ment in this new struc­tu­re is its con­ti­nuous growth. For some years, the pre­vious admi­nis­tra­ti­ve buil­ding no lon­ger had suf­fi­ci­ent space. In the Inno­va­ti­on Cen­ter, addi­tio­nal PC work­sta­tions and open-plan are­as are now in place for more than 40 employees. It houses an Aca­de­my and a mul­ti­me­dia exhi­bi­ti­on area, thus pro­vi­ding a sui­ta­ble set­ting for events. In this new buil­ding, cen­tral func­tions are brought tog­e­ther. The Group will hence­forth be mana­ged from here, and stra­te­gic and inter­na­tio­nal coope­ra­ti­on streng­t­he­ned – both wit­hin the Klasmann-Deilmann Group and with part­ners, cus­to­mers and sta­ke­hol­ders. A modern expe­ri­men­tal green­house cal­led the Rese­arch Cen­ter was also pur­po­se-built in the immedia­te vicini­ty for rese­arch pro­jects – some of them alrea­dy under­way – on inno­va­ti­ve gro­wing media, cul­ti­va­ti­on sys­tems and sub­stra­te con­sti­tu­ents. The ent­i­re loca­ti­on is thus gea­red towards rese­arch, deve­lo­p­ment and innovation.
"We wan­ted to crea­te a for­ward-loo­king work envi­ron­ment that enab­les dia­lo­gue and trans­pa­ren­cy; one that crea­tes an atmo­s­phe­re con­du­ci­ve to inno­va­ti­on," com­men­ted Moritz Böcking.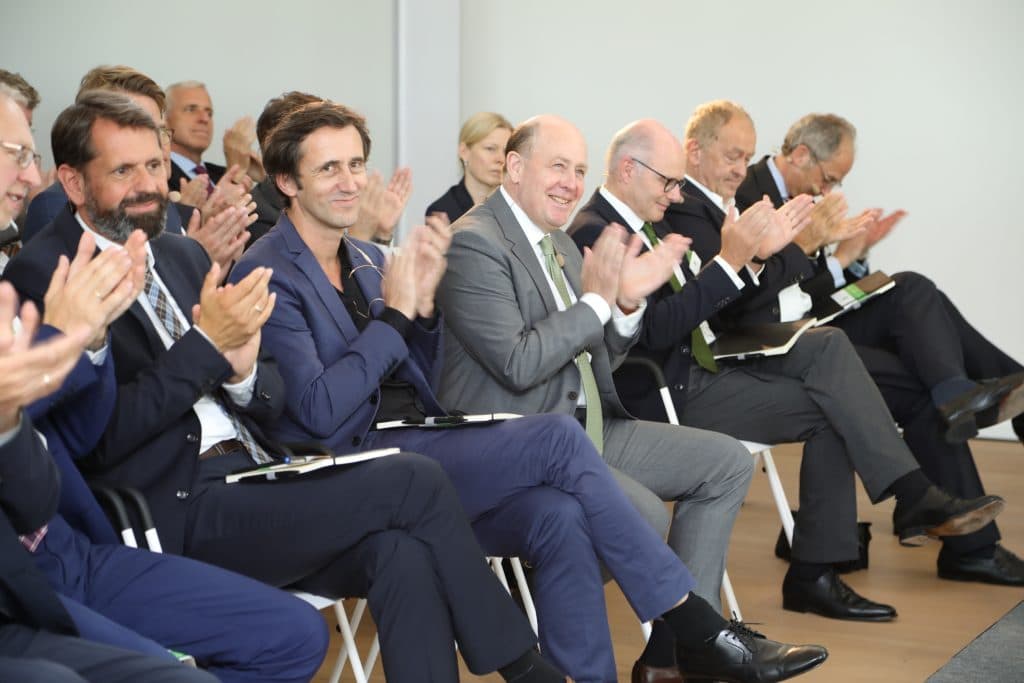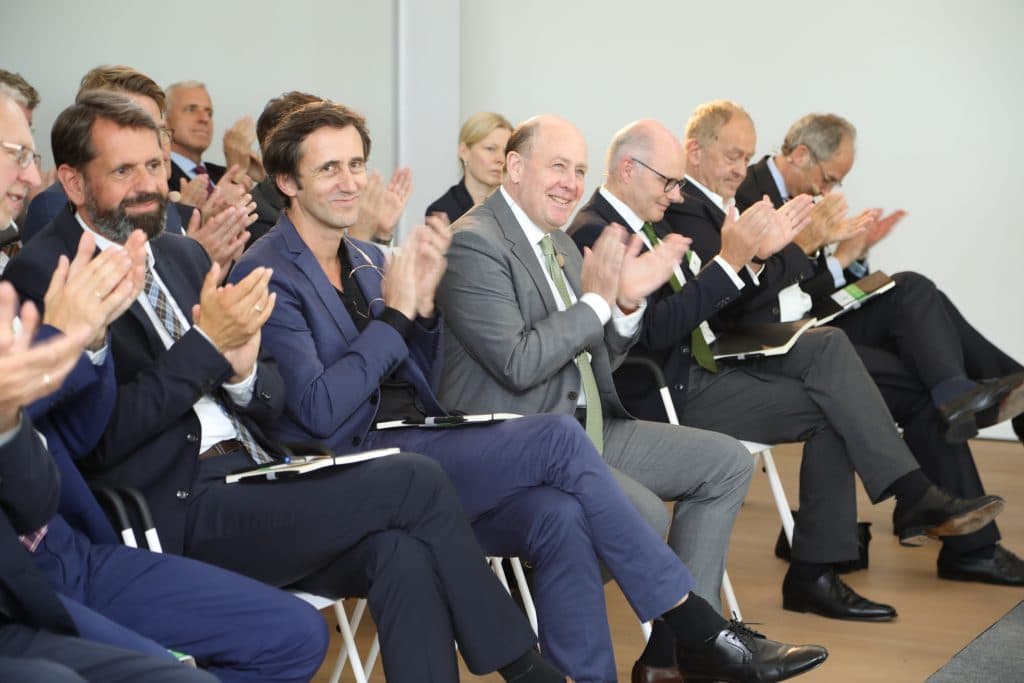 The event was hos­ted by Dr Mar­kus Bau­manns, who heads con­sul­tancy 'com­pa­ny com­pa­n­ions GmbH' and is a mem­ber of Klasmann-Deilmann's Admi­nis­tra­ti­ve Board. Music for the occa­si­on was fur­nis­hed by Ham­burg-based sin­ger Kat­rin Wul­ff who, with her band, pro­vi­ded varied enter­tain­ment. The high­light was a song enti­t­led 'The Future Is Get­ting A New Home', spe­cial­ly com­po­sed for the ope­ning fes­ti­vi­ties, which promp­ted a par­ti­cu­lar­ly warm round of applause.
We are espe­cial­ly gra­te­ful to:
Cars­ten Klemp, Direc­tor Pro­cu­re­ment & Tech­no­lo­gy and 'Pro­ject Lea­der Inno­va­ti­on Cen­ter' at Klasmann-Deilmann;
Pro­fes­sor Hans-Georg Stotz of archi­tects Bey­er Weit­brecht Stotz, who was the pro­ject architect;
Tho­mas Borg­mann and Micha­el Krö­ger of archi­tec­tu­ral and engi­nee­ring agen­cy pbr Pla­nungs­bü­ro Roh­ling AG who, with their team, were in char­ge of the project's execution;
Gun­ter Fleitz and Johan­na Bopp of iden­ti­ty archi­tects Ippo­li­to Fleitz Group GmbH, who deve­lo­ped the inte­rior design;
Kars­ten Gogsch with his team from engi­nee­ring firm LINDSCHULTE Inge­nieur­ge­sell­schaft mbH, who desi­gned the out­door facilities;
Peter Wal­ter of Pro­Bau who was invol­ved as pro­ject con­trol­ler on behalf of the client;
Hubert Kewe Jr. of buil­ding con­trac­tor Hubert Kewe GmbH, who exe­cu­t­ed the struc­tu­ral engi­nee­ring and the out­door facilities;
Johan­nes Mars­mann of green­house con­struc­tion con­trac­tor Hans Mars­mann Gewächs­haus­bau GmbH, who built the Rese­arch Center;
Andre­as Lake of buil­ding ser­vices engi­nee­ring com­pa­ny Hein­rich VOSS Gebäu­de­tech­nik GmbH, who over­saw work on the wood­chip hea­ting system;
Johan­na Dagen and Fre­de­rik Beh­rend of con­sul­tanci­es Ave­res Büro­tech­nik and ambi­en­te b respec­tively, who were respon­si­ble for the building's inte­rior deco­ra­ti­on and furnishing.
Facts and figu­res on the Inno­va­ti­on Center:
The Inno­va­ti­on Cen­ter itself:
Modern work envi­ron­ment with open-plan are­as and indi­vi­du­al offices for up to 60 employees
Aca­de­my
Con­fe­rence rooms
Mul­ti­me­dia exhi­bi­ti­on area
Can­te­en
Total gross floor area: 3,330 m²
Base­ment: 520 m²
Ground and upper floo­rs: 2,810 m²
Total usable floor area: 2,400 m²
Ener­gy stan­dard: KfW Effi­zi­enz­haus 55
Annu­al pri­ma­ry ener­gy con­sump­ti­on: 82.6 kWh/(m²a)
Refe­rence buil­ding for com­pa­ri­son: 172.9 kWh/(m²a)
Rese­arch Center:
Rese­arch green­house: 430 m²
Rese­arch sub­ject mat­ter: gro­wing media, sub­stra­te con­sti­tu­ents, gro­wing systems
Wood­chip heating
for Inno­va­ti­on Cen­ter and Rese­arch Cen­ter: 200 kW