Biology student gets involved in Sphagnum farming
In November 2015 Dorothea Rammes, a biology student at Radboud University in Nimwegen, Holland, started a six-month internship at Klasmann-Deilmann. She is investigating the impact of water type on peat moss cultivation for her Master's thesis. Here we take a brief look at her background and her typical working day on this current project.
Intern Dorothea Rammes wears snow shoes at work and kneels on planks five metres long. This ensures that she doesn't sink into the ground at her workplace, a former peat extraction site called Drenth. Holding a bucket of peat moss in her hand, she spreads it over the site before adding a layer of straw to protect the vulnerable moss from the elements. At another site, her colleagues are using netting instead. The team will subsequently analyse which alternative works better.
Coming from the Emsland region, the 24-year-old was of course familiar with the name of Klasmann-Deilmann. Her first internship – with the German Association for Nature Conservation (NABU) – heightened her awareness still further. In her half-year at NABU, her focus was on protecting grassland in the floodplains of the river Ems. When she visited Klasmann-Deilmann with a NABU delegation during this period, she got to know the local substrate producer better.
A presentation by Jan Köbbing of Klasmann-Deilmann's Land Use division ultimately motivated the student to apply for an internship. Jan Köbbing's talk had been about the Sphagnum-farming project that he heads. It is the world's largest effort to cultivate peat moss: by the end of 2016, 10 hectares of land formerly used for peat extraction will be 'inoculated' with moss. Klasmann-Deilmann wishes to use this to generate a renewable resource for the production of growing media. This fascinated Dorothea Rammes, whose love for biology at school had led her to take a degree in this subject, and who had become especially interested in nature conservation and renewable resources.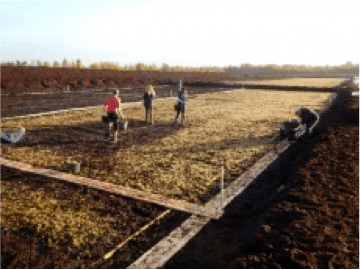 In her day-to-day work, she assists Jan Köbbing and his team not only in distributing and covering the peat moss: the student and her colleagues are also creating embankments along the ditches to optimise the flow of water to the moss sites. Additionally, in the greenhouse, they are growing different moss species on black peat and (for comparative purposes) on white peat, and are conducting experiments. "For example, we add different blends of nutrients and test different water types and additives," explains Dorothea Rammes, who regularly checks water levels on the sites in order to create ideal conditions for the moss.
She enjoys the mix of field and office work and is equally motivated in both environments. Back indoors, she feeds the computer with all the information obtained and performs data analysis. Dorothea Rammes is keen to produce an excellent Master's thesis and, above all, to help ensure the peat moss thrives and yields a good harvest.