Bio­di­ver­si­ty on peat moss sites – part 2
Lapwing dis­co­ve­r­ed on for­mer peat extrac­tion area
A lapwing has sett­led to breed on one of Klasmann-Deilmann's peat moss sites. This bird is an at-risk spe­ci­es in Ger­ma­ny. In recent years, in an exten­si­ve sci­en­ti­fic pro­ject, we have tri­al­led Spha­gnum far­ming in two for­mer peat extrac­tion are­as. The­se sites now pro­vi­de a habi­tat for threa­tened flo­ra and fau­na. In this two-part report, you can find out which ani­mal and plant spe­ci­es have beco­me estab­lis­hed there.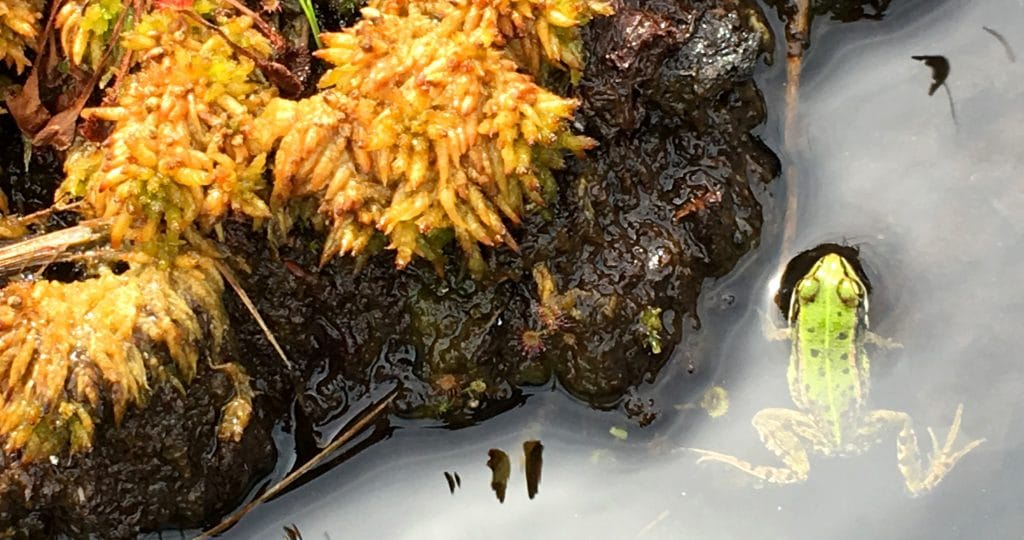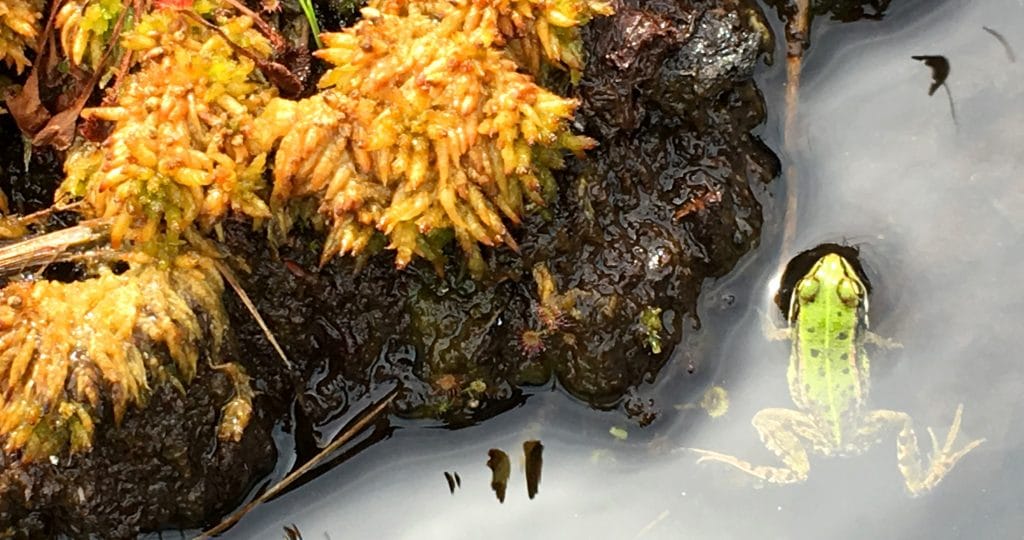 The cul­ti­va­ti­on of peat moss (Spha­gnum far­ming) repres­ents the only sus­tainab­le form of post-extrac­tion land-use for com­mer­cial peat­fiel­ds. In con­junc­tion with the Braun­schweig-based Thü­nen Insti­tu­te and the Insti­tu­te of Envi­ron­men­tal Plan­ning (IUP) at Leib­niz Uni­ver­si­ty Han­no­ver, we are inves­ti­ga­ting whe­ther Spha­gnum far­ming can be a win-win solu­ti­on in terms of bio­di­ver­si­ty, cli­ma­te and eco­no­mic aspects. Rese­arch out­co­mes to date sup­port the pro­po­si­ti­on that cli­ma­te and natu­re con­ser­va­ti­on goals can be achie­ved far quicker by means of peat moss cul­ti­va­ti­on than, for examp­le, by con­ven­tio­nal re-wet­ting. The­se new fin­dings should be fac­to­red into a rethin­king of cur­rent prac­ti­ce regar­ding peat­land res­to­ra­ti­on, and crea­ti­on of an appro­pria­te regu­la­to­ry and finan­cial framework.
Doc­to­ral stu­dent Lot­ta Zoch has been car­ry­ing out exten­si­ve moni­to­ring of our sites sin­ce March 2017: she is sur­vey­ing birds, rep­ti­les, amphi­bi­ans, dra­gon­flies and but­ter­flies, as well as all the inver­te­bra­tes – such as spi­ders, beet­les and bugs – that live in the upper­most peat lay­er. Aman­da Gro­be, also a doc­to­ral rese­ar­cher, is sur­vey­ing the flo­ra. Read more about this in part 1 of our report.
Of the bird spe­ci­es that Lot­ta Zoch iden­ti­fied on our peat moss sites in the past year, 10 were on the Red List of threa­tened spe­ci­es for Lower Sax­o­ny and Bre­men. Among them is the lapwing. This bird sett­led to breed on one of the sites and laid four eggs in its nest on the ground. It usual­ly takes 26 to 29 days until the chicks emer­ge. The bird alrea­dy had a nest the­re last year and its young hat­ched suc­cess­ful­ly. Doc­to­ral stu­dent Zoch says: "The fact that lapwings have bred suc­cess­ful­ly at the Pro­vin­zi­al­moor site shows that Spha­gnum far­ming could be important for ground bree­ders in particular."
The lapwing is around 30 cm in length, about the size of a pigeon. Its most striking fea­ture is the pro­mi­nent fea­the­red crest on the back of its head. Ano­t­her use­ful iden­ti­fy­ing field mark is its glos­sy, metal­lic green upper plumage.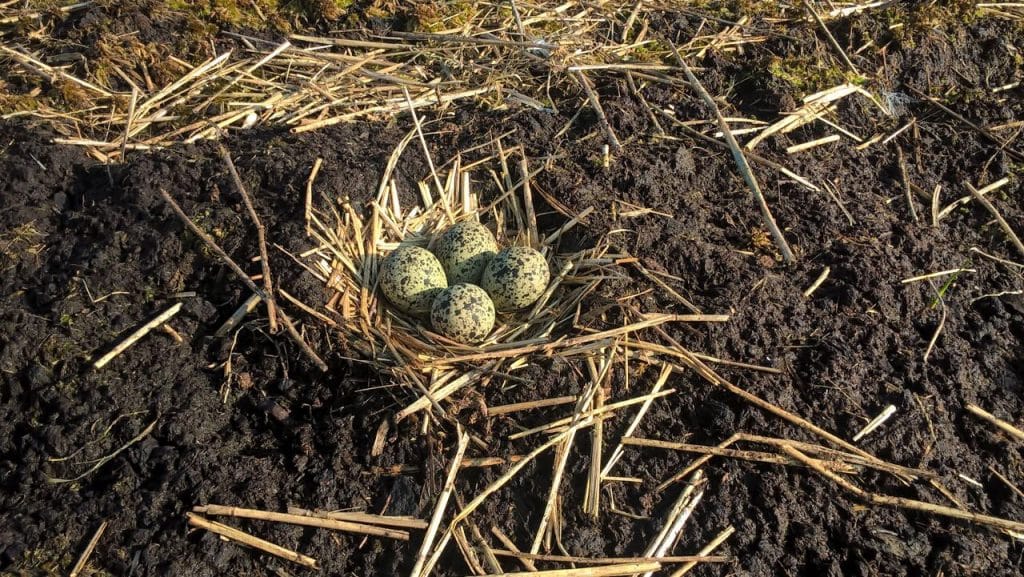 The lapwing's pre­fer­red habi­tat is wet grass­land – one that is in con­ti­nuous decli­ne in Ger­ma­ny due to agri­cul­tu­ral inten­si­fi­ca­ti­on. Today, this bird is a rare sight, with the popu­la­ti­on having been hal­ved over the last 20 years. The lapwing is now on the inter­na­tio­nal Red List of at-risk birds. Germany's Asso­cia­ti­on for Natu­re Con­ser­va­ti­on (NABU) has war­ned that the lapwing will beco­me extinct as a bree­ding bird in some regi­ons if no fur­ther action is taken. It remains to be hoped that this par­ti­cu­lar lapwing – and its off­spring – will con­ti­nue to call our peat moss sites home.
The inte­rim fin­dings after two years of rese­arch alrea­dy clear­ly indi­ca­te the uni­que con­tri­bu­ti­on that Spha­gnum far­ming can make to both natu­re con­ser­va­ti­on and cli­ma­te pro­tec­tion in rai­sed-bog are­as. We the­re­fo­re feel the federal sta­te of Lower Sax­o­ny must act to adapt its exis­ting gui­de­li­nes on peat­land res­to­ra­ti­on to take into account of this new sci­en­ti­fic evi­dence. We can, with our more than 3,000 hec­ta­res of land that has eit­her alrea­dy been re-wet­ted or for which res­to­ra­ti­on is plan­ned, poten­ti­al­ly pro­vi­de sub­stan­ti­al bene­fits on both con­ser­va­ti­on and cli­ma­te fronts. For this to hap­pen, the right poli­cy choices need to be made, and this inclu­des finan­cial requirements.
In the first part of our report, you can find out how many red-lis­ted plant spe­ci­es doc­to­ral stu­dent Aman­da Gro­be has iden­ti­fied on our peat moss sites.