Rena­tu­ra­ti­on with spha­gnum farming
Klasmann-Deilmann pro­mo­tes fun­da­men­tal research
Klasmann-Deilmann's spha­gnum far­ming pro­ject pro­mo­tes fun­da­men­tal rese­arch. Ino­cu­la­ting drai­ned peat bogs with peat mos­ses and the asso­cia­ted re-water­log­ging rai­ses the suc­cess rate of res­to­ring the­se sites. To mark the launch of a pro­ject by three doc­to­ral can­di­da­tes, Klasmann-Deilmann and the young sci­en­tists pre­sen­ted the pro­ject to the Ger­man Federal Envi­ron­men­tal Foun­da­ti­on (DBU) at the pro­ject site in Geeste.
The pro­ject team is made up of Klasmann-Deilmann employees, mem­bers of Han­no­ver University's Insti­tu­te of Envi­ron­men­tal Plan­ning and Thü­nen Insti­tu­te of Cli­ma­te Pro­tec­tion in Agri­cul­tu­re in Braun­schweig. Tog­e­ther, they are inves­ti­ga­ting inter­di­sci­pli­na­ry eco­lo­gi­cal ques­ti­ons rela­ting to bio­di­ver­si­ty and the cli­ma­te. Our spha­gnum far­ming pro­ject was laun­ched in 2015 and Master's degree stu­dents were respon­si­ble for set­ting up the sci­en­ti­fic pro­ject frame­work. Now, the doc­to­ral can­di­da­tes spon­so­red by the DBU are begin­ning their work.
Site instal­la­ti­on and maintenance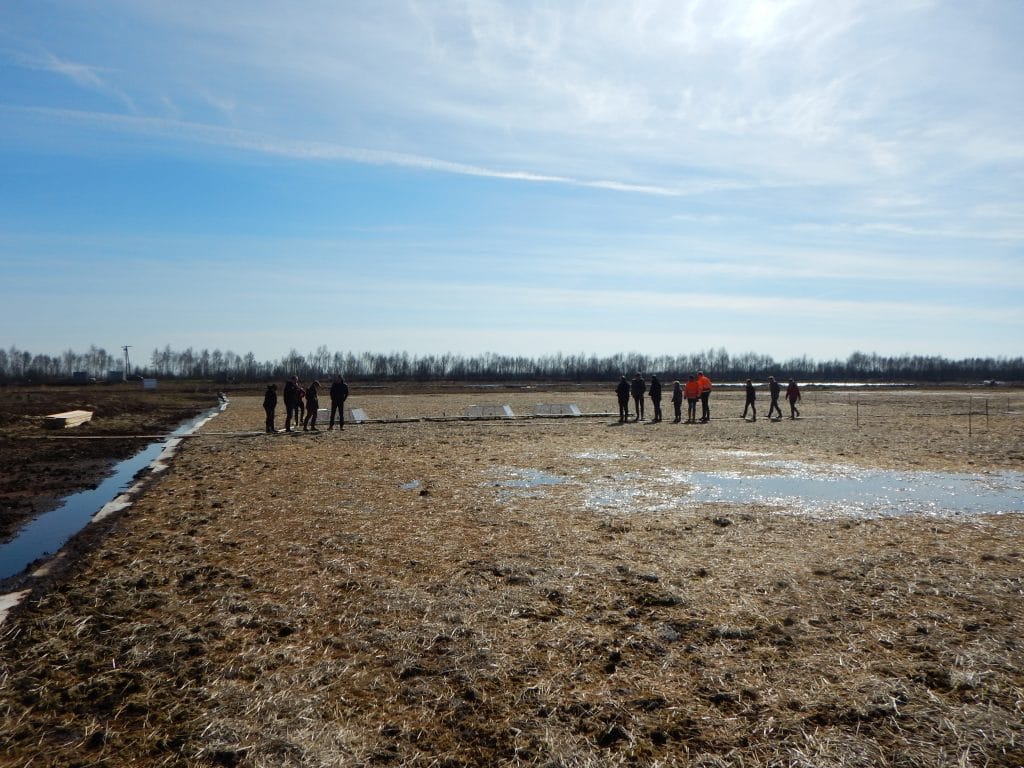 The first pha­se invol­ved pre­pa­ring the for­mer peat extrac­tion and res­to­ra­ti­on sites: ten hec­ta­res had to be level­led and fit­ted with an irri­ga­ti­on and drai­na­ge sys­tem. Working in natu­re reser­ves, the mem­bers of the pro­ject team used small she­ars to gent­ly remo­ve peat mos­ses for use as donor mate­ri­al, car­ry­ing them over plank paths onto solid ground, whe­re they scat­te­red them over the pre­pa­red sites and cove­r­ed them with straw or fleece to help start the gro­wing pro­cess. Sin­ce then, the pro­ject team has per­ma­nent­ly moni­to­red the water level befo­re irri­ga­ting or drai­ning the site as necessa­ry and regu­lar­ly weed­ed the sites to pro­mo­te opti­mum deve­lo­p­ment of the peat mosses.
This pro­ject is the world's first lar­ge-sca­le attempt to cul­ti­va­te peat moss on black peat. After eigh­teen mon­ths, it is appa­rent that the sites are deve­lo­ping very well, that the moss is begin­ning to grow and that typi­cal peat bog spe­ci­es are begin­ning to colo­ni­se the sites. Aman­da Gro­be and Lot­ta Zoch, doc­to­ral can­di­da­tes at the Insti­tu­te of Envi­ron­men­tal Plan­ning at Han­no­ver Uni­ver­si­ty, are now exami­ning the flo­ra and fau­na to estab­lish which and how many spe­ci­es of ani­mals and plant bene­fit from the spha­gnum far­ming. To do so, they com­pa­re colo­ni­sa­ti­on on the pro­ject sites with colo­ni­sa­ti­on on near-natu­ral peat bog sites and res­to­ra­ti­on sites whe­re the­re is no spha­gnum farming.
Cli­ma­te protection
Doc­to­ral can­di­da­te Jan Oest­mann from the Thü­nen Insti­tu­te is exami­ning the green­house gas foot­print of spha­gnum far­ming. Drai­ned peat bogs emit green­house gases and it seems rea­son­ab­le to assu­me that the­se emis­si­ons will be lower on re-water­log­ged sites which have been ino­cu­la­ted with peat mos­ses. Re-water­log­ging degra­ded bogs plays an important role in pro­mo­ting cli­ma­te pro­tec­tion. Alt­hough peat bogs account for only three per cent of the total land area, they cap­tu­re 30 per cent of the world's car­bon stocks.
The doc­to­ral can­di­da­tes will con­ti­nue their expe­ri­ments on the sites until 2019 in order to obtain reli­able sci­en­ti­fic data.