Our trai­nees tell their story
Jose­lin Drie­se and Chris­to­pher Kosse
We were alrea­dy fami­li­ar with many plan­ning pro­ces­ses and work­flows for the IPM in Essen, the world's lea­ding hor­ti­cul­tu­ral fair, but this year, we had the chan­ce to expe­ri­ence the fair at first hand …
Mon­day morning: we gathe­red up the last important papers and set off by car. When we arri­ved at the exhi­bi­ti­on cent­re, the work­men were alrea­dy busy erec­ting the stands. The ais­les were so crow­ded, it was almost impos­si­ble to get from one side of the hall to the other. The­re was some­thing blo­cking the way at every turn, it was like being on a huge buil­ding site. We found it dif­fi­cult to belie­ve that this cha­os would be sor­ted out in time for the start of the fair the next day.
It was not long until we, too, could start to tack­le our work. We had to unload who­le pal­lets of adver­ti­sing mate­ri­als and brochu­res and arran­ge them pro­per­ly in two sto­rage rooms, so that ever­y­bo­dy could see at a glance whe­re ever­ything was. In the after­noon, we got the stand rea­dy for the first day of the fair and then hea­ded for our hotel. Once we had been shown to our rooms, all we wan­ted to do was rest befo­re the event kicked off the fol­lowing day.
Tues­day morning arri­ved fas­ter than expec­ted: our alarms went off at 5:45 am. Time to get up, have a sho­wer and get dres­sed. 6:45 am, bre­ak­fast – we nee­ded a good basis for the day ahead. 7:30 am, lea­ve for the exhi­bi­ti­on cent­re in Essen. We were soon stuck in the ine­vi­ta­ble urban traf­fic jam. 8:15 am – try to find some­whe­re to park.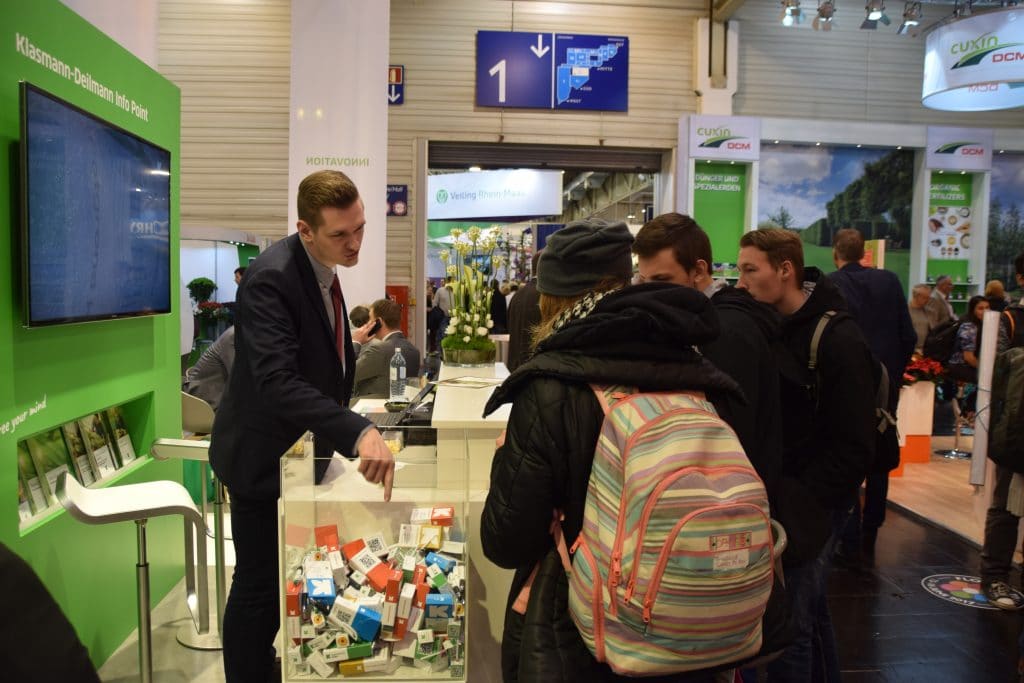 Final­ly, we reached the ent­ran­ce to the exhi­bi­ti­on cent­re. We could hard­ly wait to see all the chan­ges that had taken place over­night – and it was true, the halls were hard­ly reco­gnis­able! Ever­ything was spick and span, as if someo­ne had waved a magic wand. We couldn't belie­ve how it had been done, but we didn't have much time to think about it. We had to pre­pa­re the stand: get the infor­ma­ti­on desk up and run­ning, lay out brochu­res, pro­mo­tio­nal exhi­bi­ti­on bags and fill up the dis­play with adver­ti­sing materials.
The offi­cial start was at 9 o'clock – the fair was open! Our main job was to keep track of ever­ything at the infor­ma­ti­on desk. We were the first peop­le that visi­tors spo­ke to and we put them through to the experts. We did not have to wait long for our first cal­lers, who asked us ques­ti­ons or asked to speak to a cer­tain per­son. Luck­i­ly we had pre­pa­red a list which show­ed us who was on duty at the Klasmann-Deilmann stand and who was tem­pora­ri­ly else­whe­re at the fair, so that we could see immedia­te­ly whe­ther or not the per­son was available.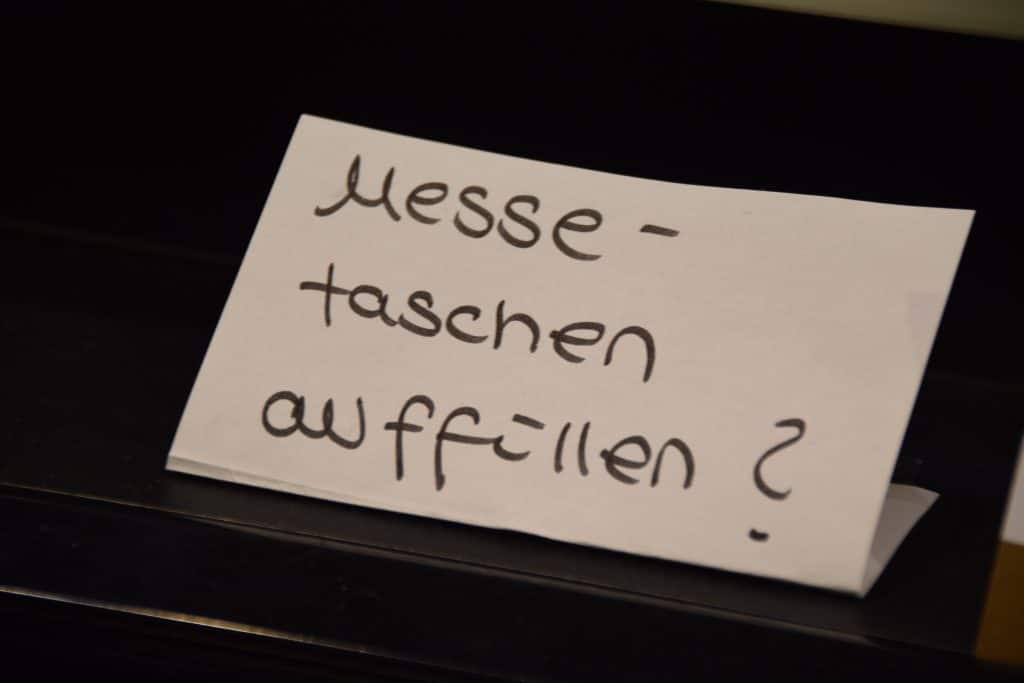 We had to refill the dis­plays with brochu­res and exhi­bi­ti­on bags after just a quar­ter of an hour, so we set our­sel­ves a 15-minu­te alert to remind us to do so. It was incredi­ble how quick­ly the bags disap­peared and that con­ti­nued throughout the day.
6.00 pm: we had sur­vi­ved the first day – almost. We still had to clear up and get things rea­dy for the next day. We were back at the hotel by 7 pm and had a few minu­tes to put our feet up and fres­hen up befo­re we went down to din­ner with the others at 8 o'clock. By 10 pm we were more than hap­py to head for bed, as it would not be long till duty cal­led again the next morning.
The next day fol­lo­wed the same pro­ce­du­re. On arri­val at the fair, we got ever­ything rea­dy for the second time. We soon rea­li­sed that the Tues­day had in fact been a litt­le more chao­tic and that ever­ything star­ted off more smooth­ly on the Wed­nes­day, as we were now working well as a team – fortunately.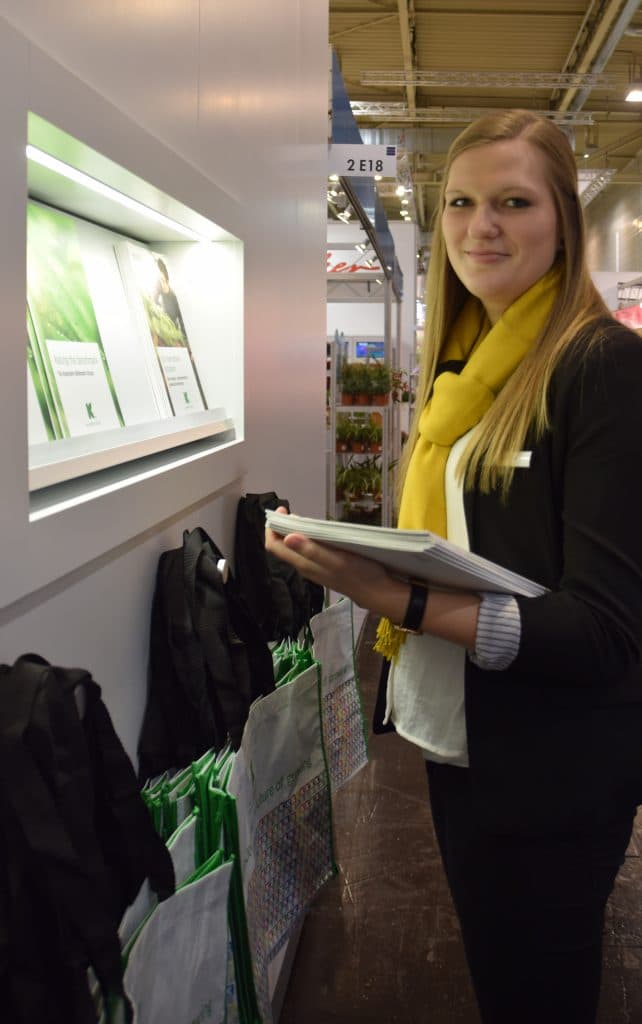 Peop­le had told us befo­re that "Wed­nes­day is the worst day" or "Wed­nes­day is always the busiest". But we could never have ima­gi­ned just how crow­ded the fair stand would be. It was abso­lute­ly packed, every sin­gle chair was taken. Some of the team had to talk to visi­tors in the ais­les. We could hard­ly even make our way through to the storer­oom. We chan­ged our alert for resto­cking the bags to every ten minu­tes. The ques­ti­ons incre­a­sed: "Are the­re enough exhi­bi­ti­on bags?" "Can you pho­to­co­py / print some­thing for me?" "Have you got a name badge for me?" "Do we have brochu­res about XY here?" "Have you got Grow­coons here?" … And so it went on and on.
After the fair clo­sed, it was time for our stand par­ty. Alt­hough this made our day even lon­ger, the stand par­ty was a high­light for us. The­re was deli­cious food and drinks and we had the chan­ce to wind down at the end of the day tog­e­ther with ever­y­bo­dy at the stand. We now had amp­le expe­ri­ence to pre­pa­re for the remai­ning two days and coped well with them, too.
Con­clu­si­on: It was a very stre­nuous but exci­ting week at the fair and a fan­tastic expe­ri­ence. We had the chan­ce to get to know many employees from our for­eign loca­ti­ons, to see for our­sel­ves how the fair week was orga­nis­ed and to gain expe­ri­ence. We have no doubts at all: if we were given the chan­ce, we would join the IPM team again.
And final­ly, our tips for staff at the stand on how to keep a clear head and stay cool under pressure: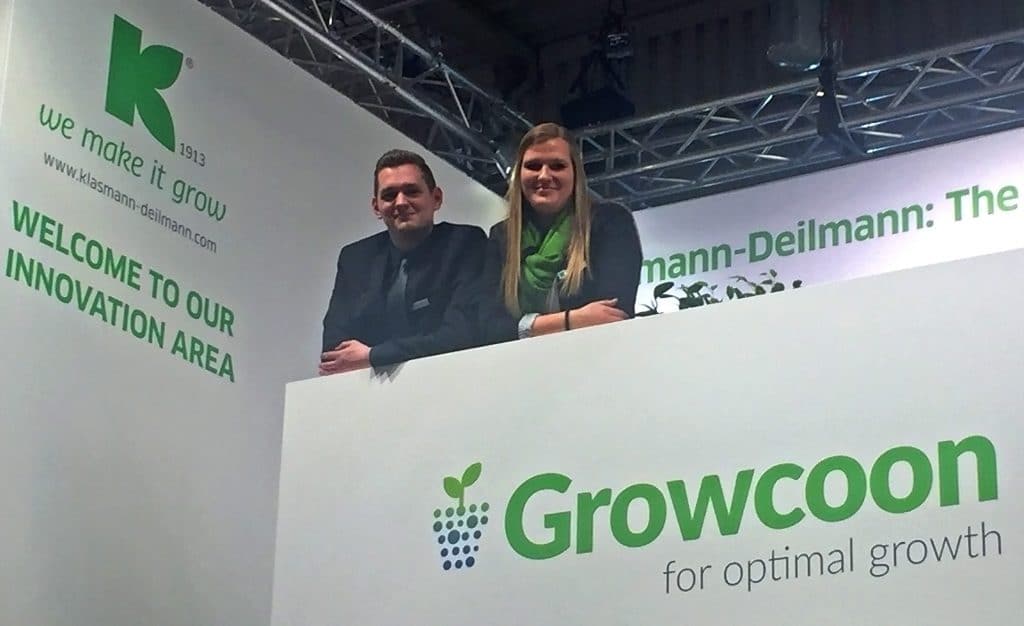 Wear com­for­ta­ble, stur­dy shoes to pre­vent sore feet
Drink ple­nty of water
Be well orga­nis­ed: Whe­re can I find want? What brochu­res are still avail­ab­le? What has to be resto­cked? Who is where?