95 years on: a cable cra­ne spans the Ems
Join us on a trip down memo­ry lane
In the win­ter of 1921, a con­struc­tion cal­led a cable cra­ne was built span­ning the river Ems. This crea­ted a link bet­ween the 'Hese­per Torf­werk' peat works and the Ems­ha­fen inland port in Mep­pen, which at the time pro­vi­ded the com­pa­ny with a gate­way to the world.
After the First World War, the light-rail­way con­nec­tion to Mep­pen was cru­cial for the peat works in Hese­pe if it wis­hed to achie­ve long-term growth. The expec­ted war repa­ra­ti­ons made the hoped-for rail link bet­ween Mep­pen and Ter Apel a distant and uncer­tain pro­spect. The Ems­ha­fen inland port had a rail con­nec­tion, but goods could also be tranship­ped here for road or water trans­port. Howe­ver, this hub could not be taken advan­ta­ge of unless the Ems was first crossed …
The­re was a woo­den bridge across the Ems, but this was not sta­ble enough – and too steep – for a light rail­way. A bridge strong enough for such a rail­way would have been very expen­si­ve: the Ems had to be pas­sa­ble to ves­sels at all times, yet the river's regu­lar high water levels would have neces­si­ta­ted a struc­tu­re at least 15 metres in height. Long ramps would also have been nee­ded for the light rail­way, as it can tack­le only low gradients.
A freight cable­way could have pro­vi­ded an alter­na­ti­ve, and might have been model­led on that at 'Torf­ver­wer­tung Dyker­hoff', a peat plant in the Pog­gen­moor area near the Lower Sax­o­ny town of Neu­stadt am Rüben­ber­ge (bet­ween Hano­ver and Bre­men). Howe­ver, the cable­way for Hese­per Torf­werk would have had to cover a distance of more than 10 km. The cos­ts ent­ail­ed – not only of purcha­se but also of main­ten­an­ce – ren­de­red it unaffordable.
A cable cra­ne as the most cost-effec­ti­ve solution
Con­struc­ting an indus­tri­al rail­way with an alter­na­ti­ve means of cros­sing the Ems was, the­re­fo­re, the most cost-effec­ti­ve solu­ti­on to the pro­blem. After the war, Georg Klasmann made a cru­cial chan­ce dis­co­very at the tim­ber sto­cky­ard of a saw­mill in Hal­tern, whe­re a steel cable was stret­ched right across the yard with a cra­ne trol­ley run­ning along it. It was able to lift and trans­port the wood by means of a pul­ley and a grab.
The solu­ti­on had thus been found for Hese­per Torf­werk: a cable cra­ne would be used to trans­fer the loa­ded cars of the indus­tri­al rail­way to the eas­tern bank of the Ems and to unload the peat pro­ducts in the Ems­ha­fen inland port.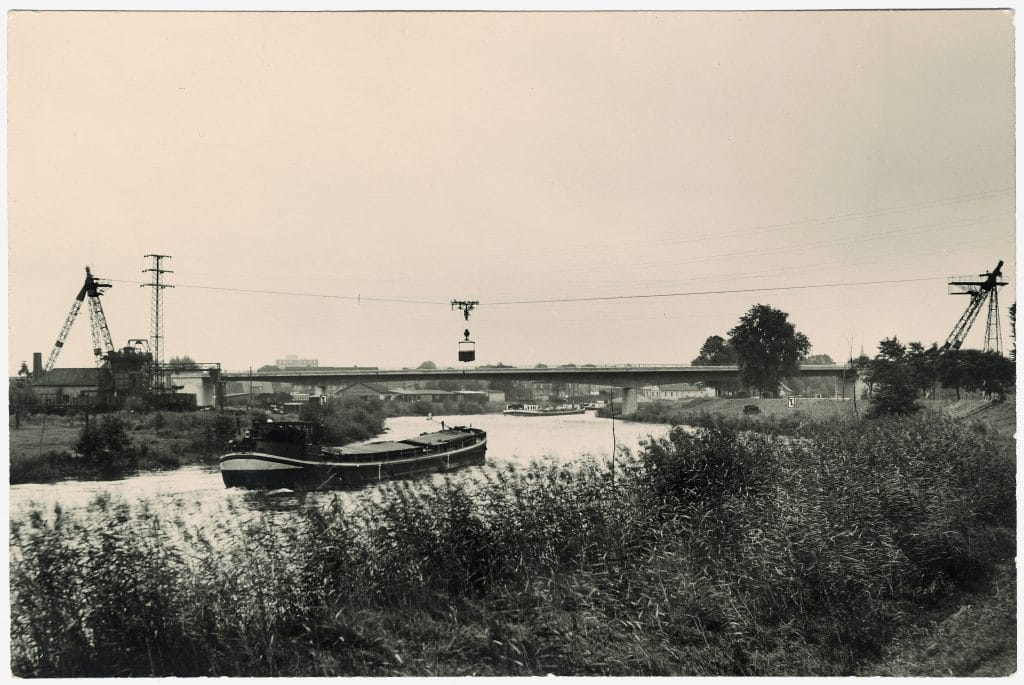 Without fur­ther ado, work on buil­ding the indus­tri­al rail­way was begun and the con­tract for the con­struc­tion of a cable cra­ne awar­ded. The job went to Colo­gne-based con­trac­tor Poh­lig AG, hel­med by Ger­man engi­neer Juli­us Poh­lig, which had alrea­dy crea­ted the first public-trans­port cabin cable-car sys­tem as ear­ly as 1908 in Hong Kong, as well as the cable­way at Sug­ar­lo­af Moun­tain in Rio de Janei­ro in 1913, thus gai­ning world­wi­de renown.
6.5 cm thick and 155 m in length, the sup­por­ting cable of the cra­ne (in Mep­pen) alo­ne weig­hed 5.5 t. It was span­ned bet­ween two 20 m‑high cable sup­ports abo­ve the Ems in the win­ter of 1921. A 70 t ten­si­on weight ensu­red that the steel sup­por­ting cable con­stant­ly remai­ned taut and pre­ven­ted the cable from being over­loa­ded in the event that an exces­si­ve car­go load was attached.
With the chan­ge from rail to road for­war­ding in con­tai­ners and wagon-car­ry­ing trai­lers via Groß Hese­pe and Dalum to Oster­b­rock sta­ti­on from 1969 onwards, as well as the estab­lish­ment of loading faci­li­ties wit­hin the plant its­elf, the cable cra­ne beca­me super­fluous to requi­re­ments in 1971. On 31 March 1974 it was dis­mant­led along with the rela­ted loading equip­ment on the river's eas­tern bank.