This buil­ding tells a story
A tour of the Inno­va­ti­on Center
Litt­le details are hid­den ever­y­whe­re and not ever­yo­ne will be awa­re of them, at least at first glance. Dirk Röse (Head of Cor­po­ra­te Com­mu­ni­ca­ti­on) took me on a tour of the Inno­va­ti­on Cen­ter to tell me the sto­ry behind the building.
Our tour begins outside
As we stand in front of the Inno­va­ti­on Cen­ter, the building's dis­tinc­ti­ve form and rather unusu­al appearan­ce are immedia­te­ly striking.
Ska­di: How did the buil­ding come to have this form?
Dirk: The buil­ding is desi­gned­to blend in with its natu­ral sur­roun­dings, plea­s­ant­ly enhan­cing the land­s­cape rather than crea­ting dis­har­mo­ny. The archi­tect did a very good job of achie­ving this. In par­ti­cu­lar, the lar­ge win­dows and the strai­ght lines give the buil­ding a rather deli­ca­te look from distance. It's only when you enter the foy­er that you rea­li­se just how lar­ge this struc­tu­re is. Many visi­tors are sur­pri­sed when they go into the Inno­va­ti­on Cen­ter for the first time.
We head for the Inno­va­ti­on Center's ent­ran­ce but stop first on the bridge.
Ska­di: What's the idea behind this basin? It's fil­led with peat, a rain­wa­ter-fed 'moat' runs through it, and there's flo­ra typi­cal of rai­sed bogs – espe­cial­ly peat moss – gro­wing everywhere.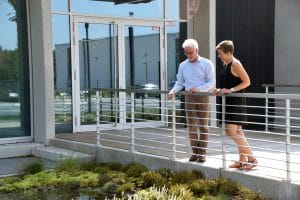 Dirk: The peat basi­nand the bridge have a spe­cial signi­fi­can­ce for us. The raw mate­ri­al that is peat has been the recur­ring the­me throughout Klasmann-Deilmann's histo­ry and to this day remains foun­da­tio­nal to our con­ti­nuing suc­cess. The peat basin has a sym­bo­lic mea­ning: if you want to 'get into' Klasmann-Deilmann, as it were, there's no get­ting around peat – you have to tra­ver­se it. This expres­ses our clo­se rela­ti­ons­hip with this resour­ce. And yet tho­se who cross the bridge lea­ve this peat behind them. The path con­ti­nues bey­ond the peat and, strict­ly spea­king, it's not until that point that the Inno­va­ti­on Cen­ter begins …
Ska­di: And the peat moss?
Dirk: That's the peat basin's third sym­bo­lic aspect. The peat moss, sun­dew and other plants typi­cal of rai­sed bogs illus­tra­te how, after extrac­tion, we encou­ra­ge peat­land res­to­ra­ti­on. In fact, it's in this very area that we're once again making gre­at head­way and deve­lo­ping our com­pe­ten­ci­es. Deli­ber­ate­ly estab­li­shing peat mos­ses acce­le­ra­tes the res­to­ra­ti­on pro­cess. The peat basin demons­tra­tes this par­ti­cu­lar­ly well.
Ska­di: What can't be seen from here is the building's U shape. Does that also have a deeper meaning?
Dirk: Every buil­ding­forms a self-con­tai­ned unit. The U shape reflects the fact that ours is not an insu­lar world whe­re ever­ything revol­ves around our­sel­ves. Along one side, the buil­ding remains open to new hori­zons – one's gaze is drawn to the wider world, to the future and – to an extent, and qui­te con­scious­ly – to the unknown.
Ska­di: So the bridge sym­bo­li­ses a tran­si­ti­on from the pre­sent into the future?
Dirk: Yes, exactly.
Our tour con­ti­nues insi­de the building
In the foy­er, I immedia­te­ly noti­ce the lar­ge black-and-white pho­tos that appe­ar to show peop­le from all over the world. I've only met a few of the­se indi­vi­du­als in my brief time at the company.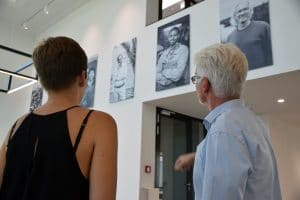 Ska­di: The­se pic­tures are of Klasmann-Deilmann employees – is that right?
Dirk: Yes and no. We're loo­king at col­leagues from Ger­ma­ny, Fran­ce and the Nether­lands. And we've also selec­ted images of our cus­to­mers from Ire­land, Moroc­co and Chi­na. In this way we've por­tray­ed the gre­at fami­ly that is Klasmann-Deilmann, which not only spans the ent­i­re world but also, and equal­ly, inclu­des our part­ner com­pa­nies and our customers.
Ska­di: The map of the world on the wall is perhaps a more typi­cal motif that many com­pa­nies go for.
Dirk: Inde­ed it is. If a firm­wants to com­mu­ni­ca­te its inter­na­tio­nal out­look, then a map of the world is still the means of doing so that anyo­ne will 'get' strai­ght away. And a lot of our visi­tors are ama­zed sin­ce they hadn't rea­li­sed that, star­ting from Euro­pe, our ope­ra­ti­ons have reached as far as Hawaii, Chi­le, Japan and New Zea­land – many peop­le aren't awa­re of just how many sub­si­dia­ries and sales part­ners we have.
Ska­di: The foy­er is real­ly big, and very much has an open feel to it.
Dirk: It's desi­gned to show that there's enough space here for ide­as and inno­va­ti­on that will keep us moving for­ward. Inci­dent­al­ly, the open design is a recur­ring aspect throughout the buil­ding. Ins­tead of solid walls, glass walls have been added, or par­ti­ti­ons dis­pen­sed with altog­e­ther. Here, the ever-incre­a­sing out­ward trans­pa­ren­cy that we cul­ti­va­te has an inward equivalent.
Ska­di: The walls are pain­ted white with expo­sed con­cre­te here and the­re, and fre­quent­ly wood as well.
Dirk: The aim was to mini­mi­se bar­ri­ers to light com­ing in from out­side. This was a fac­tor in favour of glass walls. And that's why even the con­cre­te walls were kept light in colour. Wood, of cour­se, is real­ly a gre­at buil­ding mate­ri­al and it made sen­se to use it. The fact that the faça­de is faced in wood and that wood is a con­spi­cuous fea­ture of the inte­rior as well, is main­ly an expres­si­on of our busi­ness models. In our sub­stra­te-rela­ted acti­vi­ties, we're making incre­a­sing use of wood, we're hea­ting with wood, and we have ope­ra­ti­ons in the rene­wa­ble-resour­ces and ener­gy sector.
The exhi­bi­ti­on area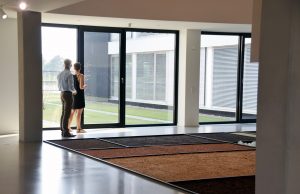 The tour leads us deeper into the buil­ding. On the right, our raw mate­ri­als have been set into the floor: black peat, white peat, wood fib­re, green com­post, and also fer­ti­li­ser, sand, clay gra­nu­les and even the Grow­coon. The­re are three exhi­bi­ti­on boards direct­ly oppo­si­te, cur­r­ent­ly ador­ned with pho­tos taken at the last Inter­na­tio­nal Plant Fair – and, again, with many of our sales com­pa­nies and customers.
Ska­di: So this is whe­re the exhi­bi­ti­on area starts …
Dirk: Yes, with our raw mate­ri­als. Here, they're to look at, not to touch. Anyo­ne curious to explo­re them in a more hands-on way will find the same mate­ri­als kept in four dra­wers fur­ther towards the back.
Ska­di: The dis­play han­ging in front of us is the pack­a­ging for our pro­ducts, sepa­ra­ted into its com­po­nent parts to draw atten­ti­on to the dis­tinc­ti­ve elements.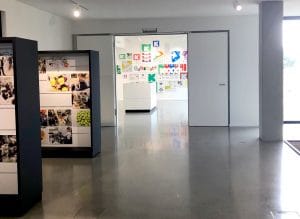 Dirk: The spot­light has alrea­dy been on the peop­le who work here, and our raw mate­ri­als; here, it's on our end pro­ducts – which are the essence of what we do.
The­re are also four short films, shown express­ly without audio, that pro­vi­de a brief intro­duc­tion to key topics: our substrates, our visi­on, our bio­en­er­gy busi­ness unit and our company's sus­tainab­le development.
Ska­di: I expect a lot of the visi­tors stop for a while at the Touch Table …
Dirk: They cer­tain­ly do. Time per­mit­ting, I come here with some groups of visi­tors after an event and invi­te them to do the quiz. It's a chan­ce to test what they alrea­dy know about Klasmann-Deilmann. By the way, this also works well with interns befo­re they lea­ve us …
Ska­di: Thanks for the tip, I'll make sure I do my homework!
Below the screen I dis­co­ver dra­wers with lar­ge pull-out pos­ters pre­sen­ting key facts and figu­res on our value chain.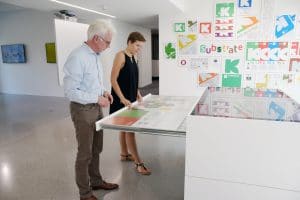 My eye then falls on the libra­ry. This con­tains books about bogs, peat extrac­tion and peat­land res­to­ra­ti­on, about hor­ti­cul­tu­re, substrates and their con­sti­tu­ents, about the histo­ry of our indus­try and our com­pa­ny, and nume­rous tit­les rela­ting to busi­ness and com­mer­ce as well.
Dirk: The books in the libra­ry are not just for loo­king at, they can be bor­ro­wed too.
The office areas
Now that we've explo­red this area – the foy­er, the libra­ry and the exhi­bi­ti­on – in its ent­i­re­ty, we take a brief look at one of the office areas.
Ska­di: How did this inte­rior design come about? The fur­ni­tu­re has a very invi­t­ing look with its pas­tel shades.
Dirk: It was Mother Natu­re who deci­ded on the colour sche­me! The inte­rior desi­gners were gui­ded by the palet­te of shades found in the coun­try­si­de, with green, oran­ge, yel­low, a litt­le red, even grey and white all forming part of nature's paint-box. And – of cour­se – there's wood again. Have you noti­ced what colour is missing?
Ska­di: The blue of the sky is missing.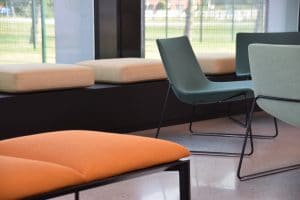 Dirk: And there's a rea­son for that, too: blue is not inclu­ded in Klasmann-Deilmann's cor­po­ra­te design, whe­re­as all the other colours very much are. By the way, most visi­tors don't even noti­ce this.
There's also a cha­rac­te­ris­tic form which occurs everywhere.
Ska­di: The elon­ga­ted spaces?
Dirk: Pre­cise­ly. The oblongs are a kind of 'tri­bu­te' to our peat­fiel­ds. They can be found throughout the buil­ding. The exte­rior faça­de has them; the­re is car­pe­ting fea­turing long lines, the fire-trea­ted wood of the room divi­ders has the same form, and the alco­ves and the back­rests of many of the chairs are elon­ga­ted, as of cour­se are the blinds and the office tables.
Inspi­red by nature
We are wal­king on soft car­pets that have a noi­se reduc­tion func­tion. And sound-absor­bing panels hang from the cei­ling. Alt­hough several col­leagues are working, tal­king and tele­pho­ning in what is effec­tively the same room, it remains sur­pri­sin­gly quiet.
Our tour takes us through the usual­ly busy Aca­de­my, in which – for once – no events are taking place. The social hubs, too, are deser­ted at the moment. Only in the Can­ti­na, whe­re unob­tru­si­ve but deli­cious aro­mas alrea­dy herald the ser­ving of lunch, are the­re signs of life – a few col­leagues, some docu­ments on the table befo­re them, are sit­ting over coffee.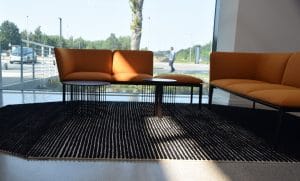 I noti­ce that all the objects are squa­re – apart from the exter­nal wall at head­quar­ters and a par­ti­ti­on in the Gees­te con­fe­rence room. The­se are the only roun­ded forms in the Inno­va­ti­on Cen­ter. I feel that I alrea­dy under­stand this buil­ding, and the ide­as behind it, far bet­ter. But one ques­ti­on still remains …
Ska­di: What, do you think, makes the buil­ding so special?
Dirk: We've been working for more than 10 years on rede­fi­ning Klasmann-Deilmann. This invol­ves new raw mate­ri­als, enhan­ced trans­pa­ren­cy, new ide­as, inter­di­sci­pli­na­ry coope­ra­ti­on, open dia­lo­gue, grea­ter inno­va­ti­on, sus­tainab­le deve­lo­p­ment, and con­scious­ly choo­sing future-ori­en­ted direc­tions. We've achie­ved a gre­at deal during this peri­od, espe­cial­ly in our exter­nal rela­ti­ons and at pro­duct level. In-house, too, we are making gre­at stri­des. All of the­se ambi­tious plans and advan­ces are reflec­ted in the Inno­va­ti­on Cen­ter. We now have the buil­ding that's right for us.
This con­clu­des our tour of the Inno­va­ti­on Cen­ter. Thank you for giving me an insi­de look at this impres­si­ve building!