There's peat and peat: how white and black types differ
Our raw materials
Con­tra­ry to popu­lar per­cep­ti­on, not all peats are crea­ted equal. The­re are dif­fe­rent kinds – rai­sed-bog peats alo­ne inclu­de a ran­ge of gra­des, from white peat to black peat. Com­mon to all is that they are accu­mu­la­ti­ons of vege­ta­ble mat­ter in bog­lands; both white and black peat are the dead remains of plants found in rai­sed bogs. If the levels of orga­nic mat­ter – i.e. the resi­du­es of plants – in the­se depo­sits are below 30%, then the term used is 'half-bog'. Only when the 30% mark is excee­ded do we speak of peat­lands and true peat. So what is the dif­fe­rence bet­ween the various types of rai­sed-bog peat? The cri­te­ria invol­ved are clo­se­ly lin­ked and include:
the degree of degra­dati­on of the orga­nic matter;
the struc­tu­re of the plant remains;
the colour of the peat;
the age of the deposit;
the peat's degree of compaction;
which of the depo­si­ted lay­ers it is obtai­ned from;
the means of extraction;
the phy­si­cal properties.
For one thing, white peat is not white in colour but yel­low-brown. The decom­po­si­ti­on of vege­ta­ble mat­ter is not par­ti­cu­lar­ly advan­ced, and the plant resi­du­es are still clear­ly visi­ble. White peat forms the upper­most lay­er of the bog and is, the­re­fo­re, expo­sed to only very low pres­su­re, so that the degree of com­pac­tion is small. This peat, which (geo­lo­gi­cal­ly spea­king) has been depo­si­ted most recent­ly, is obtai­ned using a varie­ty of tech­ni­ques. For examp­le, the method used by Klasmann-Deilmann is that of sod-cut peat and sur­face-mil­led peat extrac­tion. The white peat is then frac­tion­ed using modern star screens into dif­fe­rent par­ti­cle sizes ran­ging from very fine to coarse.
White peat is, like black peat, cha­rac­te­ri­sed by a low pH value of bet­ween around 3.0 and 4.0, as well as excel­lent water and air sto­rage. White peat is one of the most important sub­stra­te con­sti­tu­ents in com­mer­cial horticulture.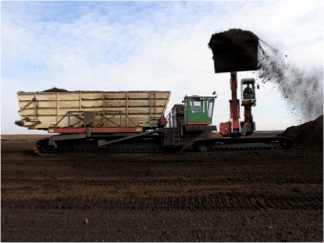 Black peat is the deepest and oldest lay­er in peat bogs. Over the cen­tu­ries, the con­si­derable pres­su­re exer­ted by the upper lay­ers leads to a high degree of com­pac­tion, with black peat appre­cia­b­ly more com­pact than the loo­ser white peat. The vege­ta­ble remains are bare­ly reco­gnis­able as such, as degra­dati­on is far more advan­ced than in the upper peat lay­ers. Black peat is extrac­ted in spring or sum­mer and must be laid out to dry in thin lay­ers pri­or to harvesting.
Black peat is also an important raw mate­ri­al for gro­wing media. In order that its out­stan­ding pro­per­ties, inclu­ding its mini­mal shrin­kage, con­sist­ent­ly high water capa­ci­ty and opti­mum air capa­ci­ty are ful­ly rea­li­sed, it needs to be fro­zen right through.