The first mon­th as an appren­ti­ce at Klasmann-Deilmann
Our new appren­ti­ces have now been with us for more than one mon­th. We tal­ked to Sophie, Ben, Lea, Fabi­an and Stef­fen bout their time at Klasmann-Deilmann. Today, we would like to share their impres­si­ons with you.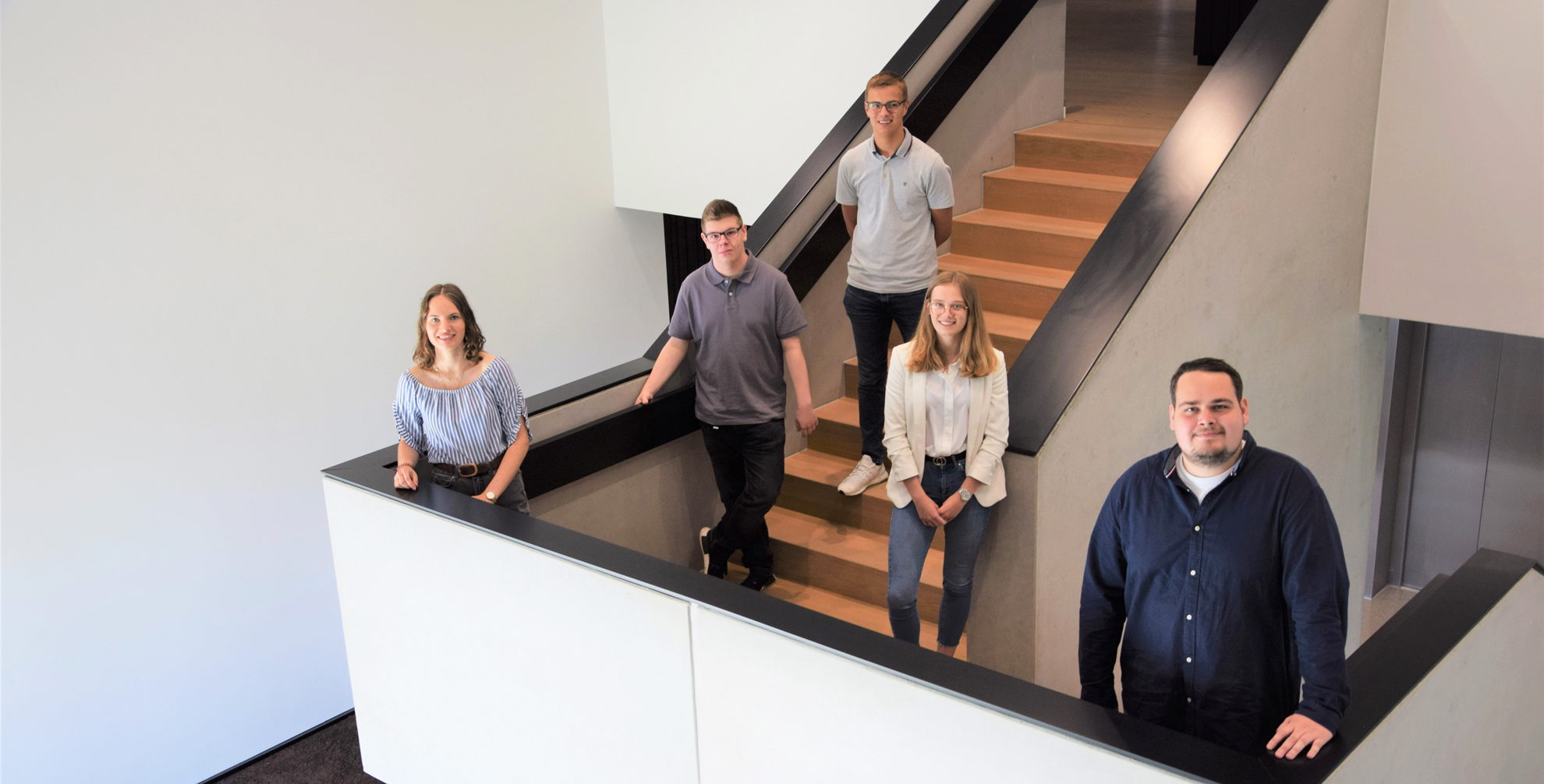 Our all-roun­ders – no mat­ter if sales, human resour­ces, mar­ke­ting, or accounting
In the next two years Sophie and Ben will com­ple­te their appren­ti­ce­ship as indus­tri­al clerks.
Sophie is enthu­si­astic about the wel­co­m­ing cul­tu­re at Klasmann-Deilmann: "We were warm­ly wel­co­med by all our col­leagues. The first thing you do as a new­co­mer is mee­ting as many col­leagues as pos­si­ble. We were given tours of the various buil­dings and got to know many employees per­so­nal­ly. That was real­ly great!"
"But we did­n't just see the admi­nis­tra­ti­ve buil­dings," empha­si­ses Ben. "
We were also able to visit some of Klasmann-Deil­man­n's pro­duc­tion sites in Gees­te and Schö­ninghs­dorf. The­re, our col­leagues from pro­duc­tion show­ed us the steps invol­ved in manu­fac­tu­ring Klasmann-Deilmann Substrates. See­ing, smel­ling, and fee­ling the raw mate­ri­als and their path to the finis­hed pro­duct was real­ly exci­ting, espe­cial­ly for me as a future office worker. And the adven­ture will continue…over the next two years, Sophie and I will get to know many dif­fe­rent depart­ments and meet many nice peop­le and inte­res­ting jobs".
The Rese­arch Cen­ter is her area
Lea was born in Hes­sen and moved to the Ems­land regi­on for her appren­ti­ce­ship as a plant tech­no­lo­gist. "The appren­ti­ce­ship as a plant tech­no­lo­gist is very spe­cial and trai­ning posi­ti­ons are not easy to find throughout Ger­ma­ny. I learn a lot about plants and their cul­ti­va­ti­on, just like a gar­de­ner. What is spe­cial about the appren­ti­ce­ship at Klasmann-Deilmann is that we look at growth from a sci­en­ti­fic per­spec­ti­ve. In our green­house, the so-cal­led Rese­arch Cent­re, we do tri­als and test under what influ­en­ces the plant grows best – always with a spe­cial focus on the sub­stra­te, of cour­se. What was real­ly kind is that Klasmann-Deilmann offe­red me sup­port in my search for an apart­ment in Emsland.
Our future IT experts
Fabi­an and Stef­fen have star­ted their appren­ti­ce­ship as IT spe­cia­lists for sys­tem inte­gra­ti­on at Klasmann-Deilmann. "In IT, we act as pro­blem sol­vers every day. Col­leagues from the ent­i­re group approach us with small and big chal­len­ges," says Stef­fen. "Our job is to find a solu­ti­on as quick­ly as pos­si­ble," exp­lains Fabi­an. "We get into con­ta­ct with lots of dif­fe­rent peop­le in the com­pa­ny – we were even asked to sup­port the top manage­ment team one day. To be honest I was a bit ner­vous then..."
"The remar­kab­le thing about the IT depart­ment is that the who­le team is qui­te young. All col­leagues have done their appren­ti­ce­ship at Klasmann-Deilmann or worked for Klasmann-Deilmann during their stu­dies. They can all give us hel­pful tips and tricks for our time here at Klasmann-Deilmann. Also with the appren­ti­ces in second and third year of trai­ning we keep a clo­se con­ta­ct… not only have they orga­nis­ed the intro­duc­to­ry days for us, we also meet regu­lar­ly for lunch in the com­pa­ny restau­rant 'Can­ti­na' ", Stef­fen con­clu­des our meeting.