Green com­post: a sustainab­le and high-qua­li­ty alter­na­ti­ve
Alter­na­ti­ve con­sti­tu­ents
Klasmann-Deilmann takes its respon­si­bi­li­ty to the envi­ron­ment and socie­ty serious­ly and is regar­ded as one of the most sustainab­le com­pa­nies in the gro­wing media indus­try. Amongst other things, this is becau­se it began to devo­te con­si­dera­ble time, effort and funds to the deve­lop­ment of alter­na­ti­ve sub­stra­te con­sti­tu­ents at a very ear­ly sta­ge. Klasmann-Deilmann began to ope­ra­te its own com­pos­ting faci­li­ties in 1991. Sin­ce then, gro­wing media on a green com­post basis have beco­me increa­singly popu­lar, espe­ci­al­ly in the orga­nic hor­ti­cul­tu­ral indus­try.
When Lower Saxony's peat­land pro­tec­tion pro­gram­me, ent­e­red into force in 1981, the Klasmann Wer­ke, as the com­pa­ny was cal­led at that time, began to deve­lop alter­na­ti­ve sub­stra­te con­sti­tu­ents. Ems­land district aut­ho­ri­ty orga­nis­ed the sepa­ra­te collec­tion of green was­te, pro­vi­ding a valu­able resour­ce for the pro­duc­tion of sub­stra­te com­posts and crea­ting new busi­ness oppor­tu­nities. In 1991, Klasmann-Deilmann inau­gu­ra­ted its first com­pos­ting plant in Groß Hese­pe pro­du­cing com­post that was sui­ta­ble for use in gro­wing media. The com­pa­ny mean­while has two plants which pro­du­ce sub­stra­te com­post which is used in its gro­wing media for the pro­fes­sio­nal hor­ti­cul­tu­ral sec­tor, while a third plant sup­plies qua­li­ty com­post for use in pot­ting soils.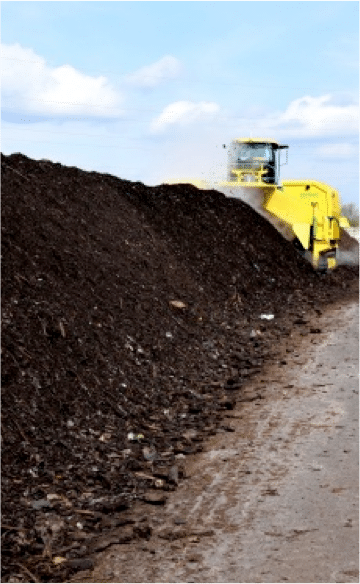 Sin­ce then, Klasmann-Deilmann has suc­cess­ful­ly mar­ke­ted gro­wing media which con­tain a com­post sha­re of bet­ween 10 and 30 per cent. The deve­lop­ment of high-qua­li­ty green com­post went hand in hand with the company's own ven­tures into the orga­nic gro­wing busi­ness, which was a com­ple­te­ly new mar­ket seg­ment at that time. Today, Klasmann-Deilmann is the mar­ket lea­der in the orga­nic gro­wing media mar­ket for eco­lo­gi­cal hor­ti­cul­tu­ral busi­nes­ses. The company's green com­post is sold under the "TerrAktiv" brand and enjoys an excel­lent repu­ta­ti­on with pro­fes­sio­nals, not least becau­se of the uni­que­ly high qua­li­ty stan­dards deve­lo­ped by Klasmann-Deilmann over the years. Moreo­ver, Klasmann-Deilmann's com­pos­ting faci­li­ties are the only ones in Ger­ma­ny to have pas­sed the strict cer­ti­fi­ca­ti­on pro­cess of "Rege­ling Han­dels Pot­gron­den" (RHP). Based in the Nether­lands, RHP is a European know­ledge and qua­li­ty cent­re for gro­wing media for pro­fes­sio­nal hor­ti­cul­tu­re and con­su­mers which is high­ly respec­ted throughout the world.
First­ly, green com­post is a valu­able natu­ral source of nut­ri­ents for plant growth. Second­ly, it has high micro­bi­al activi­ty, streng­t­hens plant vita­li­ty and pro­tec­ts them against root disea­se. Green com­post is the­re­fo­re eco­lo­gi­cal plant pro­tec­tion which can redu­ce the need for che­mi­cal pro­tec­tion pro­duc­ts, an aspect which has mean­while made it an increa­singly attrac­tive opti­on for con­ven­tio­nal orna­men­tal plant busi­nes­ses and tree nur­se­ries. The­re is sci­en­ti­fic evi­dence of the extre­me­ly posi­ti­ve effec­ts that an addi­ti­on of only 10 per cent TerrAktiv green com­post has on the health of sen­si­ti­ve con­tai­ner plants. One of the fin­dings of a stu­dy by the French ASTREHOR Loire-Bre­ta­gne rese­arch cent­re pro­ved that plants grown in media con­tai­ning TerrAktiv green com­post are healt­hi­er and more vigo­rous. Deve­lo­ping com­post as a plant streng­t­he­ner will be a focal point of our work in the com­ing years. Several tree nur­se­ries in the Weser-Ems regi­on are cur­r­ent­ly being sup­plied with con­tai­ner substrates that inclu­de a sha­re of com­post to streng­t­hen their plants.