Eric Lekkerkerk becomes Commercial Director
Dear customers, business partners and friends,
we are very pleased to introduce Eric Lekkerkerk as the new Commercial Director of the Klasmann-Deilmann Group. As of July 1, 2023, Mr. Lekkerkerk will be responsible for managing our sales companies around the world and steering the further development of our sales activities.
Eric Lekkerkerk has been with us for two years and in that short time has become deeply familiar with our business model and sales structures. Above all, he has very quickly gained a high level of recognition among our customers. He is well networked and brings substantial international experience from the corporations he has worked with previously. His ideas for the substrate industry will certainly prove to be a very good fit for us – but above all they are a very good fit for you, our customers in horticulture worldwide.
There will be no changes to your local contacts in this context. Our colleagues will be there for you as before.
We wish Eric Lekkerkerk every success in his new tasks. And to you, dear customers, we wish a successful second half of the business year.
Best regards
Moritz Böcking, Bernd Wehming
Managing Directors Klasmann-Deilmann Group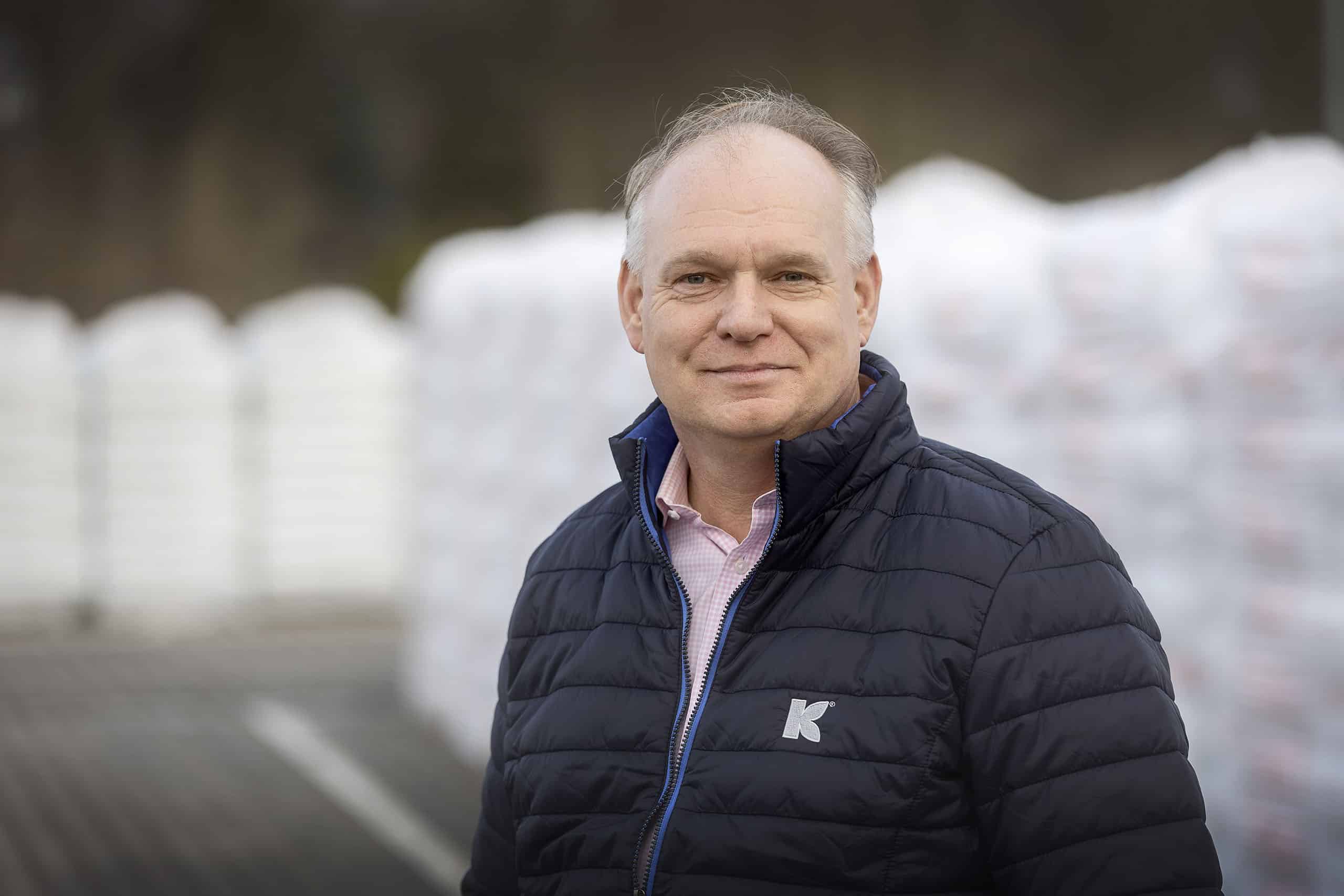 Thinking in solutions
Interview with Eric Lekkerkerk
Erik Lekkerkerk takes over the international sales of the Klasmann-Deilmann Group as Commercial Director. Eric has been working for our company for two years, traveling the numerous markets and has already earned a high reputation. In this interview, Eric gives an insight into his tasks and his plans.
Question: Eric, what has been your experience with Klasmann-Deilmann so far? What kind of company is it?
Eric Lekkerkerk: I have come to know Klasmann-Deilmann as a company that really cares about its customers and makes every effort to offer the best possible growing media today and in the future.
The company is large enough to drive real innovations and make the associated investments. At the same time, Klasmann-Deilmann has maintained the feel of a family company, so we all know each other personally around the world and can act quickly.
The best experience with the company is the spirit of the people. Knowledge and experience are important and are consistently provided to our customers. The team thinks in solutions, not in problems, and everyone develops great ambition in the process. It was very rewarding to be on site with our sales partners and customers from the beginning. The horticultural industry is international, but it is always personal.
Question: How are sales partners and customers reacting?
Eric Lekkerkerk: Everywhere I am welcome, which is due to the excellent relationships that are maintained between Klasmann-Deilmann and its customers. At this point, I would like to mention the great support of Dr Horst Kupschus, who has known the Klasmann-Deilmann universe inside out for decades.
Question: What challenges does international horticulture face? What does Klasmann-Deilmann have to adjust to?
Eric Lekkerkerk: Horticulture is undergoing enormous change. Energy demand and labour are big issues. The former is not structural, but the latter is, and is driving greater automation. Digitalisation is now also one of the biggest trends in horticulture.
For Klasmann-Deilmann, the challenge lies in two opposing movements. On the one hand, there is the steadily increasing demand for substrates. It results from the growing world population with a larger middle class around the world. These populations have more purchasing power for healthy food and plants. Added to this are climate phenomena such as the increasing dryness and droughts everywhere, which are making horticulture more and more important because it is becoming more difficult to grow crops. On the other hand, the most important raw material, peat, is coming under pressure, but alternative raw materials are in short supply. Klasmann-Deilmann offers very good answers to these challenges – I'll just mention our ADVANCED Substrate range here – and is investing very farsightedly in securing resources and additional production capacities.
Question: What is your position on the discussion about peat reduction and new raw materials?
Eric Lekkerkerk: Basically, of all the players in the industry, Klasmann-Deilmann is best equipped to supply high-quality substrates with a lower peat content or even without peat at all. The technical knowledge in this company is extensive and wide-ranging. And we have first-class technical support to help our customers convert their operations to these new and advanced substrates.
Nevertheless, I think we have to be cautious. Gradual change is certainly manageable. But we should not get into situations where there is an abrupt exit from using peat. To avoid such scenarios, we as a company should lead the market to a more sustainable approach, be innovative and transparent, and actively participate in the dialogue. I am very pleased to see Klasmann-Deilmann taking responsibility and doing all these things. That's why I'm convinced that Klasmann-Deilmann is a good partner for the nurseries worldwide today and in the future.
Question: What is important to you personally in your new role? What targets will you set?
Eric Lekkerkerk: Well, there are really good things we should definitely keep, and that's focusing on our customers by providing consistently high-quality products and excellent logistics, customer and technical service. That's easier said than done, by the way, but I'm committed to listening and helping our customers, partners and consultants wherever I can.
Question: Do you have a message for growers around the world?
Eric Lekkerkerk: I have great respect for all growers who provide an important part of our daily food and enrich our world with beautiful flowers, ornamental plants and trees. We all work in a very positive and rewarding industry, partly because there is growth on every continent. We are and will be faced with difficulties, but the future is bright.
Eric, thank you very much for your open and confident words. We look forward to working with you.