Innovative solutions for reliable growth
Growcoon propagation system proves successful | New additive enhances press pot stability | Effective weed suppression with container mulch | Increasing demand for substrates with GreenFibre | TerrAktiv for vigorous, resilient plants | Targeted nutrient supply thanks to MeMon fertilisers
At the 2018 International Plant Fair (IPM), Klasmann-Deilmann will be presenting proven and innovative substrate solutions developed with one purpose in mind: to ensure, promote and enhance the sustainable growth of crops in commercial horticulture.
The world's need for crops cannot remotely be met unless their growth is specifically boosted. "Particularly within the food sector, it's crucial that land available for production is used as efficiently as possible," said Klasmann-Deilmann Managing Director Norbert Siebels. While yield per unit area must be increased if the world's food supply is to be secured, conservation of soils and resources is also vital. "Our growing media help to meet increasing global demand for vegetables and fruit efficiently and with extreme reliability," Siebels added.
Growcoon proves effective in propagation systems
The innovative plant propagation system called Growcoon is attracting growing interest worldwide. Since Klasmann-Deilmann began selling this product, many growers in various horticultural segments have conducted successful trials. For example, the use of Growcoon has proved effective with seedlings, in the rooting of cuttings, in the growing-on of young plants from in vitro systems, and in hydroponic cultivation. The main benefits of using Growcoon for propagating young plants are shorter growing cycles, the robust health of young plants, greater root ball stability and – especially with delicate seedlings and cuttings – lower failure rates.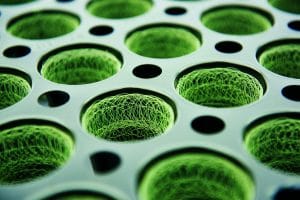 Due to increasing demand, further standard sizes and special sizes have been added to the range, which now includes 10 standard sizes and 12 special sizes. A greater variety of trays for use with these sizes is also now available. In principle, flexibility in terms of production means that the right size of Growcoon can be provided for any tray system.
Growcoon is a biodegradable mesh with an elastic and open structure. When used in propagation systems, it holds the propagation substrate together and, in this combination, forms a stable root plug. Developed and produced by Dutch company Maan BioBased Products B.V., the Growcoon is made of food-safe components. In conjunction with a high-quality propagation medium, it provides ideal growing conditions that optimise root development in young plants. The Growcoon can be used in all established propagation systems and with different trays. Growcoons are placed in trays manually or automatically using dispensers upstream from the tray-filling machine.
New additive in blocking substrates
At the IPM, Klasmann-Deilmann will be presenting a new innovation with regard to its blocking substrates. A special additive has been developed that ensures the stability of press pots. Blocking media with this additive can be used in both organic and conventional cultivation, and open up new potential uses for these substrates.
Following the successful launch of blocking media containing the GreenFibre wood fibre product, this development is the logical next step with a view to fully meeting customer requirements both now and in the future. "There is a demand for lightweight blocking substrates that help keep transport costs down," explained Horst Kupschus, Managing Director of Klasmann-Deilmann Europe. At the same time, optimum stability of press pots is required for handling with automatic planting machines. Additionally, GreenFibre is firmly established as an alternative substrate constituent. "This solution opens up completely new avenues for us in terms of developing forward-looking blocking substrates."
Container mulch for effective suppression of weeds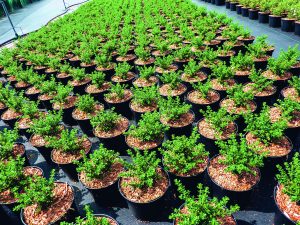 Klasmann-Deilmann's container mulch is an innovative, wood-based mulching material especially designed to effectively suppress weeds in both containers and beds. As well as the 'Coarse Container Mulch' (designed for container-grown crops), a 'Fine Container Mulch' is now available; this has been developed specifically for use in smaller pots with plants such as Calluna and herbaceous perennials.
Increasing demand for substrates with GreenFibre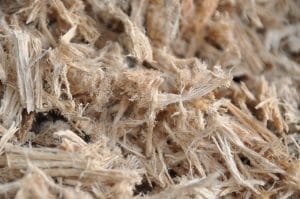 The GreenFibre wood fibre product has become established as an important component in substrate production. Thanks to its outstanding physical properties for use in substrates for potted and container plants, demand is increasing for substrates containing GreenFibre, especially for the tree nursery and potted-plant segments. In the light of this, Klasmann-Deilmann has invested in production facilities at other locations. This means that, from the raw material (i.e. wood) to the finished product, both development and production are in the hands of Klasmann-Deilmann's specialists, who ensure the product's consistently high quality.
TerrAktiv for vigorous, resilient plants
TerrAktiv is the most crucial component of Klasmann-Deilmann's organic substrates. TerrAktiv, which is manufactured from high-quality green compost, and the fermented wood fibre/compost blend TerrAktiv FT play a key role as nutrient sources, primarily in substrates for organic horticulture. They promote both vigour and resilience. Thanks to their microbiological activity, they ensure that the nutrients in organic fertilisers are made available at just the right time. TerrAktiv is also being increasingly used in conventional cultivation. In tree nursery substrates, for example, the 'vitalisation' of the medium has been observed to have a suppressive impact on soil-borne pathogens.
Targeted nutrient supply thanks to MeMon fertilisers
In Germany, Klasmann-Deilmann distributes a wide range of fertilisers made by Dutch producer MeMon. These include certified organic and organic-mineral fertilisers for use in organic and conventional cultivation respectively. The two companies are collaborating closely to develop other fertilisers for specialist crops: new products here include fertilisers for hops and wine grapes. New types of organic-mineral fertiliser under the ORGEVIT product line are also now available. ORGEVIT Mg (with extra magnesium) and high-nitrogen ORGEVIT N allow plants to be specifically and efficiently supplied with the nutrients they need, exactly as required