Florabella – our quality potting soils for hobby gardeners
Many factors play a part in the process of achieving healthy and long-lasting plants in both home and garden. High-quality plants simply give hobby gardeners enjoyment for longer. And each plant depends on the right care. They require a suitable environment, the right light conditions, appropriate additions of fertiliser and water in the right quantities.
Florabella helps amateur gardeners look after their plants - from foliage plants to flowers, from vegetables or herbs to fruit plants. Our quality potting soils ensure all plants grow well in homes and gardens. Florabella is available only from well-stocked retailers.
Fruit, vegetables & herbs
Professional-quality products for the amateur market
Florabella growing media and soil additives are made to balanced recipes and produced from the best raw materials, selected additives and high-quality fertilisers. This enables hobby gardeners to benefit from our unparalleled expertise gained in the commercial-horticulture sector.
Florabella Growing Media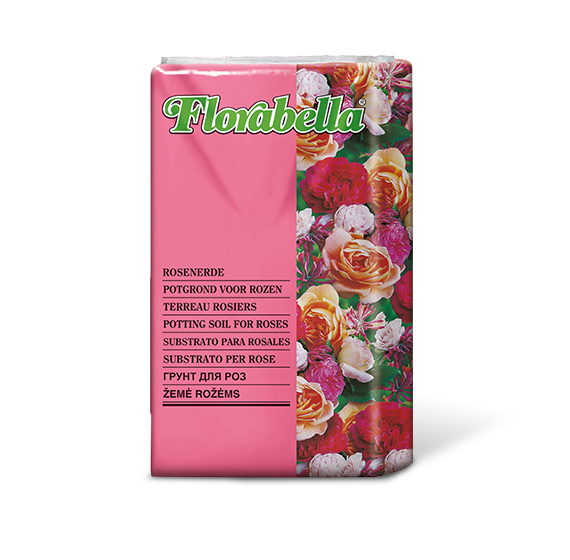 Pot­ting Soil for Roses
Specially formulated growing medium for soil improvement and mulching rose beds or planting in tubs. Contains valuable humus and all required nutrients.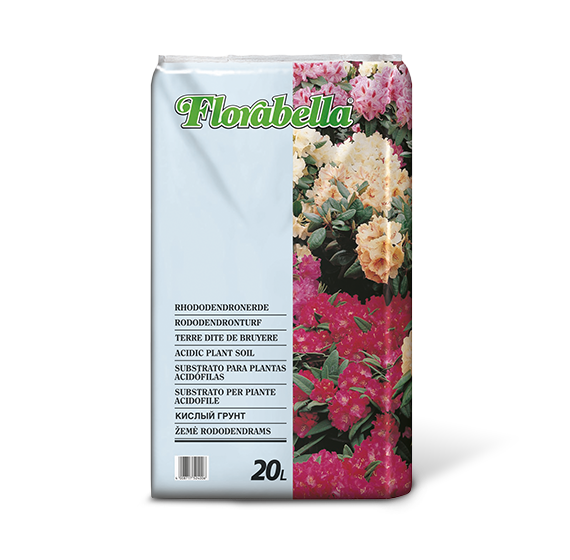 Eri­caceous Plant Soil
Special growing medium for planting azaleas, rhododendrons and other ericaceous plants that prefer acid soils.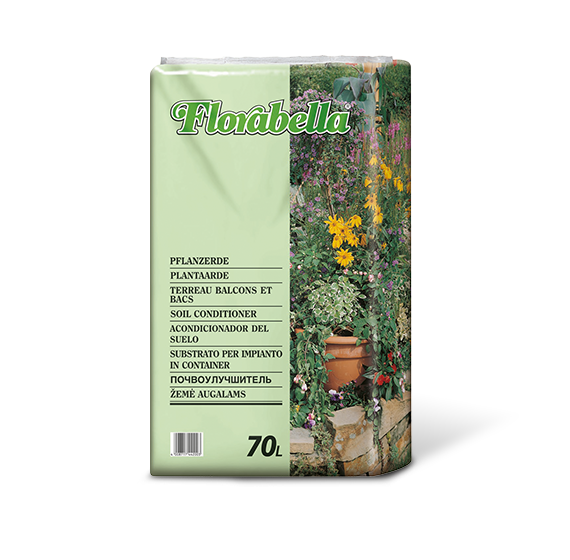 Soil Con­di­tio­ner
Rich, specially formulated growing medium with the full range of required nutrients for all planting work in the garden or for outdoor use in tubs and flowerpots.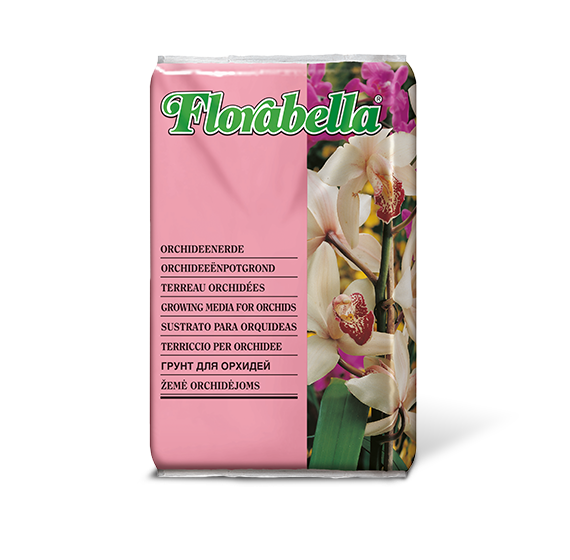 Gro­wing Medi­um for Orchids
Special potting soil for growing-on of orchids and other epiphytes. With high-quality pine bark for a loose, airy structure and for prevention of waterlogging and root rot.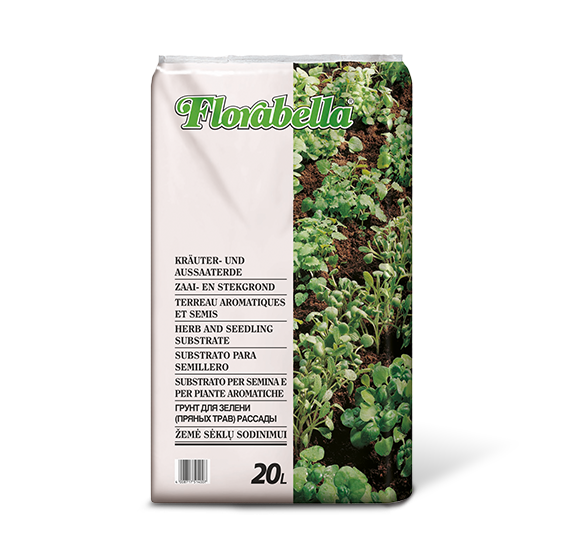 Herb and Seed­ling Substrate
Fine-textured special growing medium with a nutrient formula specially designed for sowing herbs, vegetables and ornamental plants. Also suitable for pricking out seedlings.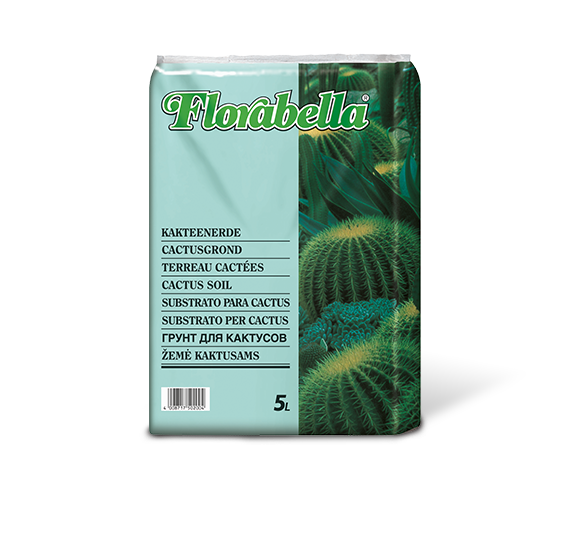 Cac­tus Soil
With a high proportion of minerals and volcanic stones for rapid water drainage; specially designed for cacti and succulents.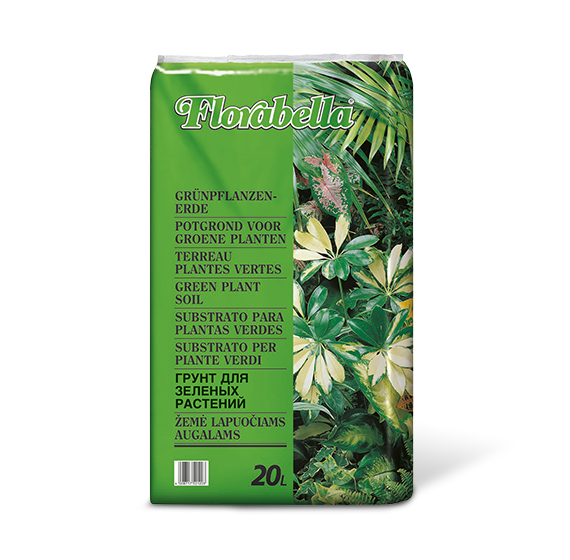 Green Plant Soil
For potting foliage plants, palms and ferns. Valuable clay minerals and good drainage properties ensure continuous healthy plant development.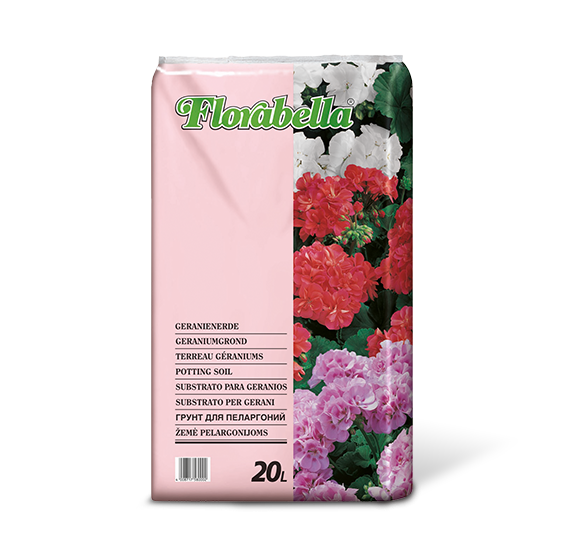 Pelar­go­ni­um Pot­ting Soil
Special growing medium with high clay content and maximum water storage capacity for pelargoniums, fuchsias and other flowering plants in tubs, as well as outdoor flowers.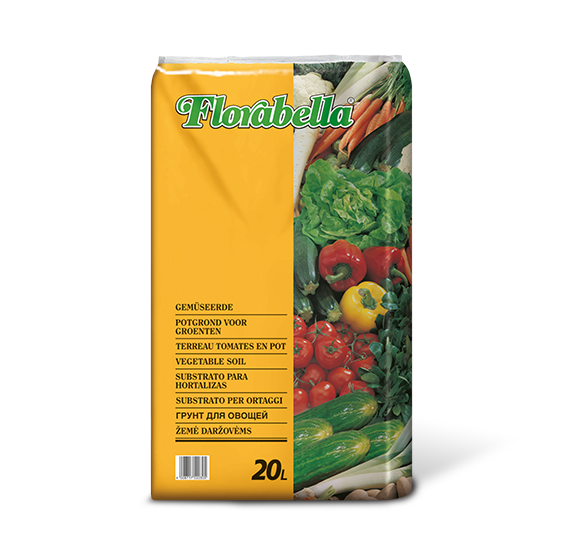 Vege­ta­ble Soil
Special growing medium for growing tomatoes, peppers or cucumbers in pots and containers, as well as for soil improvement in vegetable beds. Contains all required nutrients for optimum growth.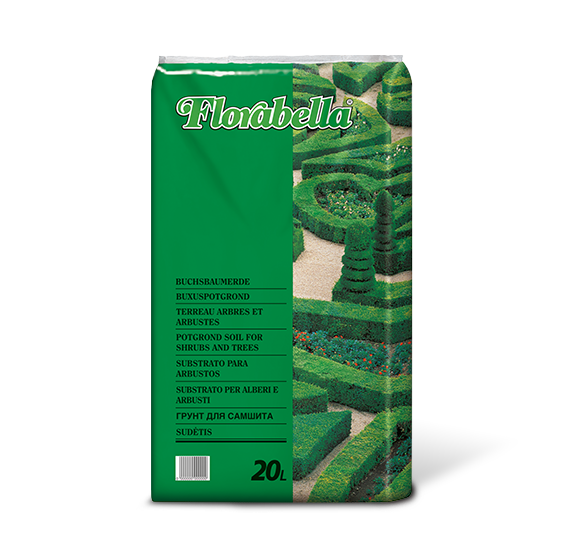 Pot­ting Soil for Shrubs and Trees
Ideal for growing hedging plants (such as box trees, privet and yew) in containers. Contains valuable clay minerals and a balanced supply of nutrients for a rich green leaf colour.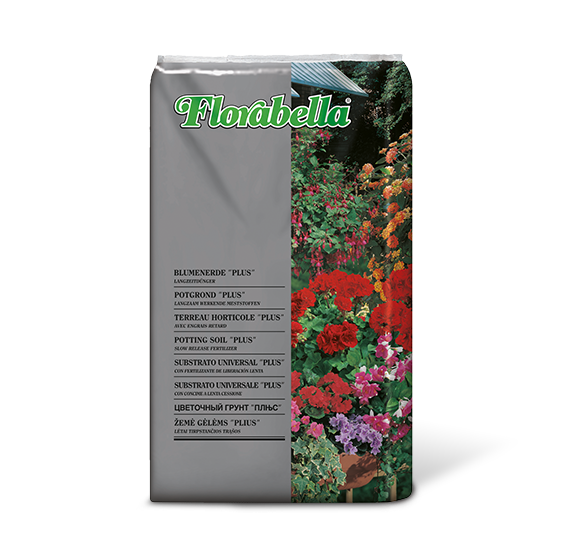 Pot­ting Soil "Plus" with slow-release fertiliser
Specially formulated potting soil with a high-quality slow-release fertiliser to provide nutrients during the first six months. Ideal for all flowering and foliage plants, bedding and balcony plants.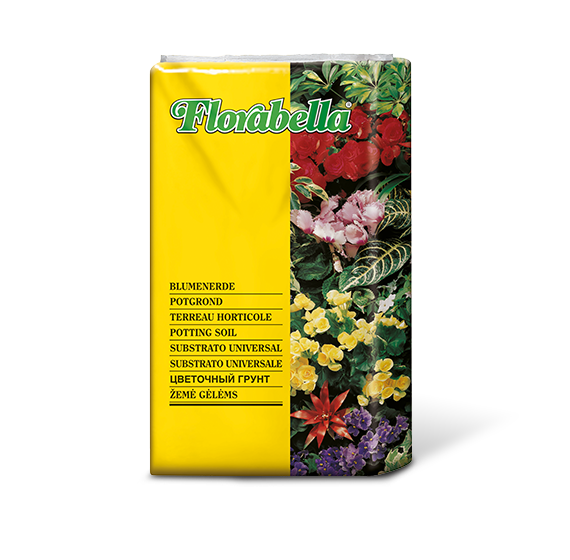 Pot­ting Soil
Contents:
5 l, 10 l, 20 l, 40 l, 70 l
All-purpose potting soil with high-absorption clay granules and high water-storage capacity. Good drainage guaranteed, easily wettable.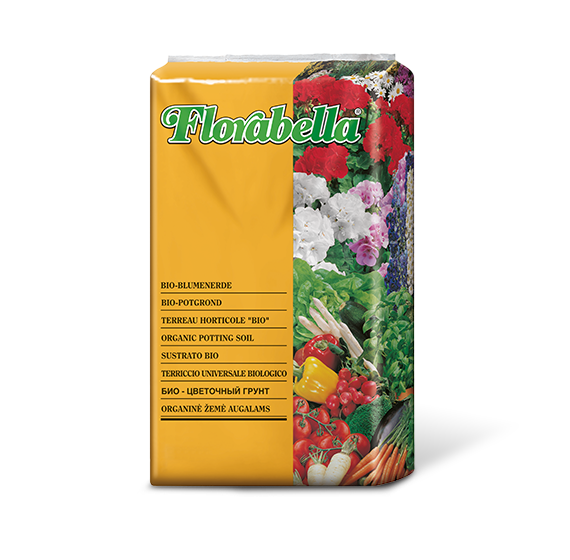 Orga­nic Pot­ting Soil
Organically fertilised potting soil with a high percentage of green compost and wood fibres made from renewable resources. Ideally suited for house and balcony plants and for vegetables in pots.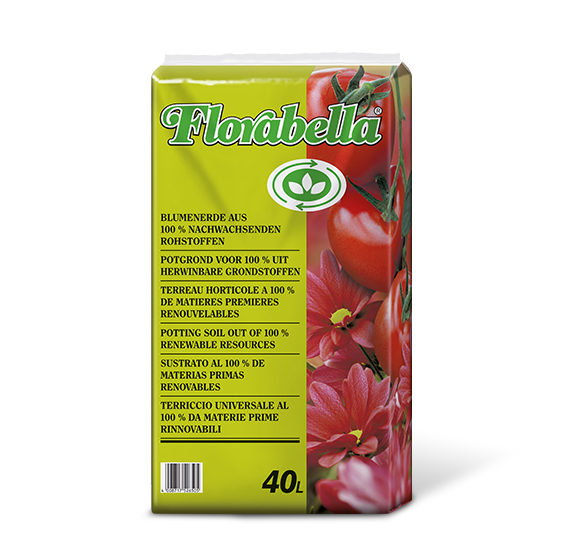 Pot­ting soil made from rene­wa­ble resources
Organically fertilised potting soil made entirely from renewable resources, containing all required nutrients. Ideal for potting indoor and balcony plants and for propagating vegetables in pots.
Florabella Soil Conditioners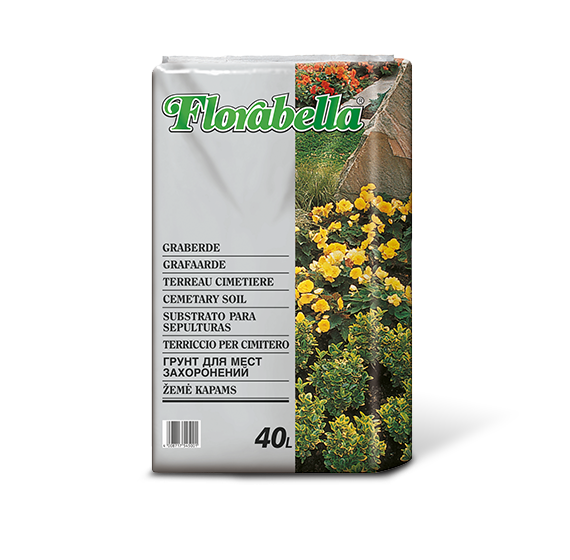 Cemete­ry Soil
Fine, ready-to-spread, deep-black covering soil for graves.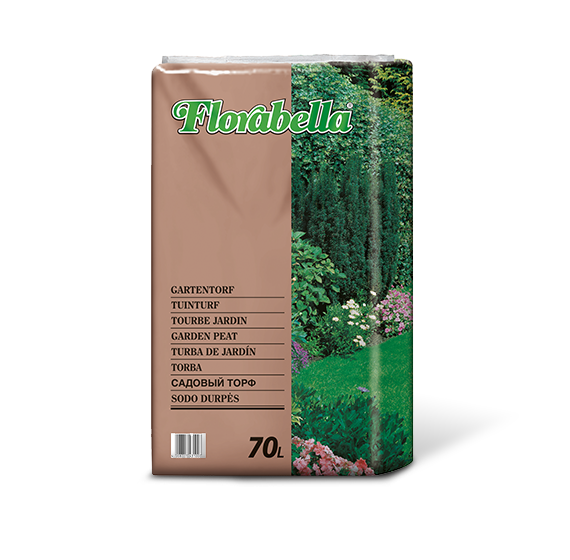 Gar­den Peat
Ideal for improving the soil for ericaceous plants such as rhododendrons, azaleas, heathers and conifers. With a high proportion of humus for healthy root formation and fast root development.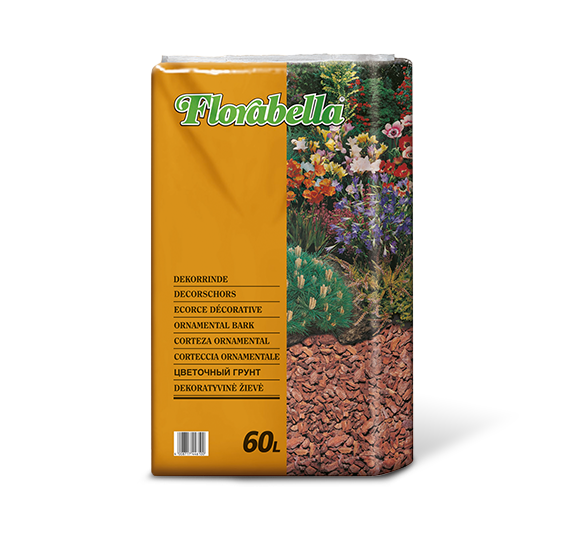 Orna­men­tal Bark
High-quality decorative pine bark. Versatile for a wide range of garden uses such as mulching for beds and plant tubs and creating elegant garden paths.