Teamwork decides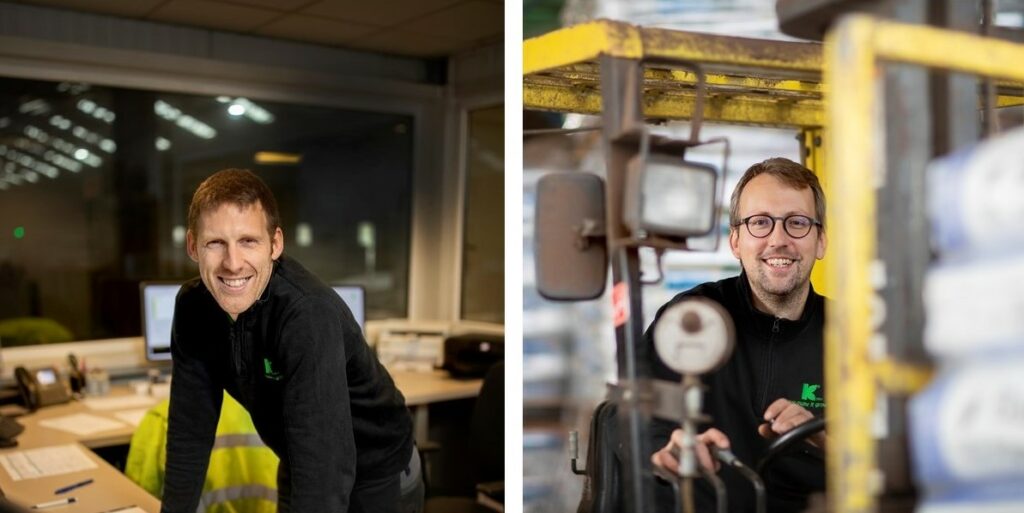 Stijn Noteboom and Hendrik De Meyer can look over the entire production area of Klasmann-Deilmann Brugge NV from their "eagle's nest". As production managers and machine operators, they mix the right fertilizers into the right substrates and ensure that everything ends up in the right truck.
It seems like a simple task. But when other orders are being produced at the same time and several people are involved, things can get very turbulent.
Stijn stands upright, keeps an eye on three screens, takes phone calls and occasionally goes off to refill fertilizer. Meanwhile, drivers use an intercom to ask for the latest status. "We can't get very far without this system. If it doesn't work, things go pretty haywire."
At the end of the day, Hendrik and Stijn take care of preparations for the following morning so that everything runs smoothly again. Together with four production employees and a mechanic, they process the orders for the waiting trucks as a perfectly coordinated team. "Planning is crucial to the process. So it's important to be a small step ahead and lose little time between loads. We are part of a chain that starts with the recipes and the planning and ends when the substrate leaves," says Stijn.
The two men take turns regularly. One starts, the other finishes. In between, they confer. In theory, their work is done as soon as the last truck has picked up its load and driven off the site.
It's all a matter of planning
The fact that it sometimes gets hectic in Hendrik's area is apparent to everyone. But he can only smile about it. "I like that stress and the even more busy first half of the year. The 'season' is the best time for me to be here. I enjoy it. My productivity increases proportionally to the stress level in the company. I'm not a person who sits still or waits for long periods of time. I like to move forward."
And forward it must go. Each substrate is prepared almost à la minute for the waiting drivers.
Stijn explains: "There are a several reasons for this. The number of recipes has increased enormously in recent years. As a result, there is really no such thing as a ready-made mix – or at least not anymore. We used to make a kind of premix to which we added fertilizer by hand, but the increase in alternative raw materials and the quantities of substrate no longer allow for that. It has become more complex. Wood fiber, coco fiber, peat, fertilizer … every substrate that leaves is a special order."