The new Growbag ADVANCED: Bag to the future.
Modern, sustainable and high yield

Best cultivation properties
High air capacity and high pore volume ensure fast and strong rooting
right from the start of cultivation
Optimal drainage and capillarity with excess irrigation
Very homogeneous moisture in the whole root zone during cultivation
Excellent rewettability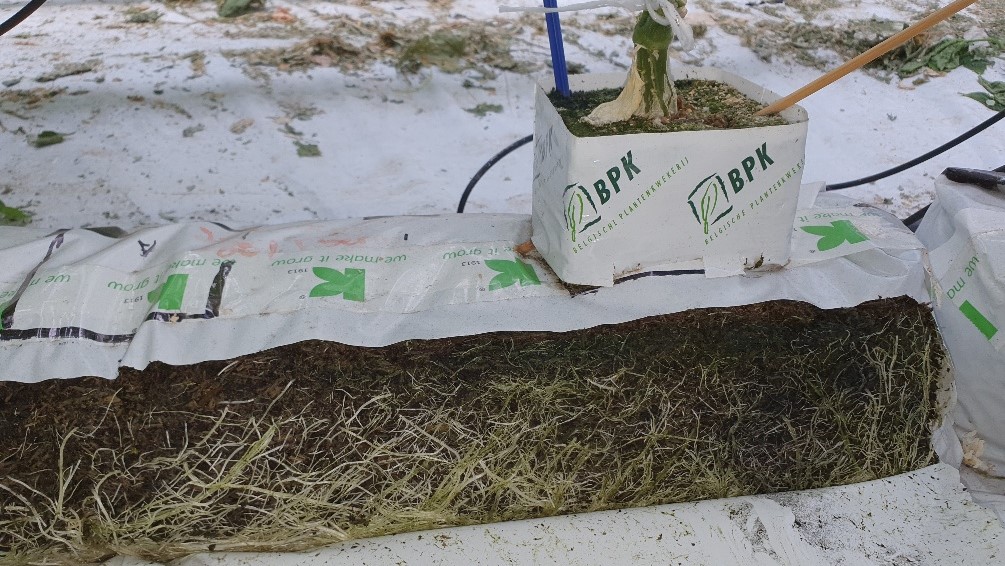 Available and efficient
Uncomplicated conversion from rock wool, perlite or coir to the Growbag ADVANCED
No need to pre-swell or rinse the grow bags for several days before cultivation starts
Reliable, year-round availability due to the high proportion of regional raw materials
Low weight for optimal delivery volume and efficient handling in the nursery
Water savings possible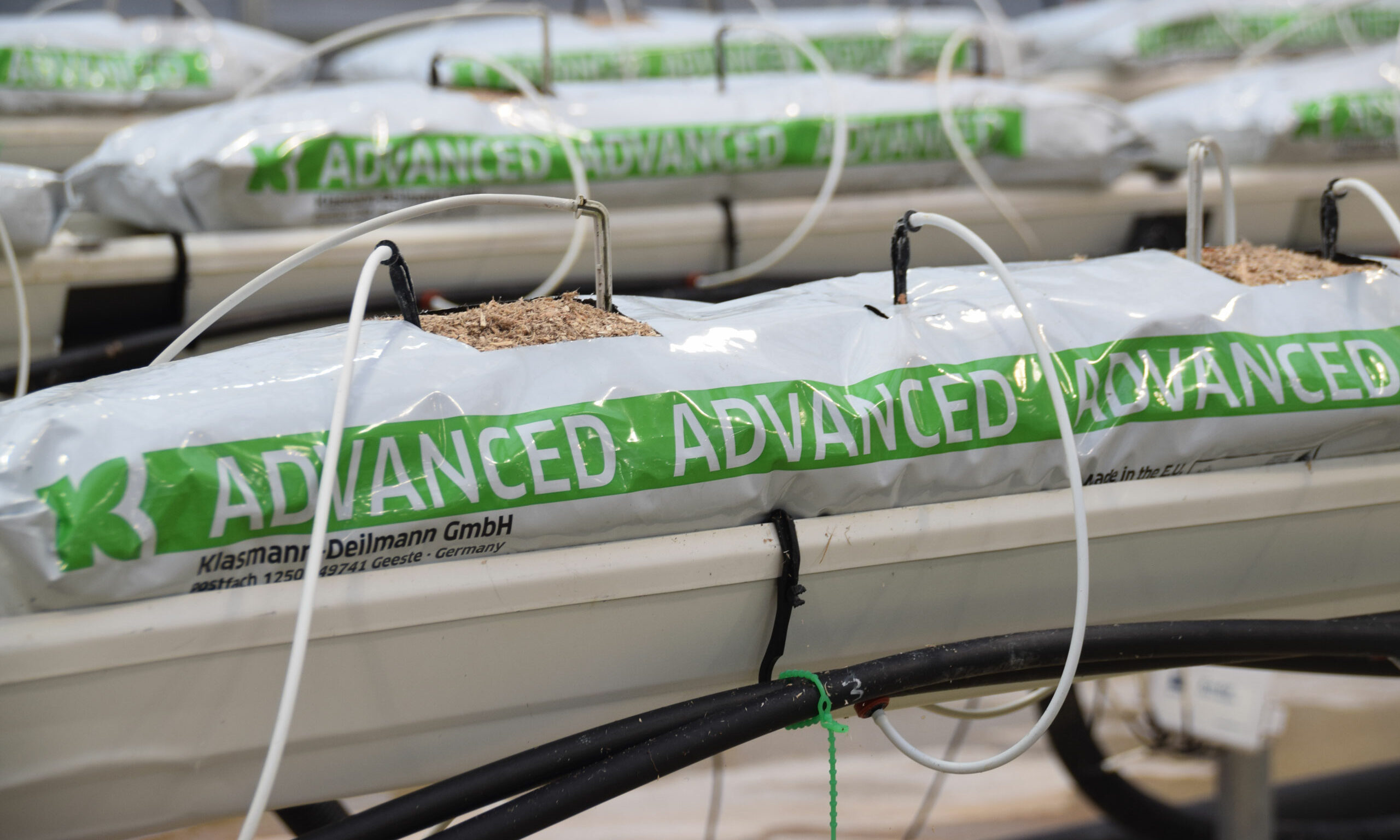 Healthier plants
All raw materials with low salt content, therefore no salt stress at start of cultivation
Reduced cultivation risk due to the low salt content when compared to coir
Limited pH buffering allows easy and targeted pH control
In contrast to inert materials such as rock wool and perlite, the raw materials used in the
Growbag ADVANCED are microbially active and help to suppress plant pathogens
Reduced occurence of 'crazy roots' caused by Agrobacterium rhizogenes
Less fungicide treatments against root rot since plants develop healthier and stronger overal

Modern and sustainable
Contemporary grow bag concept with low coir content
Complete elimination of rock wool, perlite and peat
High sustainability due to 100 % renewable raw materials
Use of a new, purely wood based constituent
All raw materials of the grow bag filling are fully compostable
Significantly reduced CO2 emissions compared to rock wool, perlite and coco


Far more practical than pure theory:
Real experience from practice
Excellent rooting with continuous formation of white, active roots
More root mass and significantly stronger, well-branched main roots
Overall stronger developed plants with faster shoot formation and
higher cucumber yield per metre
Fungicide treatments against root rot was not necessary
Better and faster drainage
Compared to coir, more frequent and shorter watering intervals
were ideal and a reduction of drip quantities was possible
No need to pre-swell or rinse the Growbag ADVANCED for several days
before cultivation starts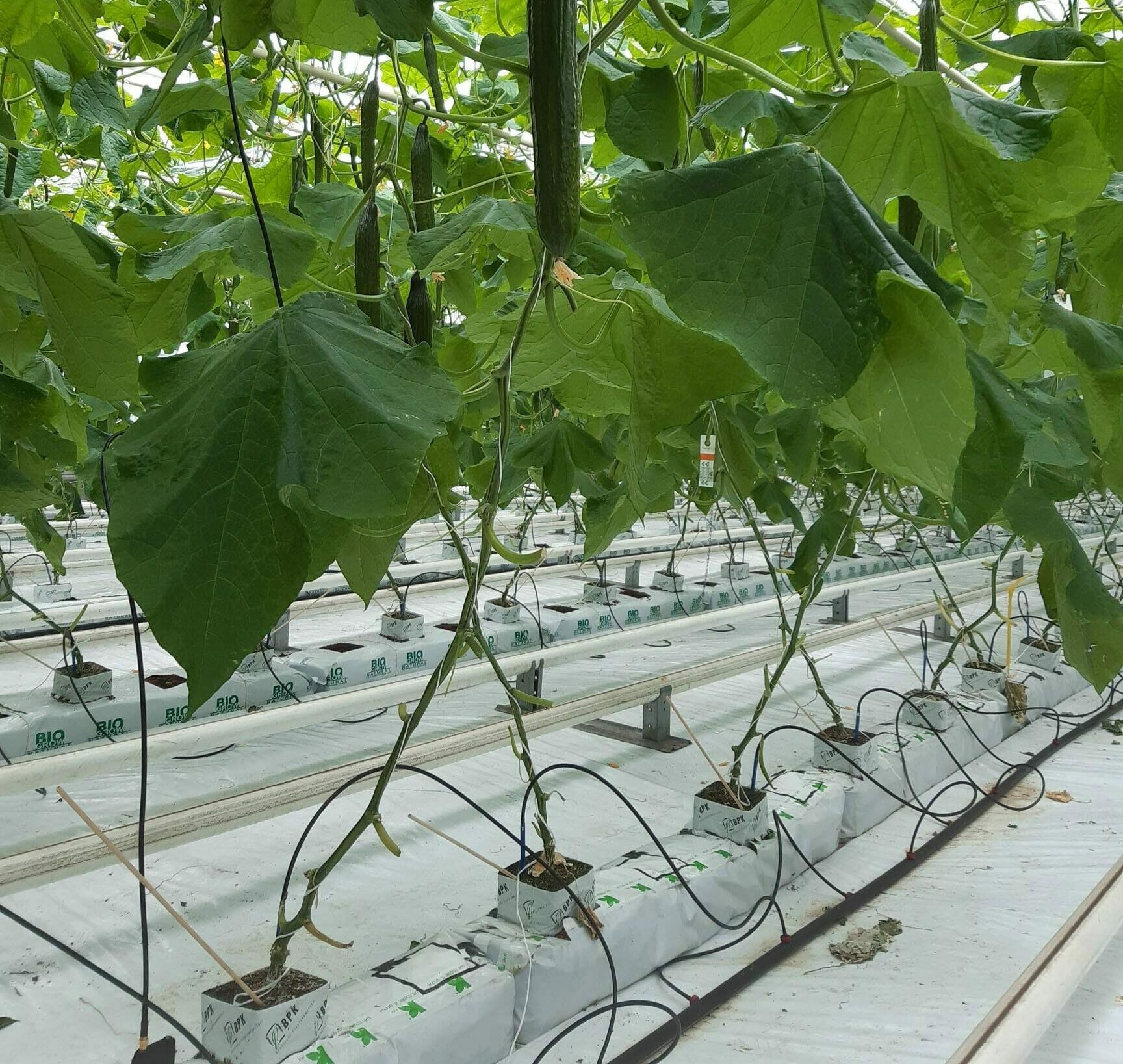 Comparison: Growbag ADVANCED versus grow bags with 100% coir, 2 plants per metre, ungrafted young plants, planting in August (Cultivation year 2021, Vrij Land- en Tuinbouwinstituut VLTI, Torhout, Belgium)
Plants in the Growbag ADVANCED developed more vigorously and rooting was considerably stronger
Faster initial development of tomato plants
Plants in Growbag ADVANCED showed more stress resistance in drought stress tests
Better flowering and higher fruit yields than in standard grow bags with perlite

Raw materials
80 % GreenFibre® mix, 20 % coir
Physical properties
(acc. EN 13041, pF 1.0, -10 cm)
Water capacity: 29 – 34 %-vol.
Air capacity: 59 – 64 %-vol.
Total pore volume: 93 Vol.-%
Bulk density (dry): 100 – 115 g/l
UV stability: Plastic film 1 year UV resistant
Dimensions and quantities
Length, width, height: 1 m, appr. 20 cm, appr. 8 cm
Filling volume: 20 l (EN 12580)
Planting holes per metre: 0 – 10, according to customer requirements, pre-perforated, round and square holes possible
Drainage slots: Bags available with and without
drainage slots
Quantity per pallet: 196 grow bags
Pallet size and weight: 120 x 100 cm, approx. 850 kg / pallet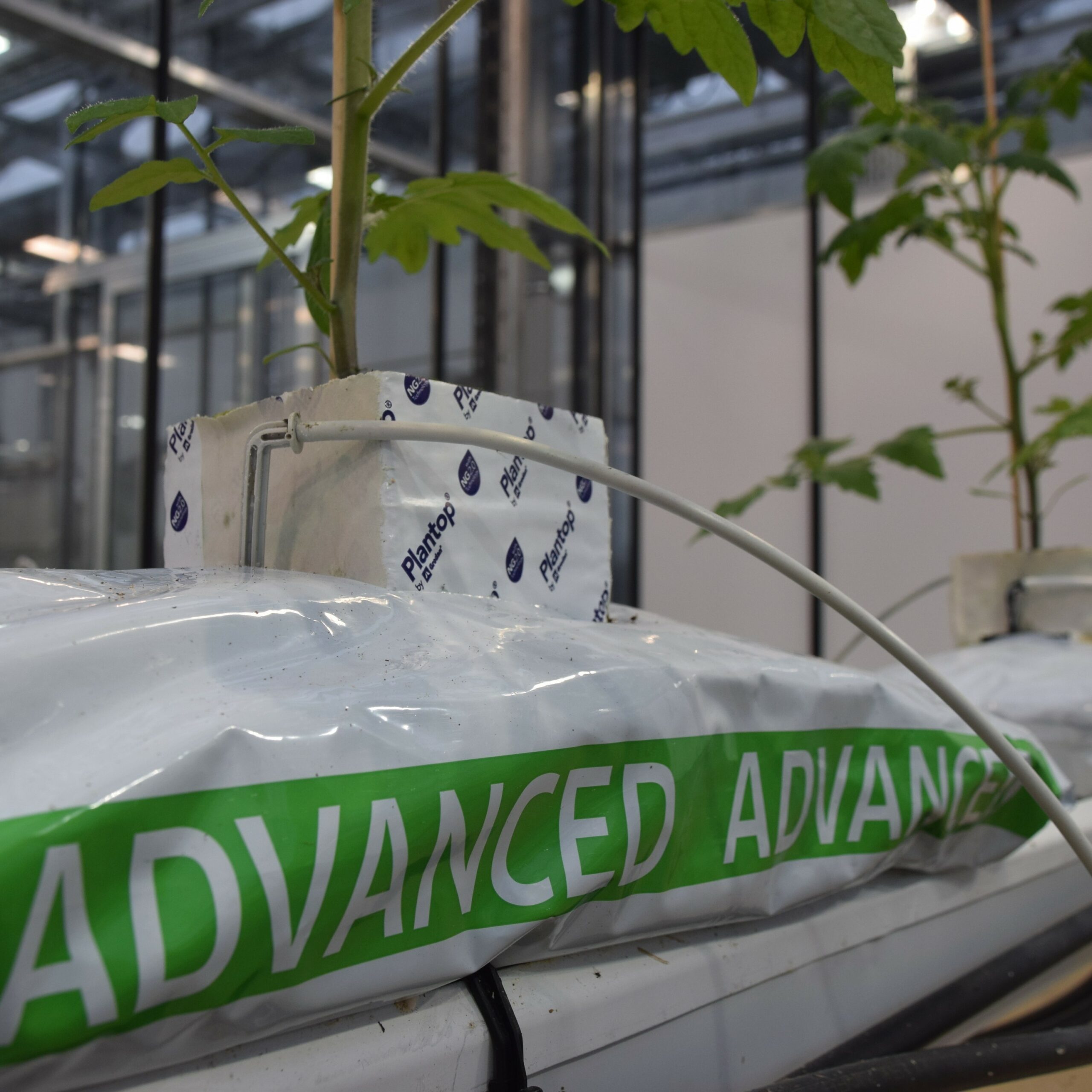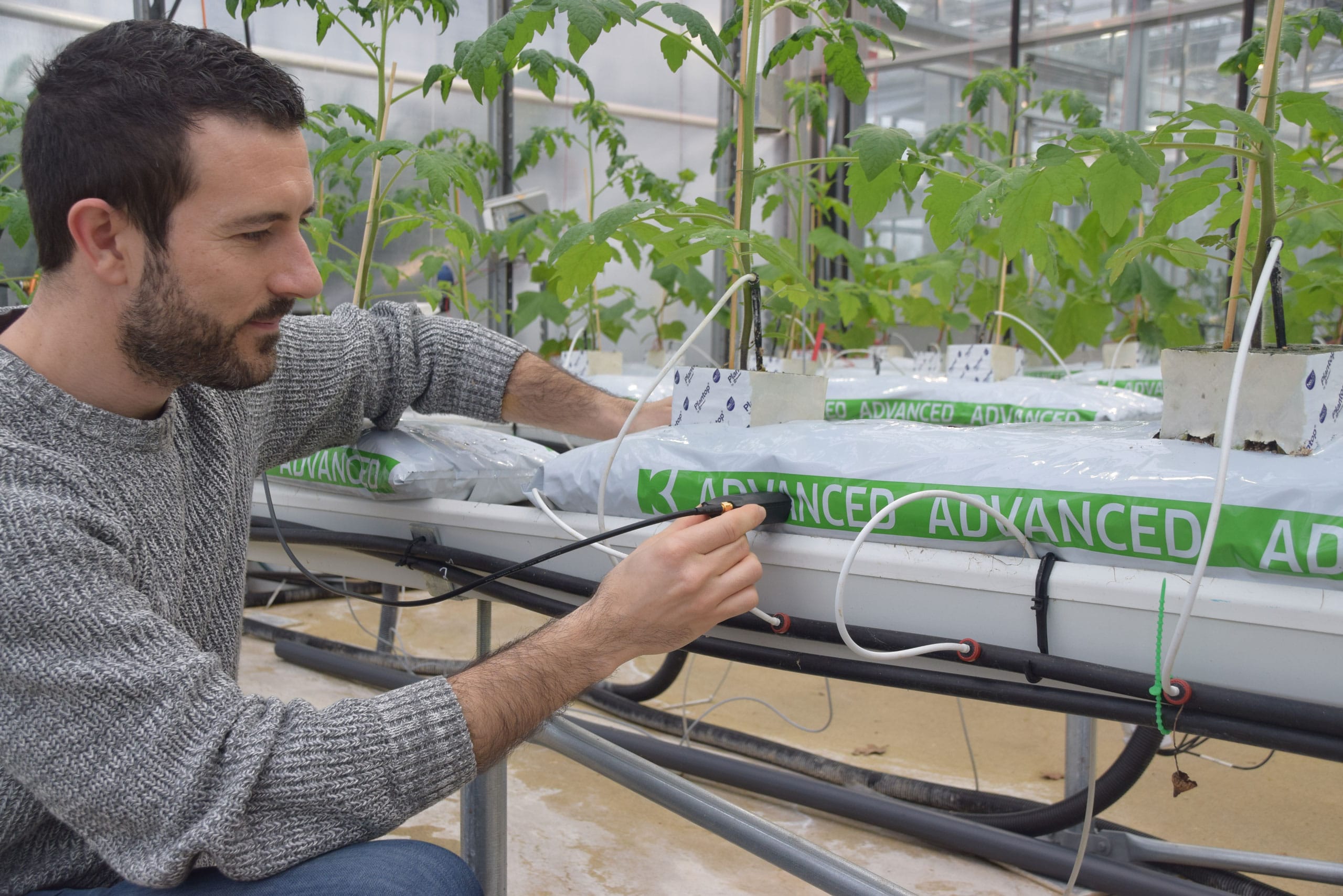 The ideal combination:
Growbag ADVANCED and Log & Solve
Parallel to the Growbag ADVANCED, Log & Solve can be used when converting from grow bags with coir, perlite or rock wool.
Log & Solve is our innovative digital platform that centrally records all relevant crop data. Modern sensors continuously measure substrate moisture and nutrients directly in the grow bag and create automated status reports. Data on humidity, temperature and light already collected in the greenhouse can also be included. Commercial growers can improve the efficiency of their crops with Log & Solve.
Contáctanos en solo dos pasos