Our company is always on the move.
The blog is undoubtedly among the most convenient forms of modern communication. At Klasmann-Deilmann, we use our blog to share our thoughts with our partners and friends; customers and suppliers; our active, former and future employees; and (in the broadest sense) our stakeholders – in a timely manner and at an appropriate intensity. And we've a lot to say. Our company is always on the move and we want you to be a part of this.
We look forward to your feedback: do send us an e-mail or use our comments function. We'll also be grateful for any ideas as to topics you'd be interested in reading about.
Career
Using a dro­ne to deter­mi­ne extrac­tion quan­ti­ties
09.01.2017
|
|
0 Comments
Students embark on project at Klasmann-Deilmann
Whenever possible, Klasmann-Deilmann gives assignments with a difference to young people doing vocational training and study programmes. These include a current project on drones involving five students. They are using the latest information technology to develop a method that delivers extremely precise quantitative assessments of stocks in extraction areas.
Weather conditions are favourable. It's sunny with almost no wind. Five students have driven out onto one of our extraction sites. Their daring mission: a test flight with a drone. On a level surface within the Ostfeld peatfield, they place the quadrocopter on the ground. Before takeoff, they enter the desired altitude in the control tablet and set the intervals at which the integrated camera is to take photos.
The miniature aircraft, weighing some 1.5 kg, takes off, climbing steadily and reaching an altitude of 80 m. The students watch, transfixed by this technological marvel. Then the quadrocopter starts its forward movement high above the 500-odd-metre-long peat stack.
"It makes five passes over the stack in different positions to take photos with a high degree of overlap," explains
Lars Wortelboer
. Two years ago Lars began a combined vocational training und degree programme in Lingen, doing Business Information Systems at Osnabrück University of Applied Sciences (HSO). He is assisting our IT team during his practical-training phases.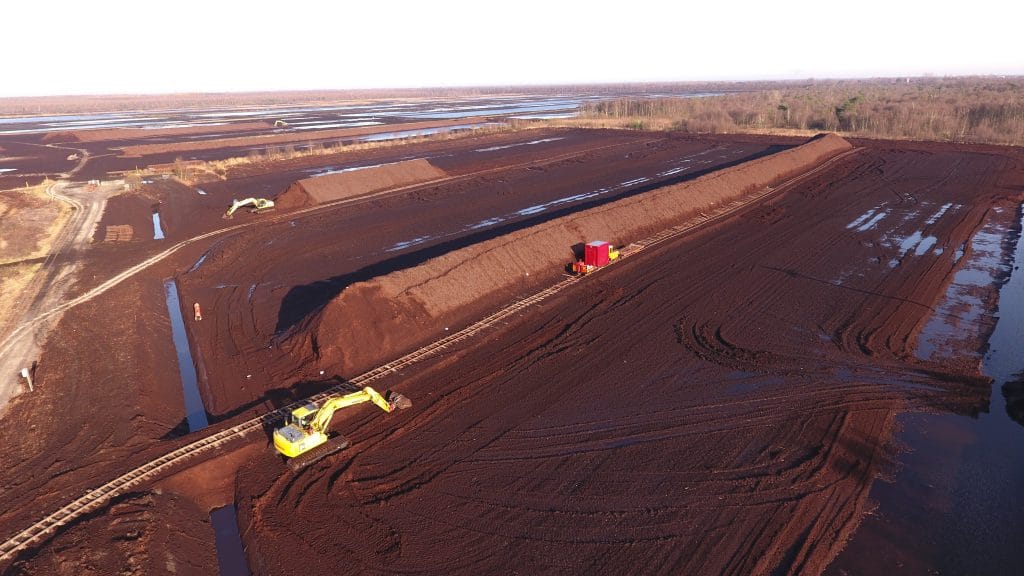 These drone flights are part of a study project. As the group consists of prospective IT specialists and business administrators, a topic had to be found at the interface between these two areas. "When Klasmann-Deilmann suggested working with a drone, we leapt on board straight away," says
Niklas Albers
. He had already qualified with us as an Industrial Business Administrator and, building on this, is now doing a combined degree and vocational training course in Business Administration. It was not hard for Lars and Niklas to persuade fellow HSO students based at Lingen to sign up for this quadrocopter drone project with Klasmann-Deilmann.
The small flying machine whirrs over our heads as Niklas explains the process. "One problem is telling where the stack ends and the underlying ground surface begins," he says, pointing to the boundary zone. This is particularly hard to do from an aerial perspective, since both the stack and the surrounding peatland are the same colour. "So we've marked the stacks with small pieces of white tarpaulin." Lars adds: "These are the reference points or control points for the surveying software."
It was a long process before they could get the drone up in the air. "We had to fill in lots of forms and obtain approval before we could fly it at all," he says. This included obtaining take-off permission from the regional roads and transport authority (NLSV) and proving they could safely operate an unmanned aerial system (UAS). For this purpose both of them underwent training at a model aircraft club in Surwold. "And, because we're in a restricted-flight zone, we can fly only at specific times."
Lars, Niklas and the others are supported by project supervisor Henry Hurink. Processing data obtained by drones is part of his routine daily work involving the taking of site measurements for our climate footprint. So his experience is invaluable to the students.
The task now is to identify the best method of determining the volume of extracted peat as precisely as possible. "We're still doing a lot of trying out and testing at the moment," says Niklas. "The higher the drone, the better the overview, but the accuracy may be compromised above a certain height." When, starting in February, the raw materials are successively loaded onto the railway cars and the true volume can be determined with reference to the number of wagons, the young investigators can compare their figures with the actual quantity.
The stack dimensions had previously been determined manually using a tape measure. However, as the stacks are not completely symmetrical or even, results obtained this way may well be inaccurate. Use of a drone could soon make such imprecision a thing of the past. Come the springtime, the students will know more …
Back
It's you we write for
Our blog's editorial staff prepare news and topics relating to our company's various areas of activity. Here, we briefly introduce the members of the editorial team. Don't hesitate to use the e-mail addresses given here for purposes of feedback and further information, to ask questions and suggest topics.

Corporate Editor
Dirk Röse | Head of Corporate Communications
moc.n1501210449namli1501210449ed-nn1501210449amsal1501210449k@ese1501210449or.kr1501210449id1501210449
Dirk Röse has been at Klasmann-Deilmann since 2004 and heads up the Corporate Communications division. His contributions to our blog are mainly about the company's latest news and day-to-day activities.
Competencies Editor
Hermann Limbers  | Head of Advisory Service & Quality Management
moc.n1501210449namli1501210449ed-nn1501210449amsal1501210449k@sre1501210449bmil.1501210449nnamr1501210449eh1501210449
Hermann Limbers has been with Klasmann-Deilmann since 1983. As part of the Product Development team, his contribution has included his instrumental role in establishing our range of Lithuanian growing media and our organic substrates. His present-day focuses are on international customer guidance and quality management. He consistently enriches our blog with his unique expertise on many aspects of raw materials and products.
Careers Editor
Kim Karotki | Corporate Communications
moc.n1501210449namli1501210449ed-nn1501210449amsal1501210449k@ikt1501210449orak.1501210449mik1501210449
Kim Karotki has, since 2015, enjoyed a wide-ranging remit pertaining to Klasmann-Deilmann's internal communications. Her background in journalism stands her in good stead when it comes to researching and delving into complex issues. For her blog entries, she generally takes contributions to internal communications and explores them further; she also focuses on human-resources development and careers.
Sustainability Editor
Jan Köbbing | Sustainability Management
moc.n1501210449namli1501210449ed-nn1501210449amsal1501210449k@gni1501210449bbeok1501210449.naj1501210449
Dr Jan Köbbing has been pursuing various research projects at Klasmann-Deilmann since 2015, on topics including Sphagnum farming and the restoration of former peat extraction sites. As Sustainability Manager, he also coordinates our emissions reduction measures and the preparation of our climate footprints. His contributions to our blog relate mainly to corporate social responsibility.