Our company is always on the move.
The blog is undoubtedly among the most convenient forms of modern communication. At Klasmann-Deilmann, we use our blog to share our thoughts with our partners and friends; customers and suppliers; our active, former and future employees; and (in the broadest sense) our stakeholders – in a timely manner and at an appropriate intensity. And we've a lot to say. Our company is always on the move and we want you to be a part of this.
We look forward to your feedback: do send us an e-mail or use our comments function. We'll also be grateful for any ideas as to topics you'd be interested in reading about.
Company
Trai­ning bibs for refu­gee foot­ball team
03.08.2016
|
|
0 Comments
Responsibility to society
Responsible business enterprises also demonstrate social commitment – and Klasmann-Deilmann accordingly provides various forms of support for non-profit and cultural projects and also promotes local sports activities. The company recently equipped a refugee football team with bibs to use during training.
The weather in north Germany can seem pretty bleak at times – especially if you are out on the football pitch training on a rainy November evening. This is felt even more keenly by players who come from countries with a hot climate, i.e. the roughly 20 multinational refugees who have attended the football training sessions at Bunde sports club ("TV Bunde") every week since the end of last year. Hardly surprising, then, that both players and club were delighted to receive the training bibs sponsored by Klasmann-Deilmann. "This is not something you can take for granted," said Gerold van Hoorn, head of the TV Bunde football department. "As we all work in an honorary capacity, we are grateful for any support."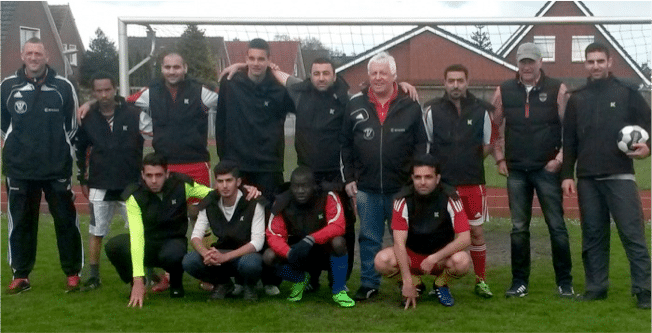 Klasmann-Deilmann is fully aware that entrepreneurship means more than just doing business successfully. That is why the company provides financial, moral and voluntary support for selected non-profit and cultural projects, holds a huge fundraising campaign in the run-up to Christmas every year, and supports local sports clubs. Klasmann-Deilmann's regional roots in Emsland mean a great deal to the company, which was a founder member of the Emsland career and family foundation in 2006 and which pays strict attention to the implementation of family-friendly policies at the company itself.
Back
It's you we write for
Our blog's editorial staff prepare news and topics relating to our company's various areas of activity. Here, we briefly introduce the members of the editorial team. Don't hesitate to use the e-mail addresses given here for purposes of feedback and further information, to ask questions and suggest topics.

Corporate Editor
Dirk Röse | Head of Corporate Communications
moc.n1500735235namli1500735235ed-nn1500735235amsal1500735235k@ese1500735235or.kr1500735235id1500735235
Dirk Röse has been at Klasmann-Deilmann since 2004 and heads up the Corporate Communications division. His contributions to our blog are mainly about the company's latest news and day-to-day activities.
Competencies Editor
Hermann Limbers  | Head of Advisory Service & Quality Management
moc.n1500735235namli1500735235ed-nn1500735235amsal1500735235k@sre1500735235bmil.1500735235nnamr1500735235eh1500735235
Hermann Limbers has been with Klasmann-Deilmann since 1983. As part of the Product Development team, his contribution has included his instrumental role in establishing our range of Lithuanian growing media and our organic substrates. His present-day focuses are on international customer guidance and quality management. He consistently enriches our blog with his unique expertise on many aspects of raw materials and products.
Careers Editor
Kim Karotki | Corporate Communications
moc.n1500735235namli1500735235ed-nn1500735235amsal1500735235k@ikt1500735235orak.1500735235mik1500735235
Kim Karotki has, since 2015, enjoyed a wide-ranging remit pertaining to Klasmann-Deilmann's internal communications. Her background in journalism stands her in good stead when it comes to researching and delving into complex issues. For her blog entries, she generally takes contributions to internal communications and explores them further; she also focuses on human-resources development and careers.
Sustainability Editor
Jan Köbbing | Sustainability Management
moc.n1500735235namli1500735235ed-nn1500735235amsal1500735235k@gni1500735235bbeok1500735235.naj1500735235
Dr Jan Köbbing has been pursuing various research projects at Klasmann-Deilmann since 2015, on topics including Sphagnum farming and the restoration of former peat extraction sites. As Sustainability Manager, he also coordinates our emissions reduction measures and the preparation of our climate footprints. His contributions to our blog relate mainly to corporate social responsibility.