Our company is always on the move.
The blog is undoubtedly among the most convenient forms of modern communication. At Klasmann-Deilmann, we use our blog to share our thoughts with our partners and friends; customers and suppliers; our active, former and future employees; and (in the broadest sense) our stakeholders – in a timely manner and at an appropriate intensity. And we've a lot to say. Our company is always on the move and we want you to be a part of this.
We look forward to your feedback: do send us an e-mail or use our comments function. We'll also be grateful for any ideas as to topics you'd be interested in reading about.
Company
Take-over of lea­ding pro­vi­der of bio­mass in the Bal­tic regi­on
23.08.2016
|
|
0 Comments
Latvian group will strengthen the company's Renewable Energy Business Unit
The Klasmann-Deilmann Group with headquarters in Geeste, Germany, is increasing its activities in the field of renewable energy and resources. With effect from 18 August 2016, the Group will take over the Latvian companies SIA AJ Energy, SIA PA Energy and SIA BNP, a group which specialises in biomass trading. This important acquisition was facilitated by KPMG Baltics in Riga.
The three companies are leading and successful Latvian providers of biomass, which is increasingly used as a source of energy and heat in the Baltic region. The trading companies AJ Energy, PA Energy and BNP have well-established connections with the major producers of woodchips and with key customers in the segments of heat and energy production. "The three companies are an excellent match for our activities in the renewable resources sector," commented Norbert Siebels and Moritz Böcking, Managing Directors of the Klasmann-Deilmann Group. "They will provide us with direct access to the biomass market in Latvia."
Klasmann-Deilmann's corporate strategy for the period up to 2025 includes a substantial expansion of its business in the renewable energy and resources sector. Production and trading in sustainable energy sources are expected to account for a significant share of sales by the year 2020. "Our activities in this new business unit will focus on the Baltic region," explains Siebels. "As early as for 2017, we are planning consolidated sales of approx. EUR 7 million with a staff of about 15. This step will generate synergies with our other subsidiaries in Latvia and Lithuania, not only in our core business, but also at logistics and administration level." Böcking adds: "Demand for biomass for energy purposes is increasing and the overall economic conditions for sustainable energy concepts are far better than in Germany. The takeover of these companies is an enormous step forward for our new business unit."
Klasmann-Deilmann already began to develop its Renewable Energy and Resources business unit back in 2009. Since then, the Group has purchased almost 3,000 hectares of land for the creation and management of short-rotation forestry (SRF) plantations. The fast-growing tree species planted on these sites, mainly willows, can be harvested in cycles of three or four years. Wood resources from SRF are processed into woodchips and used for the generation of electricity and heat in biomass power stations. The good climate footprint of SRF fuels results firstly from the avoidance of fossil fuels and secondly from the fact that the cycle of growth and utilisation has no impact on the climate.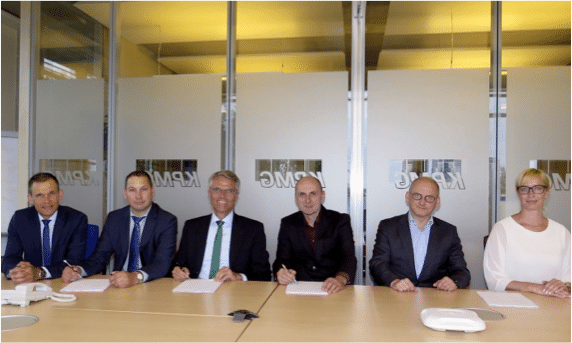 Caption:

Signing the contract (left to right): Artis Davidnieks (Lawyer for PA Energy, AJ Energy and SIA BNP), Ainars Plaucs (Director of SIA PA Energy and SIA BNP), Norbert Siebels (Managing Director of the Klasmann-Deilmann Group), Aldis Jotiks (Director of SIA AJ Energy and SIA BNP), Aivars Jurcans (KPMG, Director M&A, Latvia), Ieva Tillere-Tilnere, Lawyer (Deputy Head KPMG Law Firm, Latvia)
Back
It's you we write for
Our blog's editorial staff prepare news and topics relating to our company's various areas of activity. Here, we briefly introduce the members of the editorial team. Don't hesitate to use the e-mail addresses given here for purposes of feedback and further information, to ask questions and suggest topics.

Corporate Editor
Dirk Röse | Head of Corporate Communications
moc.n1501210383namli1501210383ed-nn1501210383amsal1501210383k@ese1501210383or.kr1501210383id1501210383
Dirk Röse has been at Klasmann-Deilmann since 2004 and heads up the Corporate Communications division. His contributions to our blog are mainly about the company's latest news and day-to-day activities.
Competencies Editor
Hermann Limbers  | Head of Advisory Service & Quality Management
moc.n1501210383namli1501210383ed-nn1501210383amsal1501210383k@sre1501210383bmil.1501210383nnamr1501210383eh1501210383
Hermann Limbers has been with Klasmann-Deilmann since 1983. As part of the Product Development team, his contribution has included his instrumental role in establishing our range of Lithuanian growing media and our organic substrates. His present-day focuses are on international customer guidance and quality management. He consistently enriches our blog with his unique expertise on many aspects of raw materials and products.
Careers Editor
Kim Karotki | Corporate Communications
moc.n1501210383namli1501210383ed-nn1501210383amsal1501210383k@ikt1501210383orak.1501210383mik1501210383
Kim Karotki has, since 2015, enjoyed a wide-ranging remit pertaining to Klasmann-Deilmann's internal communications. Her background in journalism stands her in good stead when it comes to researching and delving into complex issues. For her blog entries, she generally takes contributions to internal communications and explores them further; she also focuses on human-resources development and careers.
Sustainability Editor
Jan Köbbing | Sustainability Management
moc.n1501210383namli1501210383ed-nn1501210383amsal1501210383k@gni1501210383bbeok1501210383.naj1501210383
Dr Jan Köbbing has been pursuing various research projects at Klasmann-Deilmann since 2015, on topics including Sphagnum farming and the restoration of former peat extraction sites. As Sustainability Manager, he also coordinates our emissions reduction measures and the preparation of our climate footprints. His contributions to our blog relate mainly to corporate social responsibility.