Our company is always on the move.
The blog is undoubtedly among the most convenient forms of modern communication. At Klasmann-Deilmann, we use our blog to share our thoughts with our partners and friends; customers and suppliers; our active, former and future employees; and (in the broadest sense) our stakeholders – in a timely manner and at an appropriate intensity. And we've a lot to say. Our company is always on the move and we want you to be a part of this.
We look forward to your feedback: do send us an e-mail or use our comments function. We'll also be grateful for any ideas as to topics you'd be interested in reading about.
Competencies
Rese­ar­ch and deve­lop­ment at Klasmann-Deilmann
18.07.2016
|
|
0 Comments
Innovation and sustainability
Klasmann-Deilmann's reputation as the most sustainable and innovative company in the growing media industry can be attributed primarily to its great commitment to research and development. Especially in the field of alternative substrate constituents, its experts are constantly on the lookout for ways to provide the best possible support for the company's partners in the professional horticultural business.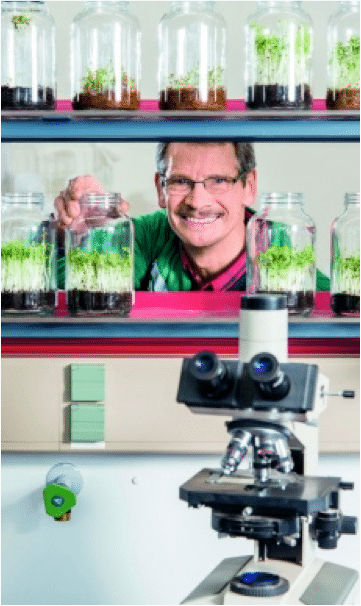 Assuming responsibility for the environment and society also means developing new growing media while keeping an eye on the technical, economic, ecological and social aspects of our products. Klasmann-Deilmann does just that and is constantly redefining the limits of what is possible and what makes most sense from the horticultural point of view. As the industry's innovation leader, Klasmann-Deilmann assumed a pioneering role in the research and development of alternative substrate constituents. In the early 1990s, it was the first company to develop compost growing media, which were based on green compost. To do so, it first had to set up its own composting facility and develop an in-house quality system, because the quality standards in force at that time were not sufficiently strict to establish green compost as a high-grade substrate constituent. Klasmann-Deilmann also produces its own wood fibres and is continuously enhancing this raw material.
Klasmann-Deilmann pursues these objectives in close cooperation with universities, colleges, training and research centres and with its suppliers, conducting joint research projects with these partners. The company's experts are also in permanent consultation with the professional horticultural industry. They take note of the ideas and requirements stated by the horticultural companies and transform them into innovative product solutions.
In the compost sector, Klasmann-Deilmann and a partner in the Netherlands have been conducting a joint research project since 2013, aimed at creating compost extract ("compost tea") with live bacteria. These specifically enriched bacteria groups accelerate the conversion of ammonia from organic fertilisers into nitrate in organic substrates. This means that the fertiliser is more efficient and has a positive influence on plant growth.
To find out whether other types of wood are suitable for fibre production in addition to the tried-and-tested softwoods, Klasmann-Deilmann is currently investigating new technical methods of wood fibre production. This requires a great deal of fundamental research in cooperation with wood technology and wood chemistry research institutes. The decisive criteria for each new substrate constituent are maximum growing reliability for the horticultural business, as wide a range of applications as possible, cost effectiveness and sustainability.
Back
It's you we write for
Our blog's editorial staff prepare news and topics relating to our company's various areas of activity. Here, we briefly introduce the members of the editorial team. Don't hesitate to use the e-mail addresses given here for purposes of feedback and further information, to ask questions and suggest topics.

Corporate Editor
Dirk Röse | Head of Corporate Communications
moc.n1493319011namli1493319011ed-nn1493319011amsal1493319011k@ese1493319011or.kr1493319011id1493319011
Dirk Röse has been at Klasmann-Deilmann since 2004 and heads up the Corporate Communications division. His contributions to our blog are mainly about the company's latest news and day-to-day activities.
Competencies Editor
Hermann Limbers  | Head of Advisory Service & Quality Management
moc.n1493319011namli1493319011ed-nn1493319011amsal1493319011k@sre1493319011bmil.1493319011nnamr1493319011eh1493319011
Hermann Limbers has been with Klasmann-Deilmann since 1983. As part of the Product Development team, his contribution has included his instrumental role in establishing our range of Lithuanian growing media and our organic substrates. His present-day focuses are on international customer guidance and quality management. He consistently enriches our blog with his unique expertise on many aspects of raw materials and products.
Careers Editor
Kim Karotki | Corporate Communications
moc.n1493319011namli1493319011ed-nn1493319011amsal1493319011k@ikt1493319011orak.1493319011mik1493319011
Kim Karotki has, since 2015, enjoyed a wide-ranging remit pertaining to Klasmann-Deilmann's internal communications. Her background in journalism stands her in good stead when it comes to researching and delving into complex issues. For her blog entries, she generally takes contributions to internal communications and explores them further; she also focuses on human-resources development and careers.
Sustainability Editor
Geerd Smidt | Head of Sustainability Management
moc.n1493319011namli1493319011ed-nn1493319011amsal1493319011k@tdi1493319011ms.dr1493319011eeg1493319011
Dr Geerd Smidt is Klasmann-Deilmann's first Sustainability Manager. Since 2016, he has moved us forward with regard to our climate footprint and life cycle assessments, our measures to reduce emissions, our responsible extraction of raw materials, our dialogue with stakeholders and many other aspects. In our blog he chiefly writes pieces relating to corporate social responsibility.