Our company is always on the move.
The blog is undoubtedly among the most convenient forms of modern communication. At Klasmann-Deilmann, we use our blog to share our thoughts with our partners and friends; customers and suppliers; our active, former and future employees; and (in the broadest sense) our stakeholders – in a timely manner and at an appropriate intensity. And we've a lot to say. Our company is always on the move and we want you to be a part of this.
We look forward to your feedback: do send us an e-mail or use our comments function. We'll also be grateful for any ideas as to topics you'd be interested in reading about.
Company
Peat Repla­ce­ment Forum at Klasmann-Deilmann
23.06.2016
|
|
0 Comments
Research projects on sphagnum farming
At the last meeting of the "Substrates" working group of Lower Saxony's Peat Replacement Forum, the members discussed the prospects of sphagnum farming. Dr Arne Hückstädt of the German Garden Industry Association (IVG) chaired the event, which was attended by more than sixty delegates from the research and development sector, the peat and growing media industry and environmental organisations.
Klasmann-Deilmann GmbH hosted the Forum and Managing Director Moritz Böcking presented the Group's activities in the fields of sustainability and renewable energies. "Growing media are still our core business and 43 % of production is meanwhile destined for the food industry," explained Böcking. Referring to the company's own sphagnum farming project, he added that the future of this highly promising substrate constituent essentially depended on obtaining public funding, "as long as research and development have still not overcome critical obstacles."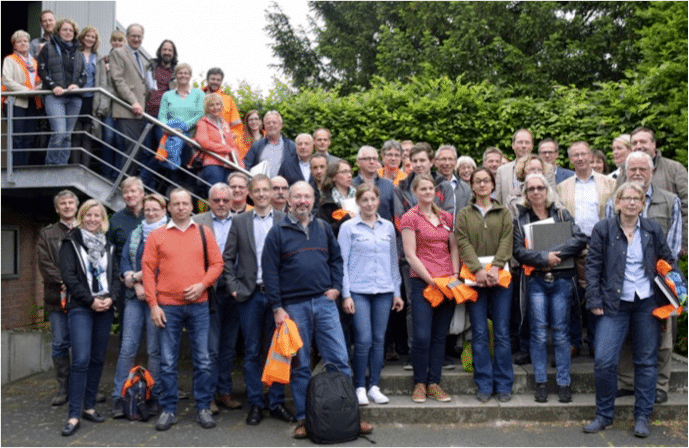 Rainer Lindner, a consultant for raw materials and growing media, pointed out the key role that peat plays in the production of growing media and that the development of alternative substrate constituents consequently has to satisfy high standards. He informed the audience that his company was conducting various projects for the use of bulrushes, which were already well established as building and insulating materials. Lindner added that the prospects for their use in the production of growing media were also good and that these options now had to be investigated in further detail and validated. Potential harvest quantities were currently estimated at 500 m³ or 20 tonnes per hectare as from the 3rd year of cultivation. Farming could be managed profitably without subsidies as from a site size of 10 hectares.
Michael Emmel from Lower Saxony's Chamber of Agriculture presented the results of various research projects to examine the suitability of various peat mosses for use as a substrate constituent. Peat moss had been added in different proportions to various growing media mixtures. These were then tested in the cultivation of cyclamen, gaultheria and other plants, and subjected to the standard biotests. The results were encouraging: the addition of up to 50 per cent by volume of peat moss consistently delivered good growing results; slightly poorer results were recorded for various plants only if the share of peat moss was higher. Emmel pointed out, however, that this had still not resolved the question of profitability of sphagnum farming, especially with regard to the aspects of site availability, harvesting techniques and disinfection, all of which still had to be clarified.
Looking back over more than 20 years of paludicultural research, a team from Greifwald University, headed by Greta Gaudig, Matthias Krebs and Sabine Wichmann, emphasised the encouraging growth of peat mosses, which already formed a closed surface after just eighteen months and grew at a rate of up to 8.7 bone-dry tonnes (BDT) per hectare and year. What still had to be resolved, said Gaudig, was how seed could be obtained in order to avoid removing seed from protected stock in future. Site availability was a further problem which could be remedied if sphagnum farming were to be recognised as a form of agriculture. In view of the high costs required to establish paludicultures, Gaudig stated that it was important to provide additional incentives for the agricultural sector so that the benefits of sphagnum farming became generally accepted: the possibility of regionally based production of a high quality and renewable resource made peat moss an attractive option with highly positive effects on climate protection, water conservation and biodiversity.
Finally, Jan Köbbing presented the Klasmann-Deilmann Group's sphagnum farming project, which went into the implementation phase nine months ago. Two thirds of the sites had meanwhile been inoculated with the peat moss species Sphagnum palustre and Sphagnum papillosum and the test sites were to be extended to a total of ten hectares before the end of the year. Both species of Sphagnum were highly adaptable and very suitable as pioneer plants, although they did not deliver as much biomass as other species. The company had therefore decided to inoculate the final third of the test sites with more productive species and had already submitted the relevant application to the lower-tier nature conservation agency of Emsland Rural District for removal of the required material. He stated that the existing test sites, which were inoculated last autumn, had survived the winter well and that peat mosses which had been planted in spring were also meanwhile established. "The moss can already be observed to be growing in situ; the weather conditions are ideal for the moss right now," said Köbbing. An irrigation system had been installed on both test sites and an automatic control system was currently being added. Some parts of the sites were watered using an open ditch system or using drainpipes. Donor material for substrate testing was currently being prepared by LVG Ahlem research centre.
After the meeting, the members of the Peat Replacement Forum were given a guided tour of the premises so that they could see various aspects of the project for themselves.
Back
It's you we write for
Our blog's editorial staff prepare news and topics relating to our company's various areas of activity. Here, we briefly introduce the members of the editorial team. Don't hesitate to use the e-mail addresses given here for purposes of feedback and further information, to ask questions and suggest topics.

Corporate Editor
Dirk Röse | Head of Corporate Communications
moc.n1493318935namli1493318935ed-nn1493318935amsal1493318935k@ese1493318935or.kr1493318935id1493318935
Dirk Röse has been at Klasmann-Deilmann since 2004 and heads up the Corporate Communications division. His contributions to our blog are mainly about the company's latest news and day-to-day activities.
Competencies Editor
Hermann Limbers  | Head of Advisory Service & Quality Management
moc.n1493318935namli1493318935ed-nn1493318935amsal1493318935k@sre1493318935bmil.1493318935nnamr1493318935eh1493318935
Hermann Limbers has been with Klasmann-Deilmann since 1983. As part of the Product Development team, his contribution has included his instrumental role in establishing our range of Lithuanian growing media and our organic substrates. His present-day focuses are on international customer guidance and quality management. He consistently enriches our blog with his unique expertise on many aspects of raw materials and products.
Careers Editor
Kim Karotki | Corporate Communications
moc.n1493318935namli1493318935ed-nn1493318935amsal1493318935k@ikt1493318935orak.1493318935mik1493318935
Kim Karotki has, since 2015, enjoyed a wide-ranging remit pertaining to Klasmann-Deilmann's internal communications. Her background in journalism stands her in good stead when it comes to researching and delving into complex issues. For her blog entries, she generally takes contributions to internal communications and explores them further; she also focuses on human-resources development and careers.
Sustainability Editor
Geerd Smidt | Head of Sustainability Management
moc.n1493318935namli1493318935ed-nn1493318935amsal1493318935k@tdi1493318935ms.dr1493318935eeg1493318935
Dr Geerd Smidt is Klasmann-Deilmann's first Sustainability Manager. Since 2016, he has moved us forward with regard to our climate footprint and life cycle assessments, our measures to reduce emissions, our responsible extraction of raw materials, our dialogue with stakeholders and many other aspects. In our blog he chiefly writes pieces relating to corporate social responsibility.