Our company is always on the move.
The blog is undoubtedly among the most convenient forms of modern communication. At Klasmann-Deilmann, we use our blog to share our thoughts with our partners and friends; customers and suppliers; our active, former and future employees; and (in the broadest sense) our stakeholders – in a timely manner and at an appropriate intensity. And we've a lot to say. Our company is always on the move and we want you to be a part of this.
We look forward to your feedback: do send us an e-mail or use our comments function. We'll also be grateful for any ideas as to topics you'd be interested in reading about.
Company
Our new web­site
18.11.2016
|
|
0 Comments
Modern, inviting, clearly laid out … After 1999, 2006 and 2009, this is the fourth time we have launched a new Internet presence.
Our new website is now online! The previous version was showing its age a bit, mainly because the technical possibilities and user habits on the WorldWideWeb are constantly evolving. The changeover to our current corporate design provided a fitting opportunity to overhaul our online presence.
The pages are responsive. Whatever device you use to access our website, the layout is adapted to the screen being used. This means the look of our Internet pages varies somewhat depending on whether you're using a PC, a notebook computer, a smartphone or a tablet – but it's consistently user-friendly.
Our content is arranged in a clearer manner. The navigation categories have been streamlined; they reflect the substance of our corporate presentation, they depict the structure of our company and centre on key strategic issues. Careers, sustainability and renewable energy are given a stronger emphasis than on the previous website. There is greater use of images and graphics, and the texts are shorter. Video clips are included, as are links leading to YouTube, Xing and LinkedIn.
Enjoy a stimulating scrolling experience!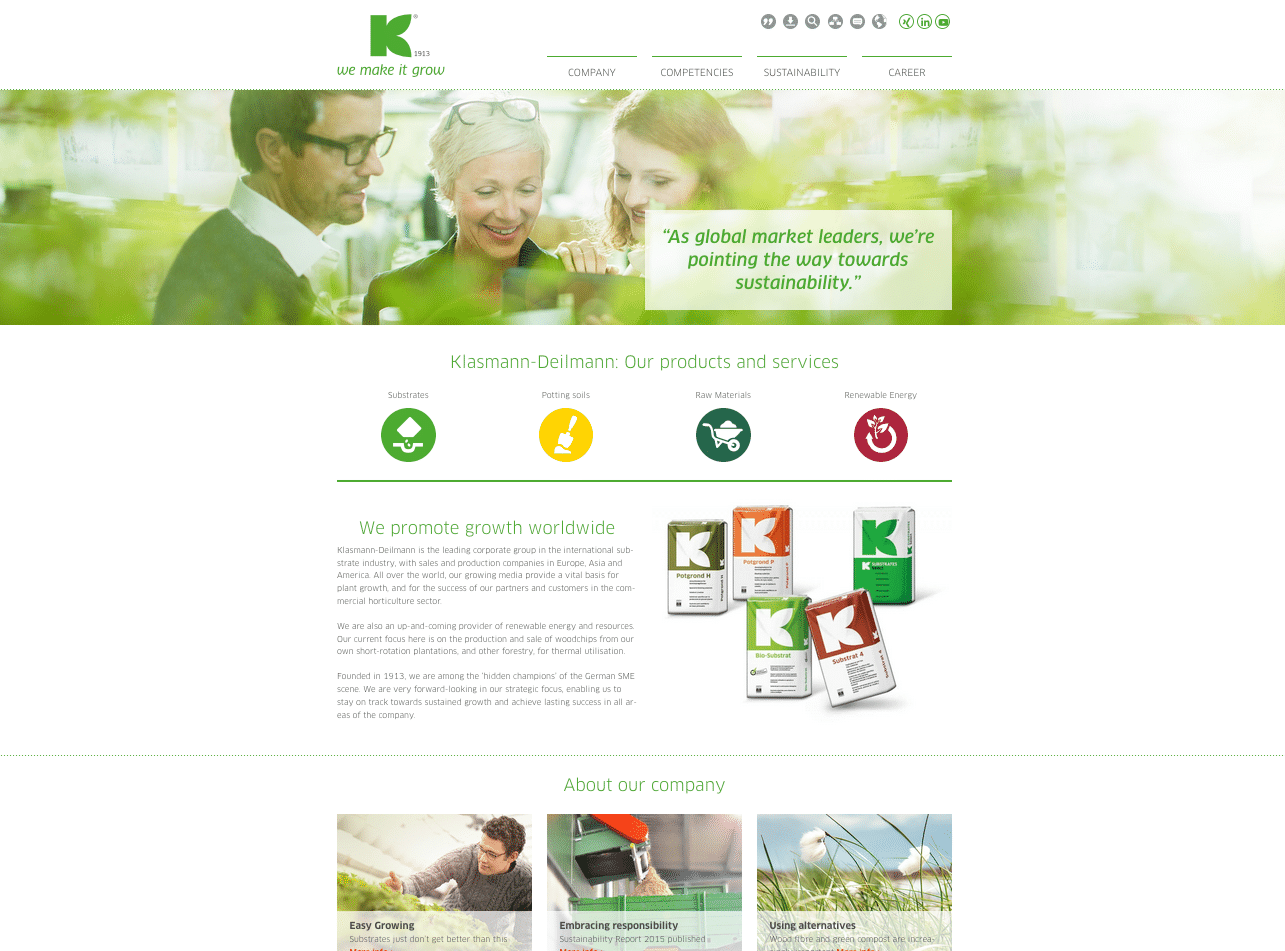 Back
It's you we write for
Our blog's editorial staff prepare news and topics relating to our company's various areas of activity. Here, we briefly introduce the members of the editorial team. Don't hesitate to use the e-mail addresses given here for purposes of feedback and further information, to ask questions and suggest topics.

Corporate Editor
Dirk Röse | Head of Corporate Communications
moc.n1500735208namli1500735208ed-nn1500735208amsal1500735208k@ese1500735208or.kr1500735208id1500735208
Dirk Röse has been at Klasmann-Deilmann since 2004 and heads up the Corporate Communications division. His contributions to our blog are mainly about the company's latest news and day-to-day activities.
Competencies Editor
Hermann Limbers  | Head of Advisory Service & Quality Management
moc.n1500735208namli1500735208ed-nn1500735208amsal1500735208k@sre1500735208bmil.1500735208nnamr1500735208eh1500735208
Hermann Limbers has been with Klasmann-Deilmann since 1983. As part of the Product Development team, his contribution has included his instrumental role in establishing our range of Lithuanian growing media and our organic substrates. His present-day focuses are on international customer guidance and quality management. He consistently enriches our blog with his unique expertise on many aspects of raw materials and products.
Careers Editor
Kim Karotki | Corporate Communications
moc.n1500735208namli1500735208ed-nn1500735208amsal1500735208k@ikt1500735208orak.1500735208mik1500735208
Kim Karotki has, since 2015, enjoyed a wide-ranging remit pertaining to Klasmann-Deilmann's internal communications. Her background in journalism stands her in good stead when it comes to researching and delving into complex issues. For her blog entries, she generally takes contributions to internal communications and explores them further; she also focuses on human-resources development and careers.
Sustainability Editor
Jan Köbbing | Sustainability Management
moc.n1500735208namli1500735208ed-nn1500735208amsal1500735208k@gni1500735208bbeok1500735208.naj1500735208
Dr Jan Köbbing has been pursuing various research projects at Klasmann-Deilmann since 2015, on topics including Sphagnum farming and the restoration of former peat extraction sites. As Sustainability Manager, he also coordinates our emissions reduction measures and the preparation of our climate footprints. His contributions to our blog relate mainly to corporate social responsibility.