Our company is always on the move.
The blog is undoubtedly among the most convenient forms of modern communication. At Klasmann-Deilmann, we use our blog to share our thoughts with our partners and friends; customers and suppliers; our active, former and future employees; and (in the broadest sense) our stakeholders – in a timely manner and at an appropriate intensity. And we've a lot to say. Our company is always on the move and we want you to be a part of this.
We look forward to your feedback: do send us an e-mail or use our comments function. We'll also be grateful for any ideas as to topics you'd be interested in reading about.
Sustainability
Klasmann-Deilmann con­ti­nues posi­ti­ve trend
08.08.2016
|
|
0 Comments
Fifth Sustainability Report published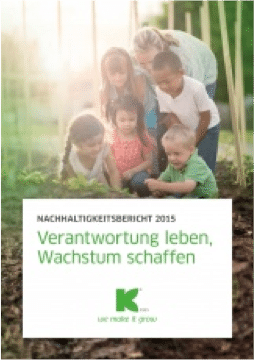 Emissions monitoring, alternative substrate components, short-rotation forestry and Sphagnum farming: in its fifth Sustainability Report, Klasmann-Deilmann highlights its capability in many areas which are currently the focus of environmental-policy debate. The company's climate footprint improved slightly year-on-year, despite an increase in product output, to 270,593 t of CO
2
equivalent. Converted to annual production, this corresponds to average emissions of 79.56 kg per cubic metre of substrate, down 2.96 kg/m³ on 2014. At the same time, the proportion of substrates for the international food sector in the firm's sales mix rose by another two percentage points to 43%.
In January 2016, Germany's Federal Ministry of the Environment issued a position statement concerning both the discussion on the use of peat in horticulture and the production of alternative energy sources (Parliamentary Paper no. 18/7197). According to this publication, Klasmann-Deilmann is already addressing those sustainability issues regarded as most important by the German national government, and moving them forward by means of its own projects. "We welcome the Ministry's comments as a well-considered response to the challenges facing commercial horticulture, and see them as an affirmation of our strategic focus on sustainability in all of our company's activities," says Managing Director Norbert Siebels.
Although the Environment Ministry concludes that, for the time being, peat will remain essential for producing substrates, the industry is under obligation to intensify its use of alternative components. In the early 1990s, Klasmann-Deilmann began composting green waste, since which time it has used alternative ingredients such as wood fibre and green compost in manufacturing its growing media. Its production of wood fibre went up to 138,000 m³ in 2015, with that of green compost rising to 96,000 m³. "We remain committed to our goal of increasing the proportion of alternative raw materials to 15% of our annual production total," Siebels confirms.
The management of short-rotation forestry (SRF) plantations on agricultural land is deemed by the Ministry to be a land use of environmental interest that merits funding. Especially in the Baltic States, Klasmann-Deilmann has extensive SRF sites that are playing an ever more important role in the progressive switch to sustainable energy sources. Klasmann-Deilmann has extended the area available for SRF in this region by 263 hectares to 2,927 ha.
In launching the world's largest research project on the cultivation of Sphagnum (peat moss), aimed particularly at developing a renewable raw material for use in substrates, Klasmann-Deilmann has been making use of one of the options mentioned by the Environment Ministry for the economic utilisation of peatlands. "We hope this project will help us develop lasting synergies between nature conservation and climate protection on the one hand, and our company's various business areas on the other," Managing Director Moritz Böcking affirms.
Klasmann-Deilmann commissioned a scientific monitoring campaign in Germany and Lithuania, starting in early 2015; its intention is to obtain the reliable data that is, according to the Environment Ministry, still outstanding. Interim results indicate that the actual levels are considerably lower than previous assumptions. Average emission totals determined for the black-peat extraction site used for monitoring in Germany were 2.94 t of CO
2
e/ha/annum, whereas those on the white-peat extraction site used for monitoring in Lithuania were 7.22 t of CO
2
e/ha/annum. "To date, our climate footprint has been based on assumed levels of 10.73 t of CO
2
e/ha/annum," explains Böcking. "If these emission figures are confirmed in the second year of the monitoring campaign, that means we have previously overestimated a key pillar of our climate footprint." After the project's conclusion next year, the findings will again be presented to a scientific subcommunity. In so doing, Klasmann-Deilmann will be making a substantiated contribution to the assessment of greenhouse emissions from peat extraction areas.
The action that Klasmann-Deilmann is taking throughout the company is reflected in the key performance indicators included in its climate footprint. Despite an increase in the quantities extracted and produced, both the corporate and product carbon footprints improved. When all climate-related factors along the value chain 'from raw-material extraction to the factory gate, including transport' are factored in, the corporate carbon footprint for 2015 reveals converted emissions of 270,593 t of CO
2
e. With the total volume of growing media and raw materials sold standing at 3.40 million m
3
, this translates into an average carbon footprint for the year under review – expressed per cubic metre of substrate – of 79.56 kg of CO
2
e/m3. The climate footprint was once again verified to the ISO 14064 standard by independent experts. Taking stock, Siebels comments: "This means we achieved key sustainability objectives in 2015, as we did previously. In the coming years we will very much continue down the successful path we have chosen."
Back
It's you we write for
Our blog's editorial staff prepare news and topics relating to our company's various areas of activity. Here, we briefly introduce the members of the editorial team. Don't hesitate to use the e-mail addresses given here for purposes of feedback and further information, to ask questions and suggest topics.

Corporate Editor
Dirk Röse | Head of Corporate Communications
moc.n1500735241namli1500735241ed-nn1500735241amsal1500735241k@ese1500735241or.kr1500735241id1500735241
Dirk Röse has been at Klasmann-Deilmann since 2004 and heads up the Corporate Communications division. His contributions to our blog are mainly about the company's latest news and day-to-day activities.
Competencies Editor
Hermann Limbers  | Head of Advisory Service & Quality Management
moc.n1500735241namli1500735241ed-nn1500735241amsal1500735241k@sre1500735241bmil.1500735241nnamr1500735241eh1500735241
Hermann Limbers has been with Klasmann-Deilmann since 1983. As part of the Product Development team, his contribution has included his instrumental role in establishing our range of Lithuanian growing media and our organic substrates. His present-day focuses are on international customer guidance and quality management. He consistently enriches our blog with his unique expertise on many aspects of raw materials and products.
Careers Editor
Kim Karotki | Corporate Communications
moc.n1500735241namli1500735241ed-nn1500735241amsal1500735241k@ikt1500735241orak.1500735241mik1500735241
Kim Karotki has, since 2015, enjoyed a wide-ranging remit pertaining to Klasmann-Deilmann's internal communications. Her background in journalism stands her in good stead when it comes to researching and delving into complex issues. For her blog entries, she generally takes contributions to internal communications and explores them further; she also focuses on human-resources development and careers.
Sustainability Editor
Jan Köbbing | Sustainability Management
moc.n1500735241namli1500735241ed-nn1500735241amsal1500735241k@gni1500735241bbeok1500735241.naj1500735241
Dr Jan Köbbing has been pursuing various research projects at Klasmann-Deilmann since 2015, on topics including Sphagnum farming and the restoration of former peat extraction sites. As Sustainability Manager, he also coordinates our emissions reduction measures and the preparation of our climate footprints. His contributions to our blog relate mainly to corporate social responsibility.