Our company is always on the move.
The blog is undoubtedly among the most convenient forms of modern communication. At Klasmann-Deilmann, we use our blog to share our thoughts with our partners and friends; customers and suppliers; our active, former and future employees; and (in the broadest sense) our stakeholders – in a timely manner and at an appropriate intensity. And we've a lot to say. Our company is always on the move and we want you to be a part of this.
We look forward to your feedback: do send us an e-mail or use our comments function. We'll also be grateful for any ideas as to topics you'd be interested in reading about.
Career
Klasmann-Deilmann cer­ti­fied as an excel­lent trai­ning-pro­vi­ding com­pa­ny
19.12.2016
|
|
0 Comments
We provide young people with sound vocational training. Supporting young employees on officially recognised vocational training schemes, or a combined vocational training und degree programme, has been among our firm's very successful Human Resources measures for many years. Now Klasmann-Deilmann has been certified as an excellent training-providing company by the Osnabrück-Emsland-Grafschaft Bentheim Chamber of Commerce and Industry (IHK).
IHK Director Marco Graf had made a special trip to hand over the certificate to Klasmann-Deilmann's responsible Managing Director Moritz Böcking. During the press event arranged for this occasion, Böcking said: "We're very proud of this accolade. It honours the many employees who, continuously and with great dedication, look after our vocational trainees." Marco Graf pointed out that the company was not "just given" this certification but that it had to undergo a two-set procedure beforehand. In addition to the formal statutory requirements, it involves, for example, the IHK conducting an in-depth consultation and an independent external body performing an additional review. One of the aspects assessed is how low the drop-out rate is. In this respect, Graf called Klasmann-Deilmann a "model company". "In view of the decline in the number of pupils, this certification is a great asset when competing to recruiting the best young talent. It shows the young people that, with your firm, they will receive excellent vocational training which is the foundation of a successful future career," stressed Graf.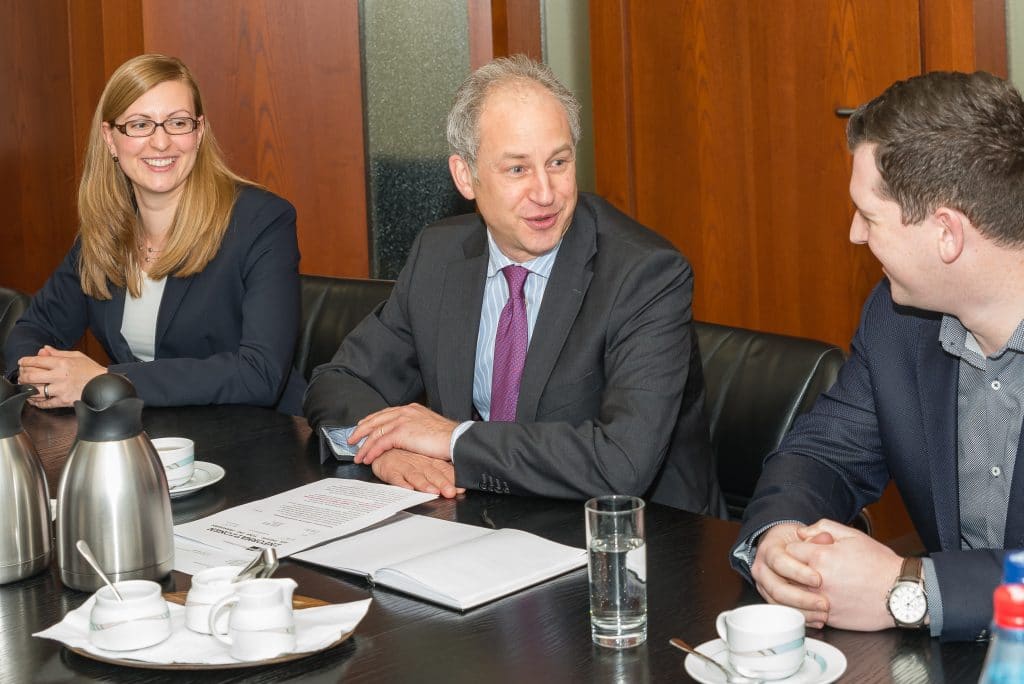 Benedikt Kossen, Head of our Human Resources department, was also delighted about this success. "Both now and in the future, this accolade will help us to consistently find vocational trainees who are a good fit with our company." In this connection, the initiative of our student Lars Wortelboer was commended, who suggested that Klasmann-Deilmann seek certification. Marco Graf said that this was probably the first time such a proposal had been made by one of the trainees themselves.
Asked by the press about the main factors in Klasmann-Deilmann's success, Moritz Böcking remarked that its international focus plays a big part in making our company attractive. "Quite rightly, young people conclude that a wide range of opportunities for development – and long-term career prospects – are available to them, and that we are a dependable employer which will still be a successful player even in 30 or 40 years' time." Benedikt Kossen added that young people, when considering companies that provide training, are increasingly asking about their sustainability. "We have positioned ourselves well in this regard, with our commitment to transparency in communicating all of our activities." Moritz Böcking made a further comment: "Applicants want to be involved in the very purpose of a company, regardless of whether they are seeking a training place, a study place or a permanent job. And that's precisely what they find at Klasmann-Deilmann: everyone knows what we want and where we want to go, and everybody also knows that their own contribution is incredibly important in achieving this."
Overall in Germany, Klasmann-Deilmann employs an average of 25 young women and men who undergo vocational training to become Industrial Business Administrators, IT Specialists, Business Administrators for Marketing Communications, Construction Equipment Operators, Electronics Engineers specialising in operating technology, or Industrial Mechanics. Certification as an excellent training-providing company is valid for the next four years, after which it can be renewed.
At the end of the press event, one of the journalists was visibly impressed, saying: "That sounds really good." To which Moritz Böcking could reply, "It is!"
Back
It's you we write for
Our blog's editorial staff prepare news and topics relating to our company's various areas of activity. Here, we briefly introduce the members of the editorial team. Don't hesitate to use the e-mail addresses given here for purposes of feedback and further information, to ask questions and suggest topics.

Corporate Editor
Dirk Röse | Head of Corporate Communications
moc.n1501210119namli1501210119ed-nn1501210119amsal1501210119k@ese1501210119or.kr1501210119id1501210119
Dirk Röse has been at Klasmann-Deilmann since 2004 and heads up the Corporate Communications division. His contributions to our blog are mainly about the company's latest news and day-to-day activities.
Competencies Editor
Hermann Limbers  | Head of Advisory Service & Quality Management
moc.n1501210119namli1501210119ed-nn1501210119amsal1501210119k@sre1501210119bmil.1501210119nnamr1501210119eh1501210119
Hermann Limbers has been with Klasmann-Deilmann since 1983. As part of the Product Development team, his contribution has included his instrumental role in establishing our range of Lithuanian growing media and our organic substrates. His present-day focuses are on international customer guidance and quality management. He consistently enriches our blog with his unique expertise on many aspects of raw materials and products.
Careers Editor
Kim Karotki | Corporate Communications
moc.n1501210119namli1501210119ed-nn1501210119amsal1501210119k@ikt1501210119orak.1501210119mik1501210119
Kim Karotki has, since 2015, enjoyed a wide-ranging remit pertaining to Klasmann-Deilmann's internal communications. Her background in journalism stands her in good stead when it comes to researching and delving into complex issues. For her blog entries, she generally takes contributions to internal communications and explores them further; she also focuses on human-resources development and careers.
Sustainability Editor
Jan Köbbing | Sustainability Management
moc.n1501210119namli1501210119ed-nn1501210119amsal1501210119k@gni1501210119bbeok1501210119.naj1501210119
Dr Jan Köbbing has been pursuing various research projects at Klasmann-Deilmann since 2015, on topics including Sphagnum farming and the restoration of former peat extraction sites. As Sustainability Manager, he also coordinates our emissions reduction measures and the preparation of our climate footprints. His contributions to our blog relate mainly to corporate social responsibility.