Our company is always on the move.
The blog is undoubtedly among the most convenient forms of modern communication. At Klasmann-Deilmann, we use our blog to share our thoughts with our partners and friends; customers and suppliers; our active, former and future employees; and (in the broadest sense) our stakeholders – in a timely manner and at an appropriate intensity. And we've a lot to say. Our company is always on the move and we want you to be a part of this.
We look forward to your feedback: do send us an e-mail or use our comments function. We'll also be grateful for any ideas as to topics you'd be interested in reading about.
Career
How fami­ly and a care­er can be suc­cess­ful­ly com­bi­ned
17.05.2016
|
|
0 Comments
Three people, three different schemes
Klasmann-Deilmann offers parents of young children or employees who have to care for relatives various options for combining their work with their duties at home. Each of the following three employees has opted for a different model.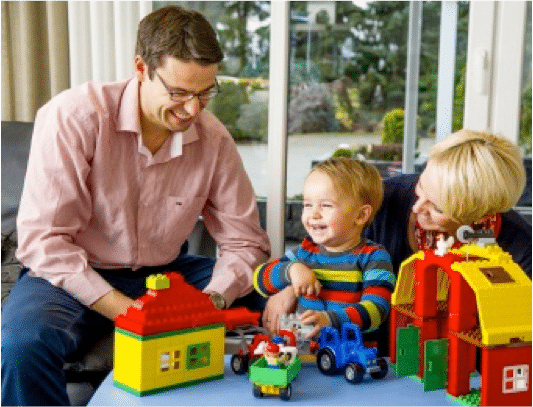 Daniel Klinke, Accounting Services Team Leader
Kim Karotki: T
ell us about your family and work situation.
Daniel Klinke:
We have two young children, Moritz and Jule and both are at kindergarten. My wife has now returned to work again part-time, which is why we have to share childcare.
Kim Karotki:
What have you agreed with Klasmann-Deilmann?
Daniel Klinke:
On Thursdays, my wife has to leave home earlier, so I attend to the children. I make up for the lost working hours on other days. I took paternity leave for one month after Moritz and Jule were born and then for another month in the summer in both cases.
Kim Karotki:
Please tell us about your experience.
Daniel Klinke:
My experience has been thoroughly positive. Trust-based working hours mean that I can be flexible when it comes to deciding when to work. This gives me the necessary freedom to attend to family matters. I can wholeheartedly recommend paternity leave. Having kids is the best thing in the world and I wanted to share as much as possible of the fascinating time just after the children were born. It also made me realise just how much my wife was doing during that time. It also means I appreciate much more just how much she takes off my hands.
Jennifer Rieken, HR Office
Kim Karotki:
Tell us about your family and work situation.
Jennifer Rieken:
Our son Mailon is nine months old. I decided early on that I wanted to return to work soon after the birth. It is important to me to have my work as well as being a mother.
Kim Karotki:
What have you agreed with Klasmann-Deilmann?
Jennifer Rieken:
I returned to work part-time after six months' maternity leave. I currently work 25 hours a week, spread over four days.
Kim Karotki:
Please tell us about your experience.
Jennifer Rieken:
My line manager responded to my request for flexible working hours very positively and agreed right away. To me, working part-time is the ideal way of combining my career and a family.
Dirk Sajogo, Head of Finance, IT, Legal
Kim Karotki:
Tell us about your family and work situation.
Dirk Sajogo:
After the birth of our second child, my wife did not want to take a long break from work. As our children are still so young, we both wanted to make sure that one parent could always be at home.
Kim Karotki:
What have you agreed with Klasmann-Deilmann?
Dirk Sajogo:
I worked part-time for some of my paternity leave. My wife and I have arranged our working hours so that one of us can always be available to look after the children.
Kim Karotki:
Please tell us about your experience
Dirk Sajogo:
Excellent. I think that it is now well accepted at Klasmann-Deilmann that men take paternity leave. The reaction of my boss was certainly very positive. That is not something you can take for granted: my last employer frowned on men who took paternity leave.
Back
It's you we write for
Our blog's editorial staff prepare news and topics relating to our company's various areas of activity. Here, we briefly introduce the members of the editorial team. Don't hesitate to use the e-mail addresses given here for purposes of feedback and further information, to ask questions and suggest topics.

Corporate Editor
Dirk Röse | Head of Corporate Communications
moc.n1493318711namli1493318711ed-nn1493318711amsal1493318711k@ese1493318711or.kr1493318711id1493318711
Dirk Röse has been at Klasmann-Deilmann since 2004 and heads up the Corporate Communications division. His contributions to our blog are mainly about the company's latest news and day-to-day activities.
Competencies Editor
Hermann Limbers  | Head of Advisory Service & Quality Management
moc.n1493318711namli1493318711ed-nn1493318711amsal1493318711k@sre1493318711bmil.1493318711nnamr1493318711eh1493318711
Hermann Limbers has been with Klasmann-Deilmann since 1983. As part of the Product Development team, his contribution has included his instrumental role in establishing our range of Lithuanian growing media and our organic substrates. His present-day focuses are on international customer guidance and quality management. He consistently enriches our blog with his unique expertise on many aspects of raw materials and products.
Careers Editor
Kim Karotki | Corporate Communications
moc.n1493318711namli1493318711ed-nn1493318711amsal1493318711k@ikt1493318711orak.1493318711mik1493318711
Kim Karotki has, since 2015, enjoyed a wide-ranging remit pertaining to Klasmann-Deilmann's internal communications. Her background in journalism stands her in good stead when it comes to researching and delving into complex issues. For her blog entries, she generally takes contributions to internal communications and explores them further; she also focuses on human-resources development and careers.
Sustainability Editor
Geerd Smidt | Head of Sustainability Management
moc.n1493318711namli1493318711ed-nn1493318711amsal1493318711k@tdi1493318711ms.dr1493318711eeg1493318711
Dr Geerd Smidt is Klasmann-Deilmann's first Sustainability Manager. Since 2016, he has moved us forward with regard to our climate footprint and life cycle assessments, our measures to reduce emissions, our responsible extraction of raw materials, our dialogue with stakeholders and many other aspects. In our blog he chiefly writes pieces relating to corporate social responsibility.