Our company is always on the move.
The blog is undoubtedly among the most convenient forms of modern communication. At Klasmann-Deilmann, we use our blog to share our thoughts with our partners and friends; customers and suppliers; our active, former and future employees; and (in the broadest sense) our stakeholders – in a timely manner and at an appropriate intensity. And we've a lot to say. Our company is always on the move and we want you to be a part of this.
We look forward to your feedback: do send us an e-mail or use our comments function. We'll also be grateful for any ideas as to topics you'd be interested in reading about.
Sustainability
Gerald Schmi­lew­ski is new Pre­si­dent of the IPS
25.09.2016
|
|
0 Comments
International Peat Congress in Malaysia
In August 2016, the 15th International Peat Congress took place in Malaysia. Gerald Schmilewski was elected new President of the International Peatland Society (IPS).
The IPS holds an International Peat Congress every four years, and the Executive Board and President are elected at the same intervals. This year, Gerald Schmilewski, who is member of the "Sustainability Management" division at Klasmann-Deilmann, was up for election and was appointed new President.
The International Peat Congress provides a platform where representatives from the fields of science, politics and industry can exchange ideas and information about highly diverse aspects of the topics of peatland and peatland utilisation. The event also enjoys an excellent reputation with environmental and climate protection organisations. This was the first time that Asia had been chosen to host the event, which took place at Kuching in Malaysia.
The Congress was an unqualified success: attended by more than 1000 delegates from more than 30 different countries, it attracted a higher number of people than ever before. The event included lectures, seminars and poster presentations on various topics, such as biodiversity, nature conservation, peat reserves, peatland restoration and eco-system management as well as socio-economic aspects of peat and peatland.
With 1486 members from 35 countries (figures dated 31 December 2015), the IPS is the world's largest international association for topics relating to peat bogs. The unique achievement of this NGO is that it brings together representatives from the sectors of nature conservation, trade and industry as well as science.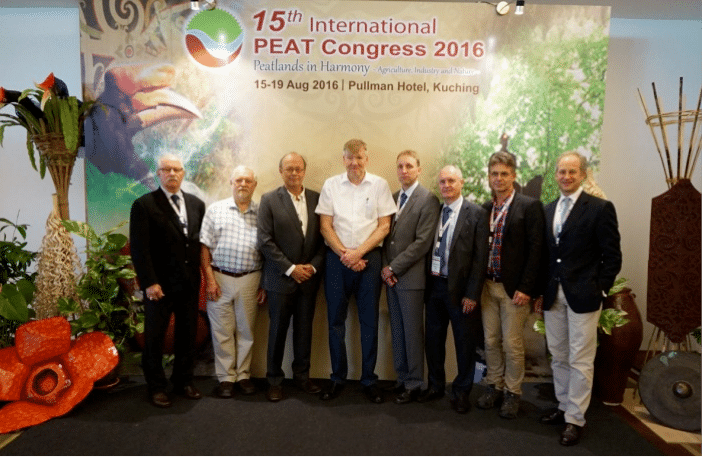 Back
It's you we write for
Our blog's editorial staff prepare news and topics relating to our company's various areas of activity. Here, we briefly introduce the members of the editorial team. Don't hesitate to use the e-mail addresses given here for purposes of feedback and further information, to ask questions and suggest topics.

Corporate Editor
Dirk Röse | Head of Corporate Communications
moc.n1500735142namli1500735142ed-nn1500735142amsal1500735142k@ese1500735142or.kr1500735142id1500735142
Dirk Röse has been at Klasmann-Deilmann since 2004 and heads up the Corporate Communications division. His contributions to our blog are mainly about the company's latest news and day-to-day activities.
Competencies Editor
Hermann Limbers  | Head of Advisory Service & Quality Management
moc.n1500735142namli1500735142ed-nn1500735142amsal1500735142k@sre1500735142bmil.1500735142nnamr1500735142eh1500735142
Hermann Limbers has been with Klasmann-Deilmann since 1983. As part of the Product Development team, his contribution has included his instrumental role in establishing our range of Lithuanian growing media and our organic substrates. His present-day focuses are on international customer guidance and quality management. He consistently enriches our blog with his unique expertise on many aspects of raw materials and products.
Careers Editor
Kim Karotki | Corporate Communications
moc.n1500735142namli1500735142ed-nn1500735142amsal1500735142k@ikt1500735142orak.1500735142mik1500735142
Kim Karotki has, since 2015, enjoyed a wide-ranging remit pertaining to Klasmann-Deilmann's internal communications. Her background in journalism stands her in good stead when it comes to researching and delving into complex issues. For her blog entries, she generally takes contributions to internal communications and explores them further; she also focuses on human-resources development and careers.
Sustainability Editor
Jan Köbbing | Sustainability Management
moc.n1500735142namli1500735142ed-nn1500735142amsal1500735142k@gni1500735142bbeok1500735142.naj1500735142
Dr Jan Köbbing has been pursuing various research projects at Klasmann-Deilmann since 2015, on topics including Sphagnum farming and the restoration of former peat extraction sites. As Sustainability Manager, he also coordinates our emissions reduction measures and the preparation of our climate footprints. His contributions to our blog relate mainly to corporate social responsibility.