Our company is always on the move.
The blog is undoubtedly among the most convenient forms of modern communication. At Klasmann-Deilmann, we use our blog to share our thoughts with our partners and friends; customers and suppliers; our active, former and future employees; and (in the broadest sense) our stakeholders – in a timely manner and at an appropriate intensity. And we've a lot to say. Our company is always on the move and we want you to be a part of this.
We look forward to your feedback: do send us an e-mail or use our comments function. We'll also be grateful for any ideas as to topics you'd be interested in reading about.
Sustainability
Auks­tu­ma­la edu­ca­tio­nal natu­re trail in Lit­hua­nia
05.09.2016
|
|
0 Comments
Subsidised by Klasmann-Deilmann Silute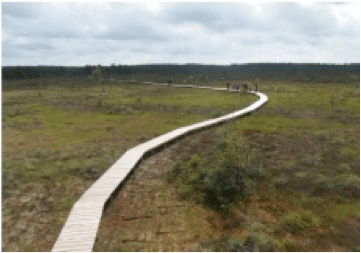 Aukstumala is one of the best known areas of raised bog in the world. It was the first bog to be scientifically researched, notably by the botanist Carl Albert Weber. With the financial support of Klasmann-Deilmann Silute, an educational nature trail has been laid out in this partly unspoilt moorland which was opened this summer.
On this 1.2 kilometre-long trail, visitors to the Silute region can explore the raised bog of Aukstumala. Information is provided at numerous stations and there is a wealth of typical moorland wildlife to observe, with a lookout tower offering wonderful views of the beautiful landscape. The trail starts off as a footpath and continues along a wooden walkway past several observation points.
A third of this raised bog is a protected area and has remained unspoilt to the present day while peat has been extracted in two thirds of the area for some 130 years. The first drainage channels were dug at the end of the 19th century. During the years when it was part of the Soviet Union, there was an entire network of channels. The unspoilt part of the bog was made a nature reserve in 1995.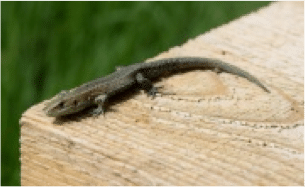 The educational nature trail was constructed as part of a EU-LIFE project. In order to keep the water level high and preserve the bog in its natural state, dams were constructed in the delta of the river Nemunas. The goal of the project is not only to protect the unspoilt part of the bog, but also to create an environment where the typical moorland vegetation can grow again in areas where peat has been extracted in the past.
Work on the nature trail began in October 2015 and it was opened in summer this year. Klasmann-Deilmann Silute gave financial support to the project to assist the building of the lookout tower and the walkway. Employees of the company are also involved in the project team committee.
Carl Albert Weber (1856-1931), a German botanist who specialised in the exploration of bog vegetation, completed a study of Aukstumala. His main work "Über die Vegetation und Entstehung des Hochmoors von Augstumal im Memeldelta" written in 1902 (translated into English in 2002 and republished under the title "C.A. Weber and the Raised Bog of Augstumal") was one of the pioneering works for further research in the field.
Back
It's you we write for
Our blog's editorial staff prepare news and topics relating to our company's various areas of activity. Here, we briefly introduce the members of the editorial team. Don't hesitate to use the e-mail addresses given here for purposes of feedback and further information, to ask questions and suggest topics.

Corporate Editor
Dirk Röse | Head of Corporate Communications
moc.n1501210458namli1501210458ed-nn1501210458amsal1501210458k@ese1501210458or.kr1501210458id1501210458
Dirk Röse has been at Klasmann-Deilmann since 2004 and heads up the Corporate Communications division. His contributions to our blog are mainly about the company's latest news and day-to-day activities.
Competencies Editor
Hermann Limbers  | Head of Advisory Service & Quality Management
moc.n1501210458namli1501210458ed-nn1501210458amsal1501210458k@sre1501210458bmil.1501210458nnamr1501210458eh1501210458
Hermann Limbers has been with Klasmann-Deilmann since 1983. As part of the Product Development team, his contribution has included his instrumental role in establishing our range of Lithuanian growing media and our organic substrates. His present-day focuses are on international customer guidance and quality management. He consistently enriches our blog with his unique expertise on many aspects of raw materials and products.
Careers Editor
Kim Karotki | Corporate Communications
moc.n1501210458namli1501210458ed-nn1501210458amsal1501210458k@ikt1501210458orak.1501210458mik1501210458
Kim Karotki has, since 2015, enjoyed a wide-ranging remit pertaining to Klasmann-Deilmann's internal communications. Her background in journalism stands her in good stead when it comes to researching and delving into complex issues. For her blog entries, she generally takes contributions to internal communications and explores them further; she also focuses on human-resources development and careers.
Sustainability Editor
Jan Köbbing | Sustainability Management
moc.n1501210458namli1501210458ed-nn1501210458amsal1501210458k@gni1501210458bbeok1501210458.naj1501210458
Dr Jan Köbbing has been pursuing various research projects at Klasmann-Deilmann since 2015, on topics including Sphagnum farming and the restoration of former peat extraction sites. As Sustainability Manager, he also coordinates our emissions reduction measures and the preparation of our climate footprints. His contributions to our blog relate mainly to corporate social responsibility.