Our company is always on the move.
The blog is undoubtedly among the most convenient forms of modern communication. At Klasmann-Deilmann, we use our blog to share our thoughts with our partners and friends; customers and suppliers; our active, former and future employees; and (in the broadest sense) our stakeholders – in a timely manner and at an appropriate intensity. And we've a lot to say. Our company is always on the move and we want you to be a part of this.
We look forward to your feedback: do send us an e-mail or use our comments function. We'll also be grateful for any ideas as to topics you'd be interested in reading about.
Career
Active health manage­ment for fit and moti­va­ted employees
07.11.2016
|
|
0 Comments
Internal Employer Branding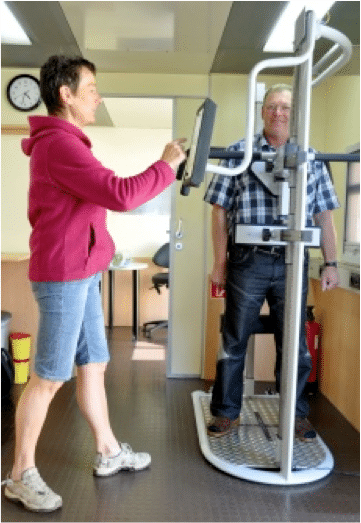 Healthy and energetic employees are a key factor for a company's success. Klasmann-Deilmann implements an active health management policy to promote the wellbeing of its staff.
Whether regular health check-ups, free flu jabs or contributing to the employee's gym fees, Klasmann-Deilmann does a great deal for its workforce. "The aim of our health management policy is to maintain, improve or restore the health and wellbeing of our employees," says Benedikt Kossen (Human Resources). Health management is therefore integrated into all operating processes. A health committee made up of executives, works council members and the company medical officer holds regular meetings to discuss the current and future measures aimed at promoting staff health.
Especially in this age of demographic change, an active health management policy plays an increasingly important role. Employees now have to work until they are older and the average employee age is therefore rising, thus putting the focus more and more on staff health. "We wish to support this process as far as possible by offering attractive conditions such as flexible working hours, providing the right working tools and equipment and, above all, by promoting staff health," explains Benedikt Kossen.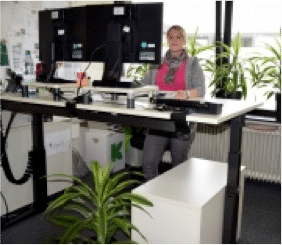 Heavy physical work is already the exception at Klasmann-Deilmann: most of the work processes in the industrial sector are meanwhile mechanised and the equipment at office workplaces has already reached a high level at all corporate locations. The watchword here is ergonomics. But whereas the physical effort required of the employees is continually declining, the psychosocial stress is on the increase, just as it is everywhere in society. "This is a priority subject that is one of the top items on the agenda of our prevention policies," reports Wolfgang Otto, Chairman of the General Works Council.
Active health management is just one of a number of measures implemented by Klasmann-Deilmann to enhance its employer branding.
Back
It's you we write for
Our blog's editorial staff prepare news and topics relating to our company's various areas of activity. Here, we briefly introduce the members of the editorial team. Don't hesitate to use the e-mail addresses given here for purposes of feedback and further information, to ask questions and suggest topics.

Corporate Editor
Dirk Röse | Head of Corporate Communications
moc.n1501210462namli1501210462ed-nn1501210462amsal1501210462k@ese1501210462or.kr1501210462id1501210462
Dirk Röse has been at Klasmann-Deilmann since 2004 and heads up the Corporate Communications division. His contributions to our blog are mainly about the company's latest news and day-to-day activities.
Competencies Editor
Hermann Limbers  | Head of Advisory Service & Quality Management
moc.n1501210462namli1501210462ed-nn1501210462amsal1501210462k@sre1501210462bmil.1501210462nnamr1501210462eh1501210462
Hermann Limbers has been with Klasmann-Deilmann since 1983. As part of the Product Development team, his contribution has included his instrumental role in establishing our range of Lithuanian growing media and our organic substrates. His present-day focuses are on international customer guidance and quality management. He consistently enriches our blog with his unique expertise on many aspects of raw materials and products.
Careers Editor
Kim Karotki | Corporate Communications
moc.n1501210462namli1501210462ed-nn1501210462amsal1501210462k@ikt1501210462orak.1501210462mik1501210462
Kim Karotki has, since 2015, enjoyed a wide-ranging remit pertaining to Klasmann-Deilmann's internal communications. Her background in journalism stands her in good stead when it comes to researching and delving into complex issues. For her blog entries, she generally takes contributions to internal communications and explores them further; she also focuses on human-resources development and careers.
Sustainability Editor
Jan Köbbing | Sustainability Management
moc.n1501210462namli1501210462ed-nn1501210462amsal1501210462k@gni1501210462bbeok1501210462.naj1501210462
Dr Jan Köbbing has been pursuing various research projects at Klasmann-Deilmann since 2015, on topics including Sphagnum farming and the restoration of former peat extraction sites. As Sustainability Manager, he also coordinates our emissions reduction measures and the preparation of our climate footprints. His contributions to our blog relate mainly to corporate social responsibility.